Have you ever tasted a delicious all-butter shortbread?
On January 6, we celebrate National Walker's Shortbread Day, a day to appreciate the delectable shortbread in all its glory! This buttery, melt-in-your-mouth treat is Scotland's best gift to the world. Baked without a leavening component such as baking soda or powder, this incredible dessert's dense and rustic texture stands out from any other! As a reminder of the holiday spirit, Walker's invites you to start the new year on a sweet note by enjoying this Scottish delight at home.
And this year, Walker's Shortbread will celebrate National Walker's Shortbread Day as well as 125 years of baking all-butter Scottish shortbread by offering shortbread lovers the chance to win a Year's Supply of Walker's Shortbread!
History of National Walker's Shortbread Day
Originating in Scotland in the 12th century and benefiting from cultural exchange with French pastry chefs, shortbread's original recipe calls for a simple mix of butter in the flour. The fattening of the dough shortens it, hence the name 'shortbread.' 
It wasn't until the intervention of Mary, Queen of Scots, that this crumbling delicacy gained national prominence. In the 16th century, she refined the recipe and propagated its triangular sizing to match them with her preferred petticoat tails. After the introduction of sugar to the United Kingdom, the 17th-century shortbread became a sweet biscuit, best enjoyed with evening tea. We could trace shortbread's cultural footprint back to William Shakespeare's 17th-century play, "The Merry Wives of Windsor."
Walker's Shortbread was born when Joseph Walker founded Walker's company in 1898, by serving a true Scottish traditional treat. Today, his grandchildren and great-grandchildren continue the fine baking tradition that he started in the Highlands of Scotland 125 years ago. Their shortbread is still baked as it always has been with only 4 ingredients, including pure creamery butter, flour, sugar, and a pinch of salt. Walker's shortbread remains proud of being a sustainable business that works on reducing plastic and looks forward to continuing the efforts in other areas across the business. 
When looking at Walker's product range, there is the best-known and most iconic product, the Shortbread Finger, which has a crunchy yet crumbly texture and delicious all butter taste – Did you know that Walker's Fingers will always have 13 holes? A baker's dozen to let steam escape during baking. 
Walker's range of products comes in its distinctive tartan packaging which provides its Scottish character both inside and out. It is recognized as a mark of excellence worldwide and a true Scottish classic.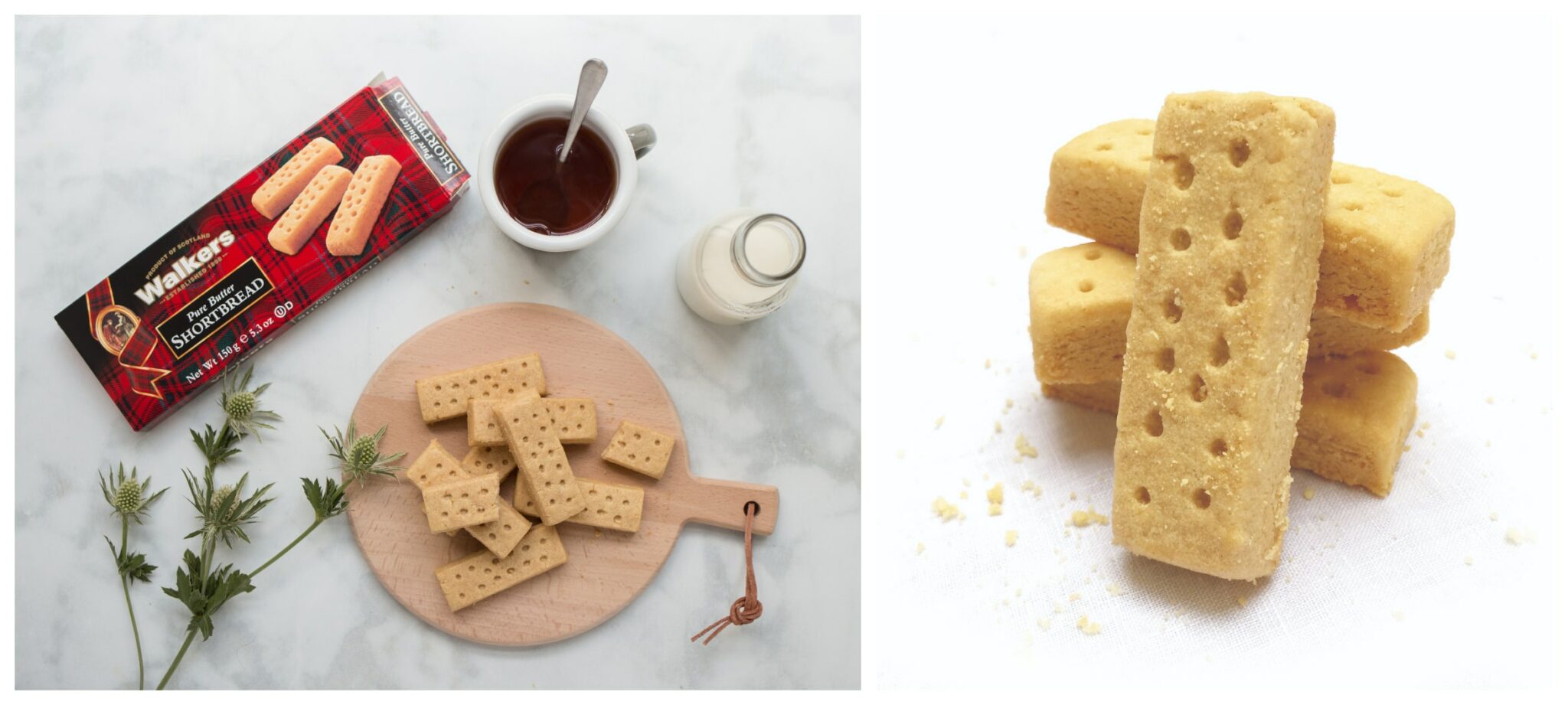 National Walker's Shortbread Day timeline
1898-1930
Walker's Origins
Twenty-one-year-old Joseph Walker opens the doors of his bakery with a loan of £50 and the ambition to bake 'The World's Finest Shortbread'. With success, Joseph expands to deliver his shortbread to more and more people.
1930-1950
Walker's Family and Business Expands
The two sons from Joseph's family, James and Joseph, joined the company to bring fresh ideas. With them comes the introduction to cakes, confectionery and the company's first delivery van.
1950-1990
Growing Success
By the 1970s, Walker's was exporting to over 60 countries without altering the winning recipe. By 1975, Walker's had outgrown their extended bakery and moved to a custom-built factory. Many people who worked for Walker's during this time are still with the company.
1990 - 2023
To the next 125 Years!
Walker's has picked up numerous international accolades, including five gold Mondiale medals, the Food from Britain Innovation Award, and the Queen's Award for Export Achievement.
Here's to the next 125 years of baking 'The World's Finest Shortbread' and bringing "Scotland at its Finest" to the rest of the world to enjoy!
National Walker's Shortbread Day FAQs
Are all Walker's products made in Scotland?
Yes, everything is baked in the Scottish Highlands, either in Joseph Walker's Aberlour home village, or 16 miles away in a small town called Elgin.
Where can I find recipes using Walker's Shortbread?
You can enjoy delicious, freshly baked treats at home by re-creating amazing shortbread recipes using Walker's Shortbread products. Go to Walker's recipe page and search from a wide variety of recipes, including desserts, gluten-free, sweet treats, and even 10-minute recipes!
How long does shortbread last?
How to Celebrate National Walker's Shortbread Day
Stock up on Shortbread

Make the best out of any season by buying all the necessary treats and ingredients from Walker's Shortbread. Once stocked up, you'll eat and bake with the most traditional Scottish flavors. Take the first step by placing your order today at Walker's shop.

Pairing Shortbread

Shortbread is delicious on its own. However, it's a great pairing with various drinks, with tea or coffee if you are craving something nice and warm, with scotch/whisky if you are more of a robust taste.

Share some shortbread with your friends!

National Walker's Shortbread Day is the opportunity to invite your friends or family to enjoy the traditional shortbread's taste. Or even better, you can try baking at home by picking one of Walker's delicious recipes, like the Chocolate Raspberry Fondue Board.
5 Facts About Walker's Shortbread
Made with only 4 ingredients!

Walker's Shortbread is made using only 4 ingredients: Butter, flour, sugar, and a pinch of salt.

Walker's traditional 125 years recipe!

Walker's Shortbread has been using the same all-butter recipe for the last 125 years in Scotland. And it is still simply delicious!

A family-owned business

Walker's Shortbread is still owned and operated by the Walker Family since its foundation in 1898.

Made with natural products

All products are guaranteed to be free of artificial flavors and colors. Their products are made using real butter and do not contain any hydrogenated vegetable oils.

Walker's gluten free options

All can enjoy Walker's Shortbread since it offers many Gluten Free Shortbread options like the gluten-free chocolate chip shortbread or the gluten-free ginger and lemon shortbread. Click here to see more of Walker's gluten-free options.
Why we love National Walker's Shortbread Day
We can enjoy it even after the holidays!

Let the holiday celebrations be one of many moments to enjoy a tasty and classic treat. Shortbread is a delicious year-round snack that can be enjoyed anytime with anyone!

They are the authentic taste of Scotland!

If you can't travel to Scotland, Walker's Shortbread brings Scotland straight to you! Shortbread is the perfect way to taste this beautiful country's simple and authentic flavor.

Simple Indulgence

Shortbread is the simple treat that can improve and elevate everything from tea time to "me time." Ready to try some delicious Scottish treats today?
National Walker's Shortbread Day dates
| Year | Date | Day |
| --- | --- | --- |
| 2024 | January 6 | Saturday |
| 2025 | January 6 | Monday |
| 2026 | January 6 | Tuesday |
| 2027 | January 6 | Wednesday |
| 2028 | January 6 | Thursday |