Fourth of July Doodle a Home Run for Google
Baseball Meets Toontown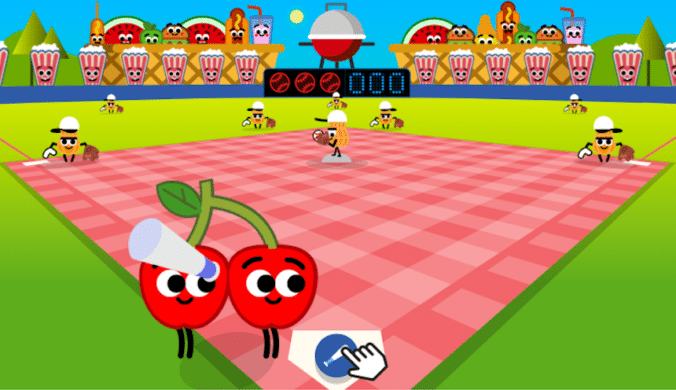 Something rather odd (and delightfully amusing) just happened to America's pastime. Safe to say — you've never seen baseball quite like this. Let's set the scene: I stroll into the batter's box with runners at second and third, and one out in the top of the first. Glancing down to third, I spot what looks like a smiling ribeye steak standing squarely on the bag. Strange yes, but a pair of bright red tomatoes currently occupy second base.  So, really, who's to say what qualifies as strange at this juncture?
The pitcher's wearing a nondescript green cap.  Did I mention that he's a peanut?
Me? I'm a juicy slice of watermelon with short stick-figure legs and no visible hands. A bat protrudes from my, ummm, rind. Welcome to Google's irresistible Fourth of July video game doodle now showing on a device near you. But never mind that — we're ready to play.
Here's the pitch. I gather it's a knuckleball since no laws of physics seem to govern its motion.
The ball's moving in all sorts of directions — despite what I think I know about gravity and common sense.
Needless to say, I swing and miss. "Strike," cries the umpire. Next pitch. I loop a sharp single into right field where another peanut comes up with the ball and returns it to the infield. The crowd roars.
Oh, yes. Attendance is quite high today. Gazing out over the left field wall, I notice this early July game has drawn lots of fans — who turn out to be buckets of popcorn sitting directly in front of a row jammed with hamburgers, hot dogs and milkshakes. Did you expect anything else?
I would go on, but there's an impatient ear of corn waiting in the on-deck circle. What a delicious night at the ballpark.
Happy Fourth of July!