The Best Santa Hats for 2023
It's that time of year to don an adventurous red hat and bring Santa ho ho home!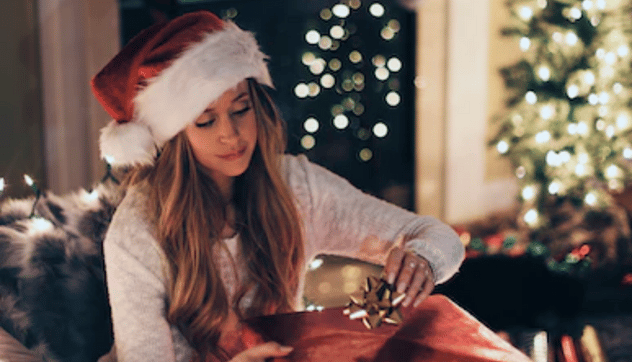 That special time of the year that we treasure most is almost here! A time when we get to share magical moments of joy and make a lifetime of memories with our loved ones. Just like a birthday without your favorite cake, a Christmas doesn't feel complete without the signature Santa hat. Well, do not let this year pass you by without making it a unique and extra special holiday with these stylish Santa hats up for grabs.
Considering that Christmas comes every year, we have had all the time and searched far and wide to find unique Santa hats that will make you and your loved ones stand out this time round. Forget the basic designs: here is a selection of rare hats that will catch everyone's eyes this festive season.
How We Picked
Quality Material

Picking a Santa hat with the right quality material is important. Varying from one person to another, certain materials are considered more comfortable than others. Therefore this is unique to you and you should consider what type and quality of materials best suit you.

Design

With so many similar designs of the same product in the market, it's time to explore other options! We decided to go with unique hats that will make you stand out and we guarantee you will love them.

Fit

We've all experienced the frustration of purchasing something online only to discover that it doesn't fit properly. Santa hats, on the other hand, come in standard sizes for both adults and children, so you don't have to worry about getting the right fit.

Price

With so many things to consider as you budget for the holidays, it is only right that we guide you to the best deals. We make sure that you will not only get a bargain but also value for your money!
Our Top Picks
Best Pick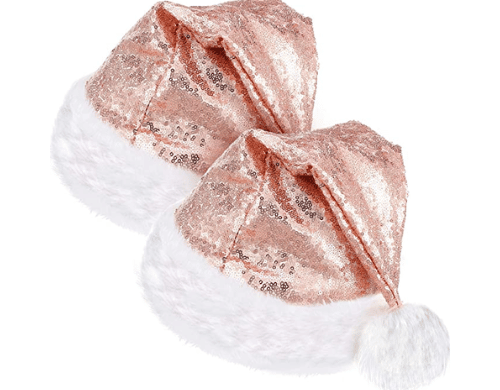 Its accessorized outer lining give it a glitter effect and sophisticated feel.
A unique and luxurious Santa hat made out of a plush and unisex velvet fabric with a double comfort liner.
This Santa hat is a standard size to start with so be rest assured that it's a good fit for both adults and kids. It's also extra soft on the inside to make sure you are comfortable and at the same time it is highly absorbent — no need to worry in case you sweat. The outer dazzling design will surely turn heads, especially under good lighting. If you love a shiny and luxurious look, then search no further!
Runner Up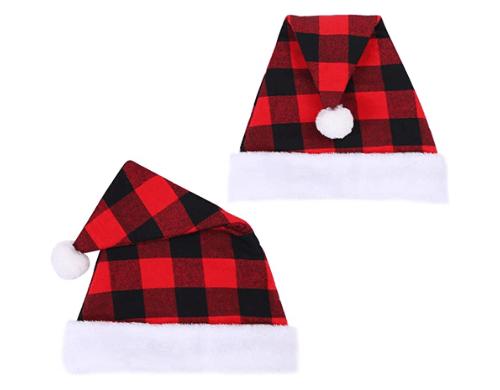 This popular Santa hat has a simple checkered pattern and it's super soft giving you that cozy feel.
A plaid Santa hat with a simple but not common look. It's made of high-quality red velvet with a double layer and comfortable lining to fit you just right!
If you don't want to go crazy with colors or decorations on your Santa hat and prefer a simple yet interesting look, this is the option for you. The black and red colors go well with the holiday season, and the material is smooth and gentle on your skin and hair. Even better, you don this hat during the rest of the year and get away with it.
Most Cost-Effective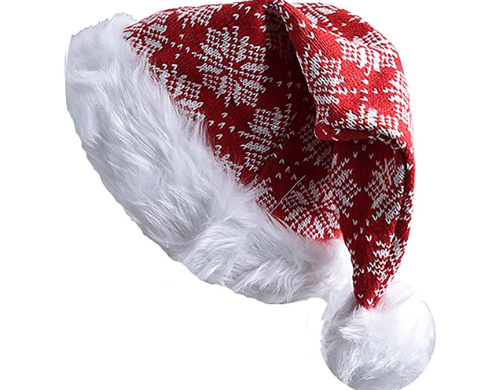 If you are looking for a Santa hat that doesn't break the bank, you are in luck.
This Santa hat comes in a variety of red, green, and white snowflake-inspired patterns.
This Santa hat gives you a warm and fuzzy feeling because it is made of high-quality red fuzz on the inside, which keeps you warm during the winter. Snowflakes and zigzag patterns are among the pattern options. It fits most adults but can also fit children, and the best part is that it is a steal!
Everything We Recommend
Best Pick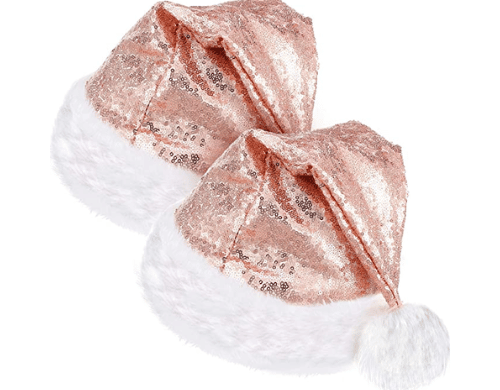 Its accessorized outer lining give it a glitter effect and sophisticated feel.
$15.99
Runner Up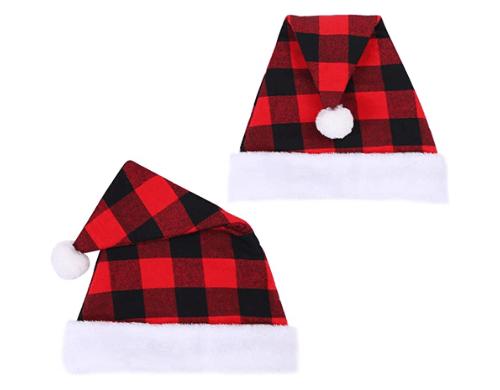 This popular Santa hat has a simple checkered pattern and it's super soft giving you that cozy feel.
$15.99
Most Cost-Effective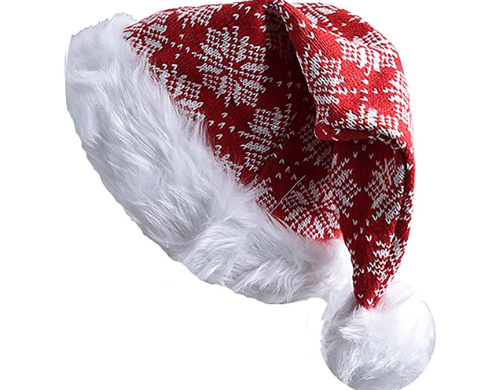 If you are looking for a Santa hat that doesn't break the bank, you are in luck.
Who This Is For
The Santa hats reviewed in this article are for any person in the world who wishes to buy new ones for their family and loved ones or better yet try something new this holiday season!
Santa Hat vs Elf Hat
These two types of hats are both worn mainly during the festive season and have a mild similarity in terms of shape and color. However, the Santa hat is preferred by most families and especially kids due to its fluffy and bright appearance.
Is It Worth Splurging On a Hat?
We all feel special and loved when given gifts or when someone buys a present for us; it is heart-warming to know that someone took their time to think about something you would love and decided to actually buy it for you! We can't put a price on love or how it is expressed, but if you would love to express it with something that says you still have that sense of wonder, then a Santa hat is worth splurging on!
Why You Should Trust Us
Many of the Santa hats in the market have had a similar look over the years and we understand the desire to try out something different and surprise someone you care about with a unique gift they will remember you for. We have taken our time to scroll through endless lists of hats to bring you the top choices with desirable features such as quality, the uniqueness of the design, price, and durability.
How We Picked
When picking any type of clothing, the quality of the material is a major consideration to have in mind because we all have different opinions on what makes us feel comfortable. We have only considered Santa hats made of comfortable materials that will serve you well in several ways. First off, the materials used to make the inner lining are soft and warm to ensure your hair and skin are protected from the harsh winter weather. Second, the inner material is also absorbent so that you don't have to worry in case you sweat a lot.
We also put a lot of thought into the fitting of these hats so that no matter who you buy them for, they can fit. The stretchy nature of the white lining makes it easy to even fit on children so no need to worry, we have you covered.
When it comes to the design, we spared no effort searching for unique patterns and colors that will stand out. As you will notice, every Santa hat in this review has its unique aspect; from LED lights to glitter accessories on the outer surface, there is something for everybody!
The prices of these hats are rather fair and pocket friendly to make sure you don't excessively spend. And, we sure had to sneak a few discounted pieces. Finally, the durability of these hats is guaranteed, especially if you follow the right care and maintenance suggestions outlined at the end of this review.
Care and Maintenance
Each of the above-mentioned hats requires unique care when washing which is different for each. However, in summary, we believe that the best way to ensure you don't damage your hats is strictly washing them by hand. Washing machines tend to be rough on these kinds of materials which will, in turn, cause them to start flaking off and fading.
As for the light-up LED Santa hat, it is best to follow the washing instructions that you will receive together with the package. It is wise to disconnect the batteries and completely separate them from the hat as you wash it manually by hand. When drying the hats, During drying minimize extended exposure to the sun as it would accelerate fading.
Make sure you store them in a dry and secure place away from dust, water, and exposure to pests that may wreck your favorite hats.