The Best Exercise Ball of 2023
Ramp up your fitness with the best exercise balls on the market!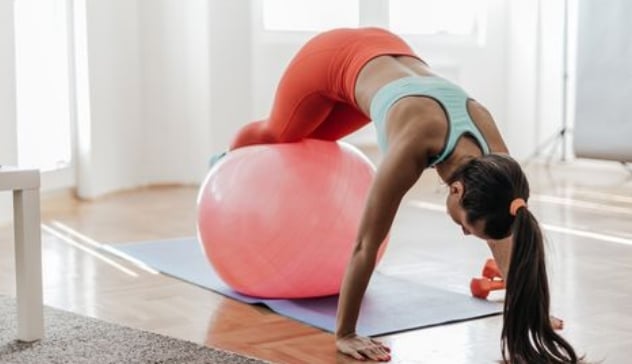 Every day is the perfect day to get your exercise on! As you should know, frequent exercise has many benefits to keeping your body fit and energetic. And getting gym equipment is the perfect way to help you stay committed to a fitness routine. When you think of gym equipment, you most likely imagine popular ones like the dumbbell, barbell, treadmill, and stationary bicycle.
But how about an exercise ball?
Exercise balls are a simple and classic way to upgrade your exercise routines. They may not be the first thing you think of when you contemplate exercising, but their fitness benefits will amaze you; they provide an improved balance and flexibility, expand the range of motion, and strengthen the core.
That is a game changer in keeping fit. The fun part is that these balls are relatively inexpensive compared to other fitness equipment.
There are a lot of exercise balls on the market. Quite honestly, picking a suitable exercise ball is tricky because they all just look the same.
However, we did our research, reviewed different exercise balls, and found the best for you.
Our Top Picks
Best Pick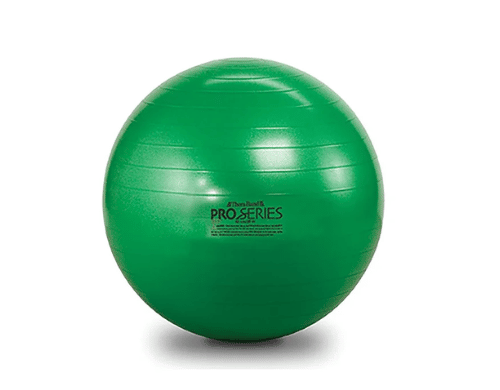 A perfect blend of comfort, safety, and quality.
Runner Up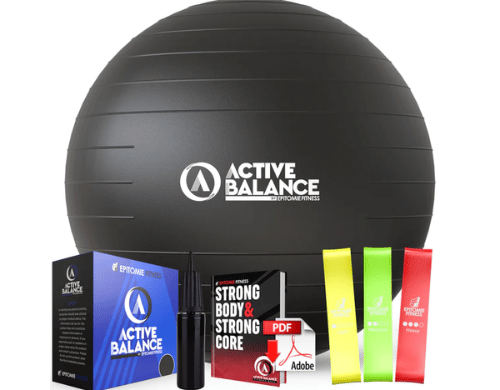 Perfect for beginners.
Most Cost-Effective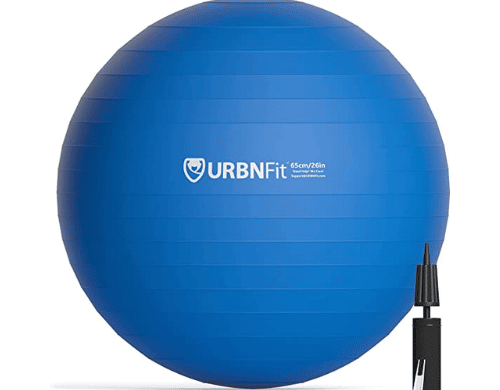 Great for easy setup.
$27.93
Who This Is For
Exercise balls are for everyone to keep fit and maintain excellent physical wellness. They are also helpful to people with back pains, pregnant women, and patients with spinal dysfunctions.
However, it is best to consult a professional before using an exercise ball for medical or fitness reasons.
Stability ball vs. exercise ball – is there a difference?
There is no difference between stability and an exercise ball; they are essentially the same thing. Stability balls, yoga balls, balance balls, physio balls, Swiss balls, pilates balls, and birthing balls are all other names for exercise balls.
However, birthing balls are usually bigger compared to regular exercise balls.
Is it worth splurging on?
Compared to other health and fitness equipment, exercise balls are relatively economical, with a price range of $12 – $45 for most.
Considering this, you'll see that spending on an exercise ball is not splurging. Also, given the numerous health and fitness benefits these balls provide, a good exercise ball is worth every dime of the money you spend on it. Some of those benefits include:
Strengthening your core:
We already saw that an exercise ball could also be called a gym ball, yoga ball, or Pilates ball. The reason for those names is that an exercise ball is typically employed in gym and yoga sessions to train your small muscles and connect you with your center of gravity.
Bench exercises are indeed rewarding. However, you can replace your bench with a ball; it will make your workouts more challenging and, therefore, more rewarding. Because you'll struggle to balance on the unstable exercise ball, your core muscles will be alive, engaged, and stabilized, rendering more support to your body movements.
Exercise balls also offer elevation, which will help you engage your hard-to-reach and deep muscles that are usually ignored when working out on flatter surfaces.
Boosts back health:
This brings us to the original use of exercise balls. Physical therapists first employed them to aid patients in physical rehabilitation, specifically those with spine or back injuries. An exercise ball will engage the spinal muscles supporting your structure and increase blood flow to your spine.
Therefore, your posture will improve, and your lower back and spinal column will strengthen. Anywhere blood flows more, there's less or no pain, so an exercise ball is typically used in therapy to reduce physical pain.
Improves flexibility:
Struggling to balance on an exercise ball's challenging round or spherical surface will make you stretch more than you usually do. Stretching expands and adjusts your muscles to give your joint a wider range of movement.
some may know, stretching is essential before a strenuous exercise or workout to reduce muscle injury. Therefore, you can use an exercise ball to warm up before you hit the gym or berserk on your home workouts.
Improves balance:
Have you ever heard of proprioception? It's a person's ability to sense the relative position and actual motion of the different parts of the body. That is, a person's ability to maintain control and coordination of their body.
Everyone has proprioception, and exercise balls improve this so that you don't fall to the floor while getting a snack in the kitchen. In essence, using an exercise ball will help improve the awareness of your body as it moves; hence your balance will improve.
Exercise diversity:
The exercise ball is also particularly great because you can do all sorts of exercises with it. You can use an exercise ball for resistance training and cardio burns to body weight workouts.
An exercise ball is typically an intense and fun way to go about your exercises; using one will leave you invigorated and cheerful.
Why You Should Trust Us
We extensively researched exercise balls online, focusing on how they should function and the benefits they will give relative to muscle strength, body posture, and overall well-being. This research gave us the insight to pick the best exercise balls for you. We paid attention to their thickness, size ranges, stability, and price.
How We Picked
There are hundreds of available exercise balls on the Internet that a search for one can quickly get overwhelming. You will agree that all these balls look alike; some may even feel the same on the outside. That is why we carried out a thorough evaluation based on the criteria we found to be most important.
We paid keen attention to the thickness of the ball material. The thickness of exercise balls is a significant pointer to how resistant a ball is to burst.
We also looked into the texture and weight of the balls to ensure our picks gave a feeling of comfort – a delicate feel and relatively lightweight for portability.
We made sure our picks exclusively included balls that come in more than two sizes and colors to ensure that you have many options. However, our links will lead you to one size (65cm/26 inches) because it's the average and most purchased size.
Design and style influenced our choice because we wanted something you would be proud to show off. We also chose our picks based on durability, going for products that last through different seasons.
Finally, we carefully compared the price of each exercise ball with its offer to ensure you're getting your money's worth.
How We Picked
Material Thickness + Texture

A good ball should have enough thickness, so you don't need to worry about it snapping underneath you. Also, a ball with some ridges on the surface will offer better grip, especially with sweaty hands.

Size

There's no one size for all, as the user's height determines the size to get. We focused on brands with wide ranges of ball sizes for different heights and used their 26-inch balls for reference.

Stability

This is important because you would want a smooth ball to promote easy movements but with enough traction to provide balance.

Price

Generally, exercise balls are not expensive. However, our list offers balls with the best functionality at relatively pocket-friendly prices.
Care and Maintenance
Suppose you've decided to incorporate exercise balls into your routine. In that case, the next thing you need to know is how to properly care for your ball to give you the best performance for a long time.
Here are some tips to take care of your exercise balls.
Remove any obstructions that could puncture your ball from the area you will keep your ball. Use a vacuum cleaner to ensure no debris is left on the area you will place the ball. That will ensure that your ball's surface is kept intact.
Clean any liquids (like glues and lacquers) from the area you'll place the ball to prevent corrosion on the surface of your ball.
When the ball is dirty, clean it with a soft cloth dipped in soapy water. Don't use chemical cleaners because they will break down and spoil the ball's surface.
Use a measuring tape while inflating the ball to ensure it doesn't exceed the maximum size. Use the instruction guide provided by the ball's manufacturer.
Check the diameter of your ball every other day; if it becomes bigger, deflate it till it corrects back to standard size.
Before using, check your ball for wear, tears, deep scratches, and cuts. Do not patch burst balls. Make sure you're using your ball indoors only.
When you're not using your exercise ball, store it at a minimum of 20°C. If you forget to do this, remember to do so three hours before you use it.
If you don't have space, deflate your ball and keep. Since you'll be alternating deflation and inflation, get an electric pump to save time and stress.
Use the udders and plastic circular stands to store your balls if your balls come with them.
Do not store it in a hot place to prevent your ball from expanding.
Keep your ball out of children's reach.