Every Christmas is an opportunity to create some memories. How about helping your kids make some holiday-themed crafts? These fun Christmas crafts for kids will keep little minds and restless fingers pleasantly occupied. Maybe you can get the whole family involved! Merry Crafting!
1. Paper Plate Santa

Kids will love to make this and it's so easy!
2. Rocking Christmas Tree

Another paper plate craft and this one totally rocks!
3. Candleholder Keepsakes

Get those tiny fingers to make a gift that you'll always cherish.
4. Pom Pom Garland

Add a personal touch to your Christmas tree with these handmade pom poms.
5. Scrap Ribbon Christmas Tree

Don't throw away those scraps of ribbons after gift-wrapping. We've got trees to make!
6. Potato Stamps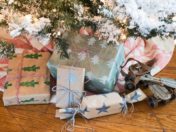 Kids will go potatoes making these fun shaped stamps!
7. 3D Christmas Tree

Whatever happens, don't run out of green construction paper!
8. Candy Cane Holder

Go retro and make one with the kids!
9. Pasta Christmas Tree

They look so good you wanna eat 'em up!
10. Coffee Filter Snowflake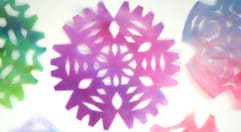 Let it snow! Let it snow!
11. Dancing Elf

The best part is you can say your elf did it!
12. Santa Slime

This is a crowd-pleaser especially if all the guests at the Christmas party are kids!