18 Spooky Halloween Food Ideas

Halloween means parties, and parties need snacks. That's where you come in, with a table full of easily made creepy appetizers and desserts that will put both your child and adult guests into a spooky Halloween food mood!
Halloween Food Ideas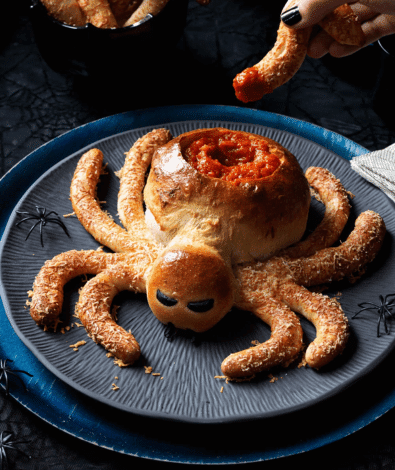 1
Saucy Spider with Hairy Leg Sticks
Preheat oven to 375 degrees. Use one ball of pizza dough to build a spider body and head and roll out eight legs, and another ball to roll out extra legs for dipping. Press olive slivers into the head for eyes, brush the body with beaten egg, sprinkle all the legs with Parmesan cheese and bake on a baking sheet for 20-30 minutes. Hollow out the body of the baked spider and fill with marinara sauce.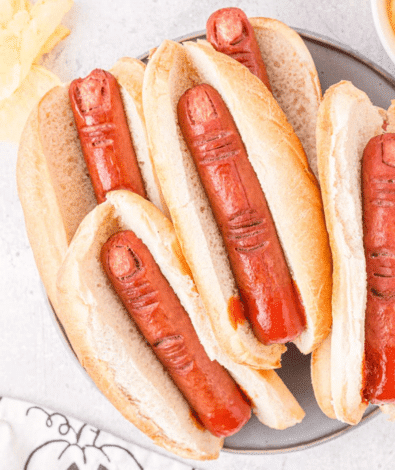 2
Hot Dog Fingers
Carve knuckle slices in hot dog pieces, boil, douse with ketchup and add a small slice of onion as a fingernail at the top of the dog. Just make your basic deviled egg recipe, but add an olive slice for the iris and drip red food coloring on each egg white to simulate bloodshot eyes…creepy!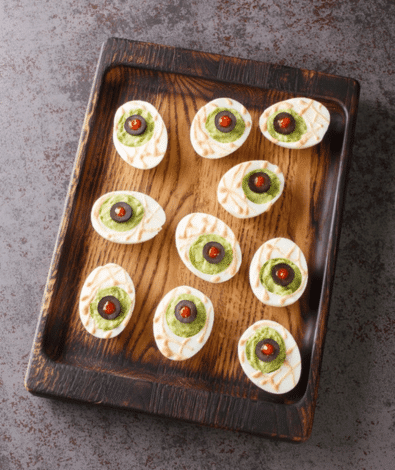 3
Egg eyeballs
Just make your basic deviled egg recipe, but add an olive slice for the iris and drip red food coloring on each egg white to simulate bloodshot eyes…creepy!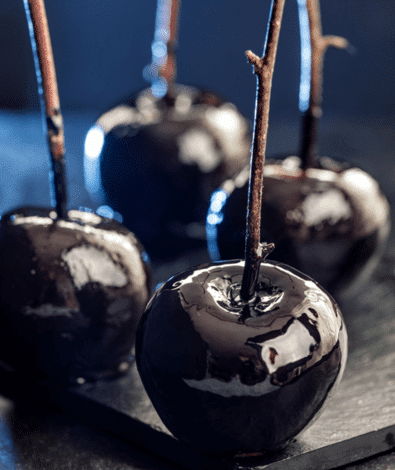 4
Poison Toffee Apples
Heat up 2 cups of sugar, 3/4 cups water, 1/2 cup corn syrup and a few drops of black food coloring in a pot and boil until hard crack stage (310 degrees). Skewer 12 small unwaxed apples with bamboo sticks, dip each in the caramel and place on parchment paper to cool for an hour.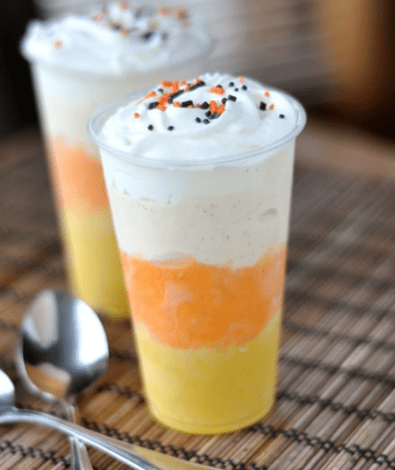 5
Candy Corn Milkshakes
Soften some vanilla ice cream, add yellow food coloring, mix well and refreeze. Then create each drink serving by layering yellow vanilla ice cream at the bottom of each glass, orange sherbet in the middle and regular vanilla on top, freezing the desert for 5 minutes between layers. Top with whipped cream and your favorite sprinkles!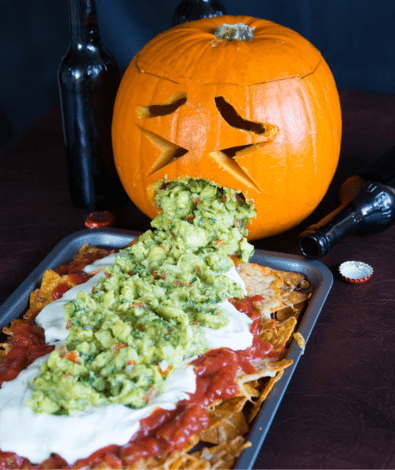 6
Barfing Jack O' Lantern
Carve a jack-o-lantern out of a medium-sized pumpkin with a wide open mouth and put it on one end of a long platter. Then spoon out the chunkiest guacamole you can make (extra tomatoes and red onions, please) in a thick line across the platter that starts at the jack-o-lantern's mouth. Line each side of the guacamole line with chips and you're set!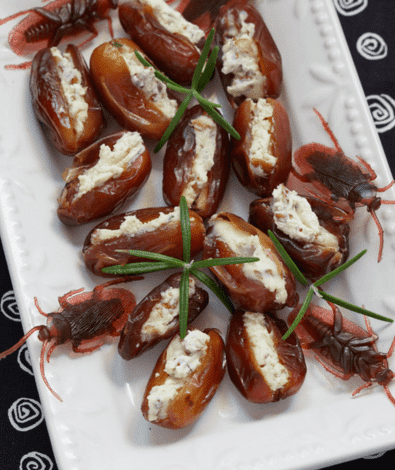 7
Roach Dates
Mix together pitted dates, softened cream cheese, and finely minced walnuts. cut the dates down the side a bit and fill them with the cream cheese walnut mixture, then sprinkle with brown sugar. Gross—and delicious!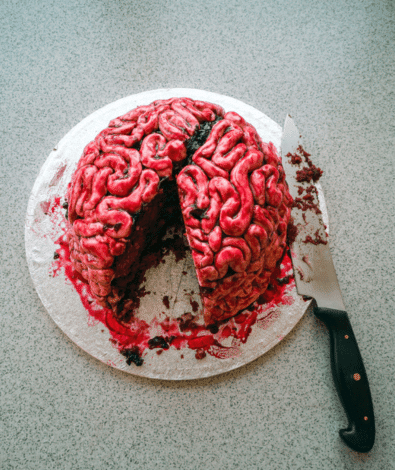 8
"Walking Dead" Brain Cake
Yes, you can buy a brain-shaped cake mold. Or you can bake a favorite cake flavor into a half-sphere, then roll up pieces of white fondant into rope-like pieces and squiggle them across the surface of the cake, and top with red food-colored glaze.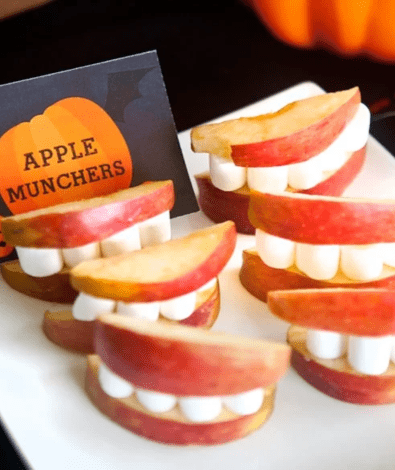 9
Apple Munchers
Core an apple, cut into slices, and place mini marshmallows in between two slices to resemble teeth and lips.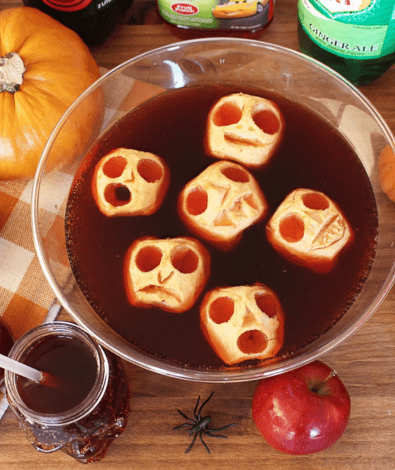 10
Apple Faces in Bloody Goo
Peel apples, carve spooky faces in them and drop them into a bowl of red Jello mix before you chill it. Remove from refrigerator when solidified and get scared!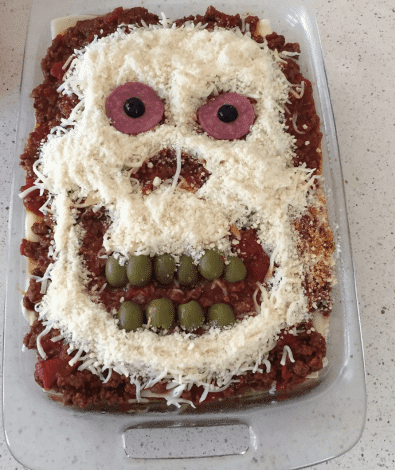 11
Skull Lasagna
All you need for this is to build your lasagne as usual, top with a red sauce layer, then shape a layer of mozzarella cheese into a skull that fits the length of the pan. Be sure to delineate the eyeball sockets, and nose and mouth holes with red sauce devoid of cheese. Add olives to the eyes for best effect.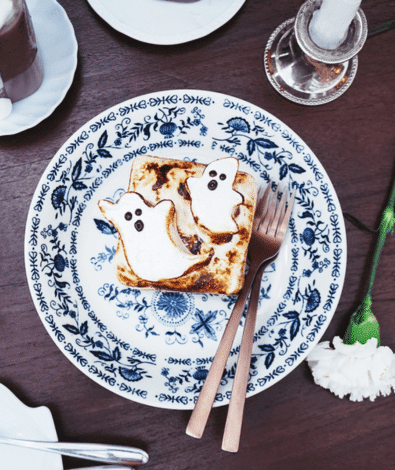 12
Ghost S'Mores
Preheat your oven to 450°. Spread out 2 cups of semi-sweet chocolate chips in the bottom of a square baking dish and pour 1/4 cup of cream on top. Cover that completely with a single layer of halved marshmallows and place mini chocolate chips on the marshmallows as eyes and mouth. Bake for 8-10 minutes and serve with graham crackers for dipping.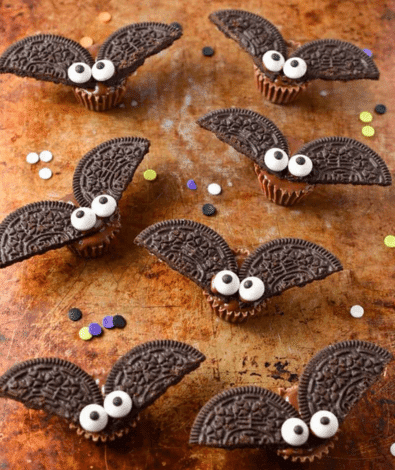 13
Reese's Bat-e-o's
Easy assembly on this one. Just separate the cream from a bunch of Oreos, cut each cookie in half, and use peanut butter to stick the two cookie halves to a Reese's Mini Peanut Butter Cup to look like wings. Use peanut butter to stick mini candy eyes onto the top, and then build a bunch more!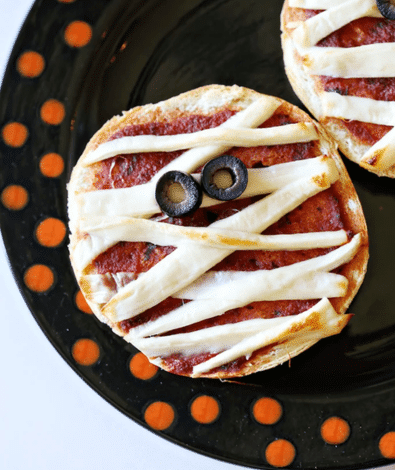 14
Mummy Bagel Pizzas
Top a bagel half with a layer of pizza sauce, then strips of mozzarella cheese. Put two olive slices for eyes on top and heat on a tray in a toaster until cheese melts.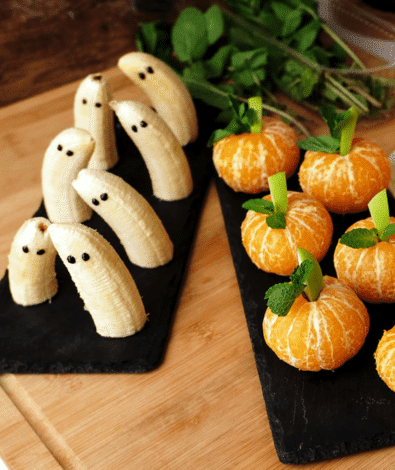 15
Banana Ghosts and Tangerine Pumpkins
Instant cuteness. Chop bananas in half and push three chocolate chips into the top of each piece as eyes and mouths. Peel a bunch of oranges and push a small piece of celery into the top of each one as a stem.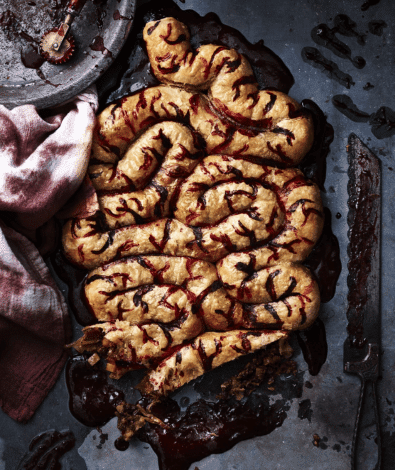 16
Intestine Cake
Lay out strips of packaged pre-made puff pastry, and connect the smaller strips into three long strips. Fill the long strips with either sweet or savory filling and carefully pinch them closed so that they resemble tubes. Place the three tubes in a baking pan, squiggle them tightly to look like intestines, and brush with beaten eggs mixed with red food coloring. Bake at 375 for 25 minutes and serve.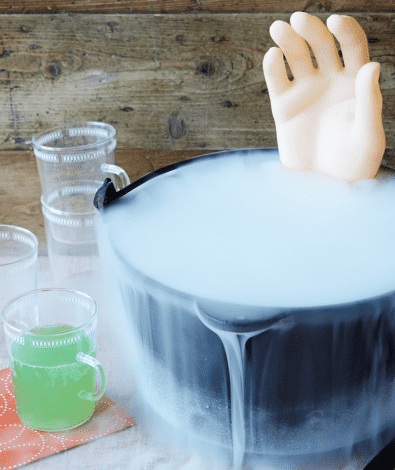 17
Witches Brew
Fill two powder-free latex-free rubber gloves with water, tie the wrist ends securely, then freeze. Bring a couple of cinnamon sticks and cloves, some minced fresh ginger, water, and sugar to a boil in a small heavy saucepan, stirring until the sugar has dissolved, then simmer for a few minutes. Let it sit for an hour, then strain the solids out of the syrup and chill it till it's cold. Pour the syrup into a punch bowl and mix with lots of chilled cranberry juice, sparkling cider and seltzer. Finally unpeel the gloves from the ice and add the ice hands to the bowl for a freaky effect.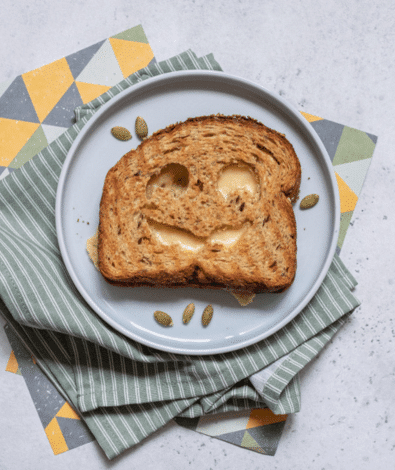 18
Jack O' Lantern Grilled Cheese
Another easy one. Just cut jack o' lantern face shapes into the bread and drip bloody ketchup on the sandwich when you serve it.