This 84-Year-Old Italian Grandmother Is Livestreaming Pasta-Making Classes
For World Pasta Day you can be authentic and get the full Italian experience.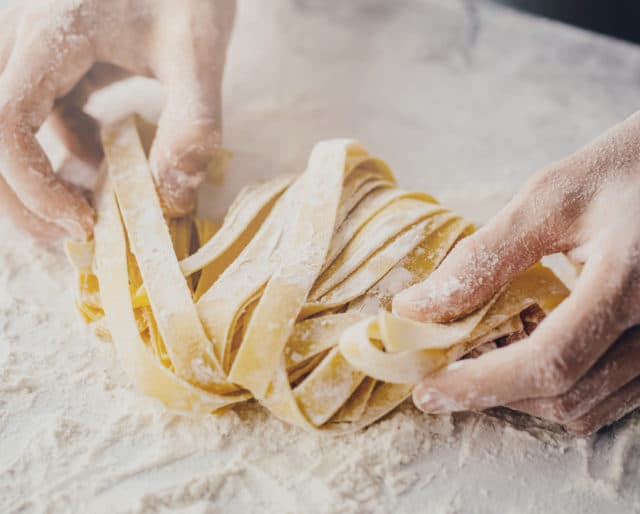 World Pasta Day is on October 25 and we're readying our bellies for a carb-filled feast. Whilst the origins of pasta are often disputed, few can argue with the notion that it's the Italians who hold pasta closest to their hearts.
Eating homemade pasta is part of growing up and family life in Italy, and so to get the chance to learn how to make pasta from an Italian grandmother who has been perfecting the art her entire life is one that is not to be missed.
A forced change
Prior to the pandemic, 84-year-old Nonna Nerina could be found running pasta-making workshops in the countryside around an hour's drive north of Rome. When lockdown was enforced Nerina's workshops were no longer possible and so, with the help of her granddaughter Chiara, Nerina took her classes online.
https://www.instagram.com/p/CFWdRDxqIFm/
The virtual cooking class lasts for two hours with Nerina guiding you through her family recipes. You are sent the required ingredients a week before the class. Those seeking the authentic Italian experience can choose to learn fettuccine with ragù, fettuccine with tomato sauce, authentic lasagna, ravioli with ricotta and spinach, gnocchi with pesto, and cannelloni.
It sounds like a great activity for those of us who are trying to be as productive as possible during these difficult times.
The results
We had a little snoop on Instagram and found one of the students had uploaded their ravioli. It looks pretty appetizing.
https://www.instagram.com/p/B_BPPg1n1Uf/
It's great that something so established as a cooking workshop in rural Italy has been able to adapt and blossom despite the troubles that have accompanied the pandemic. It's also pretty great that we now have the option to learn how to make homemade pasta from an Italian grandmother. Happy World Pasta Day, we hope you have a carb-tastic time.