Can't make it to New Orleans? You can still throw a Mardi Gras bash! Get started with these 20 Mardi Gras decoration ideas for your 2019 party!
1. Beads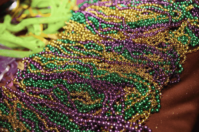 They're everywhere! Think purple, green, and gold.
2. Jester Hat

Let your guests make their own festive jester hat. All you'll need is construction paper, scissors, and glue.
3. Bead Coasters

Use your bead necklaces to make festive drink coasters.
4. Masquerade Sugar Cookies

Sure, you could technically put this in the food category, but they'll also add to the décor (while they last). They're almost too pretty to eat. Almost.
5. Party Straws

Make drinks even more fun with festive straws.
6. Masks

Let your guests get in on the fun by making their own masks. Supply plenty of feathers, sequins, and glitter.
7. Garland

String these up anywhere!
8. Candle Votives

In case you haven't heard, glitter is all the rage at Mardi Gras. Use some to create these fabulous candle votives.
9. Mardi Gras Street Signs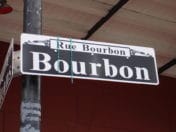 Everyone knows Bourbon Street is the center of the universe during Mardi Gras, so why not honor it at your party?
10. Fleur De Lis Confetti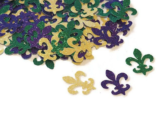 Shining, glimmering, and glittering. Fleur-de-lis confetti will have everyone feeling festive.
11. Masquerade Mask Balloons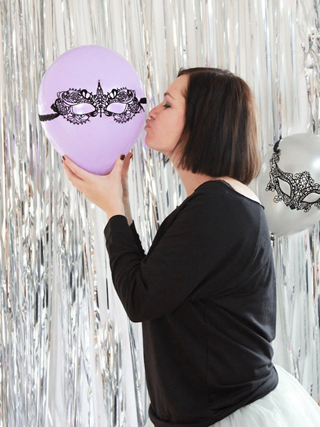 Have your balloons join the party!
12. Feathers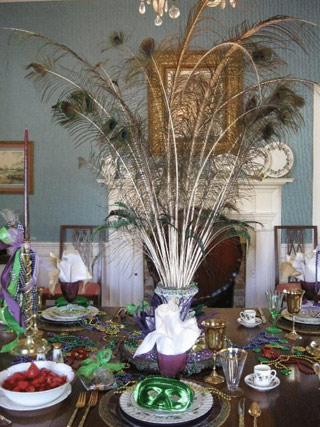 Mardi Gras is all about the feathers, so you'll certainly want some for your party. Whether a centerpiece for the table, or spread out throughout your home, feathers are an absolute must.
13. Door Decor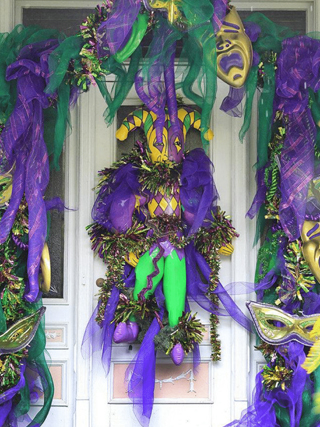 This is not a holiday to be subtle, so it's a chance to let your love for decorating really shine. Why not do up your door with all things Mardi Gras to welcome your party guests?
14. Centerpiece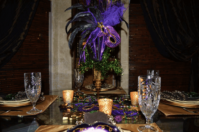 A great centerpiece can make a big difference. Create your own!
15. Confetti-Filled Balloons

You can never have too many balloons at a party, especially when they're filled with glitter.
16. Wreath

You can hang this festive wreath on your door or anywhere else you'd like. And it's quite simple to make. Simply glue some masks together and add in some beads.
17. Bead Cones

Styrofoam cones + beads = Magic
18. Crown Centerpiece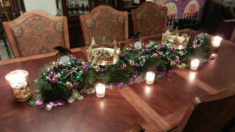 The crown jewel of your party/dinner table.
19. Streamers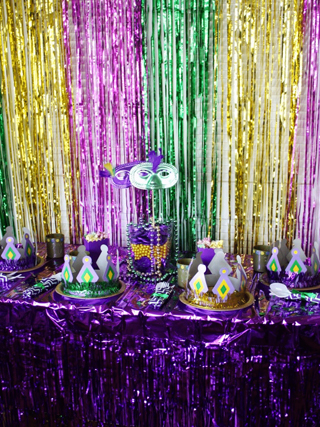 If we are being honest, it's hard to throw a party without streamers involved in one way or another. And Mardi Gras is no exception. Pick festive colors and have fun putting these things wherever you'd like.
20. Chandelier

That is… if you still have any beads left!