Valentine's Day is more than just candy and chocolate. It's about spending time with your Valentine (and friends)! So here are 10 fun Valentine's Day games that will appeal to anyone! Try playing one — and get a little closer to the people you love.
1. Crossword Puzzle

Give your brain a workout with a crossword puzzle. The Valentine's Day version features all sorts of love-related clues to get you in the spirit.
2. Heart Bean Bag Toss
The Heart Bean Bag Toss combines a unique craft with a classic game. All you'll need are some cloth and sand for the bags, plus construction paper, markers, and glue for the board. Once you're done, set it up in your living room or garage and see who can get the most points!
3. Valentine's Day Word Search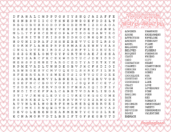 Get kids excited about the holiday with a Valentine's Day word search. Print out any number of free options online and help them get started by finding words like "love," "chocolate," and "adore."
4. Heart Darts

Get a piece of cardboard and two dozen small pink or red balloons. Cut small holes in cardboard — then blow up and tie the balloons in different sizes through the holes. Use darts to try to pop the balloons once you're done!
5. Heart Jenga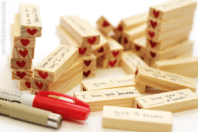 Try a spin-off from typical Jenga. This one incorporates telling your partner different things you love about them. Write down different idea starters on each Jenga piece and then follow the instructions on each one before stacking it.
6. Valentine Bingo

Decide on a grand prize for the winner like a nice Valentine's Day dinner out, or a big box of chocolates.
7. Name That Love Song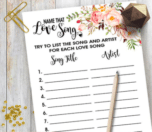 Here's a great couples game. Each couple fills in the song titles and artists on a list. Play a mix of love songs and then tally up the scores. Whoever gets the most song titles and artists correct, wins!
8. "Minute To Win It": Valentine's Day Edition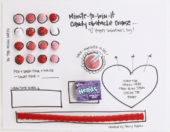 Valentine's Day is the perfect time to recreate any of the famous "Minute To Win It" games. Try the obstacle course pictured above, or the heart stack, where players try to stack as many candy hearts as possible before time runs out.
9. DIY Heart Skee-Ball

A miniature version of the popular bar game, Valentine's Day skee-ball uses ping pong balls instead of full-size balls. The DIY structure takes a while to make, so be sure to give yourself enough time to look up instructions, gather materials, and assemble it before Valentine's Day.
10. Valentine Charades

Who doesn't love charades? The Valentine's Day version incorporates famous romantic movies, books, phrases, and more! Try playing with family or friends.