If summer gets any earlier, we'll be swimming by Easter. Turns out Memorial Day's not the beginning of the season after all. The "new" first day of summer happens on National Sunscreen Day — which falls on the Friday before Memorial Day.
But which sunscreen to choose? We turned to the experts at Consumer Reports for some help:
Lotions
The magazine found lotions are still the best way to protect your body from the sun. Why? Because you have a better chance of getting your entire body lathered up. This isn't to say you shouldn't call for backup when applying. We've all had moments where we looked in the mirror after a day in the sun and saw a random burn line thanks to missing a spot on your body. Holy Ouch and Holy Awkward.
Bull Frog Land Sport Quik Gel SPF 50 sunscreen
The sunscreen made for the sweaty kids of summer. This gel formula allows sweat to pass through while still staying protected. Even more of a plus, Bull Frog also carries a 2-in-1 product: part sunscreen, part bug repellant!
Grab a bottle at your local Walmart for less than $9!
La Roche-Posay Anthelios 60 Melt-in Sunscreen Milk

While this sunscreen may be a bit of a splurge, its main advantage is versatility. This can be used on both your body and face, so no need to purchase multiple products. It won't cause breakouts and leaves a dewy glow once it sets! That's right — dewy.
Get it at Target for $21.99.
Sprays
Don't like getting your hands slimy from lathering on lotion? Then sprays are a great option since they're easy to apply and tend to set in much faster. Another plus? The top-scoring sprays were among the cheapest on the list.
Trader Joe's Spray SPF 50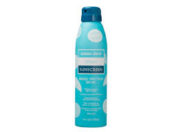 I'm starting to wonder if there is anything Joe can't do. First, he turns every carb into a cauliflower substitute, and now he's protecting our skin?! I'm amazed. The TJ spray is one of two sunscreens to score a perfect 100 according to CR. Plus, it has a tropical, citrus scent much to the delight of your beach neighbors.
Get it for just $6 at your local Trader Joe's.
Banana Boat SunComfort Continuous Spray SPF 50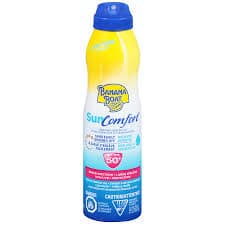 To me, Banana Boat is the mascot of summer. With over 13 different products to choose from, it's certain you will find something you like. This spray is water-resistant but it isn't sticky, so you don't have to worry about bringing half the beach home with you.
Pick up a bottle at Walgreens for just $11.49.
Oxybenzone-free
You're probably wondering what the heck oxybenzone is and why you should care whether it's in your sunscreen or not. Recent studies have shown this chemical can be absorbed through the skin more than expected. While no one is saying it's toxic, certain brands are making the switch to remove the ingredient from their formulas.
Hawaiian Tropic Sheer Touch Ultra Radiance Lotion SPF 30 Sunscreen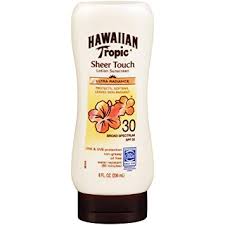 We love HT's sunscreen because its formula resembles a daily lotion you can lather on in the morning to keep skin moisturized and glowing. It's just an added benefit that it protects you from the sun!
Grab a bottle at Target for $7.89.