100 Easter Crafts
Unleash your creativity with 100 Easter craft ideas – from bunnies to religious activities - and celebrate joyfully!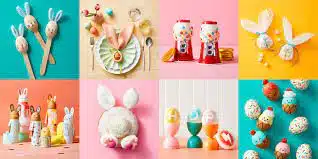 Easter, the season of renewal and hope, is just around the corner, and what better way to revel in its spirit than through crafting? Unleash your creativity and spread the joy of this cherished holiday with our extensive list of 100 Easter craft ideas! 
Whether you're a parent looking for fun projects to engage the little ones, an educator seeking innovative classroom activities, or an art enthusiast eager to add a touch of handmade charm to your celebrations – we have something for everyone! 
From egg-decorating delights and religious-themed crafts to festive home decor, our curated collection promises to infuse the season with vibrant colors, laughter, and endless smiles. Let's craft our way to an Easter filled with warmth and inspiration!
For Kids and Preschoolers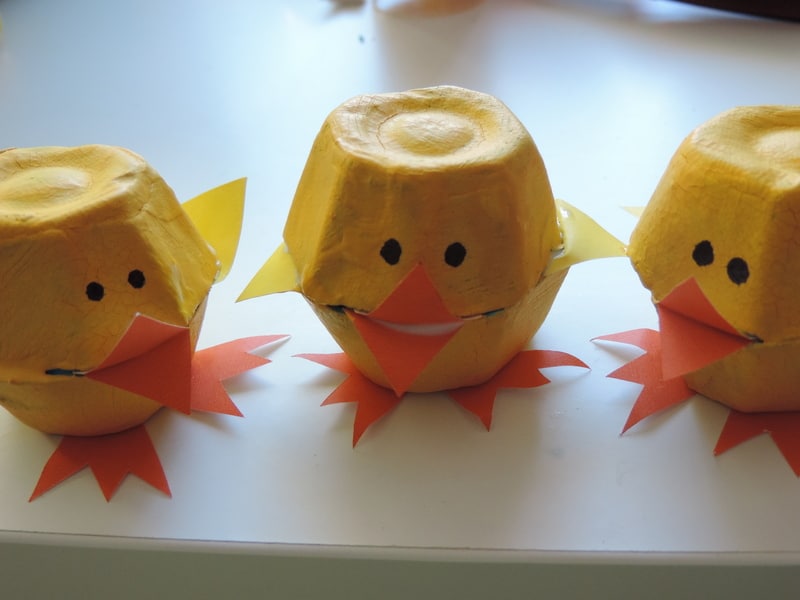 1
Egg Carton Chicks
Help kids make personalized Easter cards by using their handprints as bunnies or chicks, adding cute messages to share with loved ones. Encourage eco-friendly crafting with Egg Carton Chicks! Children will have a blast transforming discarded egg cartons into cute little chicks using bright paints, googly eyes, and feathers. This craft develops their artistic skills and instills a sense of environmental responsibility by reusing materials for play.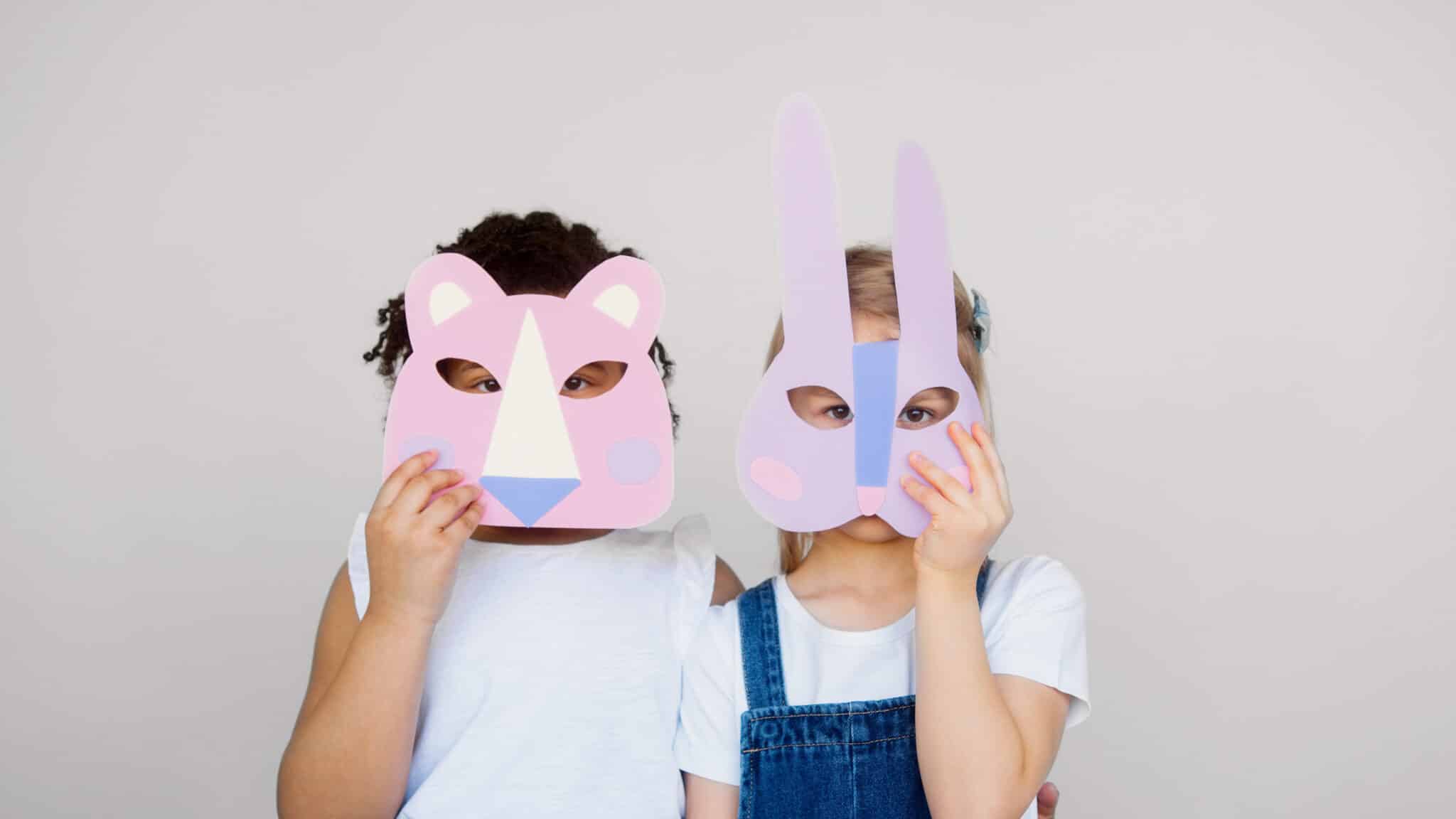 2
Bunny Masks
Let imaginations run wild with Bunny Masks! Kids will enjoy designing and wearing bunny masks, hopping, and playing pretend games during Easter festivities. The craft fosters role-play and social interactions, making it a delightful addition to any Easter party.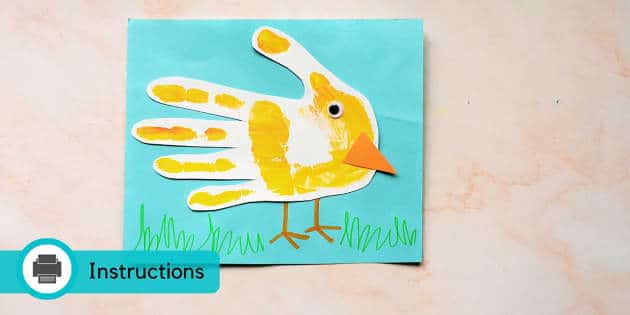 3
Handprint Easter Cards
Craft Easter baskets from paper plates decorated with pastel colors, ribbons, and stickers. Fill them with chocolate eggs for a delightful surprise. Spread joy and love with Handprint Easter Cards! Children can put their tiny hands to work, creating heartwarming Easter cards for family and friends. This craft allows kids to express their affection and creativity, leaving recipients touched by the heartfelt gesture.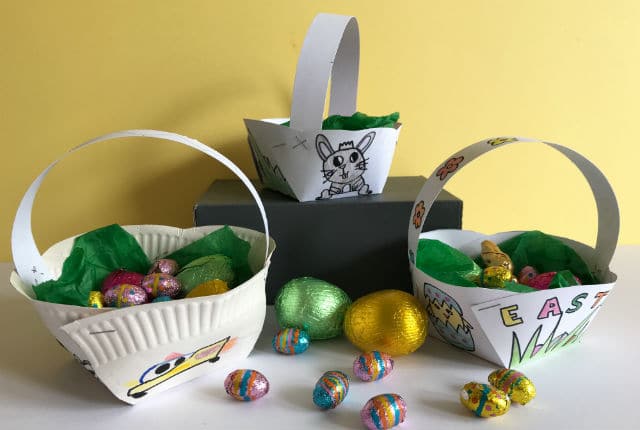 4
Paper Plate Easter Basket
Fill plastic eggs with rice or beans and seal them tightly. Once decorated with colorful tape, kids will have fun shaking their homemade maracas to the beat. Delight little ones with Paper Plate Easter Baskets! Kids can showcase their artistic flair by decorating paper plates and transforming them into adorable baskets. Filling these charming creations with yummy treats will create joy throughout Easter celebrations.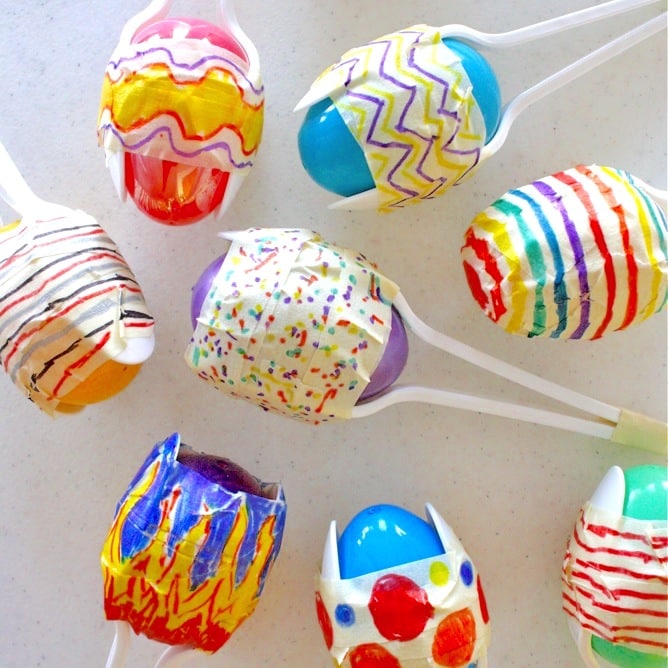 5
Easter Egg Maracas
Easter Egg Maracas bring rhythm to the holiday! Children can enjoy creating their musical instruments by filling plastic eggs with various fillings, decorating them with vibrant tape, and reveling in the joyous sounds they make. This craft promotes sensory play and sparks a love for music.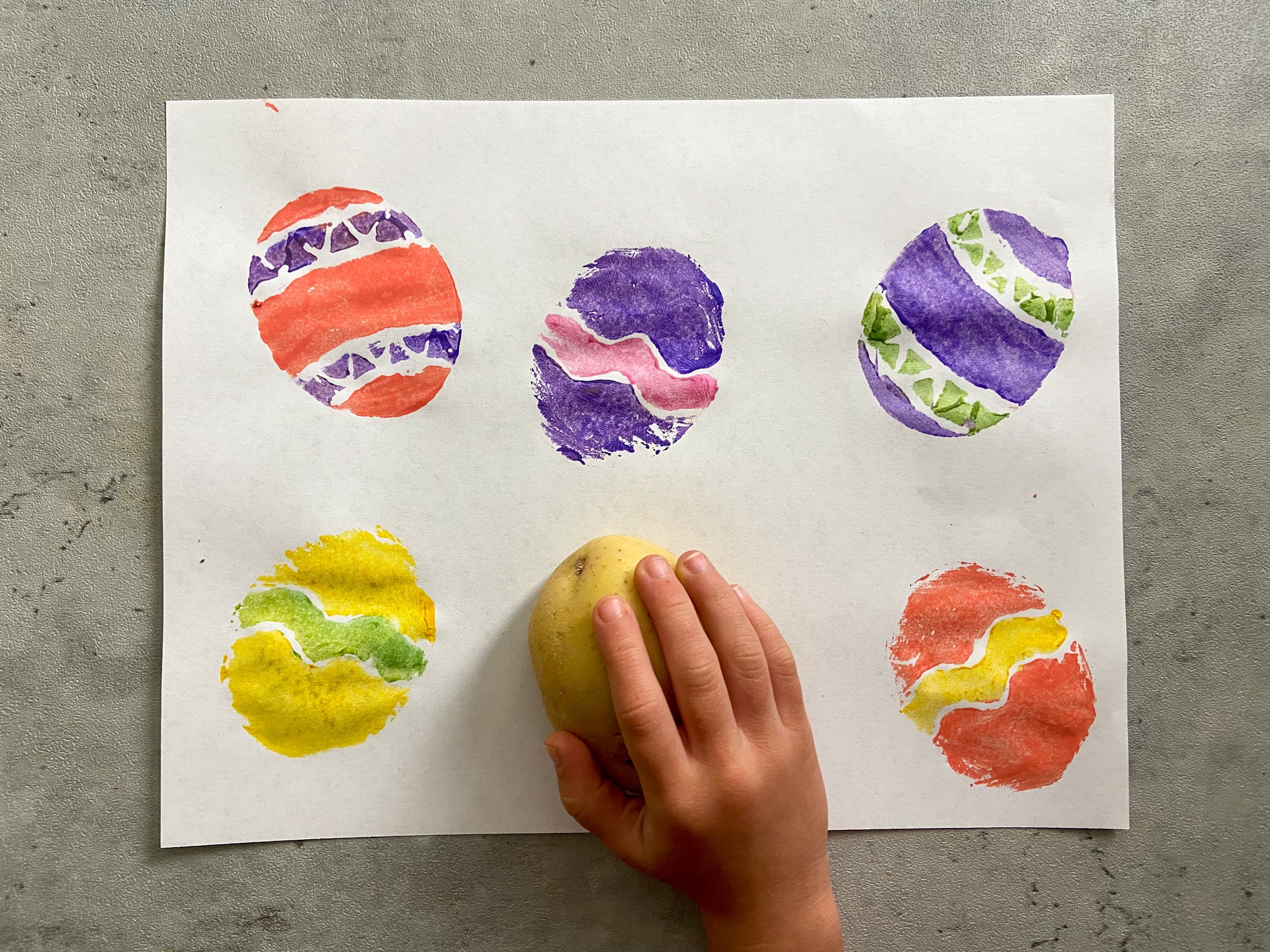 6
Easter Egg Potato Stamps
Cut potatoes into egg shapes, dip them in paint, and stamp them on paper to create lovely patterns and designs. Unleash creativity with Easter Egg Potato Stamps! Kids will love turning simple potatoes into stampers, adding color and patterns to their Easter artworks. This art project also introduces them to basic shapes and textures.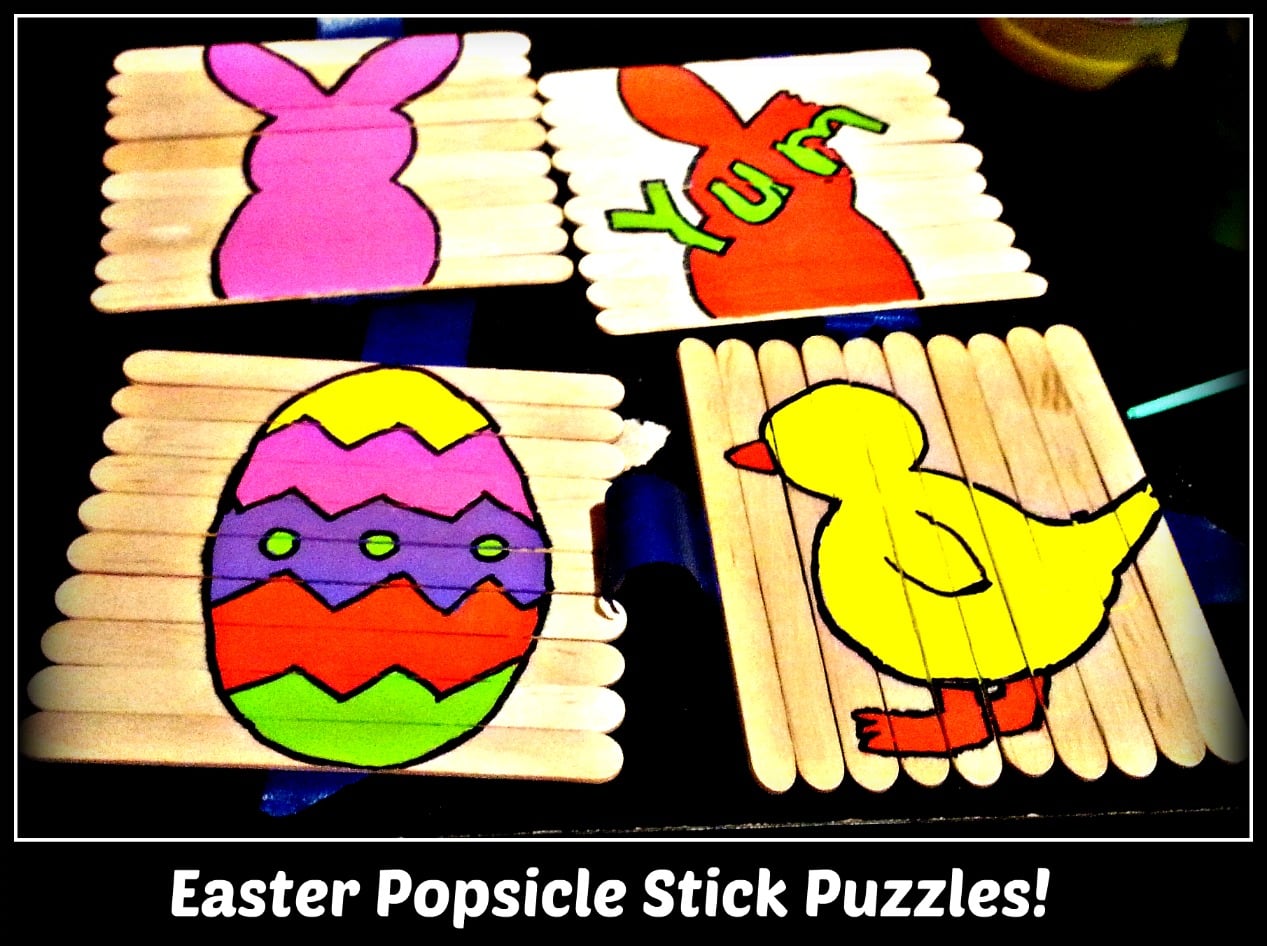 7
Popsicle Stick Easter Puzzles!
Paint popsicle sticks with different colors, glue a picture of a bunny or an egg, and cut the sticks into pieces to make a puzzle for kids to assemble. Engage in fun and cognitive play with Popsicle Stick Easter Puzzles! Children can use their fine motor skills to create these exciting jigsaw puzzles, fostering problem-solving abilities and hand-eye coordination.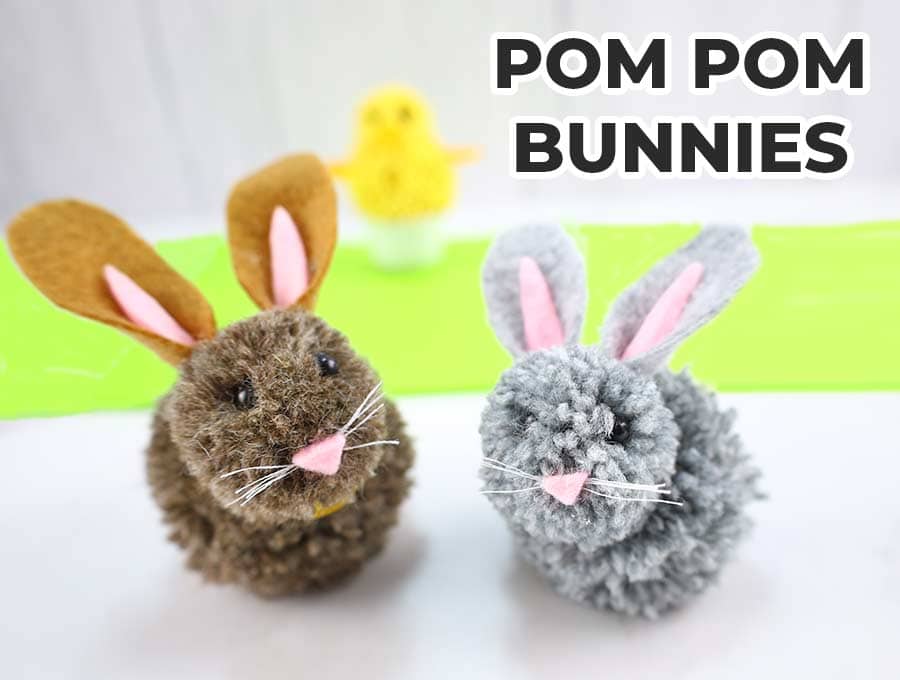 8
Pom-Pom Easter Bunnies
Use fluffy pom-poms and pipe cleaners to construct adorable Easter bunnies, perfect for imaginative play. Enter a world of imagination with Pom-Pom Easter Bunnies! Kids will adore bringing these fuzzy creatures to life, encouraging pretend play and storytelling.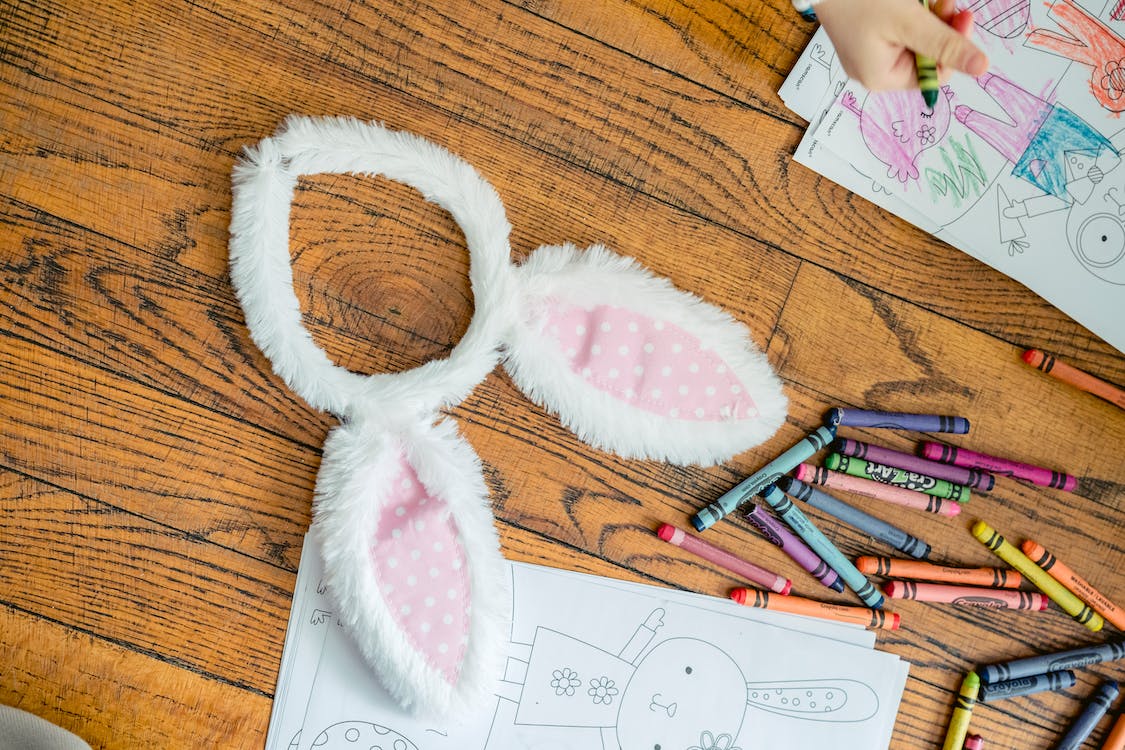 9
Easter Bunny Ears Headband
Cut bunny ear shapes out of felt, attach them to a headband, and let the kids transform into cute bunnies. Hop into the Easter spirit with these Easter Bunny Ears Headbands! Children can embrace their inner bunnies by crafting and wearing these delightful headbands, sparking their creativity and adding an adorable touch to any Easter celebration.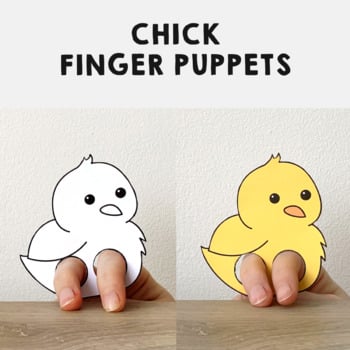 10
Chick Finger Puppets!
Craft tiny chick finger puppets using yellow felt and googly eyes, providing imaginative play and creative expression during Easter gatherings. You can also use craft paper and paint it for an even more realistic chick. Foster storytelling and play with Chick Finger Puppets!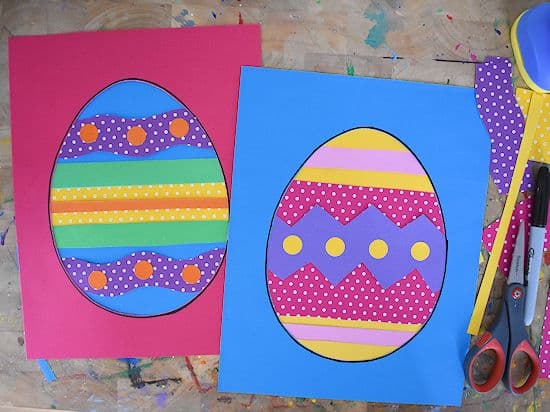 11
Paper Strip Easter Eggs!
Kids can cut colored paper into strips and interweave them to make stunning Easter egg decorations. Unleash Easter creativity with Paper Strip Easter Eggs! Children will enjoy weaving colorful paper strips to craft intricate egg designs, showcasing their artistic talents and adding festive flair to Easter decorations.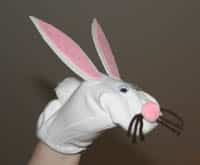 12
Bunny Sock Puppets!
Transform plain socks into bunny puppets by adding googly eyes, felt ears, and a cute button nose. Spark play and creativity with Bunny Sock Puppets! Kids can bring ordinary socks to life, transforming them into adorable bunny characters using simple craft materials. These charming puppets will inspire imaginative storytelling and playtime.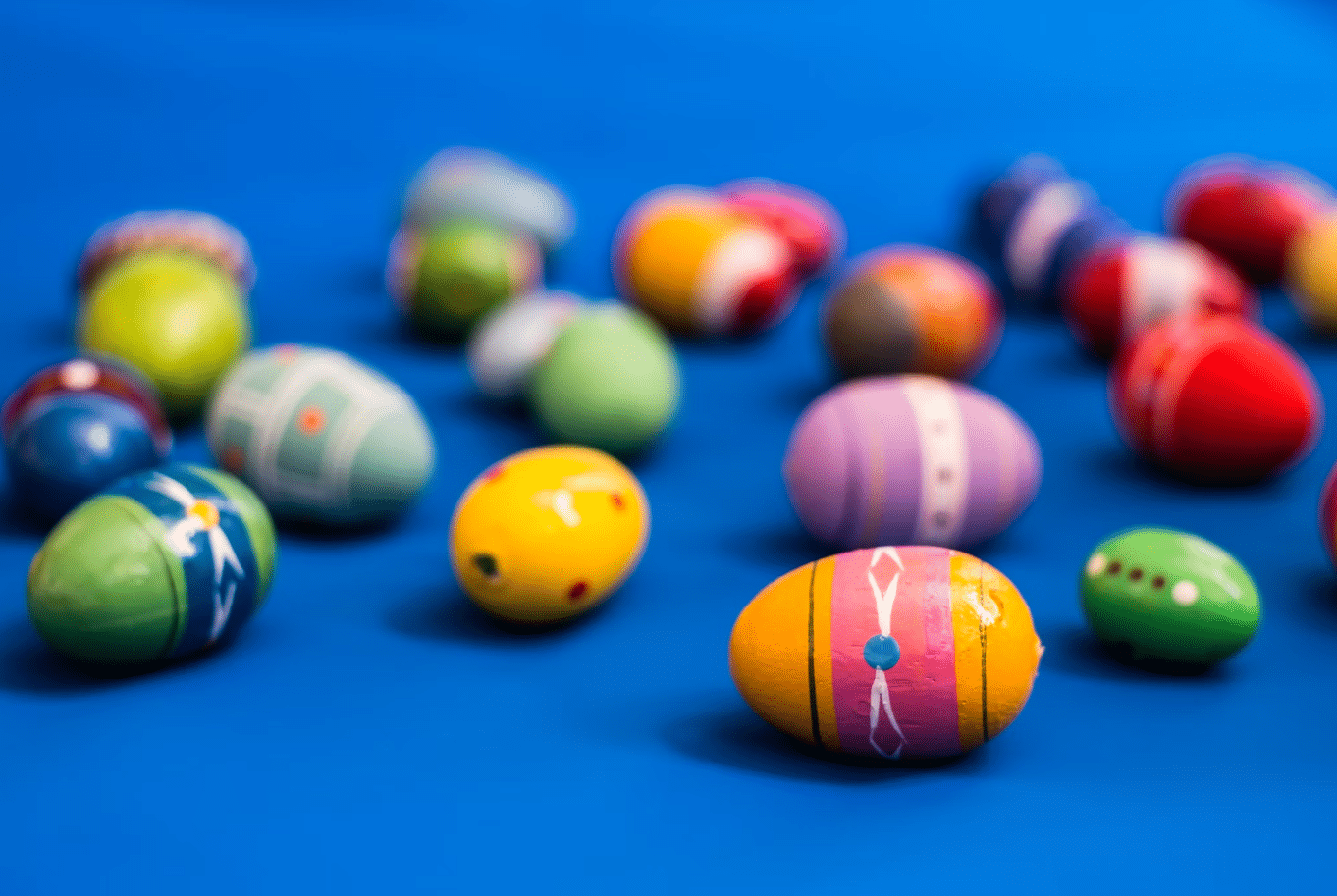 13
Decorate Easter Eggs!
Inspire artistic expression with Decorated Easter Eggs! Provide paint, stickers, and markers to unleash creativity and decorate real or plastic eggs. This classic Easter craft allows children to let their creativity shine by painting, adding stickers, and drawing on eggs. Each egg becomes a unique masterpiece, making Easter celebrations even more colorful.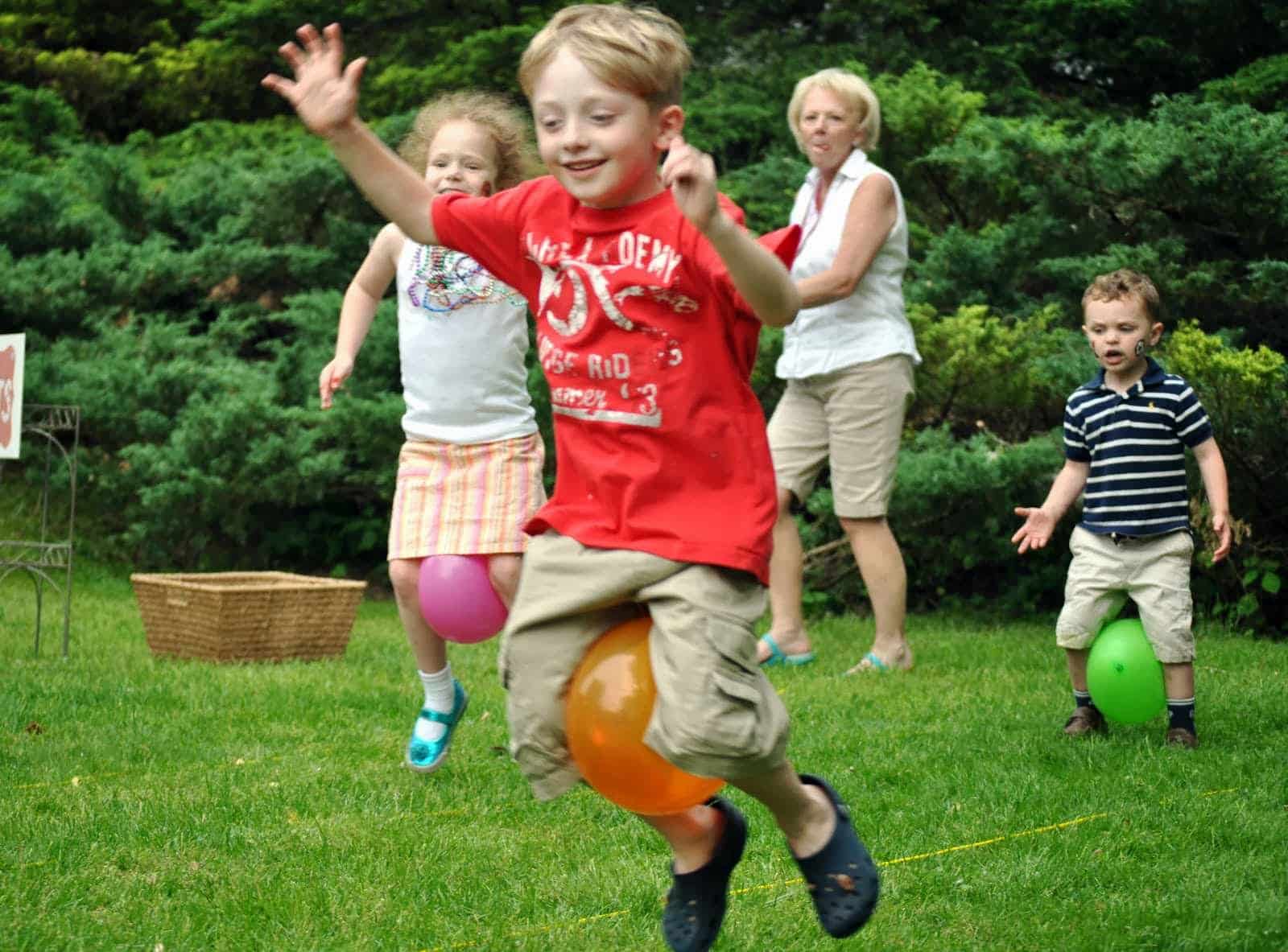 14
Bunny Hop Relay Race!
Hop into Easter fun with a Bunny Hop Relay Race! Organize a relay race where kids hop like bunnies from one point to another, passing a colorful egg along the way. Kids will have a great time racing like bunnies, developing motor skills and teamwork.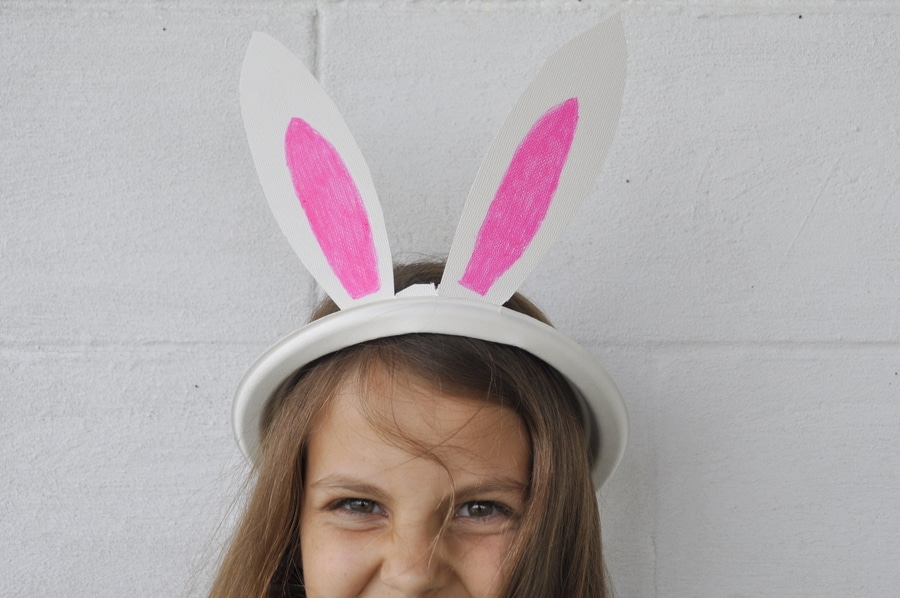 15
Paper Plate Bunny Ears!
Embrace Easter whimsy with Paper Plate Bunny Ears! Cut out bunny ear shapes from paper plates and let the little ones decorate and wear them like a headband. Children can transform into adorable bunnies and add an element of playfulness to Easter celebrations.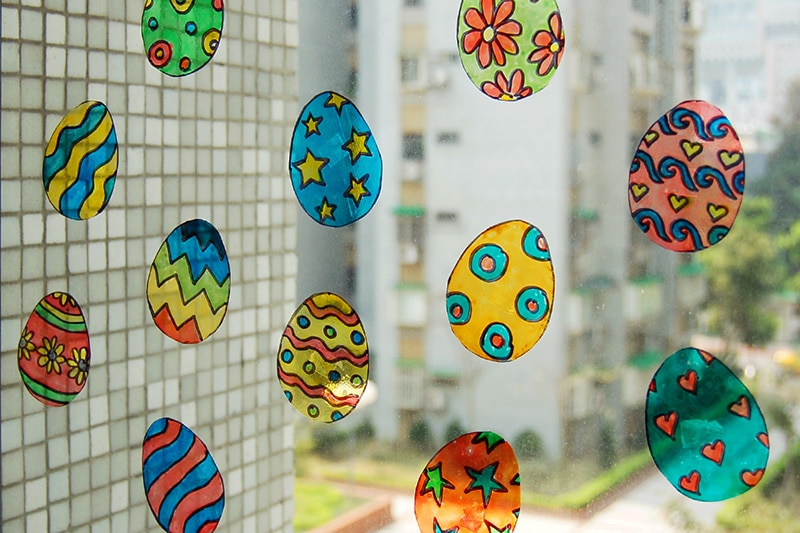 16
Easter Egg Sun Catchers!
Bring Easter brightness indoors with Easter Egg Sun Catchers! Children can craft these delightful sun catchers using tissue paper and contact paper, adding colorful accents to windows and filling spaces with Easter cheer.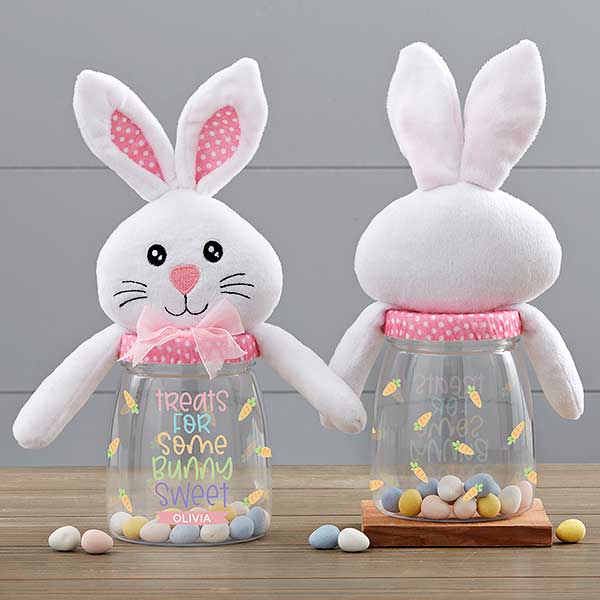 17
Easter Bunny Treat Jars
Spread Easter joy with Easter Bunny Treat Jars! Kids can decorate small mason jars with bunny faces and fill them with yummy treats to give as gifts to friends and family, sharing the spirit of giving and creativity.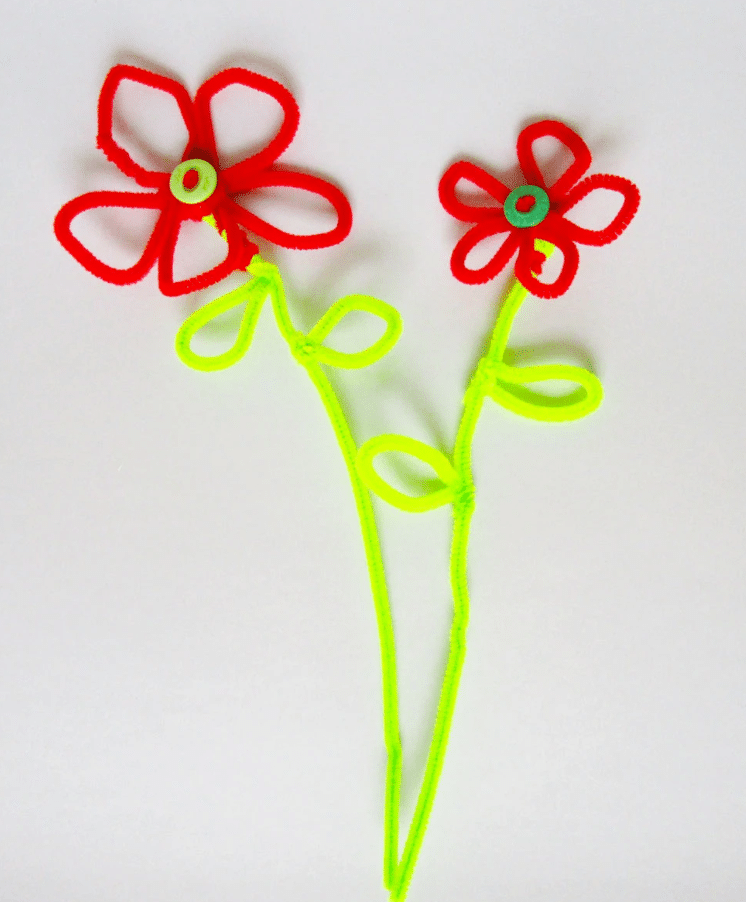 18
Pipe Cleaner Flowers
Twist and bend pipe cleaners into flower shapes and place them with your kids' lunch or in a plastic vase in their rooms to bring in the easter spirit and brighten their days. As a plus, they can play with these flowers without causing too much of a mess.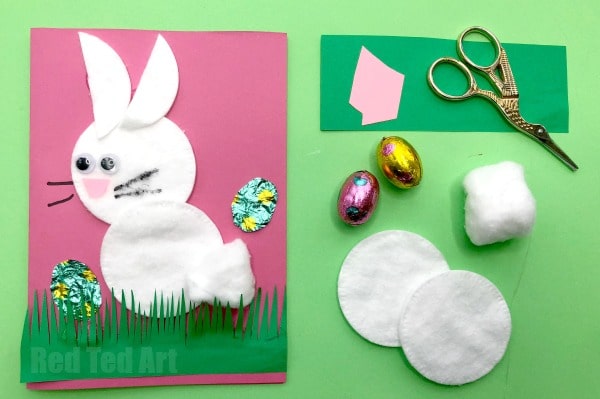 19
Bunny Tail Cotton Ball Painting
If you want something to help your young kids pass the time during Easter, why not let them paint? Give them cotton balls and paint, and ask them to dip the balls in the paint and dab them onto paper to create cute bunny tail artwork.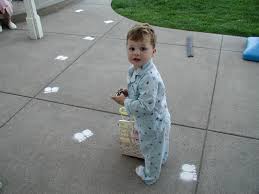 20
Bunny Hopscotch
Draw bunny footprints with chalk on the ground, and kids can play hopscotch while imitating little bunnies.
For Older Kids and Adults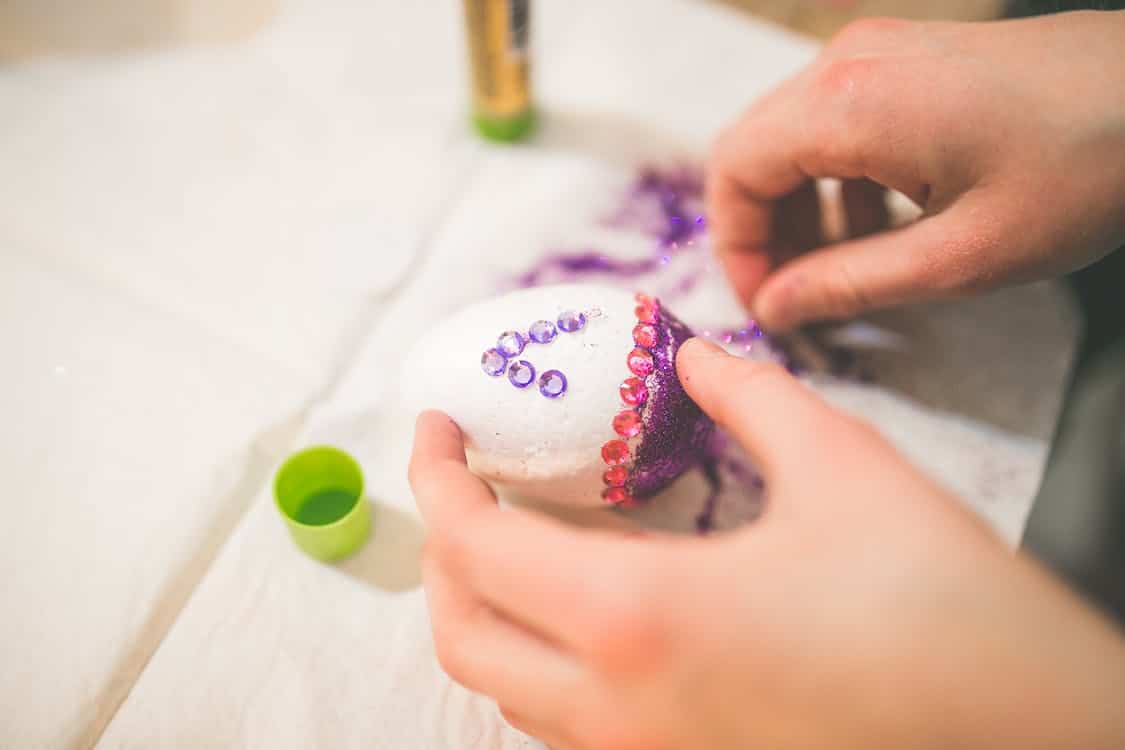 21
Easter Egg Decorating Contest
Get everyone involved with an Easter Egg Decorating Contest! Older kids and adults can showcase their artistic talents and creativity, using various methods like painting, dyeing, and embellishing to craft stunning Easter eggs. This friendly competition adds excitement and camaraderie to Easter celebrations.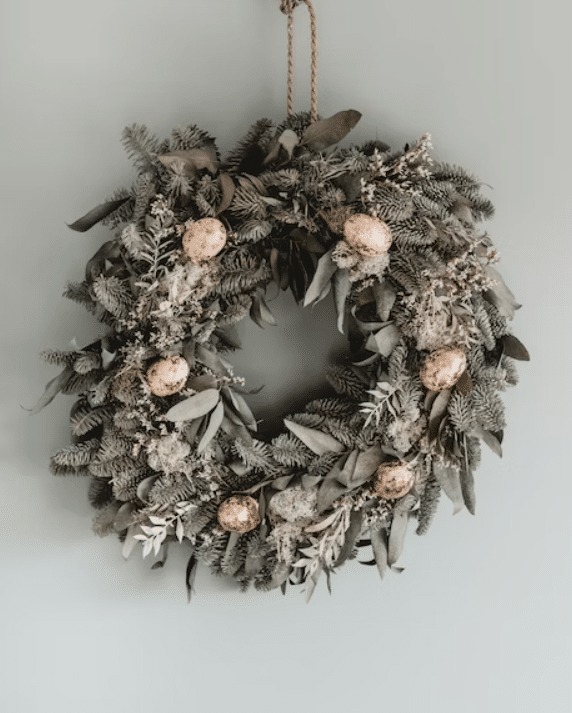 22
Easter Wreath Making
Elevate Easter decor with Easter Wreath Making! Older kids and adults can design beautiful wreaths using natural elements and decorative embellishments, adding a festive touch to homes and spreading Easter cheer.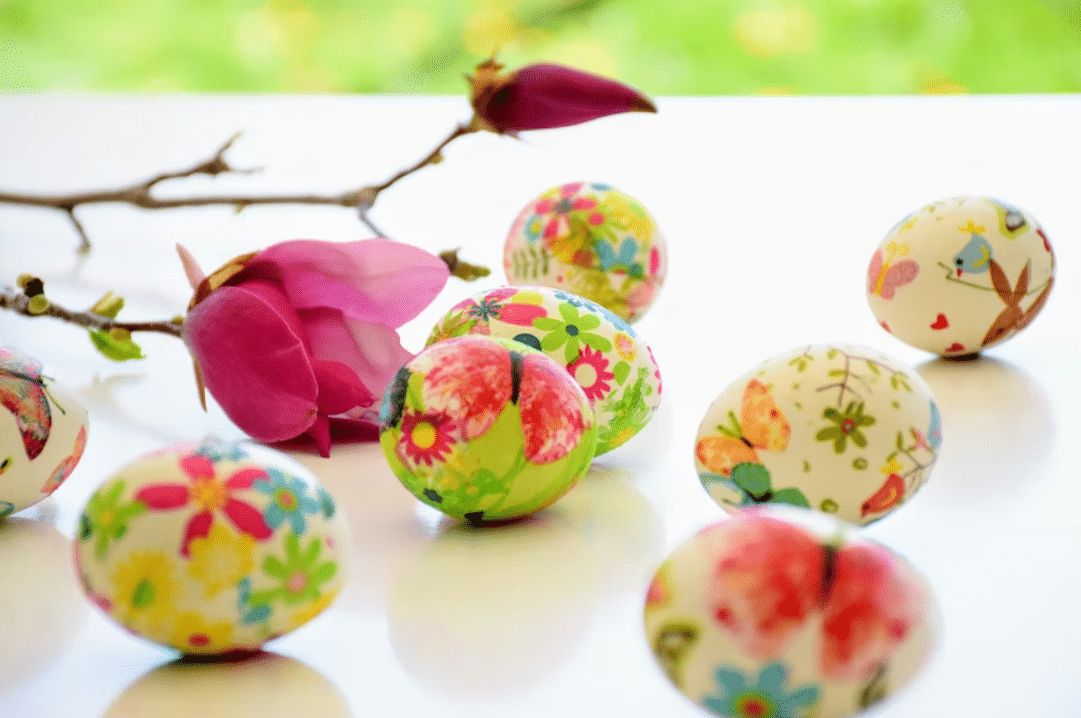 23
Decoupage Easter Eggs
Craft Easter elegance with Decoupage Easter Eggs! Older kids and adults can use decoupage techniques to adorn Easter eggs with intricate designs, transforming them into exquisite decorations for mantels or tabletops.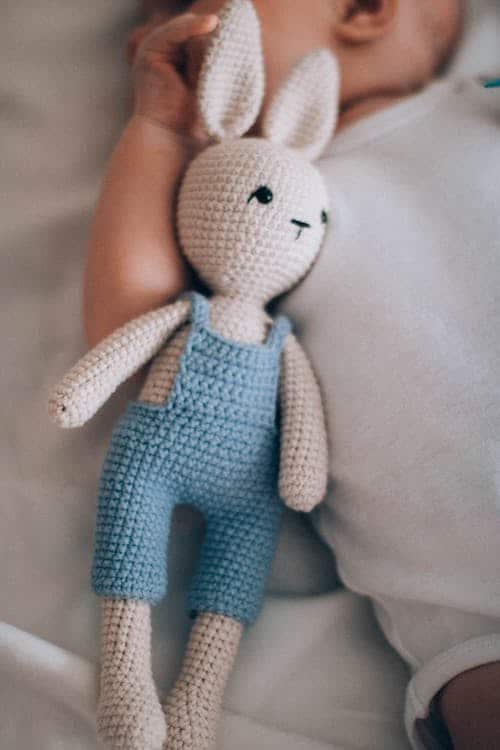 24
Easter Bunny Knitting or Crocheting
Embrace Easter coziness with Easter Bunny Knitting or Crocheting! Older kids and adults with knitting or crocheting skills can create adorable bunny toys or festive decorations, infusing the holiday with warmth and craftsmanship.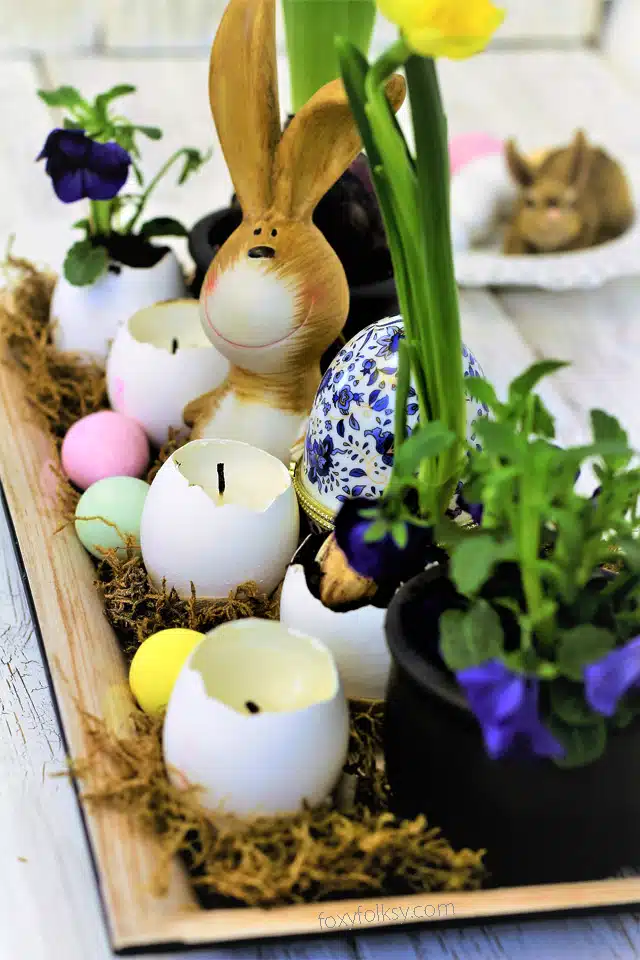 25
Easter Egg Candles
Illuminate Easter with Easter Egg Candles! Adults and older kids can craft stunning eggshell candles, which make for eye-catching table decorations or meaningful gifts for loved ones. Melt wax into eggshell molds, adding wicks to create charming Easter egg candles that can serve as unique table decorations or thoughtful gifts.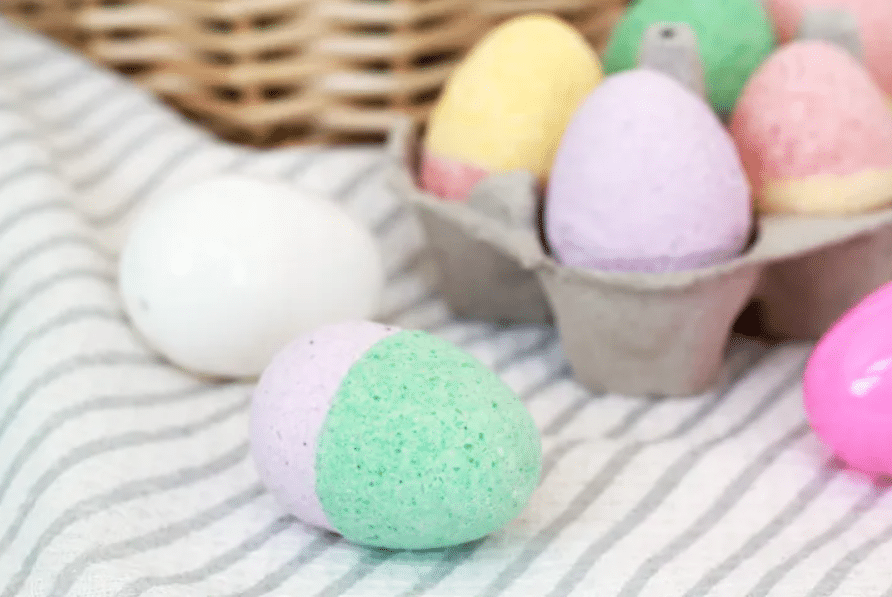 26
Easter Egg Bath Bombs
Blend baking soda, citric acid, and essential oils into egg-shaped molds to produce fragrant and relaxing Easter egg bath bombs.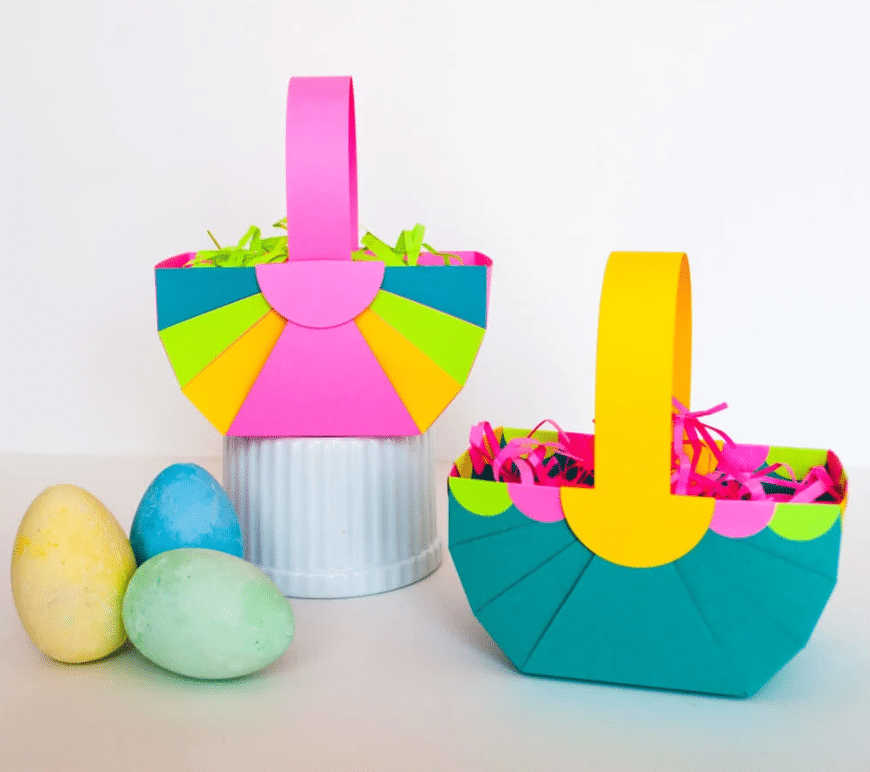 27
DIY Easter Baskets
Craft Easter style with DIY Easter Baskets! Older kids and adults can create unique Easter baskets using different materials and personal touches, adding a touch of elegance and thoughtfulness to the holiday. Design personalized Easter baskets using fabric, leather, or wood, adding intricate details and handles for a customized touch.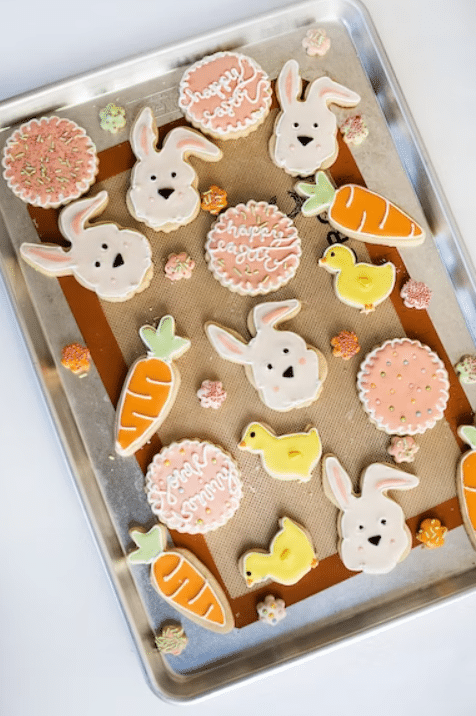 28
Easter Bunny Cookies
Indulge in Easter treats with Easter Bunny Cookies! Older kids and adults can bake and decorate delicious bunny-shaped cookies, showcasing their baking and icing talents to celebrate the holiday sweetly. Employing intricate icing techniques can make them look too good to eat!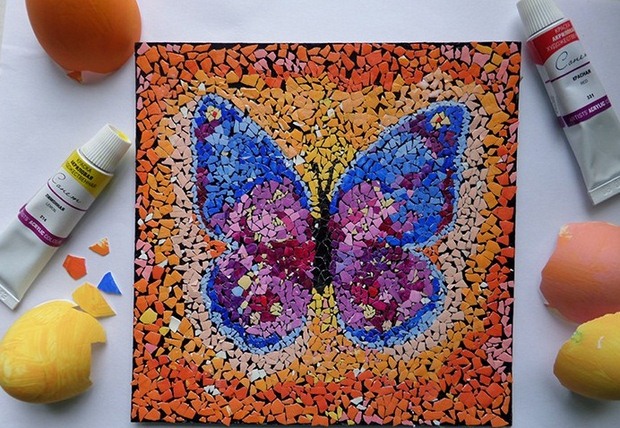 29
Eggshell Mosaics
Craft Easter art with Eggshell Mosaics! Older kids and adults can transform eggshells into striking mosaics, using their creativity to craft intricate designs and add a touch of Easter flair to their surroundings. Crush eggshells into small pieces and create beautiful mosaics on wooden or cardboard surfaces, showcasing intricate designs or patterns.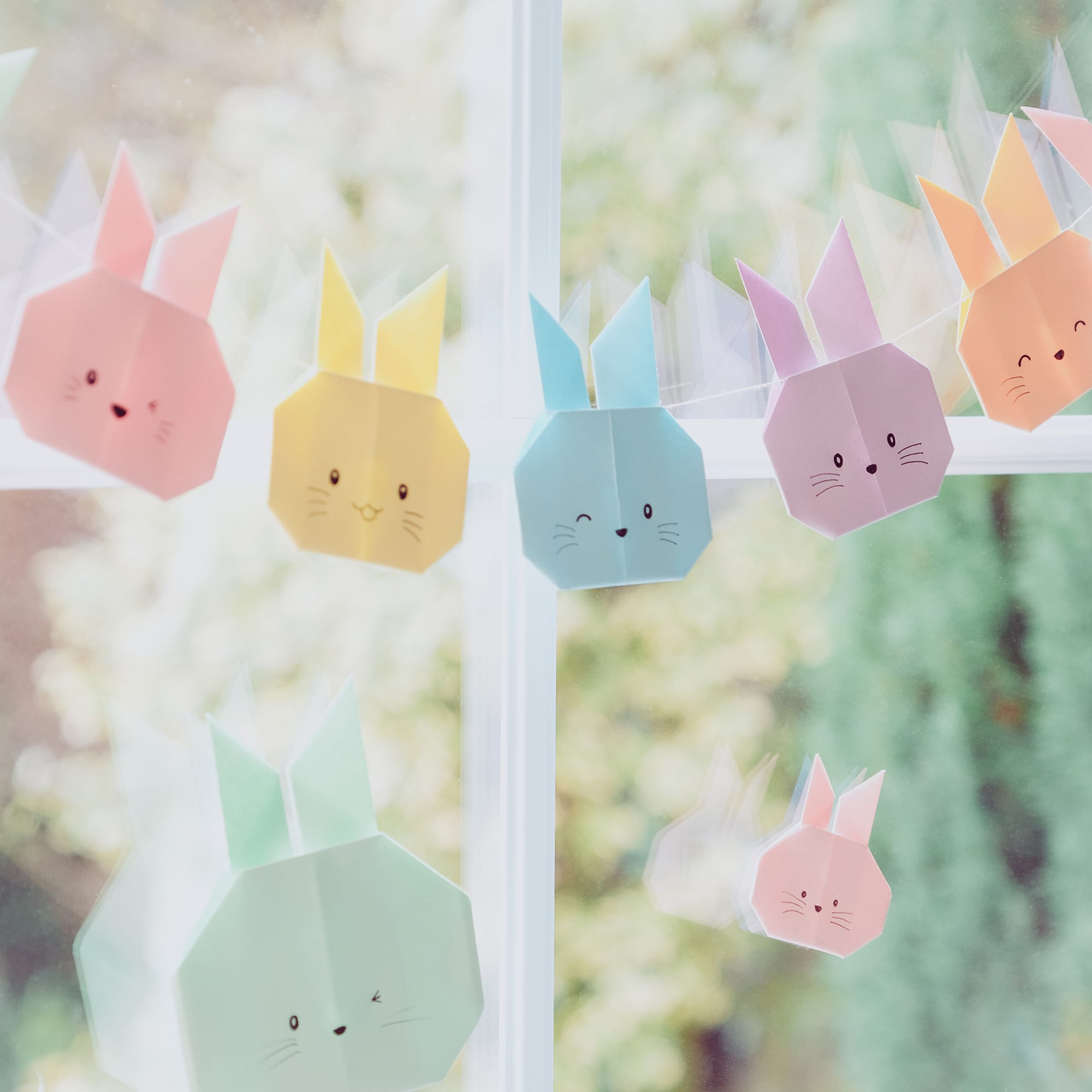 30
Easter Bunny Origami
Craft charming Easter Bunny Origami with precise folding techniques, turning plain paper into adorable bunny shapes. These whimsical creations serve as delightful Easter decorations or thoughtful gifts, showcasing the art of paper folding. Follow origami instructions to fold paper into cute Easter bunnies, making delicate decorations or tokens to give to friends.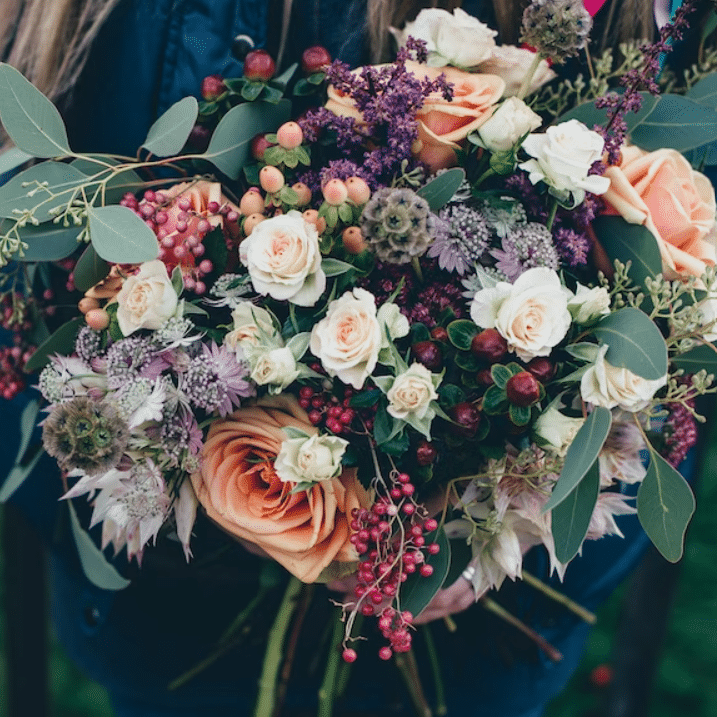 31
Floral Centerpieces
Transform tables with breathtaking Floral Centerpieces, artistically arranging blooms to infuse Easter gatherings with beauty. Whether using fresh spring flowers or lifelike artificial ones, these centerpieces create a vibrant and inviting atmosphere.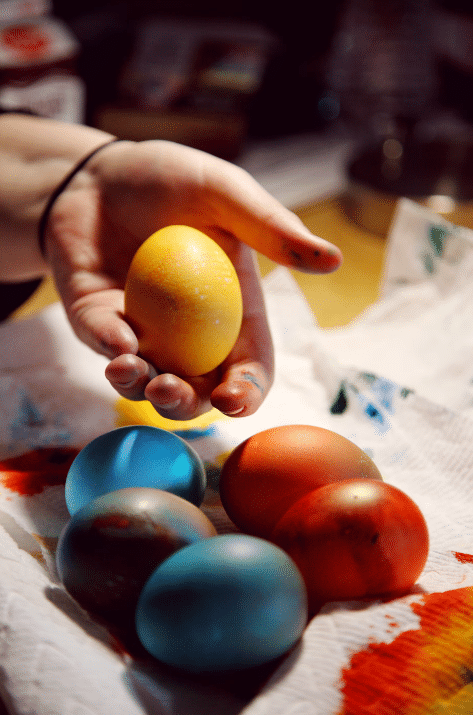 32
Easter Egg Dyeing with Natural Colors
Explore eco-friendly Easter Egg Dyeing with Natural Colors, using items from the kitchen to create beautiful, nature-inspired egg shades. This craft embraces sustainability while offering a unique twist on traditional egg coloring.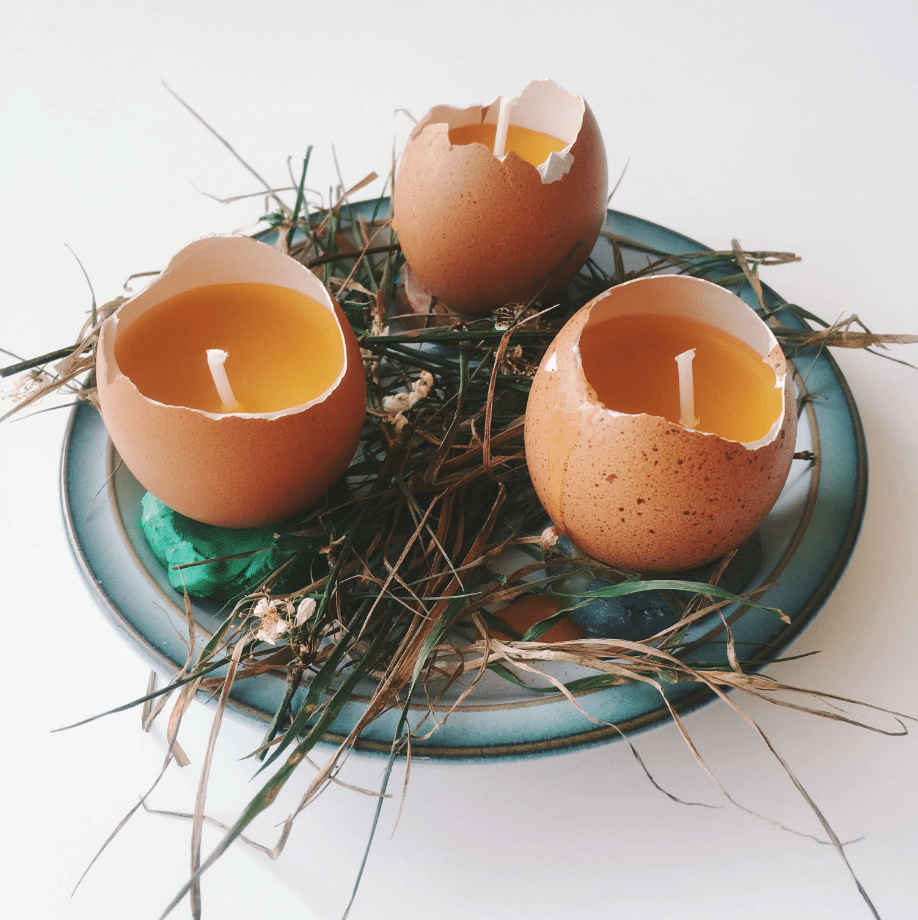 33
Egg Shell Votives
Craft Egg Shell Votives with recycled eggshells, turning them into enchanting candle holders that radiate Easter warmth. Clean and decorate eggshells before filling them with wax and a wick, creating unique eggshell votive candles for a warm and cozy Easter atmosphere.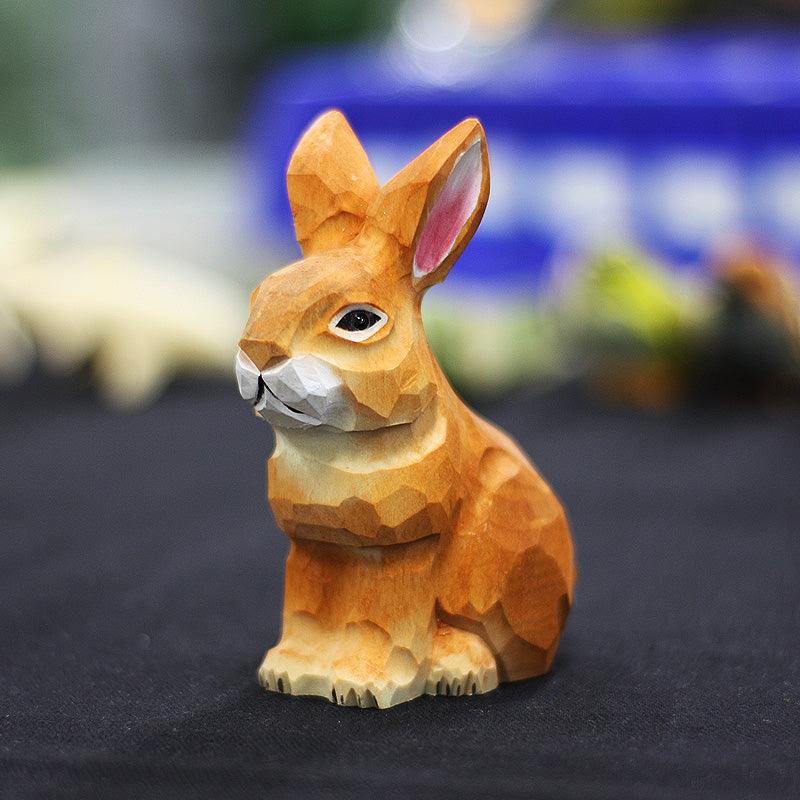 34
Wooden Bunny Sculpture
Unleash artistic talent with Wooden Bunny Sculpture, where wood takes shape as adorable bunnies. Carve or sculpt wooden blocks into bunny shapes, allowing creativity to flourish and making fantastic Easter-themed art pieces. This craft showcases the beauty of handmade art and can serve as a treasured Easter decor item.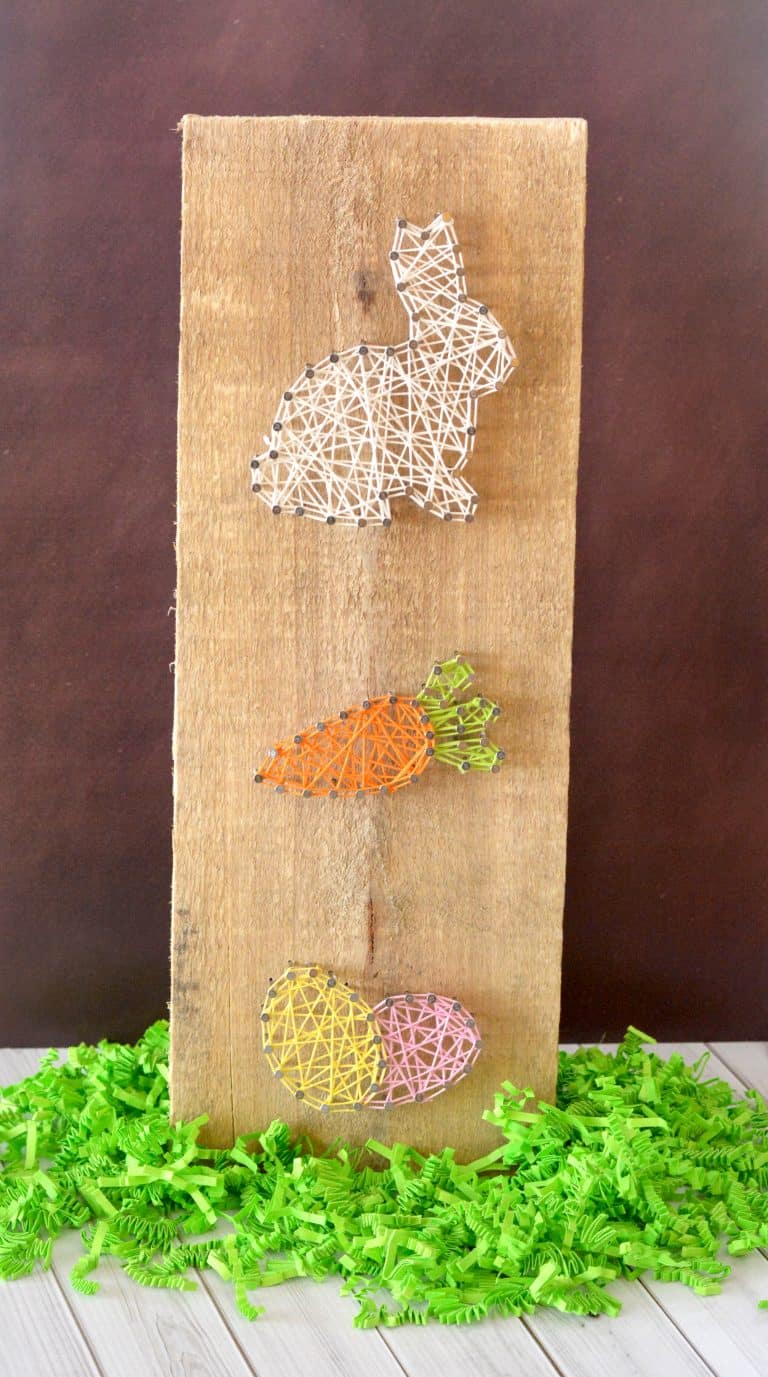 35
Easter Bunny String Art
Combine artistry and creativity with Easter Bunny String Art. Hammer small nails into a wooden board in the shape of a bunny, and then weave colorful strings around the nails to form a stunning and textured bunny silhouette. This eye-catching piece makes for a unique Easter wall decoration.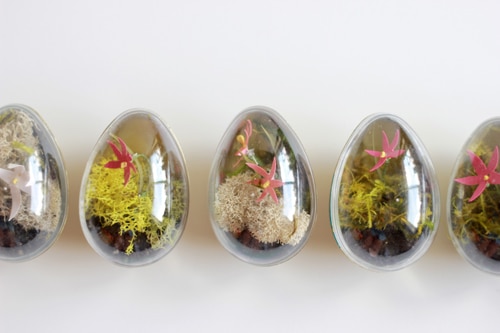 36
Easter Egg Terrariums
Explore miniature gardening with Easter Egg Terrariums, creating enchanting displays of Easter eggs amid lush greenery. These captivating terrariums add a touch of nature to your Easter decor. Fill clear glass containers with soil, small plants, and Easter egg decorations to craft delightful Easter-themed terrariums.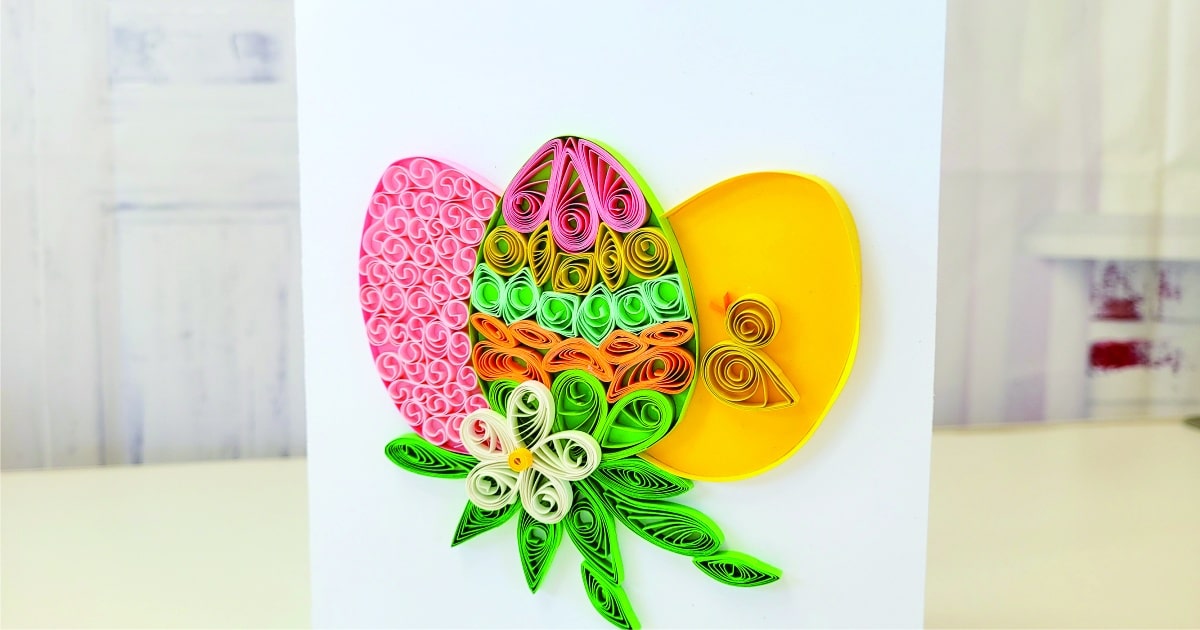 37
Quilled Easter Cards
Make extraordinary Easter greetings with Quilled Easter Cards, crafting intricate designs using rolled paper strips. Each card becomes a work of art, conveying heartfelt Easter wishes.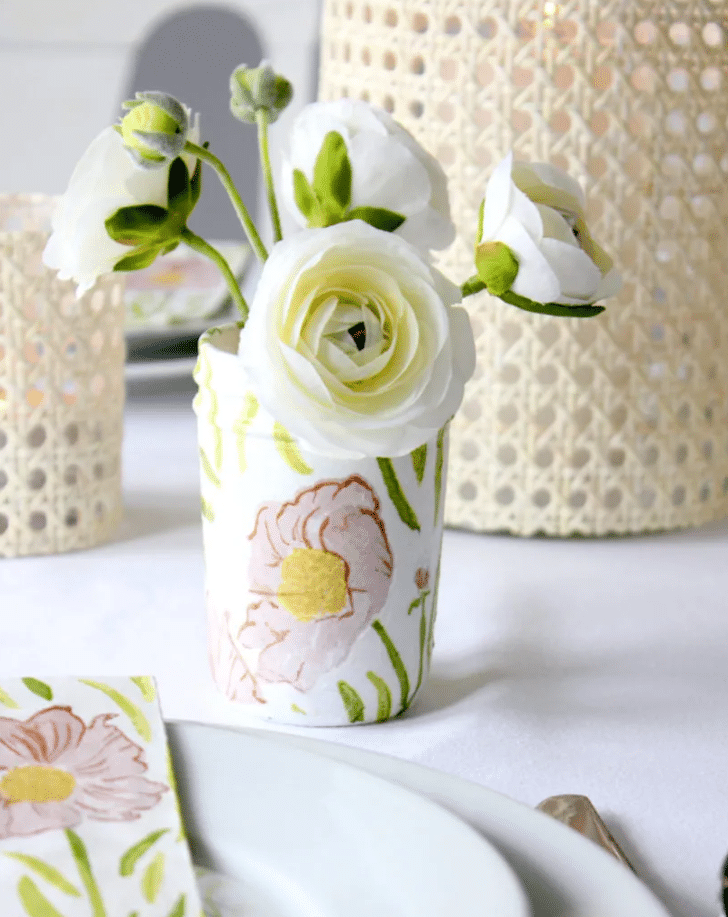 38
Easter Decoupage Vases
Transform plain vases into Easter masterpieces with Easter Decoupage Vases, combining decorative and decoupage techniques. Cut out Easter-themed patterns from decorative napkins or paper, and adhere them to the vases using decoupage glue. Layer the paper pieces to create a collage effect. These artful vases bring a touch of Easter charm to any floral arrangement.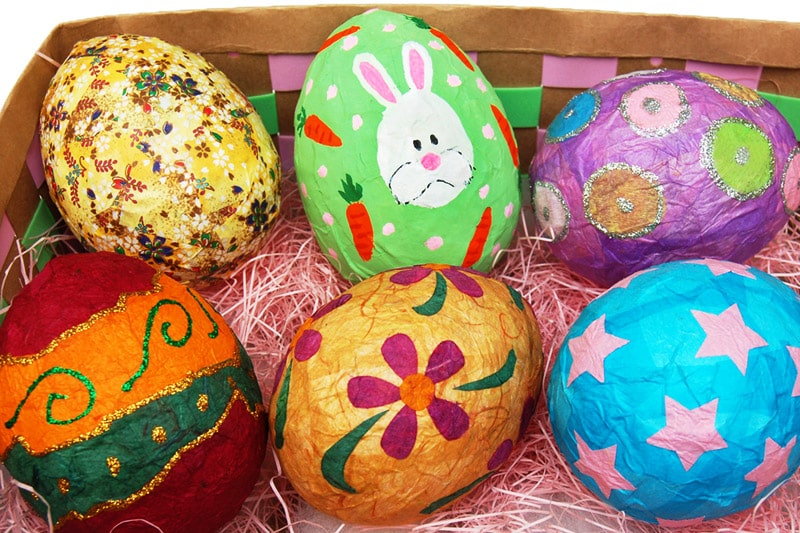 39
Easter Egg Papier-Mâché
Craft spectacular Easter Egg Papier-Mâché by molding large eggs and decorating them with vibrant colors and designs. These eye-catching creations serve as stunning centerpieces or decorations for Easter festivities.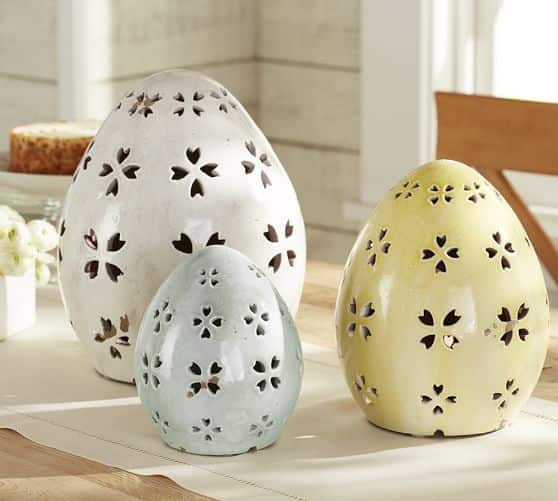 40
Easter Egg Pottery
Unleash pottery skills with Easter Egg Pottery, handcrafting egg-shaped items and adding lovely pastel glazes for an elegant touch. These pottery pieces make distinctive Easter decor or thoughtful gifts.
Printable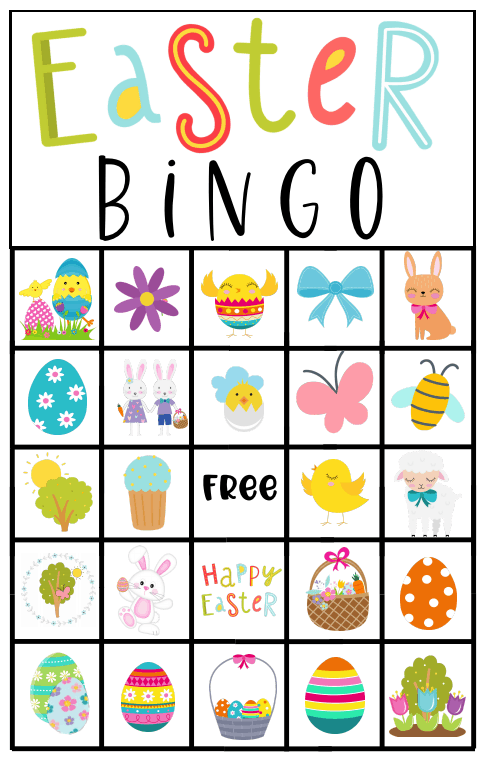 41
Easter Bingo
Elevate Easter fun with Easter Bingo! Printable bingo cards and call-out sheets make for a lively game for young and old, adding excitement to Easter gatherings and parties.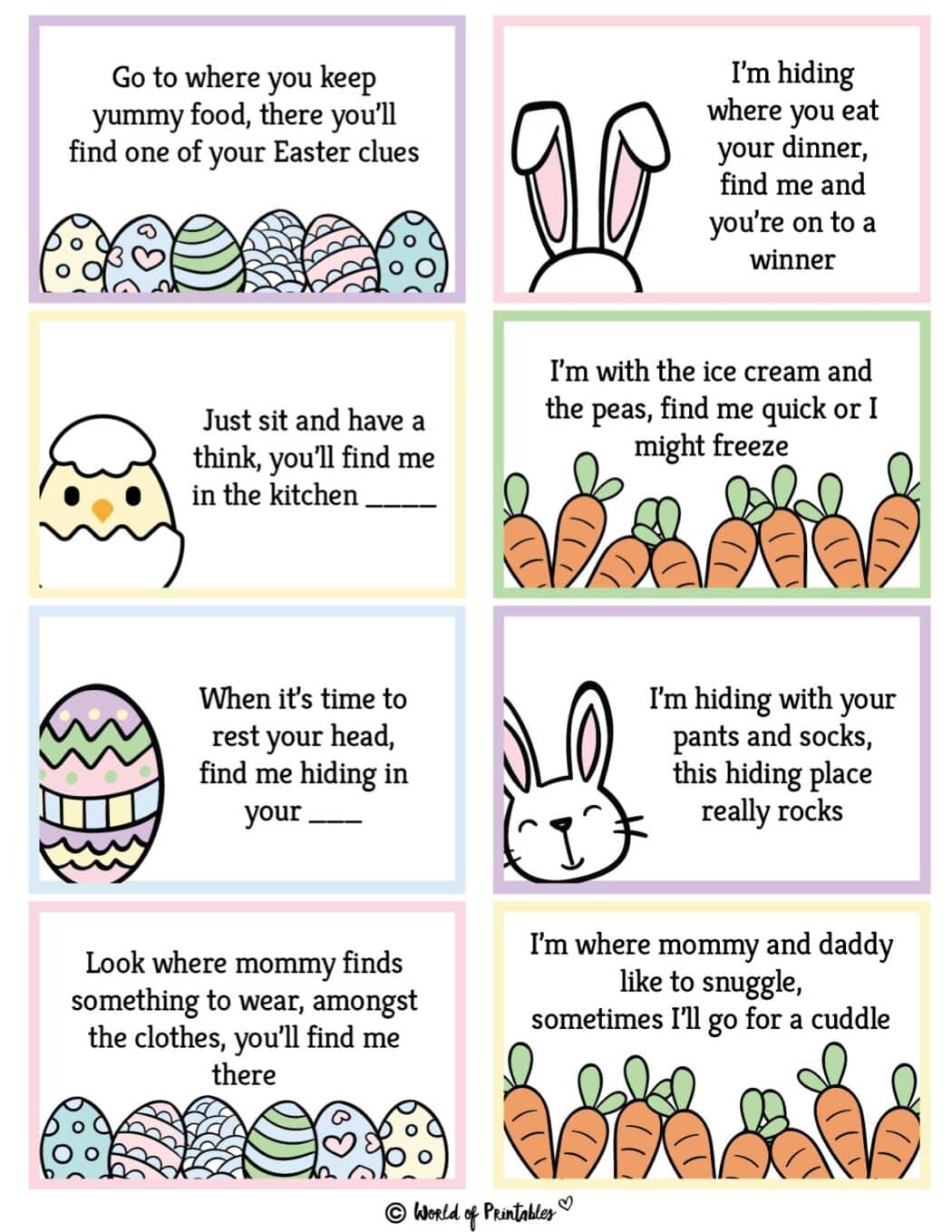 42
Easter Egg Hunt Clues
Create a thrilling Easter Egg Hunt with Printable Clues! These cleverly crafted riddles and puzzles will guide participants on a quest, sparking their excitement and making Easter celebrations unforgettable.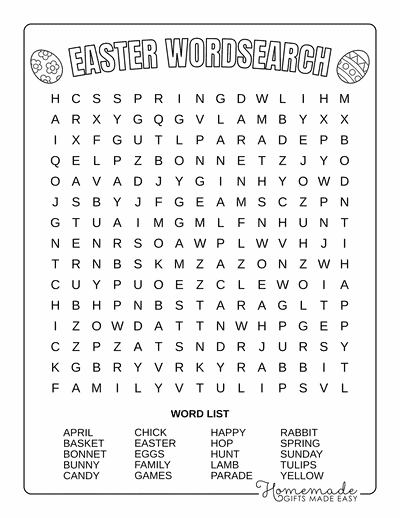 43
Easter Word Search
Engage minds with Easter Word Search! Download printable puzzles that celebrate Easter with hidden words to find, providing hours of enjoyable and brain-teasing entertainment.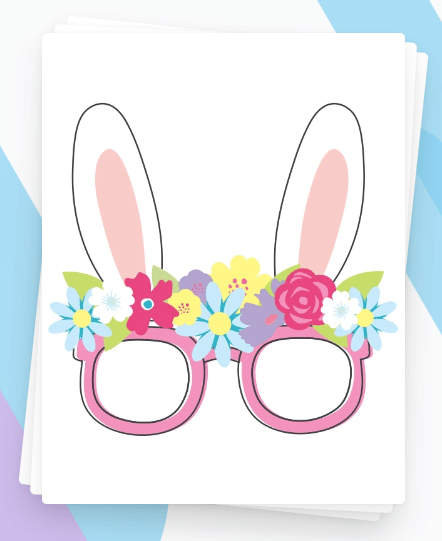 44
Bunny Ears Photo Props
Add a touch of playfulness with Bunny Ears Photo Props! These printable templates allow friends and family to pose with adorable bunny ears, creating delightful and memorable Easter photos.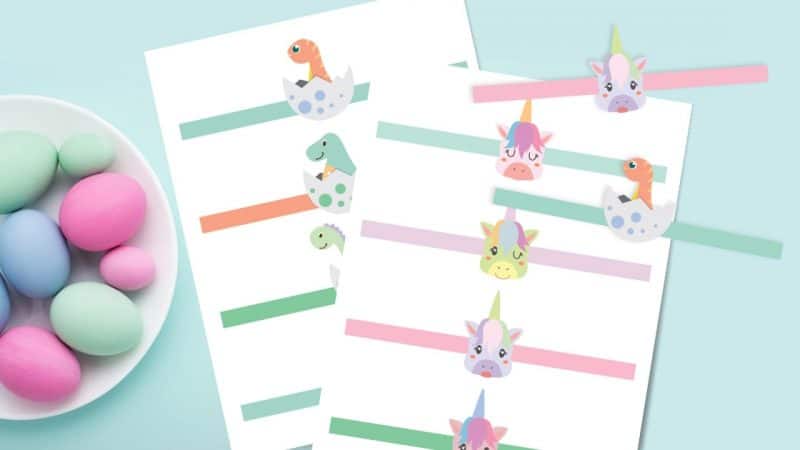 45
Egg Wrappers
Add elegance to Easter eggs with Printable Egg Wrappers! Beautifully designed templates make for stunning egg decorations, turning ordinary eggs into eye-catching pieces.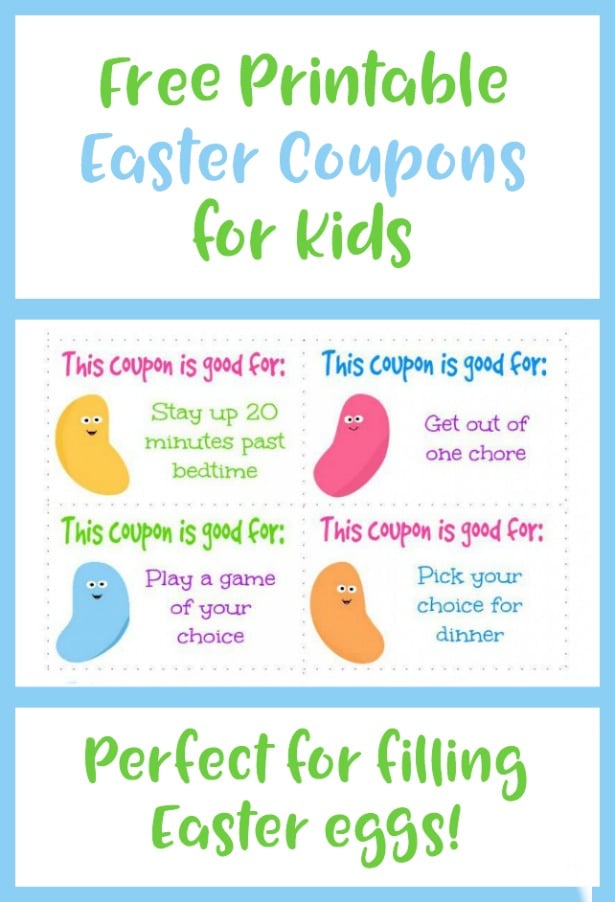 46
Easter Egg Coupons
Spread Easter surprises with Easter Egg Coupons! These printable treats and favors add a touch of generosity and thoughtfulness to Easter celebrations, making loved ones feel cherished.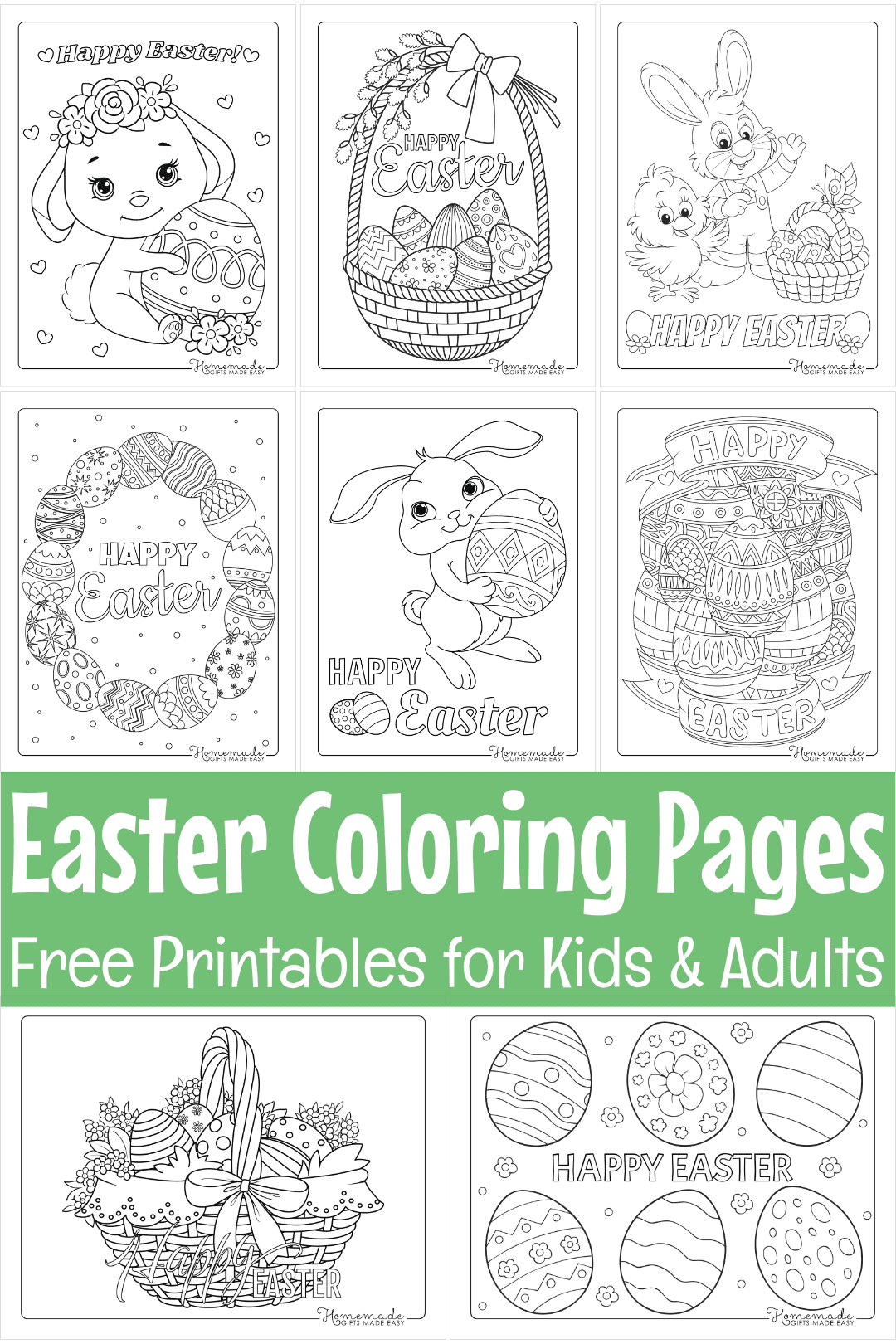 47
Easter Coloring Book
Inspire creativity with an Easter Coloring Book! These printable pages offer an array of Easter-themed illustrations, allowing young and old to unleash their artistic flair and relax during the holiday.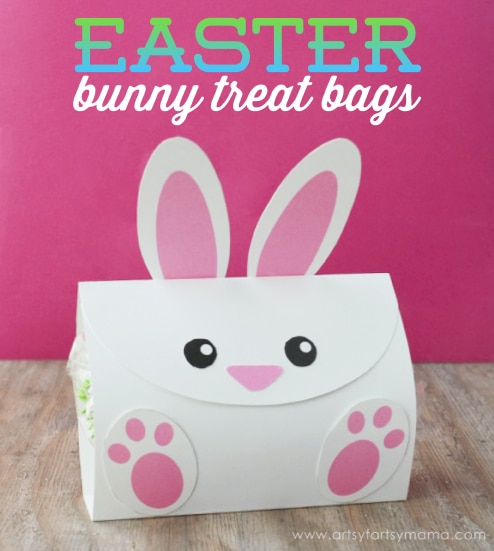 48
Bunny Treat Bags
Share Easter sweetness with Printable Easter Treat Bags! These delightful templates make crafting charming treat bags a breeze, turning homemade goodies into thoughtful Easter gifts for friends and family.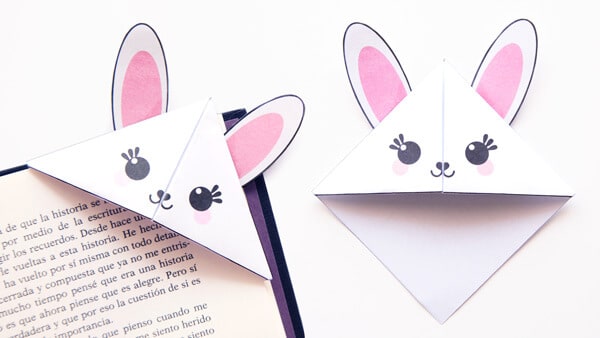 49
Easter Bunny Bookmark
Encourage reading with Easter Bunny Bookmarks! These printable bunny bookmarks inspire reading adventures while serving as delightful Easter gifts for book lovers.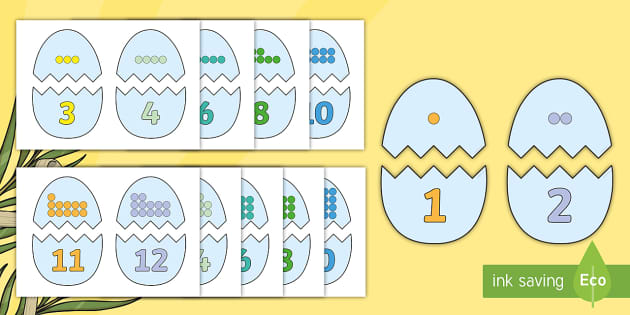 50
Easter Egg Memory Game
Challenge young minds with the Easter Egg Memory Game! Printable egg illustrations become a fun memory-matching activity, enhancing cognitive abilities while adding Easter-themed fun.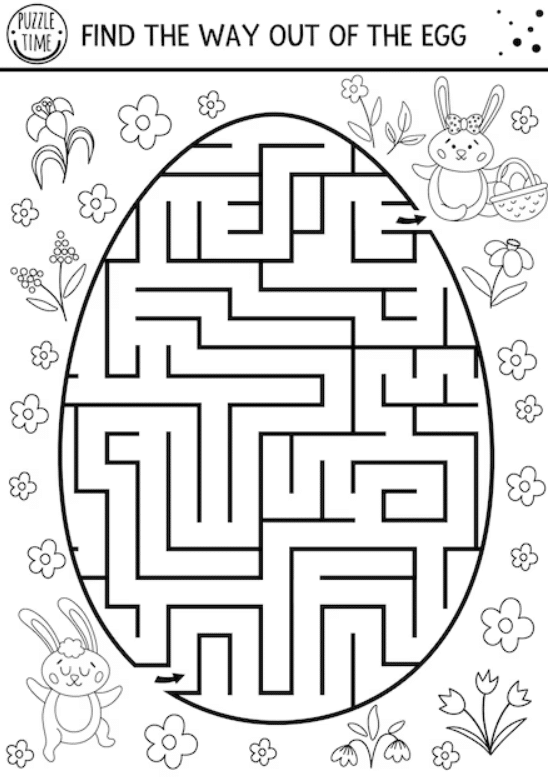 51
Egg-Shaped Maze
Add excitement to Easter with Egg-Shaped Mazes! These printable mazes challenge kids to solve the twists and turns, providing hours of entertainment during the holiday.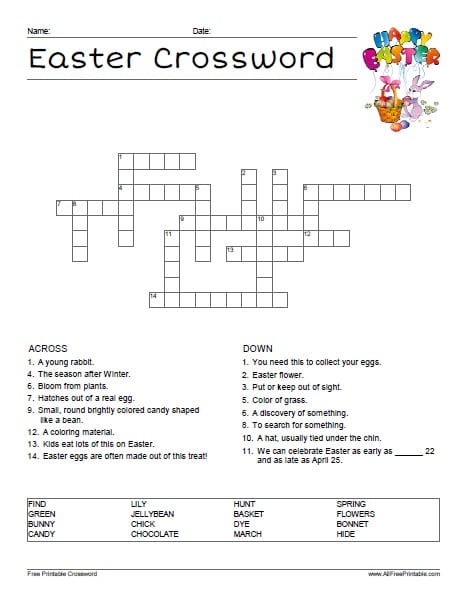 52
Easter Crossword Puzzle
Download and print or craft Easter-themed crossword puzzles to challenge puzzle enthusiasts and stimulate their minds during the holiday. Sharpen your minds with Printable Easter Crossword Puzzles! These brain-teasers offer a fun and educational activity, blending Easter themes with cognitive engagement.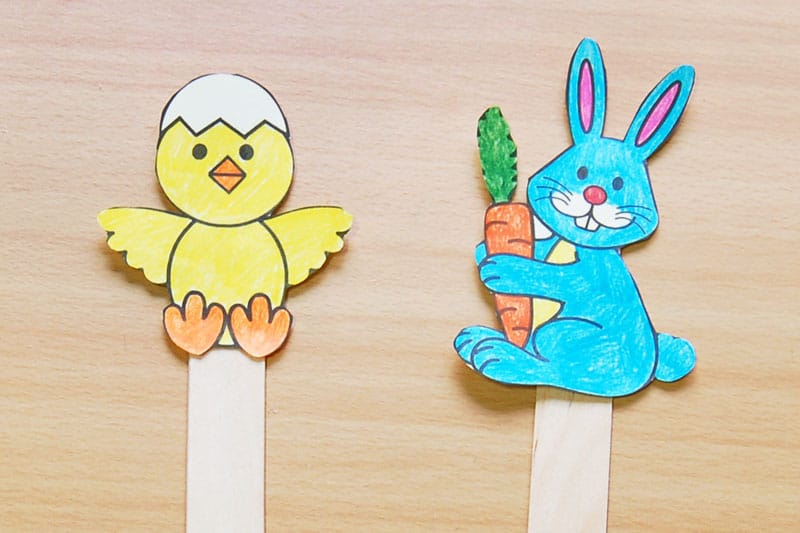 53
Easter Finger Puppets
Spark imaginative play with Easter Finger Puppets! These printable templates let kids bring Easter characters to life with whimsical finger puppets, adding a playful element to Easter celebrations.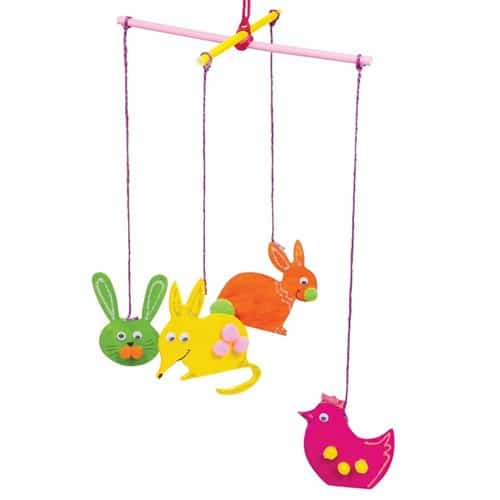 54
Easter Mobile
Craft vibrant Easter Mobiles with printable shapes, adding a cheerful and decorative touch to any Easter space, inspiring holiday cheer and creativity. Print and cut out Easter-themed shapes to create a colorful mobile, and hang it as a festive decoration.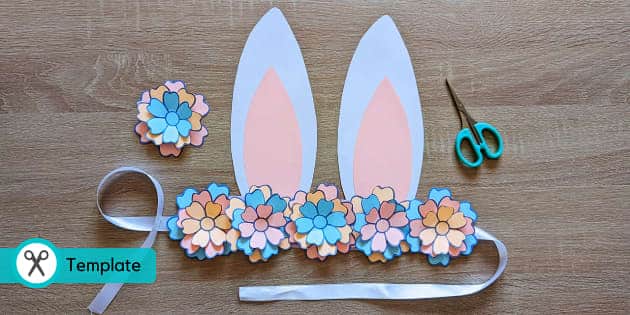 55
Bunny Ears Headband Craft
Add a touch of Easter fun with Bunny Ears Headband Craft! Printable templates become adorable bunny ears headbands, inspiring creativity and playful dress-ups during Easter celebrations.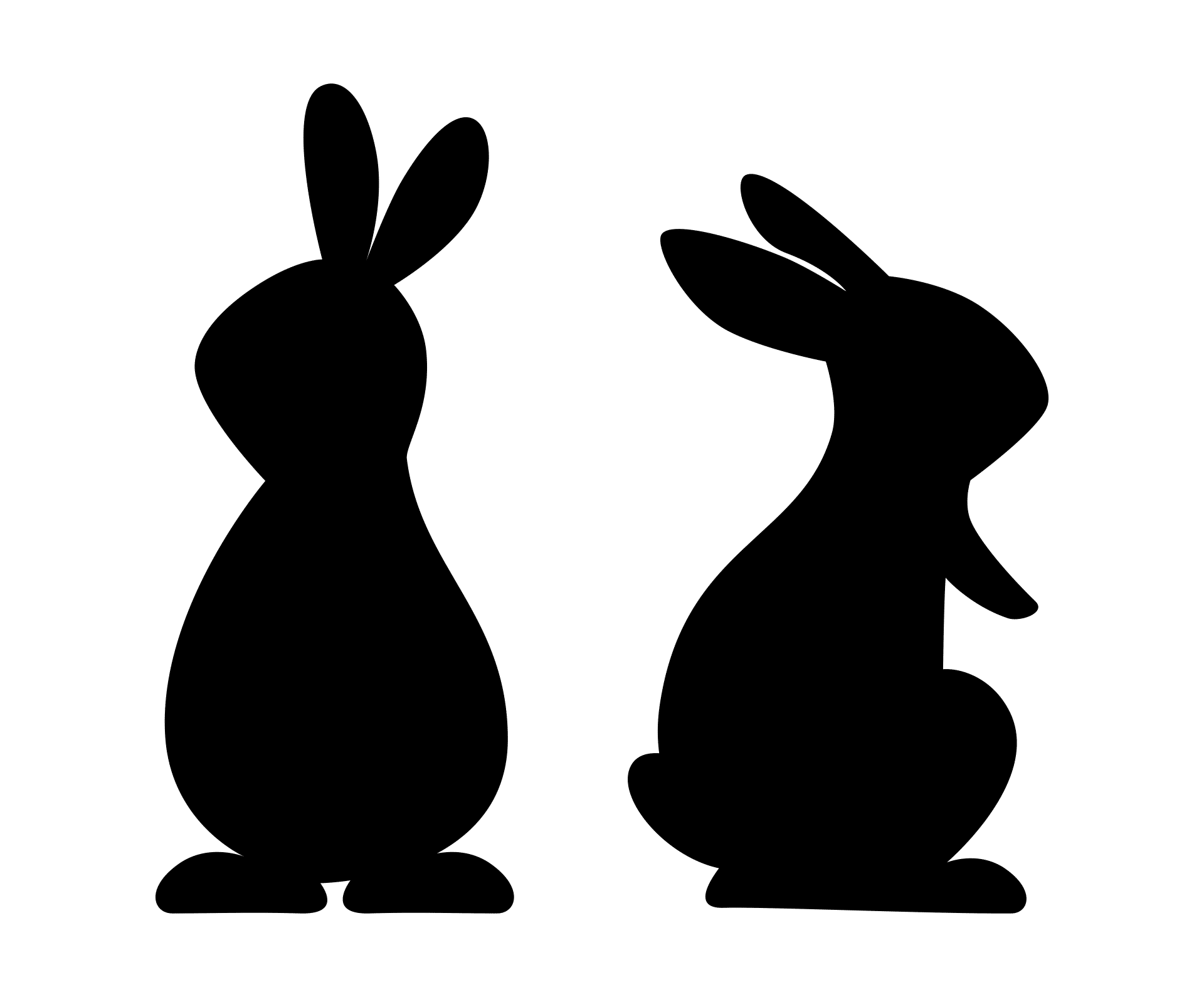 56
Bunny Silhouette Wall Art
Enhance Easter decor with Bunny Silhouette Wall Art! Printable templates offer graceful bunny silhouettes, turning walls into chic holiday displays.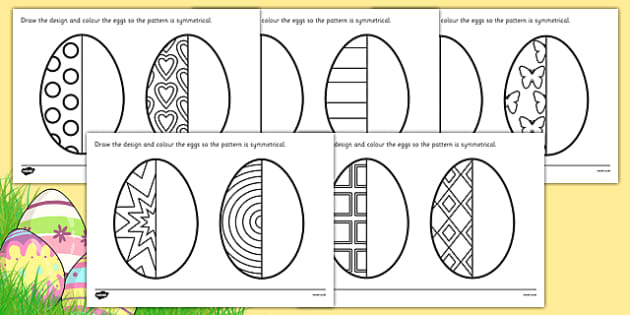 57
Easter Egg Symmetry Activity
Explore symmetry concepts with the Easter Egg Symmetry Activity! Printable egg templates encourage young learners to complete the other half, fostering understanding while celebrating Easter creativity.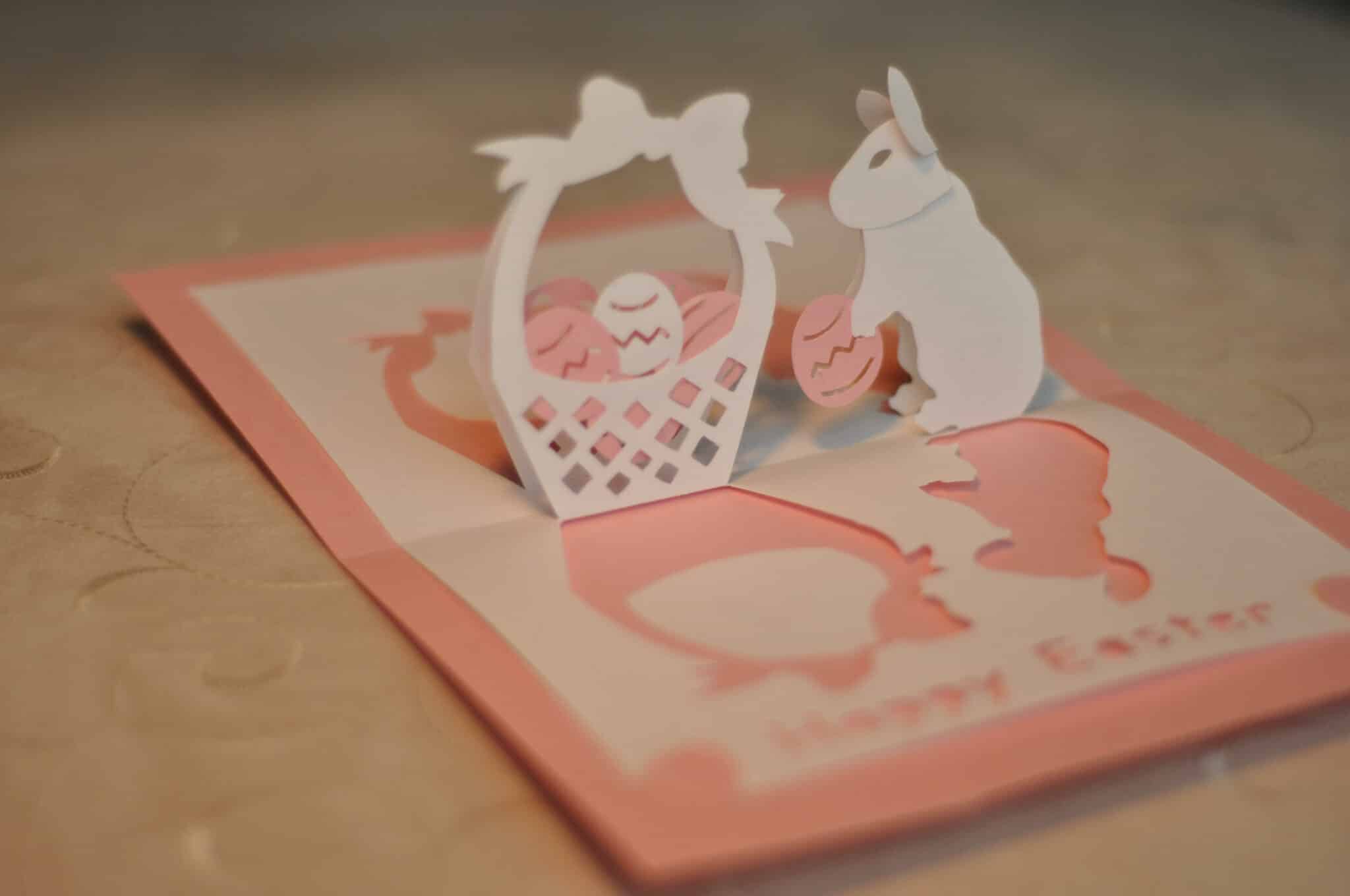 58
Easter Pop-Up Cards
Spread Easter joy with Pop-Up Cards! These printable templates become charming greeting cards, adding a touch of surprise and warmth to Easter greetings.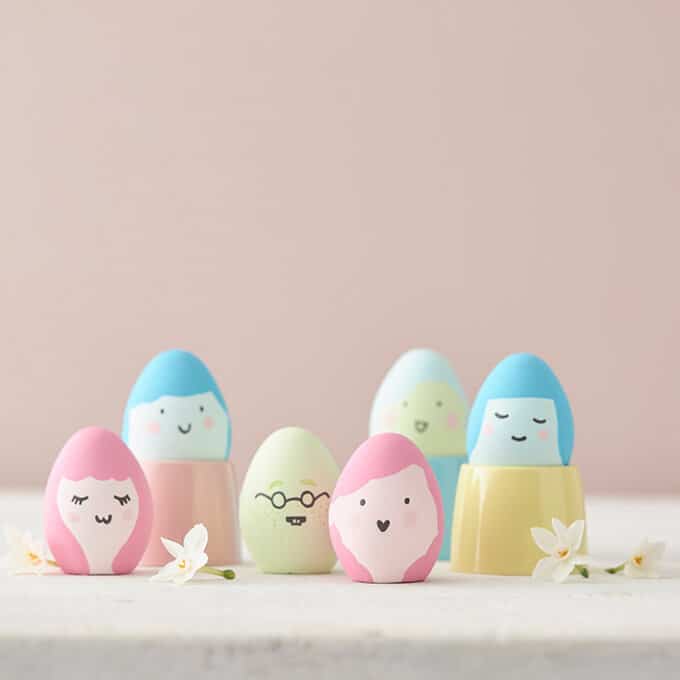 59
Egg People Family Craft
Encourage creativity with Egg People Family Craft! Kids can design and personalize their "egg people" family using printable egg templates, creating unique and imaginative characters for Easter play.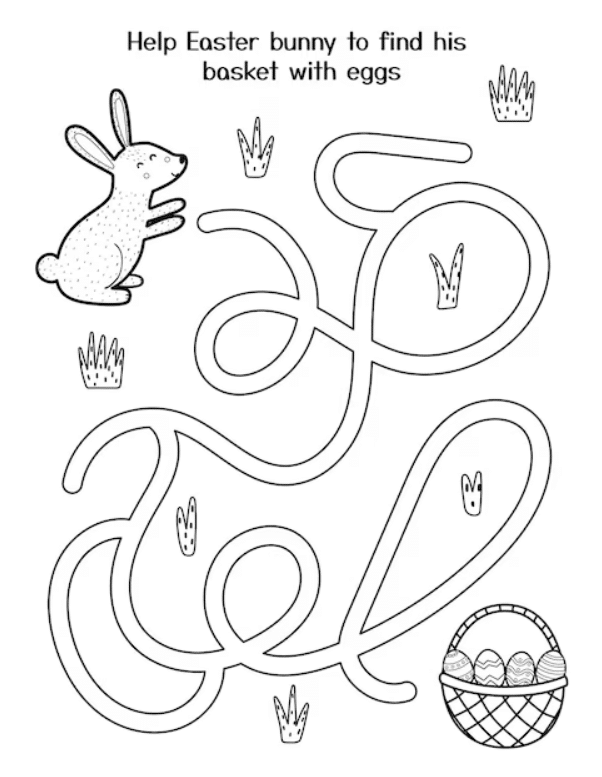 60
Bunny Puzzle Activity
Inspire problem-solving with the Bunny Puzzle Activity! Printable bunny templates become fun puzzles for kids to solve, stimulating critical thinking and fine motor skills while embracing Easter-themed fun.
Egg Ideas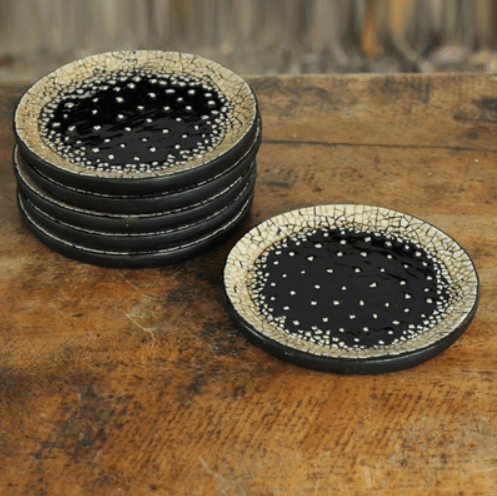 61
Eggshell Mosaic Coasters!
Break colorful eggshells into small pieces and glue them onto coasters to create stunning and unique mosaic patterns.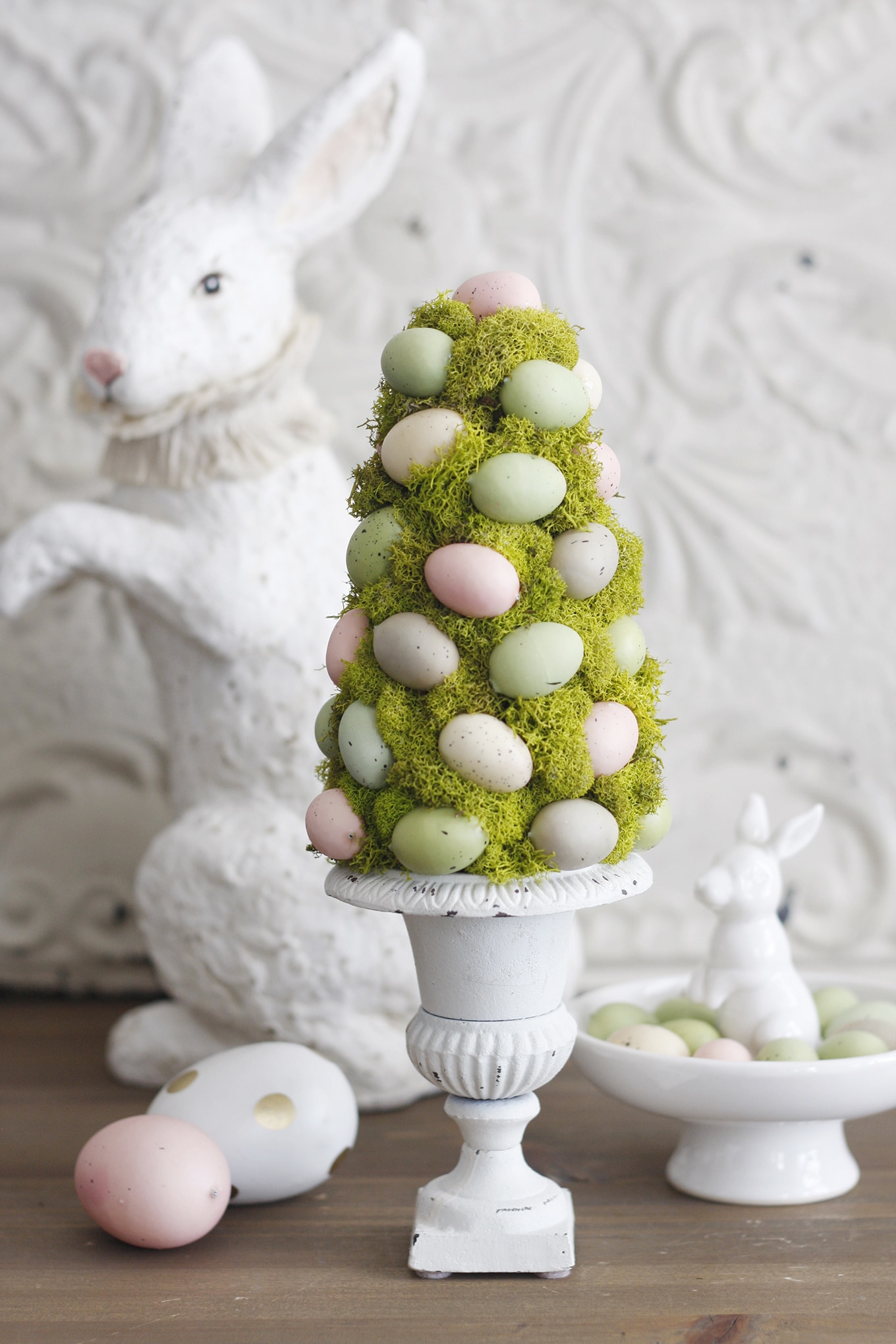 62
Egg Topiary!
Stack plastic or decorated real eggs onto a cone-shaped base, securing them with hot glue to form a beautiful Easter egg topiary.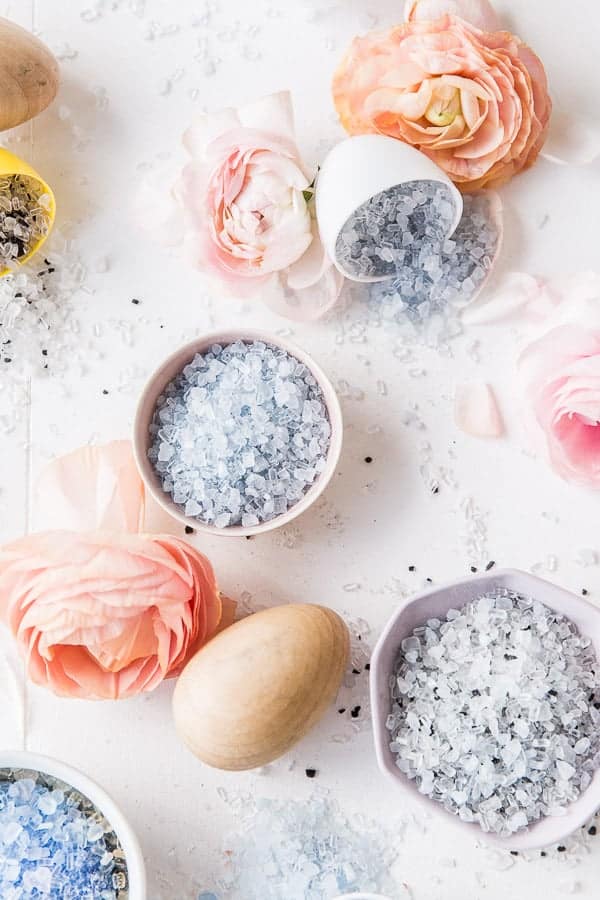 63
Easter Egg Bath Salts!
Fill empty plastic eggs with scented bath salts and decorate them as delightful Easter-themed bath bombs. Add some sparkle and fun to everyday baths during the Easter season.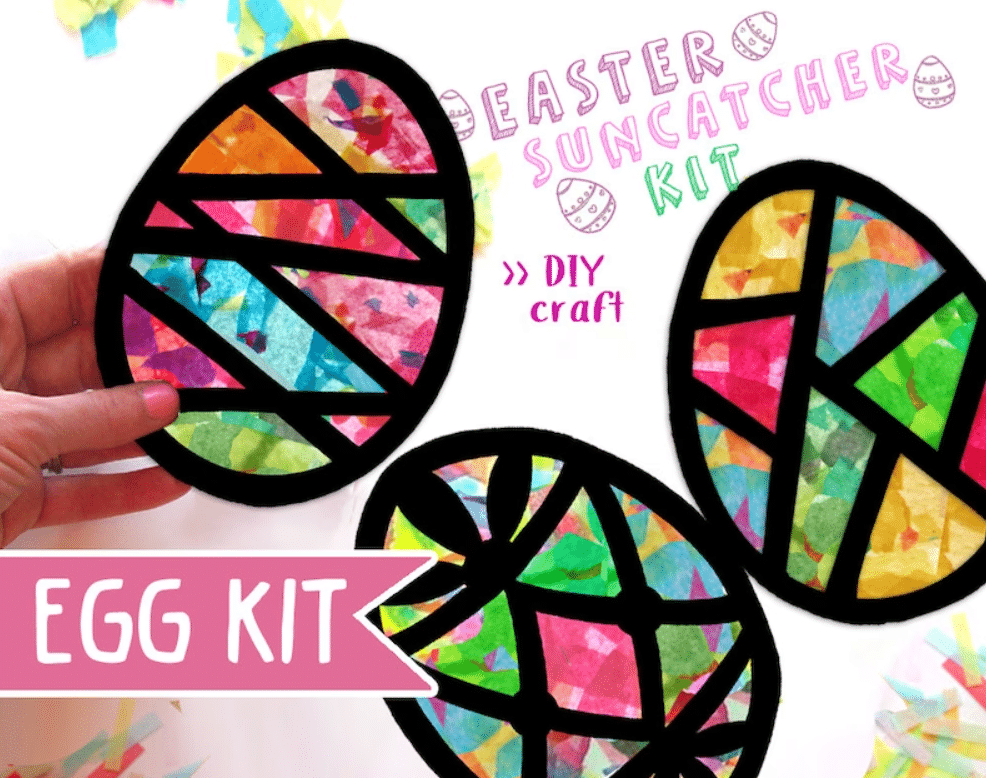 64
Easter Egg Suncatcher Garland!
Cut out egg-shaped frames from colored cellophane or tissue paper and string them together to make vibrant suncatchers.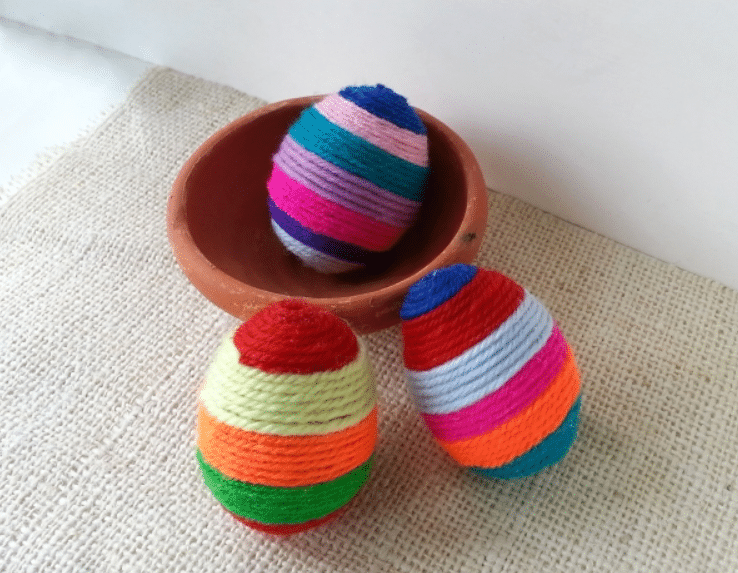 65
String-Wrapped Easter Eggs
Dip yarn or twine into the glue and wrap it around plastic eggs, creating textured and rustic Easter decorations.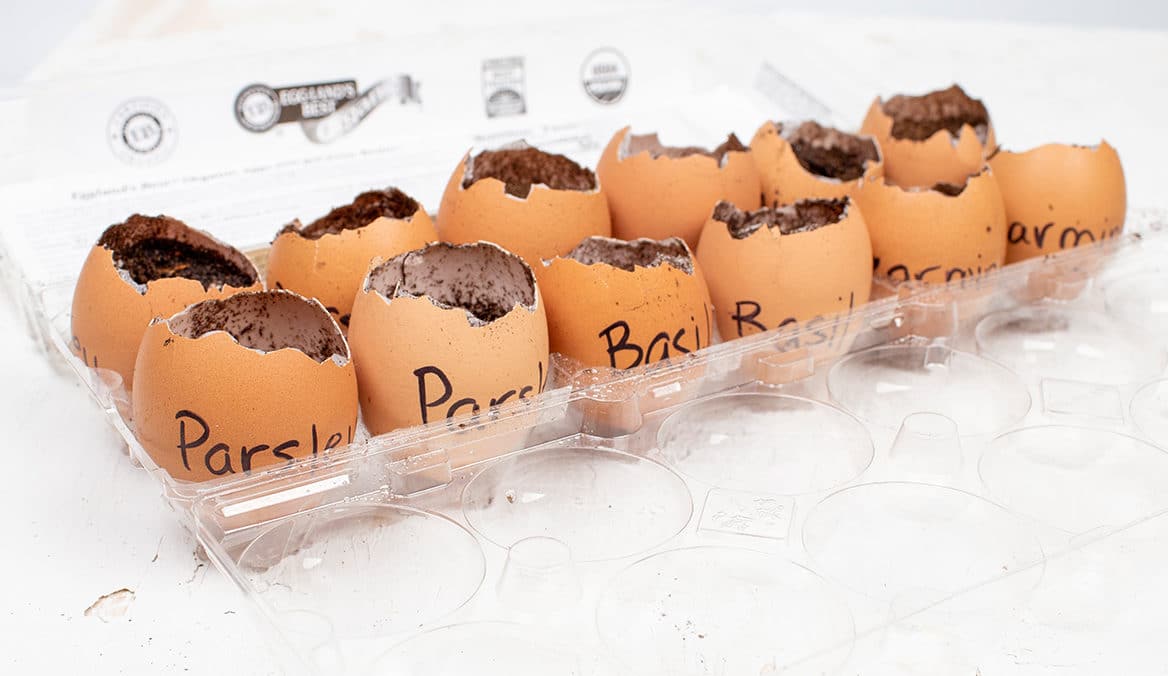 66
Eggshell Seed Starters
Use emptied eggshells as biodegradable seed starters by filling them with soil and planting seeds for springtime planting.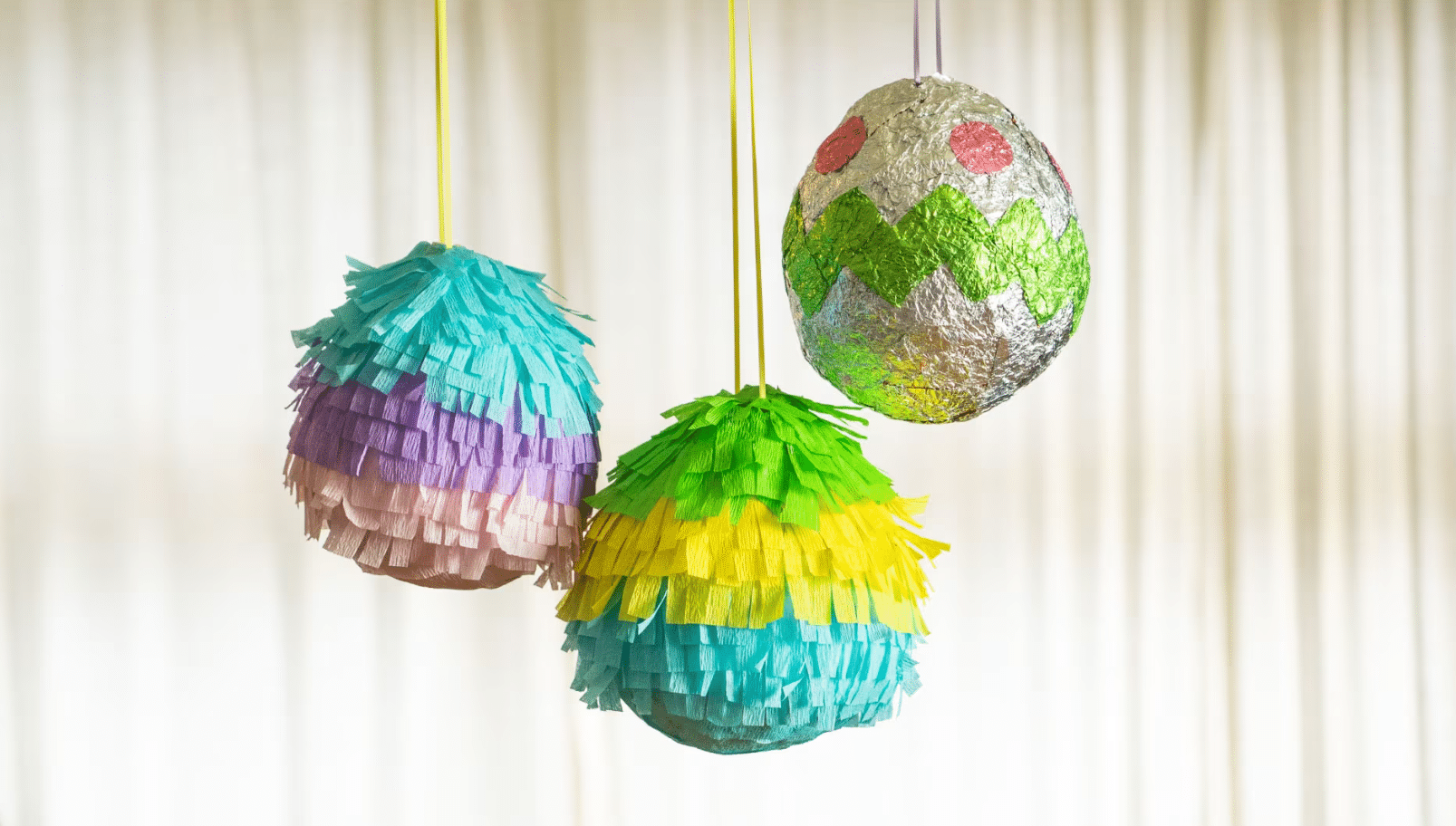 67
Easter Egg Piñata
Create a festive Easter egg piñata using paper-mâché and fill it with candies for an exciting holiday game.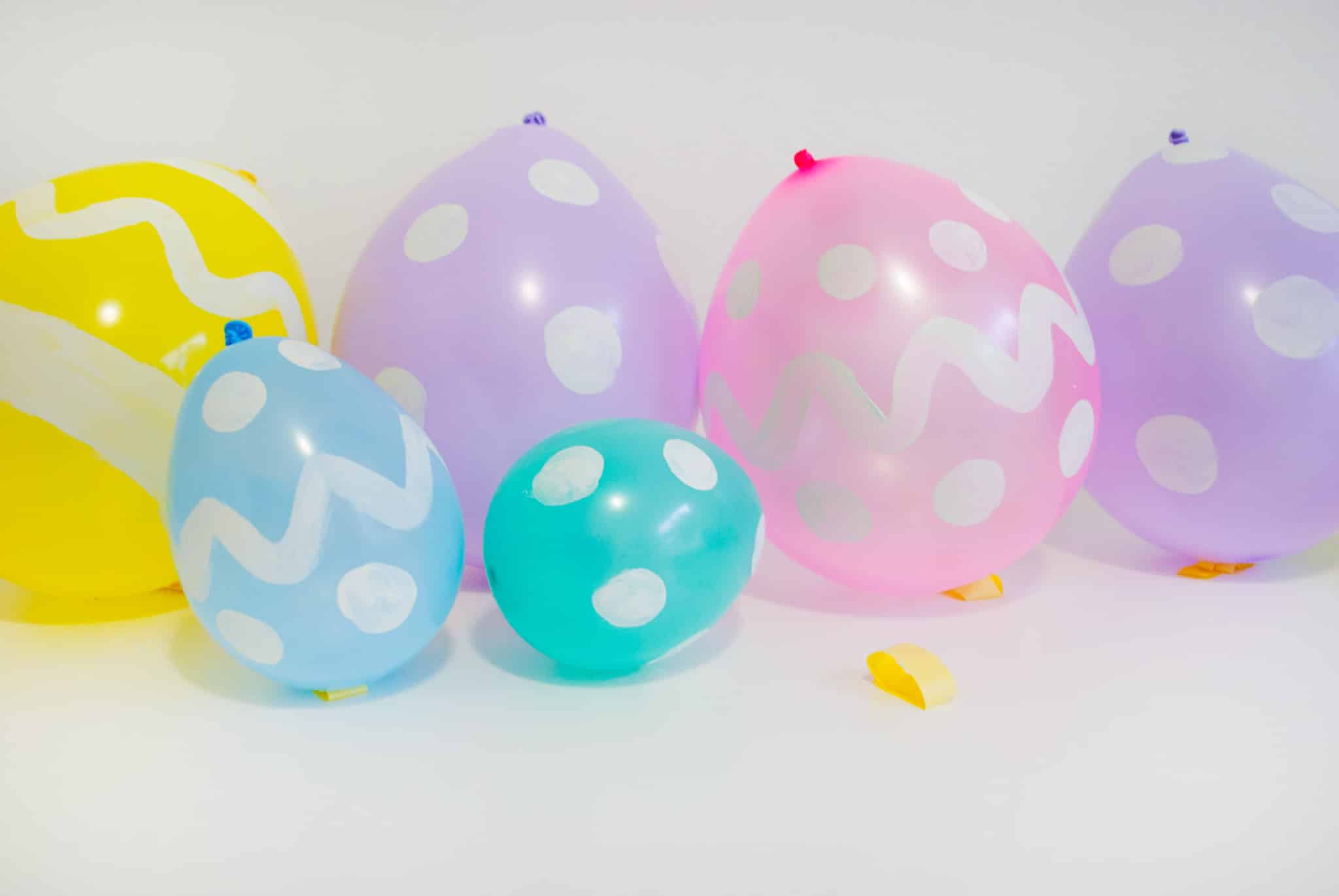 68
Easter Egg Balloons
Inflate small balloons and attach colorful paper or tissue paper strips, shaped like cracked eggs, for whimsical Easter decorations.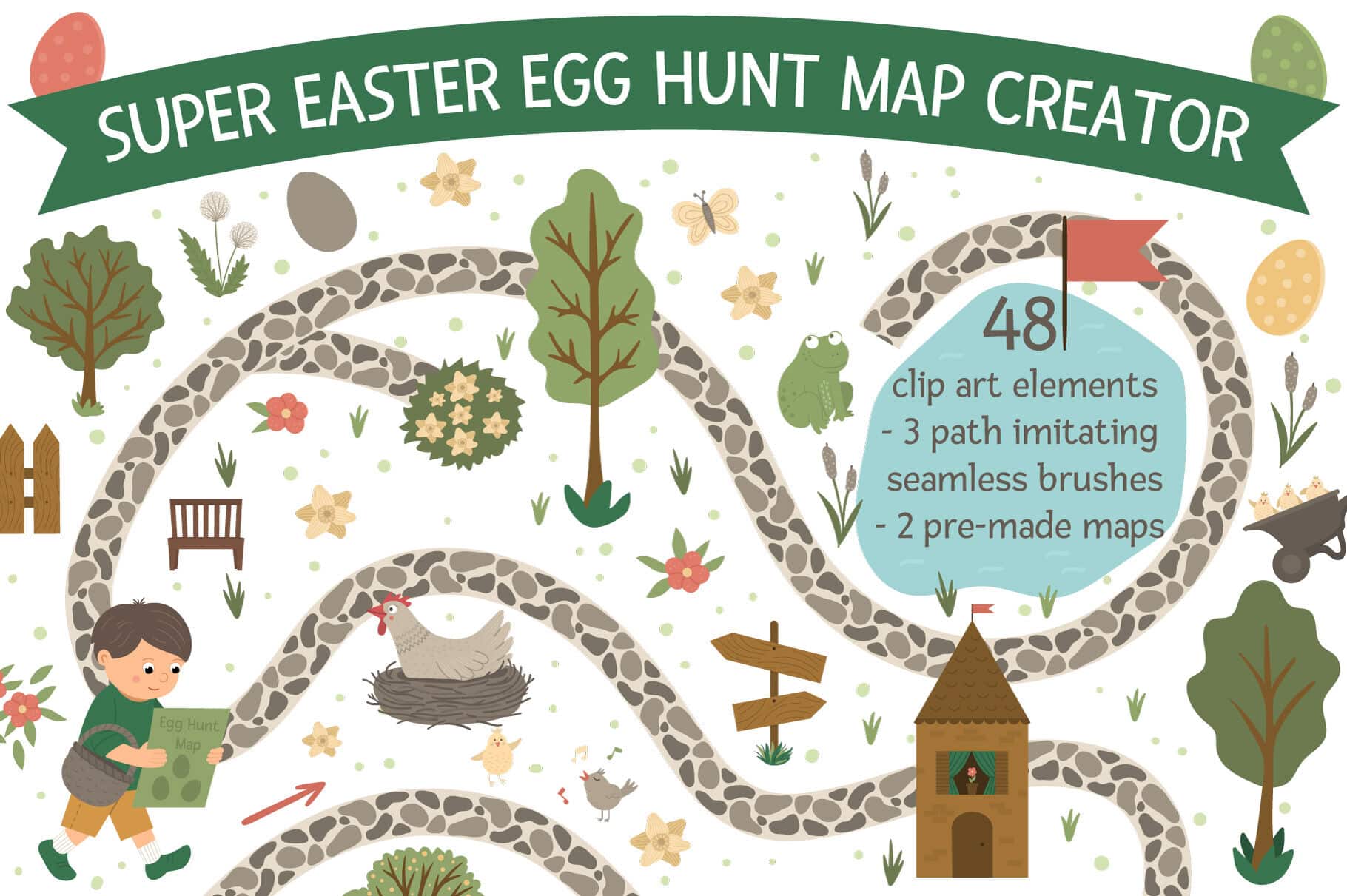 69
Easter Egg Hunt Map
Design a printable treasure map leading to hidden Easter eggs, adding excitement to the egg hunt activity.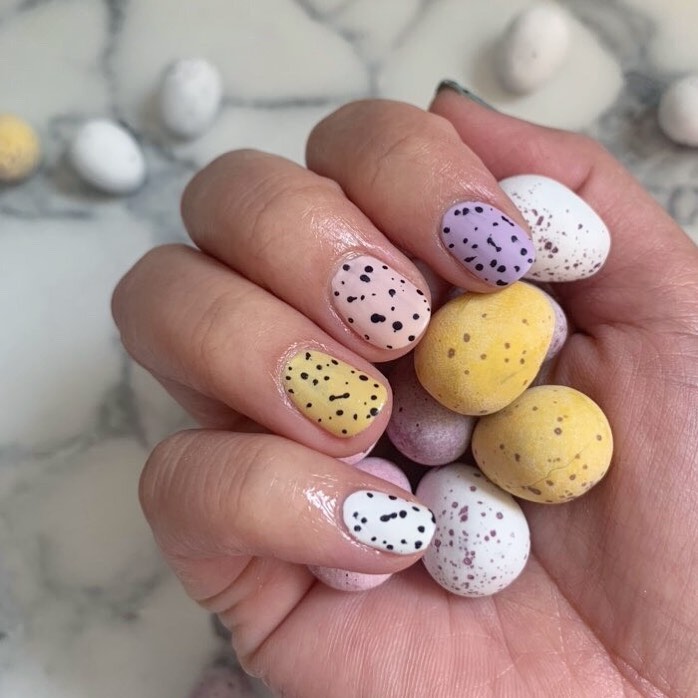 70
Egg-Inspired Nail Art
Use nail polish to paint intricate Easter egg designs on fingernails, offering a fun and festive manicure option.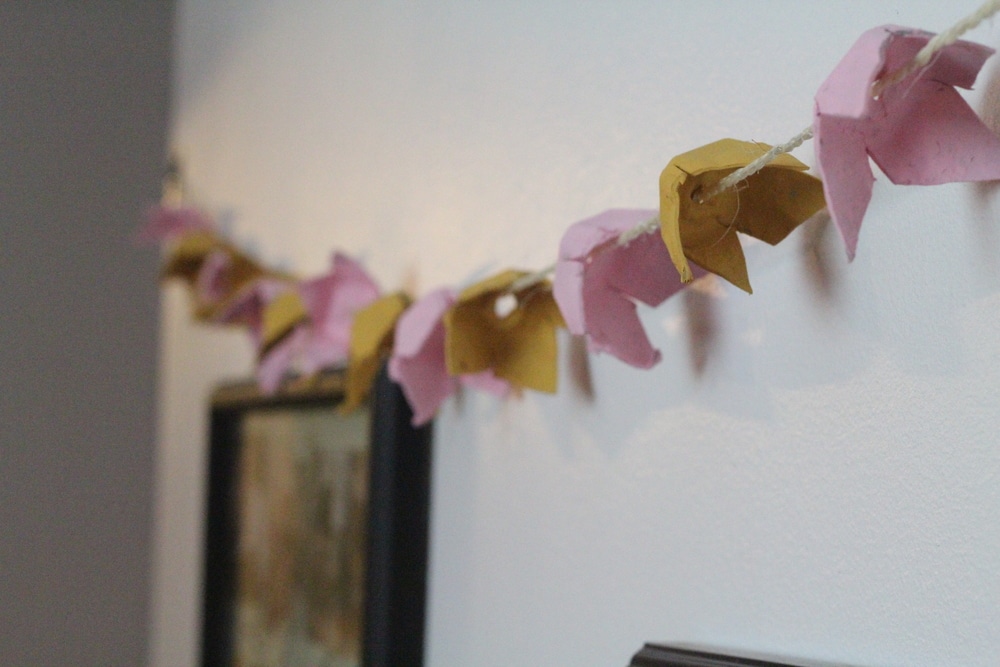 71
Egg Carton Garland
Cut and paint egg cartons into egg shapes, stringing them together to create a charming Easter egg garland.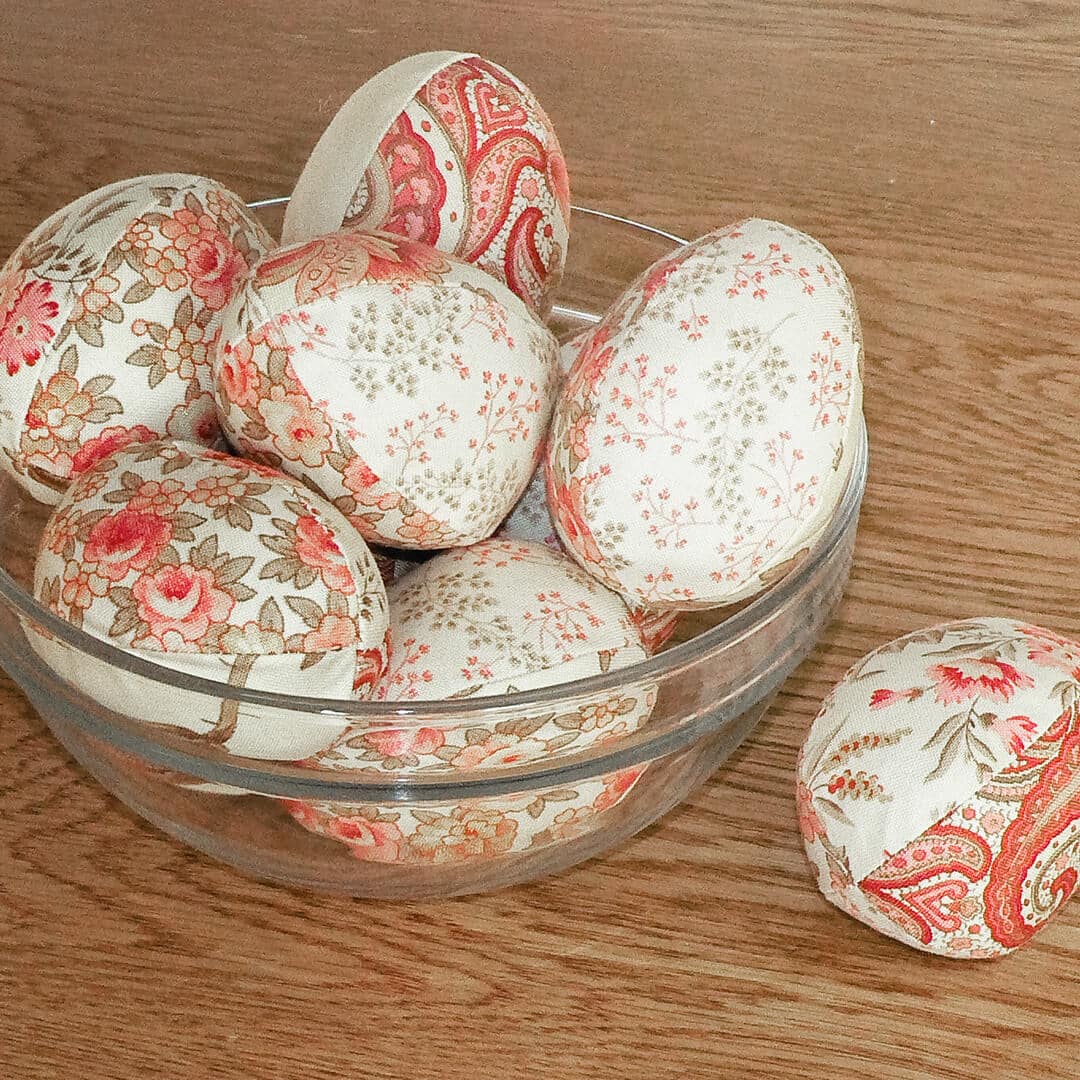 72
Fabric Easter Eggs
Sew and stuff fabric egg-shaped ornaments, embellishing them with ribbons and buttons for a soft and charming touch.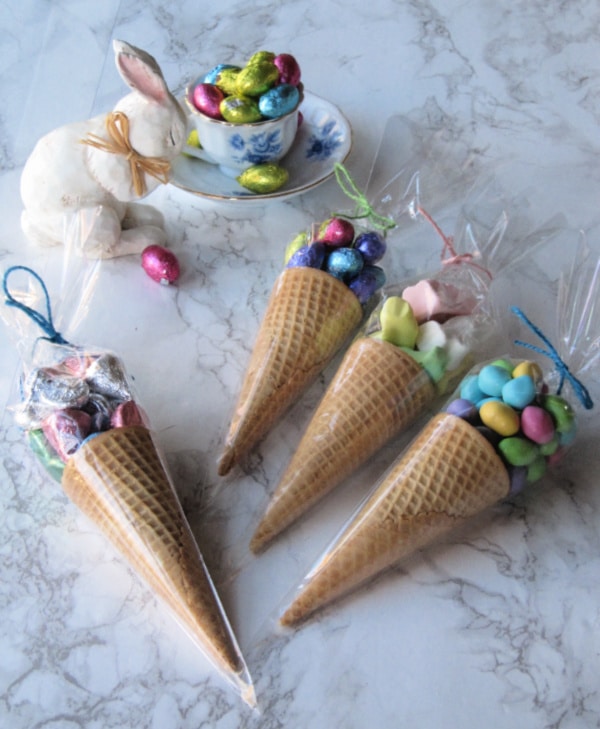 73
Easter Egg Treat Cones
Roll up patterned paper into cone shapes and fill them with sweets resembling Easter eggs for delightful party favors.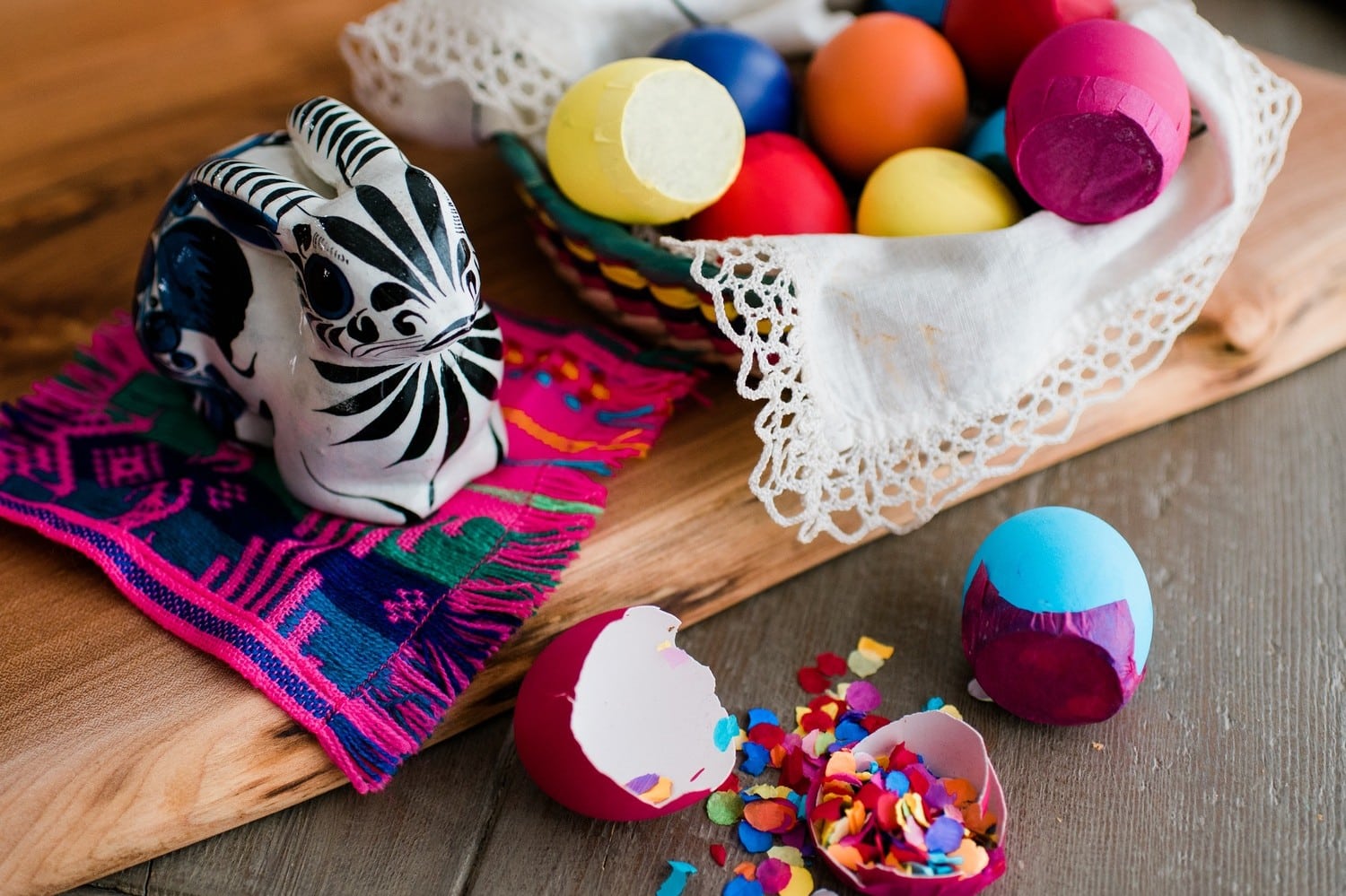 74
Easter Egg Cascarones
Put a festive twist on traditional cascarones by using blown-out eggshells. Carefully hollow out eggs and dye them in vibrant colors. Once dry, fill each eggshell with confetti or small candies. Seal the opening with tissue paper and glue. During Easter celebrations, friends and family can exchange these cascarones and playfully crack them over each other's heads, adding a fun and lively element to your Easter gatherings. These eggshell confetti poppers will surely bring laughter and joy to all participants.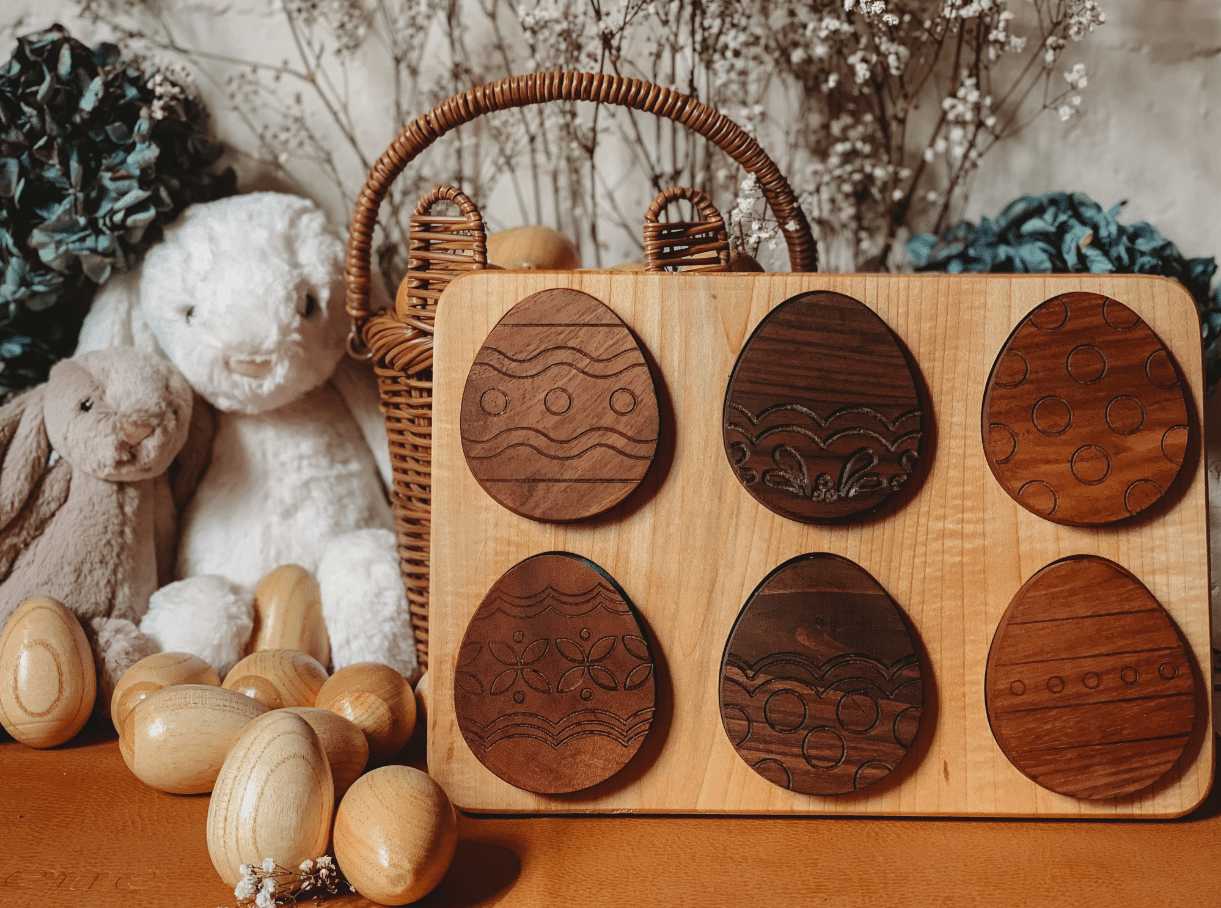 75
Wooden Easter Egg Puzzles
Cut wooden Easter egg shapes into puzzle pieces, providing a brain-teasing activity for kids and adults.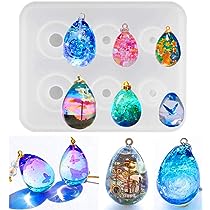 76
Egg-Shaped Resin Jewelry
Use silicone molds in egg shapes and mix clear resin with various pigments, glitter, or small decorative elements like dried flowers or tiny beads. Pour the resin into the molds and let it cure. Once hardened, remove the egg-shaped pieces, add jump rings, and string them onto chains to create eye-catching necklaces or keychains.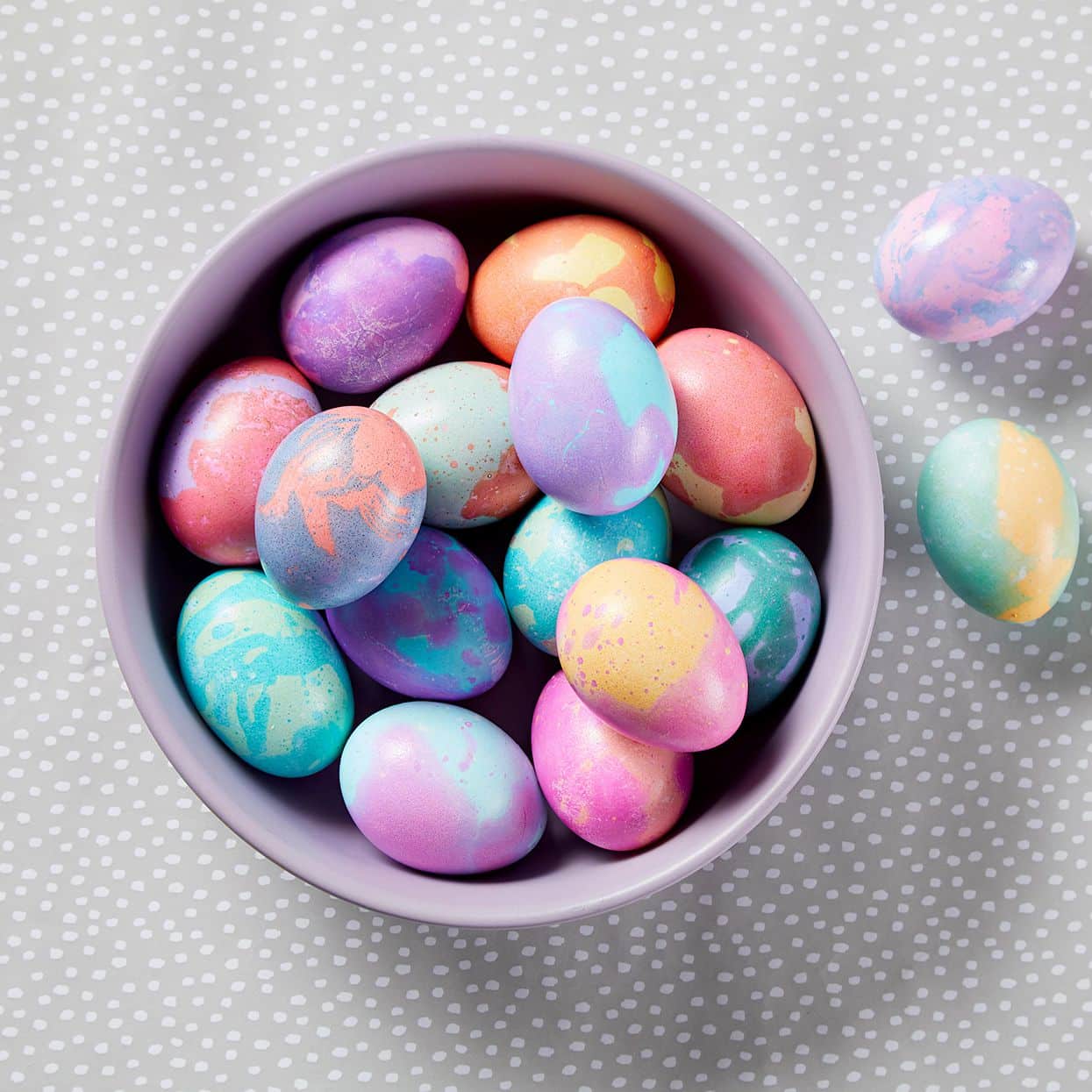 77
Marbled Easter Eggs
Swirl drops of nail polish on water and dip blown-out eggs into the mixture to achieve marbled Easter egg patterns.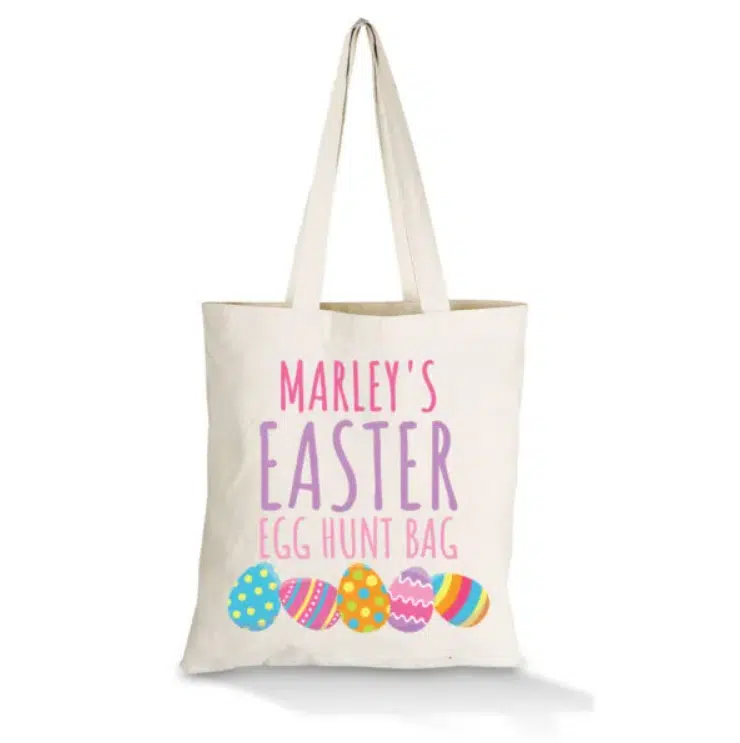 78
Egg-Stamped Easter Tote Bags
Dip hard-boiled eggs in paint and stamp them on plain tote bags, creating custom Easter-themed bags.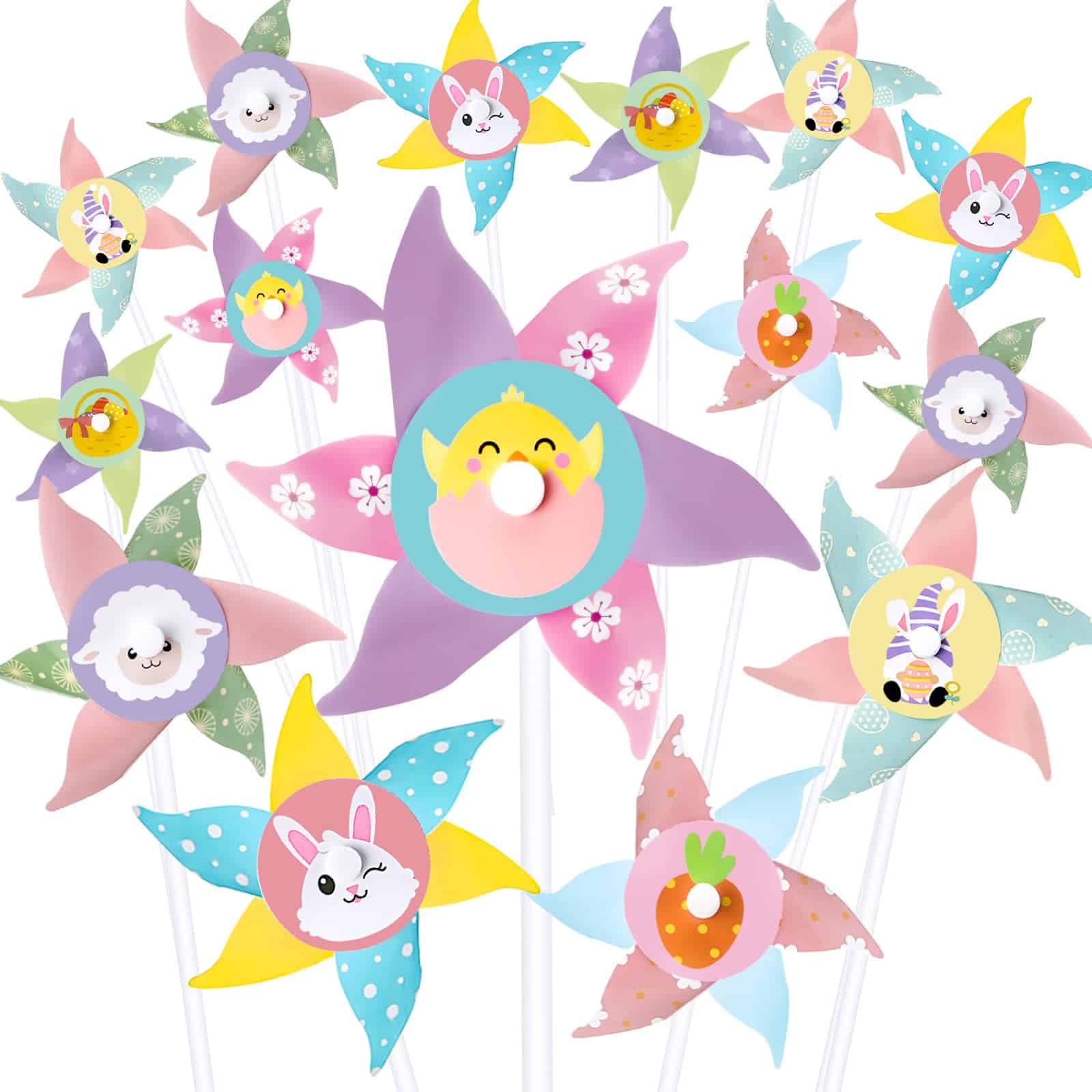 79
Easter Egg Pinwheels
Cut egg shapes from patterned paper and attach them to pinwheel sticks for whimsical outdoor Easter decorations.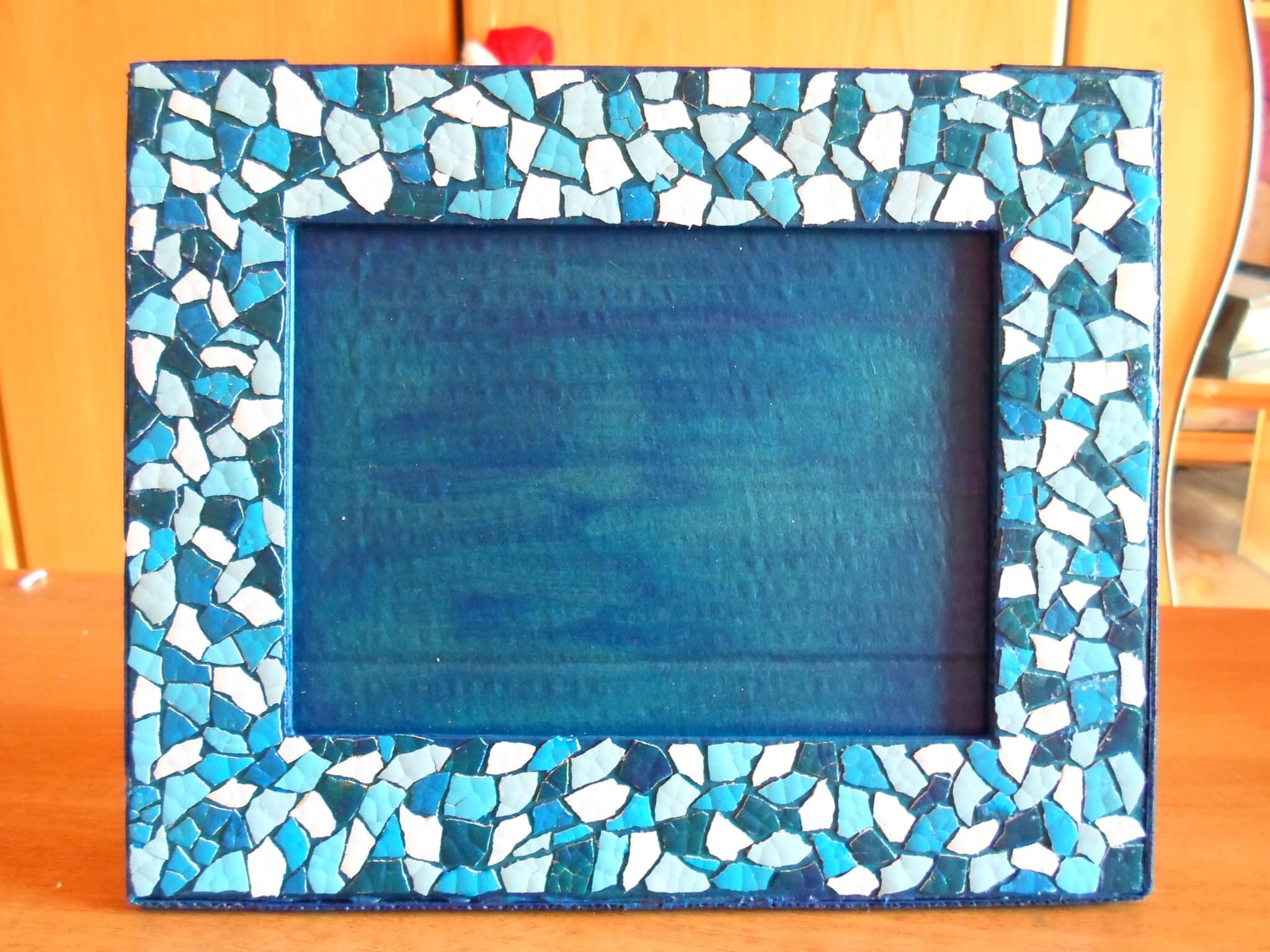 80
Eggshell Mosaic Picture Frame
Recycle eggshells into a stunning mosaic picture frame. Save and clean eggshells, then dye them in various colors using food coloring or watercolor paint. Use glue to stick crushed eggshells to a plain wooden or cardboard picture frame using glue. Create intricate patterns or abstract designs with the eggshell pieces, making each frame unique. Once the glue dries, insert a favorite Easter-themed photo of your loved ones, and display this eco-friendly masterpiece as a cherished keepsake.
Religious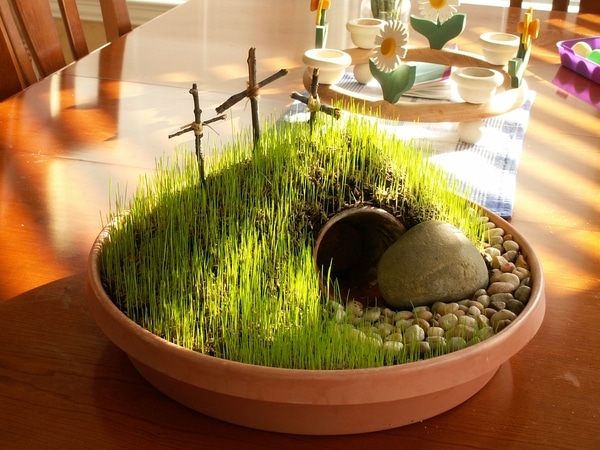 81
Empty Tomb Resurrection Garden
Celebrate the Resurrection with an Empty Tomb Resurrection Garden! Craft a tiny garden, complete with a symbolic tomb and figurine of Jesus, using rocks from the decor store or your garden. It'll remind you of the joyous Easter story.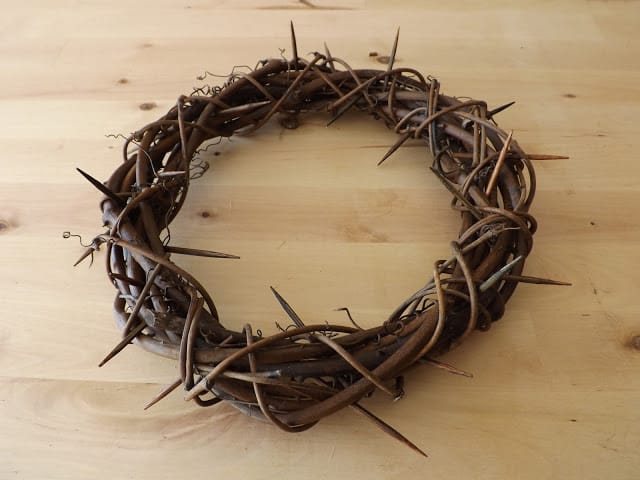 82
Crown of Thorns Wreath
Use twigs and a red ribbon to craft a poignant symbol with a Crown of Thorns Wreath! This meaningful wreath represents Jesus' sacrifice in a powerful Easter decoration. It will represent the crown of thorns. You can also make one with plastic straws or playdough.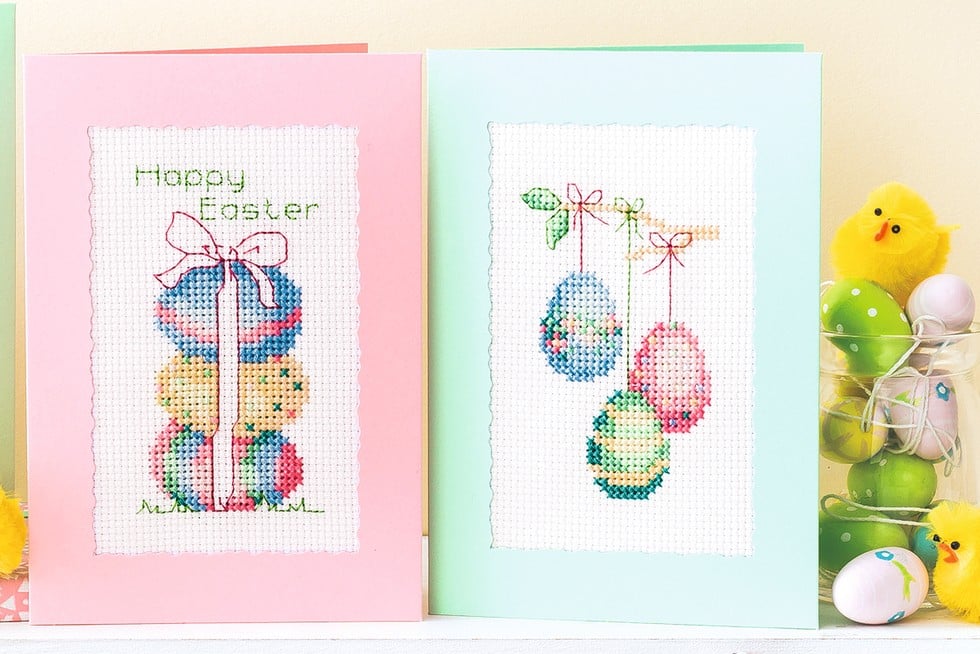 83
Cross-Stitched Easter Cards
Share Easter blessings with Cross-Stitched Easter Cards! Creating intricate designs with cross-stitching adds a personal and religious touch to each card, expressing faith and love during the holiday.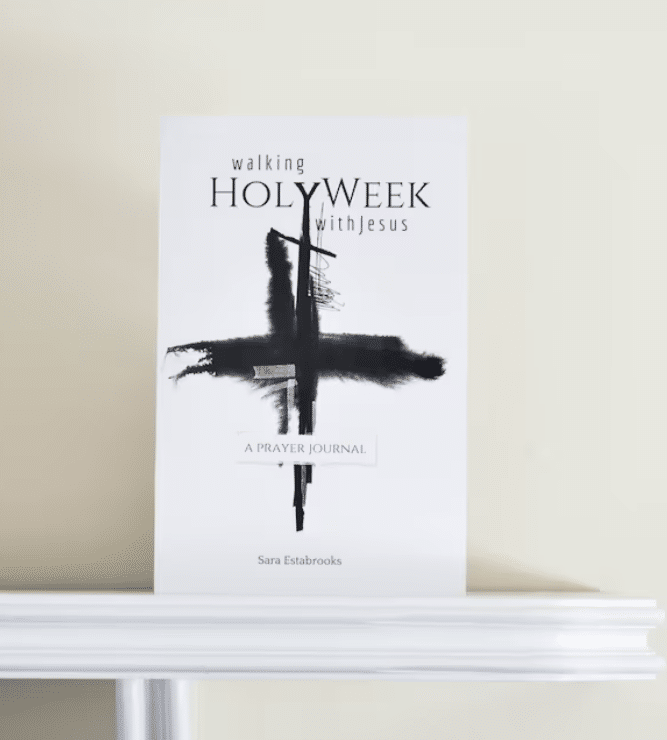 84
Holy Week Prayer Journal
Deepen spirituality with a Holy Week Prayer Journal! This reflective journal includes daily readings and prayer prompts, guiding hearts to contemplate Jesus' journey during the sacred season.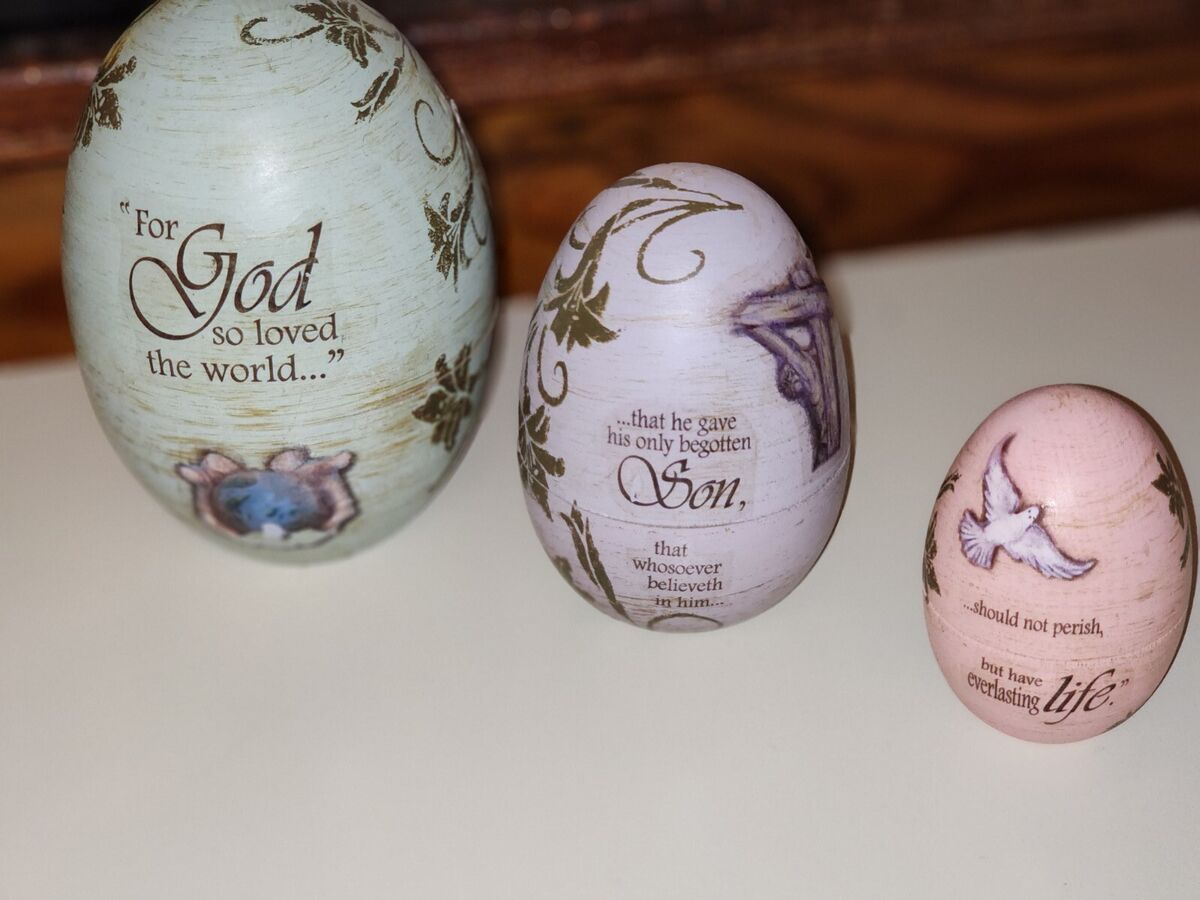 85
Scripture Eggs
Unwrap daily inspiration with Scripture Eggs! Write Bible verses related to Easter on small slips of paper, placing them inside plastic eggs, creating an engaging Easter activity that encourages reflection on God's Word.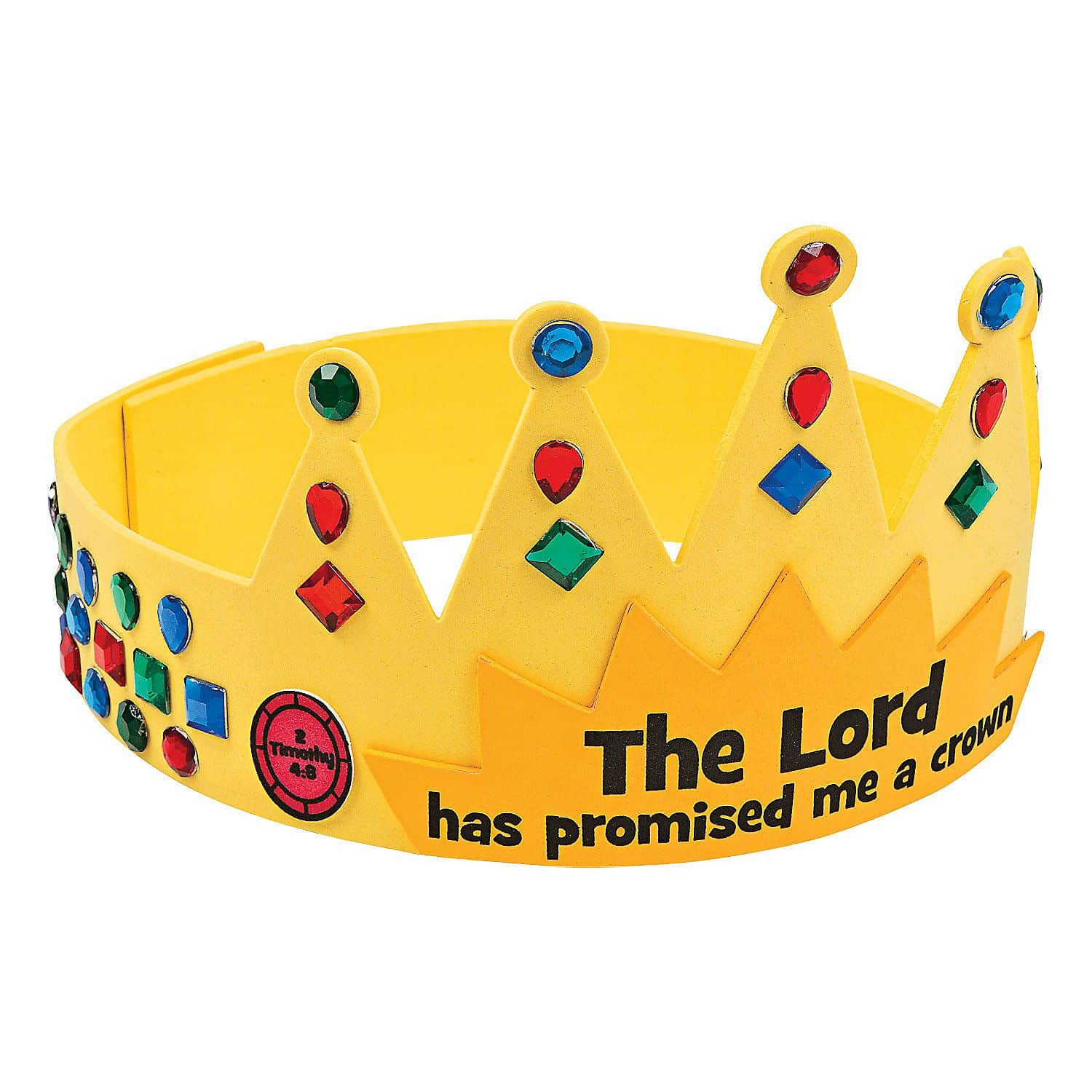 86
Crown of Glory Handprint Craft
Celebrate Jesus as the King of Glory with the Crown of Glory Handprint Craft! Trace children's hands, cut them out, and decorate them with jewels and crosses, representing Jesus as the King of Glory. They'll serve as a touching reminder of His Majesty.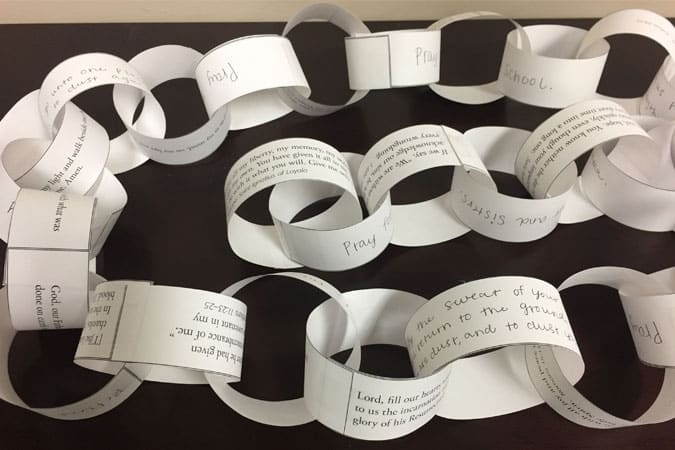 87
Lenten Prayer Chain
Strengthen prayer practices with a Lenten Prayer Chain! Create a prayer chain with daily prayer intentions during the Lenten season, fostering a spirit of prayer and reflection.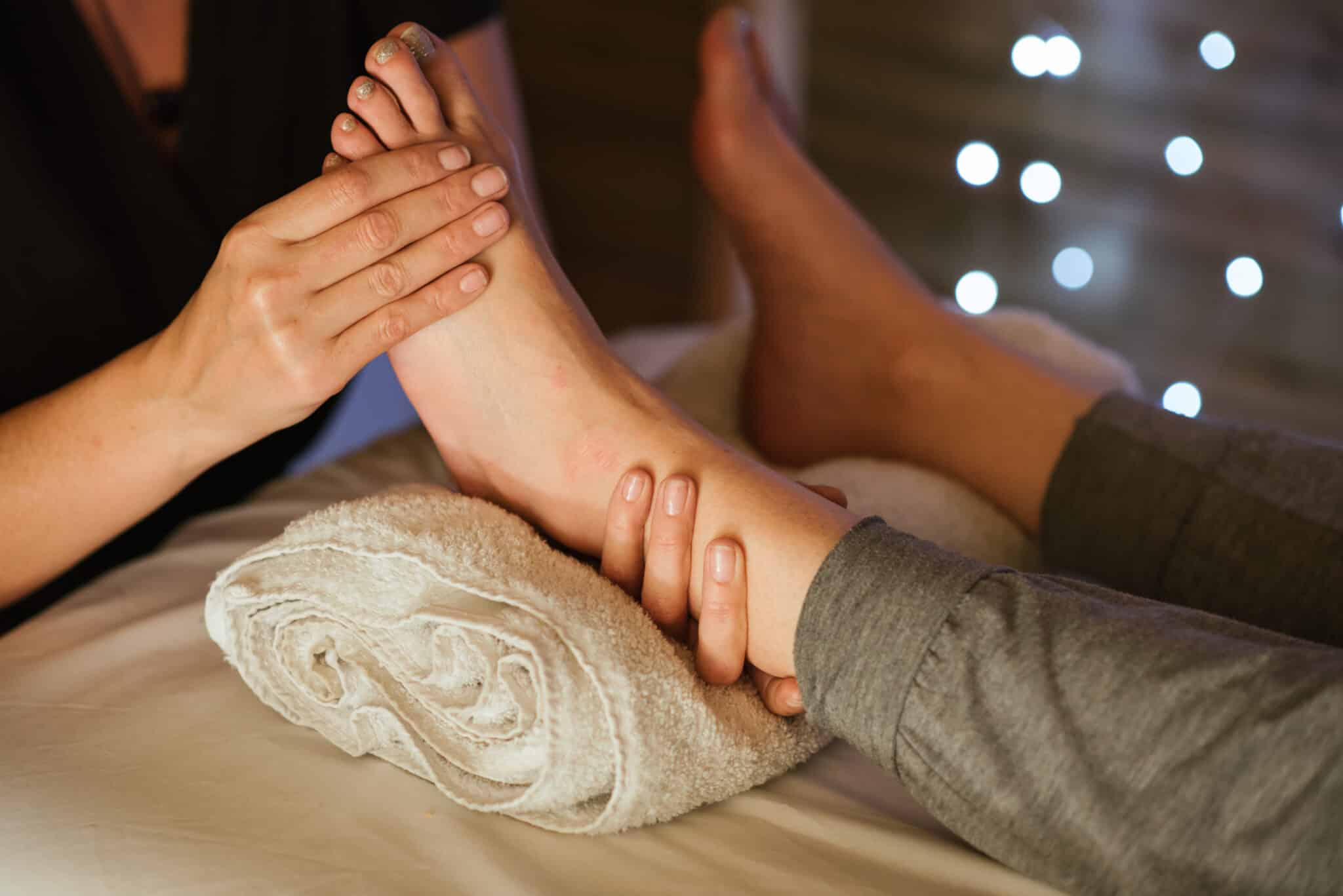 88
Foot Washing Towel
Reflect on humility and service with a Foot Washing Towel! Decorate towels with religious symbols to symbolize Jesus washing his disciples' feet during the Last Supper. The washing of feet was the ultimate act of love. Subsequently, we are encouraged to act out of selfless kindness during Easter.
89
Resurrection Story Stones
Engage young minds with Resurrection Story Stones! Each painted stone becomes a visual cue for retelling the Easter story, sparking imaginative play and reinforcing the significance of the Resurrection.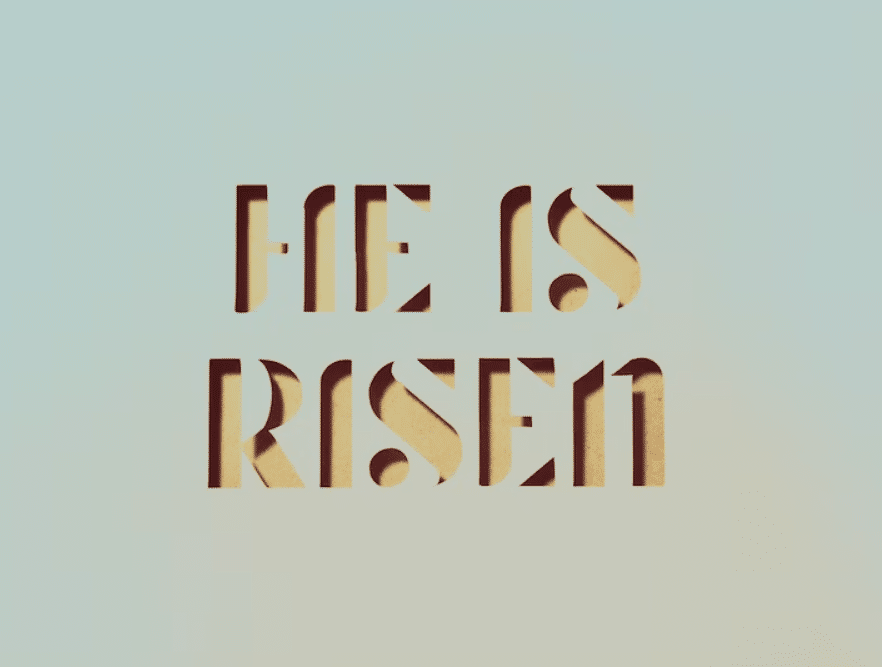 90
Easter Scripture Banner
Illuminate Easter with an Easter Scripture Banner! Strung with verses about Jesus' resurrection, this banner proclaims the joyous message of Easter. Hang the banner over your kitchen or living room to remember every message and scripture this season.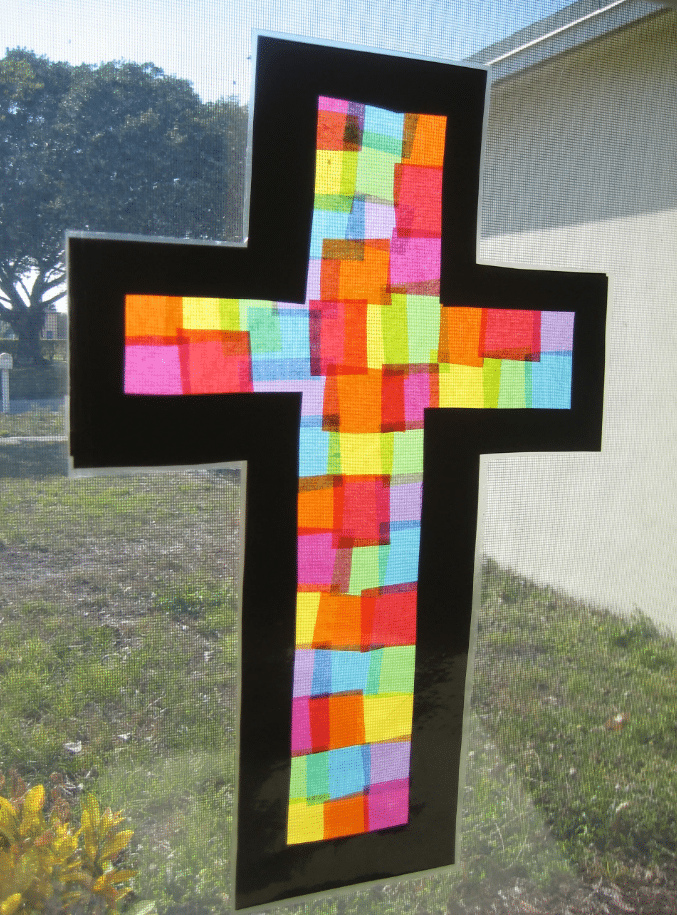 91
Stained Glass Cross Craft
Adorn windows with Stained Glass Cross Crafts! Colorful tissue and contact paper create radiant crosses that bring Easter's hope and light into any space. Use this stained glass cross to decorate your windows and spread a little cheer during Easter.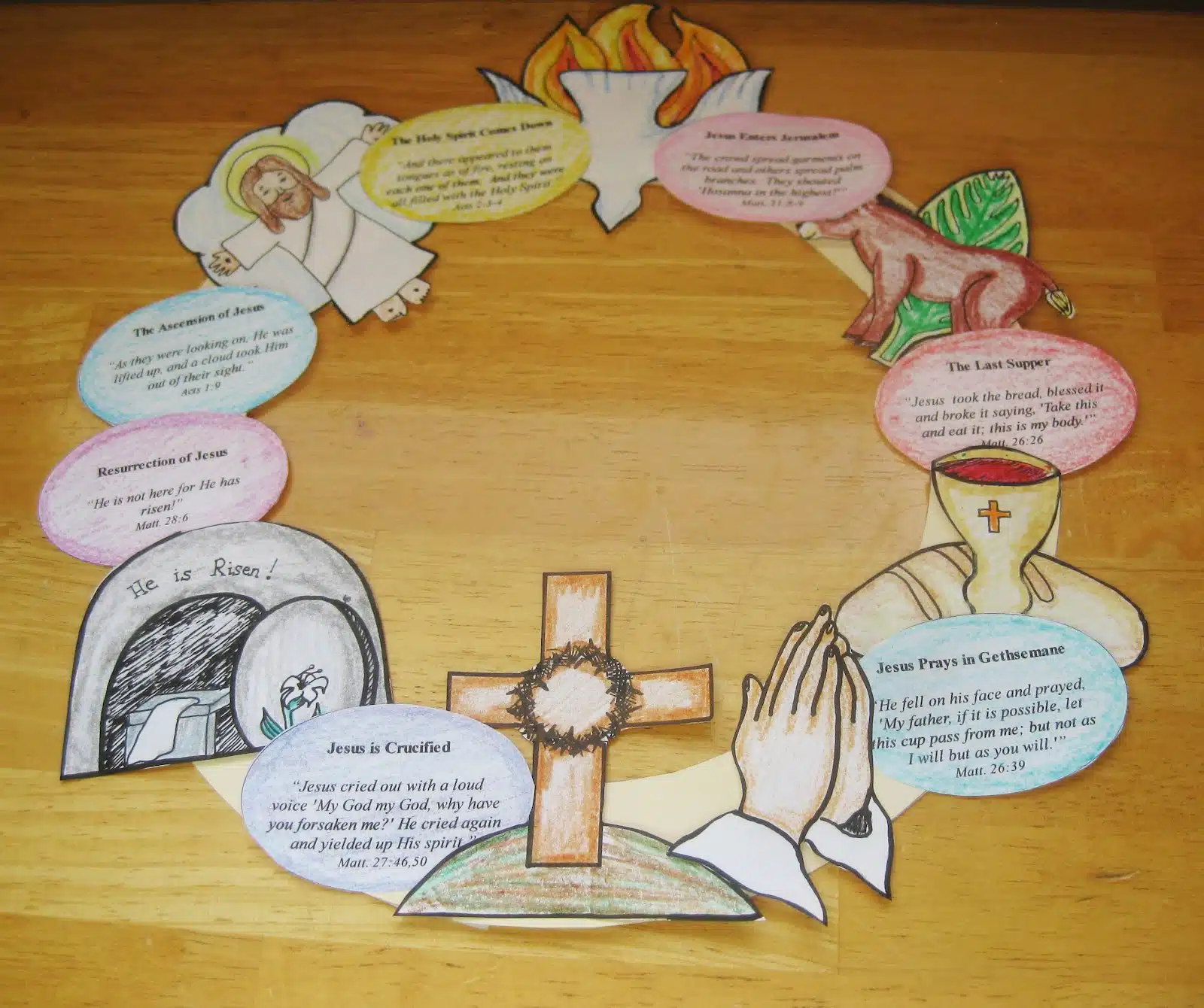 92
Easter Story Wreath
Illustrate the Easter story with an Easter Story Wreath! Each Image Sourced From captures an event, and when combined, the wreath visually narrates the sacred Easter narrative. It's a fun craft idea that the whole family can be involved in.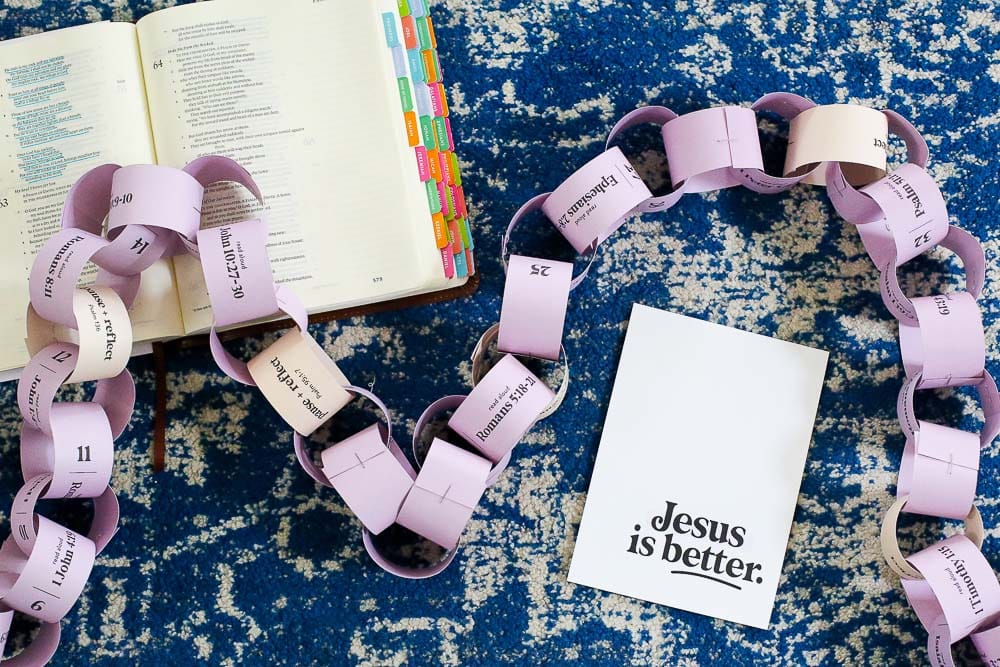 93
Holy Week Countdown Chain
Countdown to Easter with a Holy Week Countdown Chain! Each link represents a significant event, creating a sense of anticipation and reflection during the holy season. After Easter, this chain aids in studying the Bible.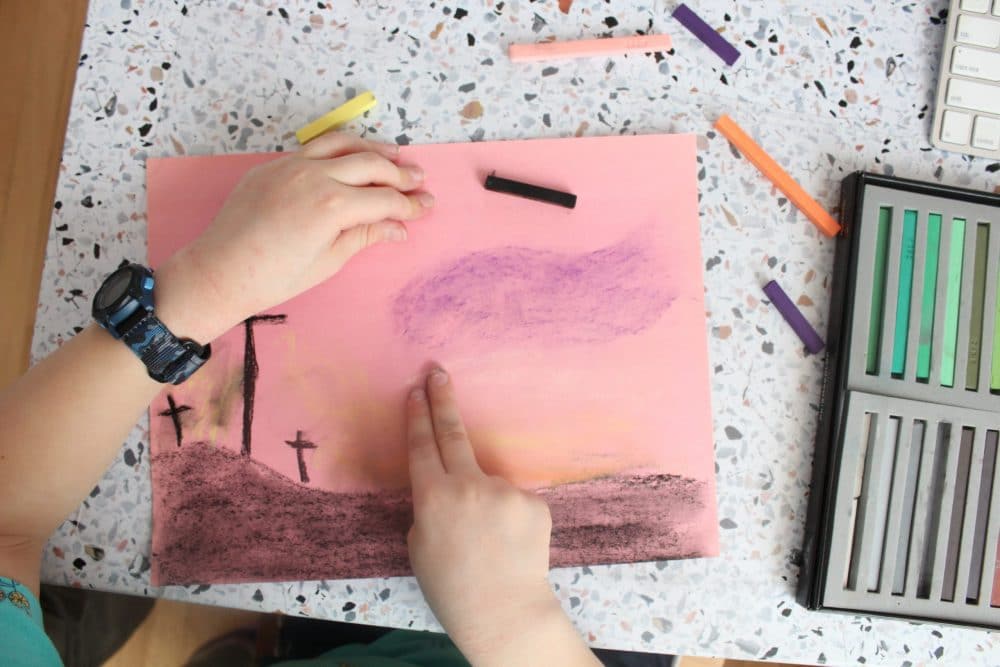 94
Oil Pastel Resurrection Art
Embrace Easter hope with Oil Pastel Resurrection Art! Vibrant colors and expressive strokes capture the joyous resurrection of Jesus, infusing the artwork with hope and new beginnings. Encourage everyone to create their paintings and display them all over the house.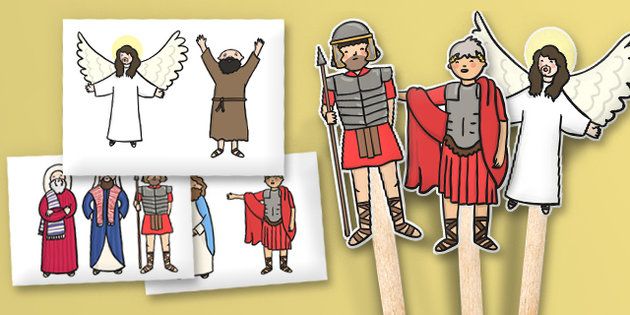 95
Easter Story Puppets
Make finger puppets representing key characters from the Easter story, providing a tactile way for children to engage with the narrative. Make a competition where every child can use finger puppets to retell the story every night and judge who makes it the most interesting.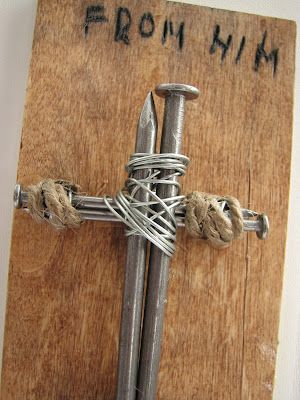 96
Cross of Nails Craft
Use small nails and string to create a cross, symbolizing Jesus' crucifixion and His victory over death. You can make it a small Cross of Nails to display on the desk or a large one for your workshop.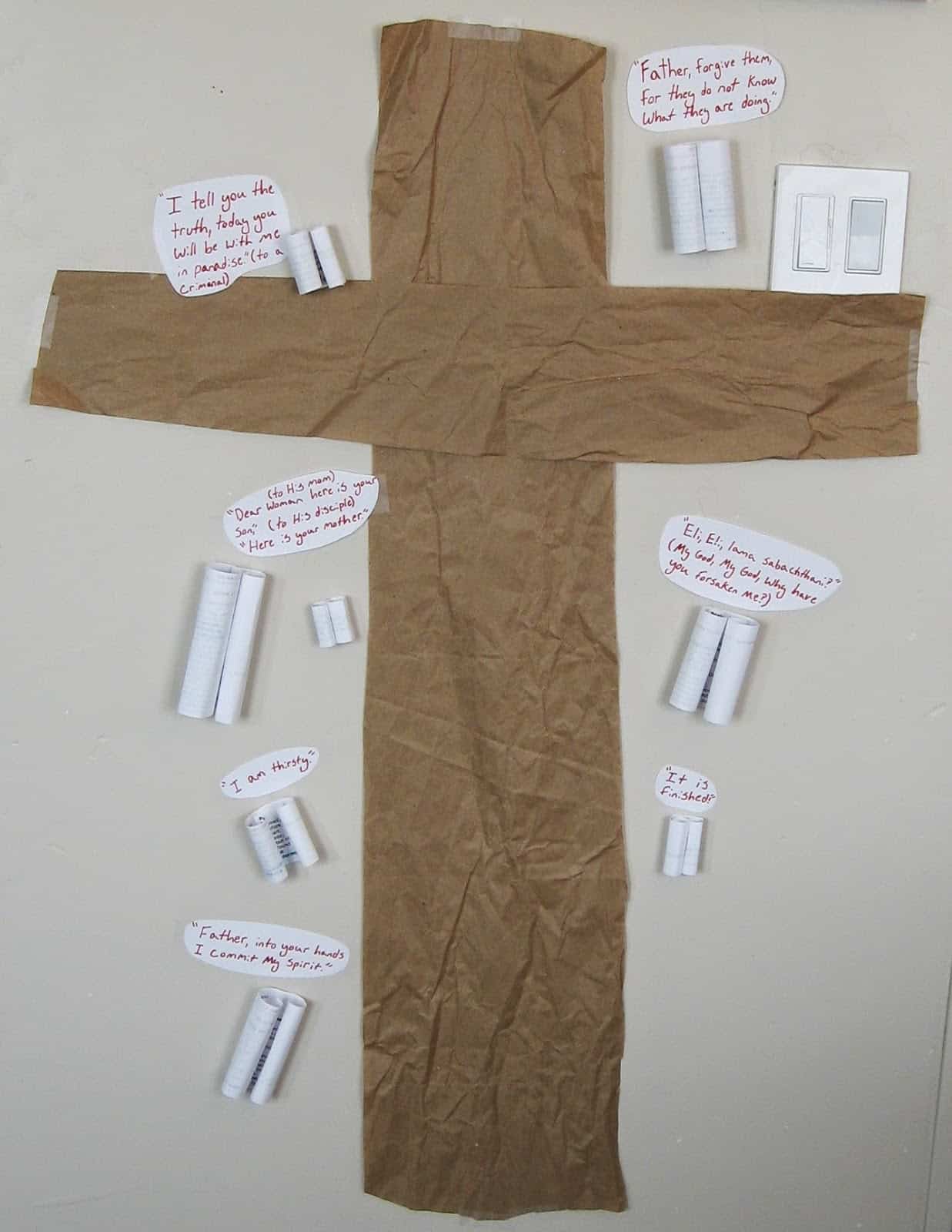 97
Forgiveness Cross Craft
Craft a cross using two sticks or pieces of cloth, and encourage participants to write down things they want to forgive. Make this a big family craft where everyone can unburden themselves and feel lighter by the end of the day.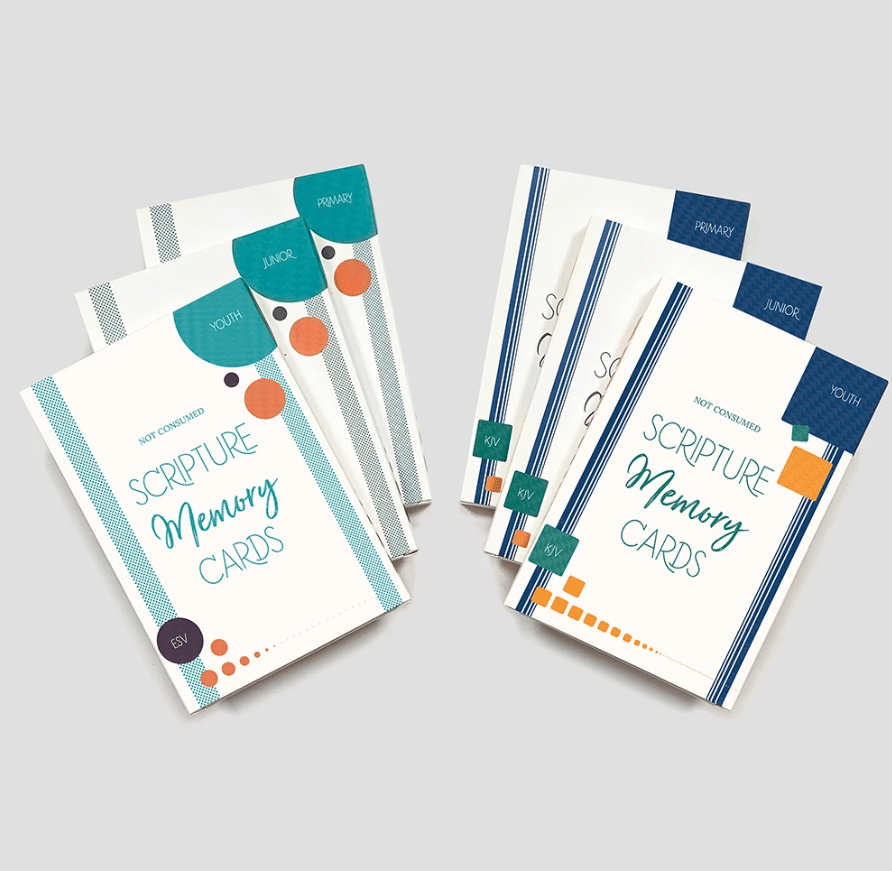 98
Easter Scripture Memory Cards
Design printable scripture memory cards with Easter-themed verses to encourage reflection on God's Word. Add these to gift baskets, place them on your desk, or use them as a bookmark. Encourage your kids to add personalized messages or what they learn from the verse on the back of each memory card.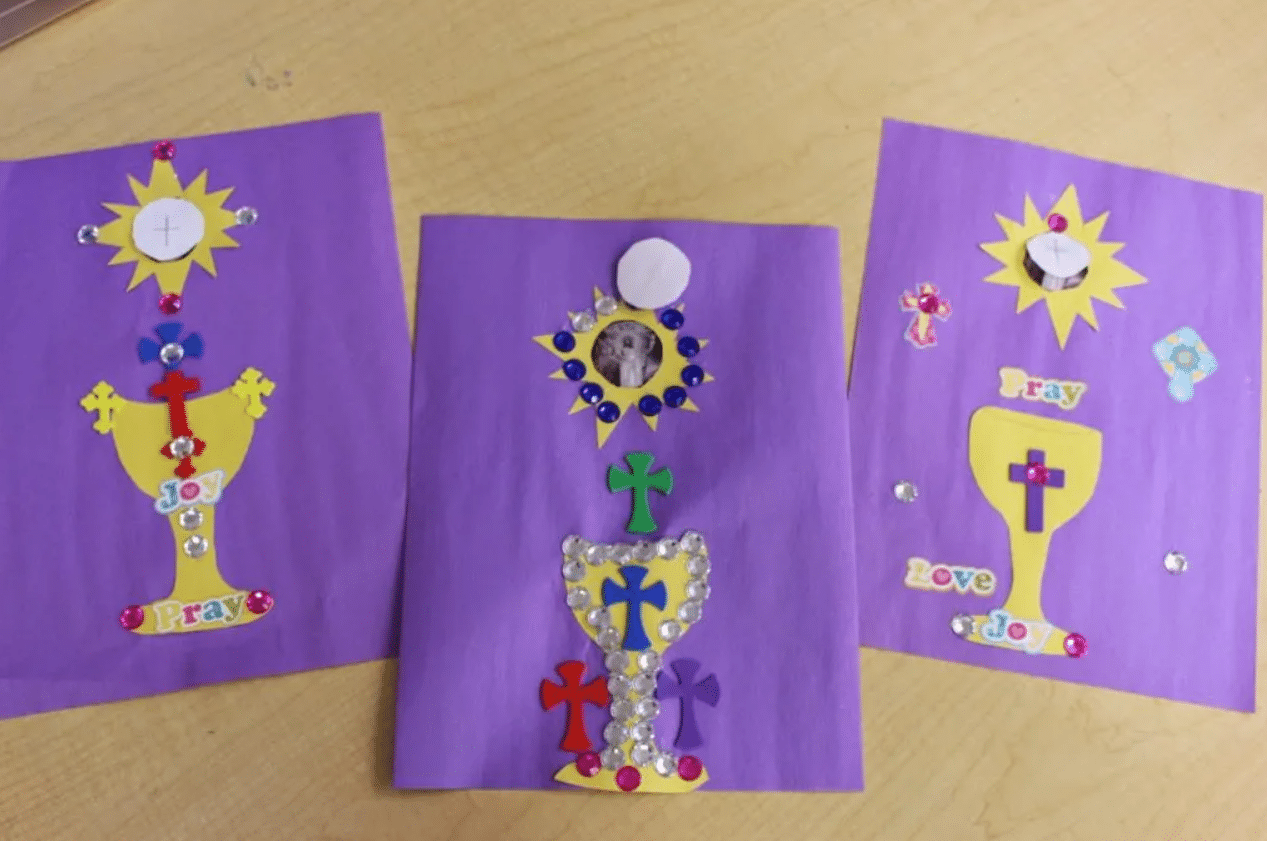 99
Holy Communion Craft
Construct a craft that resembles a chalice and host, representing the significance of the Last Supper and Holy Communion. You can make it as aesthetic as you want to match the decor of your house or allow your kids to explore their creativity and create many different options.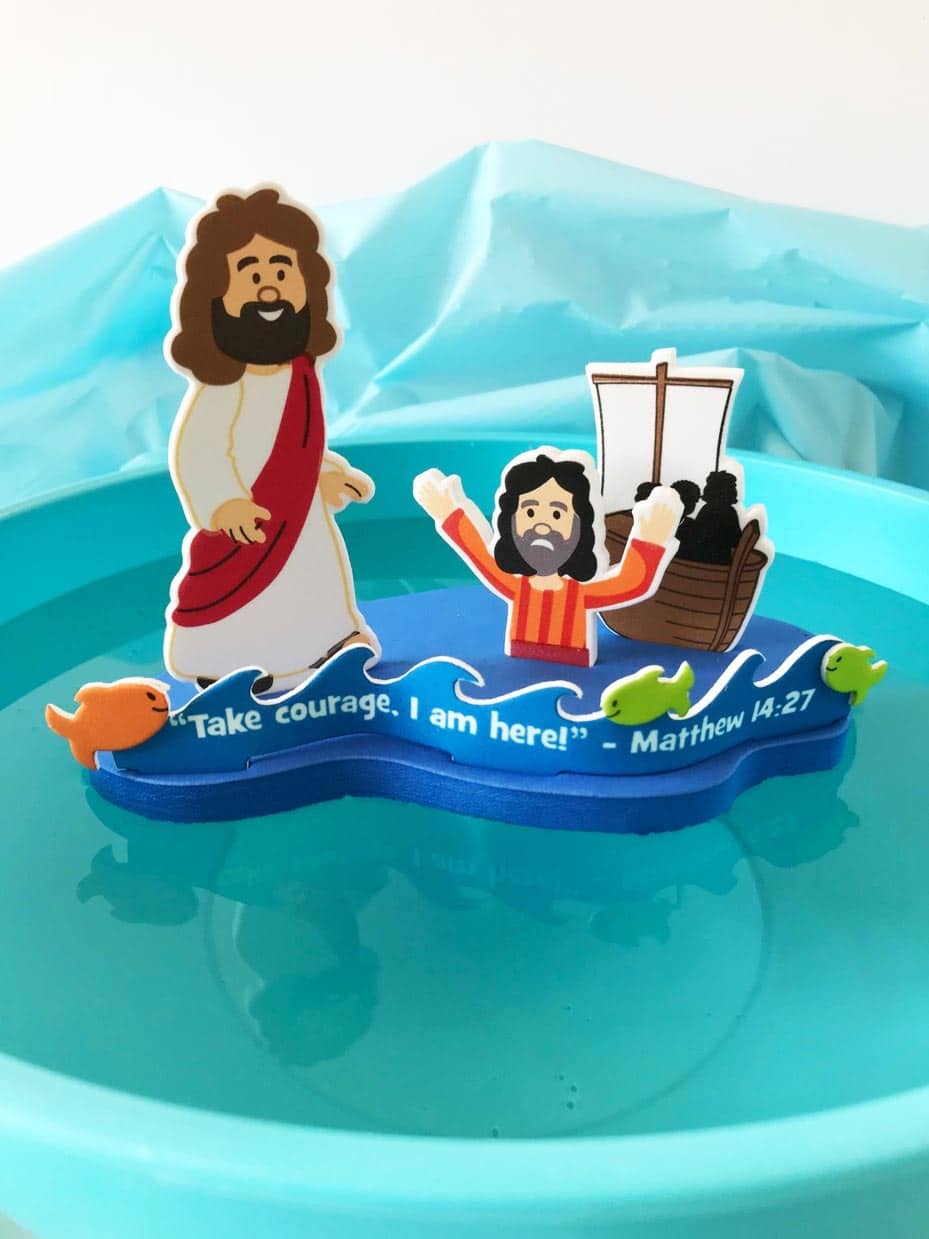 100
Jesus Calms the Storm Activity
Illustrate the story of Jesus calming the storm on a paper plate, using cotton balls for clouds and blue paper for the sea. Use it to tell the story of one of Jesus' greatest miracles and encourage your kids to remember it.