The Best Yoga Mat in 2023
Practice yoga comfortably and safely with the best yoga mats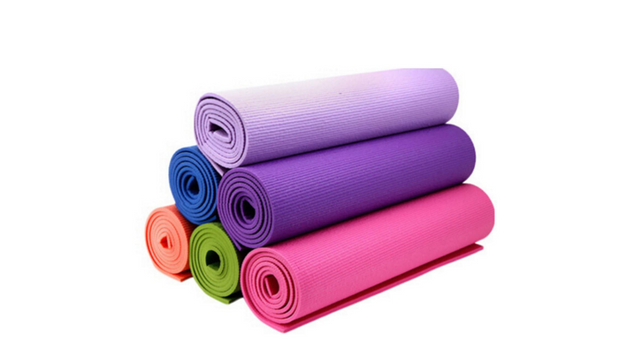 The greatest yoga teachers say that the only thing you need to practice yoga is your body and your mind, and this is true, but if you want to be comfortable and safe, the best thing to do is to add a good yoga mat. Replacements such as a rug or a towel are not enough, as they represent a risk to your health, nor is it advisable to use the mats from the yoga studio, they are not hygienic, and you have not chosen them according to your needs, so if you plan to start in this yoga world, it is best to buy your mat.
Nowadays, we can find numerous models and different compositions and degrees of quality; the purchase criteria are diverse, and picking a mat can be overwhelming; that is why we have selected some models that might interest you. Moreover, they are not only suitable for yoga, but you can use them for CrossFit, calisthenics, and gym.
How We Picked
Thickness

The comfort you experience when practicing certain yoga postures will depend on the yoga mat thickness. A mat that is too thin will not protect you from the hardness of the floor.


Durability and Support

Yoga, meditation, and certain exercises are activities that are practiced every day. For this reason, we need a durable mat that can withstand daily use without deteriorating.


Materials and Being Eco-Friendly

Yoga is a discipline that helps us find balance, and to achieve this, it is important to take the environment into account. For this reason, we choose only mats made with eco-friendly materials.


Cost-Effectiveness

The cost-effectiveness ratio of a yoga mat is vital. We pick the most budget-friendly mats while still providing quality and durability. A good quality and durable mat will prevent you from having to invest in a new one more frequently.

Who This Is For
A yoga mat is a must for yoga, calisthenics and CrossFit practitioners, and other fitness disciplines. A good mat will prevent injuries and promote the "ritual" effect of yoga and meditation, while in other practices it will help reduce the impact on knees and other joints.
You may not give them the importance they deserve at first, but if you end up practicing yoga or any other fitness discipline daily, the time will come when you will need to get your mat, so we are going to help you choose the best one for you and get it right.
Purposes of a yoga mat
For many yoga exercises, it is essential to use a quality mat that provides complete safety and comfort throughout the practice. When practicing yoga, the mat becomes an intimate and special space where all the exercises are performed and where the disconnection with reality takes place, reducing stress levels to an unimaginable degree. It is for this reason that we must consider the main characteristics of the mats we use, as not all of them are made for this activity.
It is recommended that the yoga mat has a thickness of approximately 0.23 in to avoid discomfort in the knees or elbows when doing certain postures. Another essential feature is traction, as sweaty hands and feet make it very likely that you will slip, which also makes it difficult to perform and can put you at risk of an accident or injury.
A yoga mat is a surface on which we lie or sit to do our exercises. It was invented by Angela Farmer in 1982; thereafter the first yoga mat was manufactured and marketed in 1990, and it was not until 2002 that the first 'Eco-friendly' yoga mat was sold in England.
Do you need a yoga mat (to do yoga)?
Yes, the mat is the basic accessory for the practice of yoga, and they come in many styles and materials. It insulates us from the ground, gives us stability in the postures, and, if it is made of the right material, prevents our feet from slipping during practice. Use a yoga mat, as not all mats and sports mats are suitable. A good mat will help you prevent injuries, keep your joints safe and help you concentrate on each of the postures in the session, which in turn will allow you to enjoy all the benefits that yoga has for you.
Yoga Rug vs Yoga Mats
All yoga practitioners agree that the use of a mat is essential for the practice, however, opinions are divided when it comes to determining which one is better.
Yoga Mats have been popular in the West for the practice of yoga since the end of the 20th century. They are made from a variety of soft materials, from rubber to polyvinyl chloride (PVC).
Furthermore, they can range from 0.07 to 0.35 in, thicker ones offer better cushioning, and are more durable, but much heavier and less portable
Likewise, rugs are rare in the West, but most commonly used in India. They are widely used in 'Ashtanga' practices and were first used by the founder of modern yoga: Tirumalai Krishnamacharya, before the 20th century. They are made of jute and cotton fibers and are usually hand-woven.
Yoga mats are made of non-slip materials that offer a better grip and are usually thicker to provide more comfort for your joints. In turn, a rug is more traditional for yoga practice and feels more natural on your body. Ultimately, for beginners, a mat is best, while for advanced practitioners doing other types of postures, a rug is recommended.
Also, yoga mats are very cushioned, between 0.07 to 0.35 in thick. This cushioning provides more comfort when practicing your movements and is much gentler on your joints. Another noteworthy aspect is that they are non-slip; their surface is usually sticky to prevent the palms of your hands and feet from sliding during asana practice, especially if the floor is very slippery, and they come in a variety of designs and sizes, so they can be adapted to the needs of each practitioner.
Among the disadvantages of yoga mats, we can point out that they are difficult to wash. Although you can clean them with sprays, you will eventually have to wash them and most of them are not machine washable, so with time, yoga mats can start to stink. Also, not all of them are Eco-Friendly; some are made of PVC, a very polluting type of plastic.
Rugs are more traditional, yoga is a spiritual practice, so the more we connect with tradition, the better. The fibers of the rugs feel more natural while practicing your 'asanas' and are much better for 'Ashtanga Yoga' postures such as upward dog, jump backs, and jump forwards. These are positions for which you don't need the grip of a mat. These types of rugs are easy to carry. They are also more hygienic, they are absorbent, so as you progress in your practice, you may start to sweat, and the rugs absorb sweat without becoming slippery; then, you can wash them easily, by just throwing them in the washing machine, and you're done. One of its greatest advantages is that they are more durable, and with proper maintenance, they can last for years.
Despite all their advantages, rugs present some problems, they are not very soft and have little cushioning, so they are not recommended if you have joint problems. If you practice positions that require balance, they are probably not the best choice and they can cause scratches, friction burns, and irritated skin if you are not careful or choose a poor-quality one.
Fitness Mat vs Yoga Mats
A mat is a very versatile sports accessory; you can use it for different exercises and disciplines, not just yoga or meditation. They are available in different thicknesses and can be made from various materials. Of course, there are different types of mats, the most popular being yoga mats, and fitness mats, which are different and have some special features that you should keep in mind when choosing one:
About the Yoga Mat thickness, we can say that they are thinner, between ¼ in and 1 in thick. It provides the right balance for practicing certain 'asanas' while protecting your body from the hardness of the floor, also Yoga Mats have medium density to ensure proper balance during yoga practice.
Fitness mats are much thicker, between 1″ to 3″ thick. This allows them to offer better support and comfort during certain exercises. Also, Fitness Mats are denser to withstand the high loads you can put them under during training.
A Yoga Mat has a specialized structure or design because to maintain some postures, you need a better grip. A Fitness Mat has a smoother surface, which makes them easier to clean. With this type of training, you sweat a lot more and a high level of cleanliness is required.
Yoga mats are often made of PVC, but the most modern and ECO-friendly yoga mats are made of TPE. These materials are resistant and of high quality, so they can have a long life span. Due to the spiritual and balancing characteristics of yoga, Eco-Friendly materials are desired.
Fitness Mats are usually made of rubber, neoprene, and polymer. This allows them to be thicker and provides better support for your body and prevents them from sliding under you. These days, manufacturers are becoming more Eco-Friendly, so it is mostly possible to find ecological mats.
Floor, slip, and joint protection are important aspects too. Yoga can hardly damage the floor of your home, so yoga mats are designed to protect your integrity, so they have the right thickness and density to protect your joints during practice. Also, regardless of the material they are made of. Yoga mats guarantee a good grip on any type of floor and allow you to practice your 'asanas' safely.
About the level of the floor, slip and joint protection from Fitness Mats we can mention that in some exercises, especially those that involve lifting weights, it is advisable to have a fitness mat to protect your floor from any impact or accident and because they are thicker and softer, they protect your joints from the impact that certain exercises can cause, and like yoga mats, they have a design that allows them to cling to the floor to ensure your safety during your workout
Never practice yoga on a fitness mat; they are neither the right size, thickness nor support. Always seek specific yoga mats.
Health Benefits of Yoga
Yoga is an increasingly popular practice due to all the health benefits it can bring. Some of the benefits we can mention are
It prevents insomnia.
Improves physical condition.
Reduces stress.
Improves flexibility.
Activates blood circulation.
Keeps us active.
Improves your coordination and concentration.
It rejuvenates us.
Lowers your blood pressure and heart rate.
Improves self-confidence.
Eases and stimulates digestion.
Other yoga accessories
There are some basic accessories for yoga practice, among which we can highlight two: the mat and a blanket. However, there are other very common ones, such as yoga blocks, bolsters, straps, or meditation cushions, which can be very useful for not forcing your body.
When practicing yoga, one of the most important rules to keep in mind is not to force your body, and some yoga accessories are ideal for this, especially at the beginning, when you still have little flexibility, and it is difficult to get into certain postures. They can also be useful as you progress in your practice, to extend your limits gently, or when you need to perform the postures more gently, such as during pregnancy or when you have an injury. There are even yoga accessories that facilitate resting postures, which are just as essential as active postures and where being comfortable to relax is necessary.
Blankets to cover or support yourself: they don't have to be special blankets, but natural fabrics are recommended. They should not be heavy or thick, but light and medium-sized, which you can fold and roll up as you like.
Yoga blocks: these are brick-shaped and are recommended if you lack flexibility, as they will allow you to position yourself well in the postures without forcing your body. They act as extensions for your hands or to support parts of your body such as your legs, back, head, or hips. They are usually made of foam, cork blocks, and wood.
Yoga straps: these are ideal for stretching or for relaxing tense areas of your body in resting postures. They can be without buckles for postures for which you don't have the flexibility, and with buckles for restorative yoga and resting postures.
Yoga bolsters: they are similar to cushions and can be cylindrical or rectangular. They are useful for some postures in yin yoga and prenatal and postnatal yoga, if you have joint problems, during breathing exercises, for meditation, and in resting postures. They can be replaced by rolled or folded blankets.
Zafu or meditation cushion: if you do not have the flexibility to take up the meditation posture comfortably on the floor, you can use a meditation cushion or a rectangular bolster. As they are firmer than most cushions, they allow you to maintain your meditation posture better.
Why You Should Trust Us
There are many factors to consider when choosing a yoga mat, and we have considered them all. It is not only your comfort that depends on these mats, but also your safety. That is why we have carefully considered all possible aspects, and not only those related to your comfort. A good example is the thickness and stickiness of the mat. The thicker the mat, the more comfortable it is to practice yoga and the more support it will give to your joints. While the stickiness level may be annoying for some people, it is what will ensure your safety, especially if you are a first-time practitioner.
How We Picked
To find the best yoga mats on the market, we consider several factors, especially those related to the safety and comfort of your practice:
Thickness
The thickness of the yoga mat varies depending on what you need it for
Mats between 0.05 to 0.09 in thick are recommended for traveling since they don't take up much space in a suitcase. They are not recommended for regular practice.
Between 0.11 to 0.15 in is a standard yoga mat thickness.
Mats of 0.19 in and above are recommended for dynamic yoga that includes vinyasas to cushion the jumps. For ashtanga yoga, this may be an option, but for balancing positions, you may need to step off the mat to find better stability.
However, it is worth noting that the thickness criteria have changed over time and double-layer mats with two different materials are now common, and the newer standard thickness is 0.19 in.
Durability
The durability of a yoga mat will depend on the thickness you choose; the thicker mats last longer than thinner mats; also it will depend on the material:
PVC: this plastic-based material gives us very durable yoga mats.
TPE (thermoplastic elastomer): is a mixture of plastic and rubber polymers. It is less durable than PVC mats of the same thickness.
Rubber: this material, whether of natural or artificial origin, is almost as durable as PVC.
Materials
Yoga mats can be made of different materials, which will define their final price, durability, texture, weight, and more. Materials currently available can range from the cheapest PVC to the most expensive and eco-friendly natural rubber:
PVC: is a highly durable, plastic-based material with excellent grip and is easy to clean. However, it is not absorbent and can become slippery when you sweat profusely, so it is not recommended for hot yoga. It is not biodegradable or eco-friendly, but it is highly recommended for those who suffer from latex allergies.
TPE (thermoplastic elastomer): is a mixture of rubber polymers. It is an eco-friendly material and is fully recyclable. It is a material with good traction, low weight, and a very economical price. However, it results in mats that cannot be easily unrolled.
Rubber: mats made from 100% natural rubber are recyclable and have a medium cost. It is also possible to find mats made of other materials with a light layer of rubber on top. These are very heavy mats, can be up to 6.6 lbs, and can cause allergies.
Style and Pattern
These are the last things to consider, as they do not affect functionality. However, it is important to choose a mat whose colors and patterns are attractive to your eyes; this will keep you motivated and inspire you to practice.
Eco-Friendly
Environmental sustainability is not just about the material; it is a much broader concept. The material can be natural, eco-friendly, or made with chemicals, and these may not have the same impact on the environment. When choosing a mat, you should consider details such as the manufacturing process, the amount of water used, durability, if it can be recycled, and the company's environmental commitment.
If you want to make sure you pick an environmentally friendly mat, it is best to select those made from TPE.
Price
The price of a yoga mat varies according to its quality. Fortunately, you can find good quality mats from well-known brands for as little as $20, and when you consider that the average lifespan of a good mat is six months to a year, it's a very affordable annual investment.
Avoid mats that are too cheap because their quality will match the price, and you will be dissatisfied because they will break down quickly or because they do not have the necessary characteristics for yoga practice.
Texture
Texture refers to the feel of the material; it can be more or less rough or smooth, and can also be created by the inner filling of the mat. The important thing is that the texture must be anti-slip and with enough density.
Stickiness
This is the most relevant criterion for your comfort. You don't want your feet or hands to slip while practicing an asana; it can be uncomfortable and dangerous or cause you unwanted tension because you will need more strength to hold the position.
A sticky mat will prevent you from slipping while performing an asana or changing positions. It should be noted that this feature is essential in hot yoga, along with a surface that absorbs sweat and is easy to wash.
Natural rubber mats are the best in this aspect, as they are resistant and offer a strong grip and stickiness to their users.
Care and maintenance
Using Mat Spray
The mat spray is one of the most important accessories when practicing yoga and taking care of your equipment. This product allows you to clean your mat instantly, just spray it on the mat and wipe off the excess with a clean microfiber cloth. It is also recommended if you don't have a mat of your own and are using the class mats, this will help to keep the surface clean and protect your health.
Furthermore, it is relevant to choose a suitable mat spray for your mat. Remember that these can be made from different materials and all react differently to the various ingredients used in the spray.
Cleaning your mat
Cleaning your yoga mat regularly is essential to keep it in good condition and extend its life for as long as possible. However, it is also important to know how to do it so as not to damage the mat and avoid surprises. There are many options when it comes to cleaning your yoga mat: you can wipe it with a clean cloth, use specific cleaners, or even deep wash it by hand or machine if the mat allows it.
It is also possible to prepare a homemade cleaner with natural ingredients, this way you will ensure that your mat will be clean with mild ingredients chosen by yourself and suitable for your mat. Before preparing any of these homemade cleaners, you should consult the instructions and recommendations of the mat manufacturer, so as not to damage the mat. The simplest cleaning after each practice can be done using a cloth dampened with water. If the material allows it, you can clean it with a mixture of equal parts of apple cider vinegar and water; just sprinkle it in a spray and wipe it off with a clean cloth.
Another option is to choose sprays recommended for your type of mat or prepare a homemade solution with essential oils. However, don't forget that essential oils can damage some materials. To prepare these homemade sprays, you will need:
A spray bottle.
A mixture with a ratio of ¾ filtered water and ¼ non-alcoholic white vinegar.
8 to 10 drops of tea tree essential oil (a powerful antiseptic and antifungal).
3 to 5 drops of lavender essential oil.
3 to 5 drops of natural emulsifier for essential oil dilution.
Just shake the mixture and sprinkle on your mat, remove with a clean cloth and you're done.
How often should you clean a yoga mat?
It is recommended that the yoga mat is cleaned after each use. However, we understand that this is not always possible or practical. If you cannot clean it after every session, try to clean it at least once a week. Every 25 classes, it is advisable to do a deep clean of your mat. To carry out this, you need to mix mild dishwashing liquid with warm water in a small bowl, dip a clean sponge in the mixture and rub the mat. Once clean, rinse with water and let it dry in the shade for several hours.
Alternatively, you can wash it in a tub or basin with a mild detergent and warm water, soak for five minutes and rinse it with fresh water. Let it dry in the shade for 24 hours before use. In addition to this cleaning process, it is advisable to clean your mat after each class with a clean towel or spray cleaner. Also, it is not recommended to machine wash your mat, even if the manufacturer recommends it, as this may reduce its lifespan.
How to tell if your yoga mat needs cleaning?
You should not wait until your yoga mat starts to stink or look dirty to clean it, as by that time the sweat and dirt will have already affected the surface and mat material. It is best to clean it after every practice or a few times a month if you only attend a few days a week.
When to get a new yoga mat?
The lifespan of a yoga mat depends on its quality. In general, they can last for a year of constant practice. This will depend on the style of yoga you practice, the material of the mat, and your personal style of yoga practice.
A mat in need of change will show the following signs:
It is becoming thin, especially in the area where you press your feet and hands frequently.
You will notice some wear and tear on the top layer of the mat.
You start to slip during practice.
Despite washing and maintenance, it continues to stink.
How to prevent your yoga mat from wearing down over time?
It is impossible to prevent your yoga mat from deteriorating over time; in fact, you should be proud of this fact, as it is a sign of your consistency with your practice. The only thing you can do is to put some tips into practice, and these start with choosing a good quality mat:
Protect the surface of your mat with a towel, especially if you practice hot yoga.
Shower before practicing yoga, so the sweat from the day won't affect your yoga mat too much.
Do not wash it in the washing machine.
Use cleaning products that are suitable for yoga mats.
Clean your yoga mat after each class; constant contact with sweat can damage it and make it impossible to get rid of the stink.
If you follow these steps carefully, your yoga mat will have a long life and you will be able to enjoy it, and your practice, safely.