The Best Wireless Charging Phone Mount for Cars for 2022
Charge your mobile phone without cables, especially while you drive.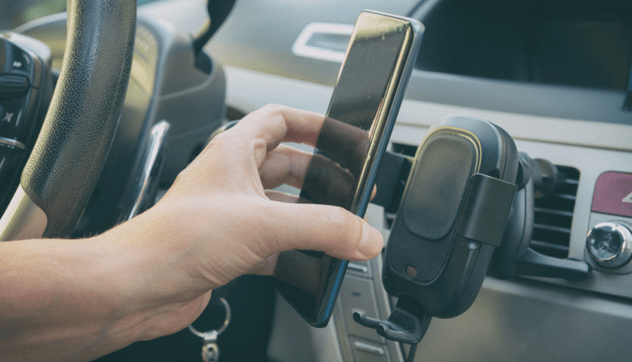 The convenience of charging your phone is enhanced if you have to do so while operating a vehicle. to keep your phone in a location that is both safer and more practical while it is wirelessly charged in a car. It reduces distraction and enables the hands-free operation of your smartphone. These chargers aren't wireless, so you'll still need to connect them to your car. However, as soon as you plug it into your automobile, you're done. Never again will you have to plug and unplug your electronics. Check out our list of the top wireless car charger mount choices if you've considered purchasing one.
How We Picked
Secure & sturdy

If your phone is not in a steady position, there is no purpose in utilizing a wireless charging phone mount. However, your mount needs to be sturdy enough to keep your phone in place.

Easy to use

It shouldn't be challenging to place your phone so you can see the screen without it obstructing your view of the road.

Charging speed

The output of the power source where the charger is plugged in and the phone's charging capabilities will determine the actual charging speed.

Price

It's acceptable to spend less money, but don't skimp on quality, since you only need a wireless charging phone mount when driving.
Our Top Picks
Best Pick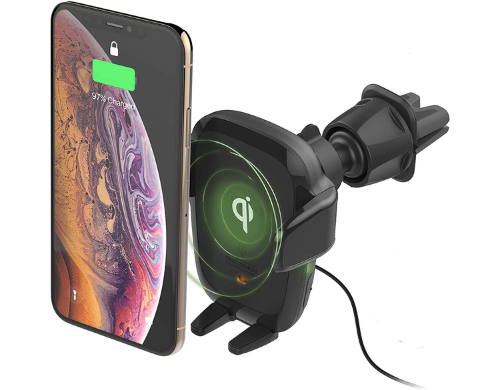 With a robust suction cup, the iOttie is incredibly simple to set up and adjust.
The iOttie has an internal battery as backup power and continues to be charged even after being unplugged.
This wireless car charger mount includes a robust suction cup and a neatly constructed telescopic arm. The wireless charging feature is appropriate for the majority of phone covers. It provides quick charging times as well as stable and durable mounting.
Runner Up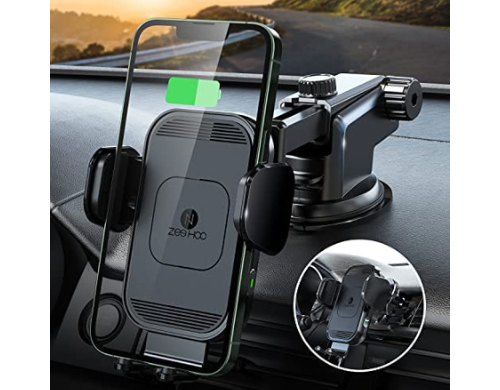 The ZeeHoo can be mounted on the dashboard, the table, or the windshield.
For safe and simple use, the ZeeHoo can open and clamp automatically.
The safest method to access your phone's systems, such as your GPS and phone calls, is with its fully 360-degree rotation functionality, which provides for optimal sight and quicker usage of features. It includes a powerful suction cup.
Most Cost-Effective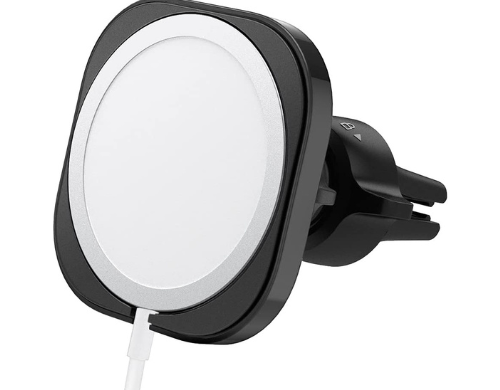 This device fits the most common car vents and is reasonably priced.
The Spigen Mag has a minimal profile but charges phones quickly.
This is a car air vent mount made for the official MagSafe charging puck and iPhone 12 and 13 models. It comes with a Spigen 45W Dual Port USB-C Car Charger that powers the mount and one more device that is compatible with all MagSafe-ready cases and offers a low profile design with 360-degree ideal viewing.
Everything We Recommend
Best Pick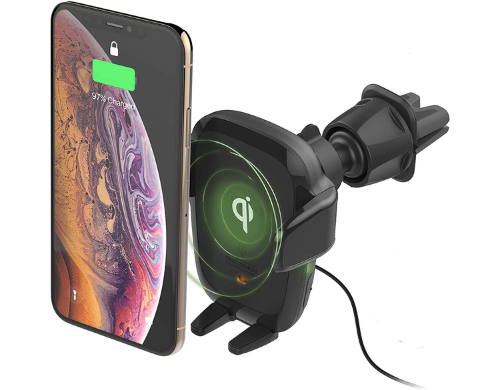 With a robust suction cup, the iOttie is incredibly simple to set up and adjust.
$44.99
Runner Up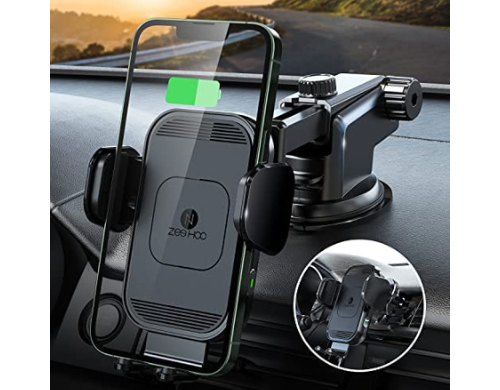 The ZeeHoo can be mounted on the dashboard, the table, or the windshield.
$29.99
Most Cost-Effective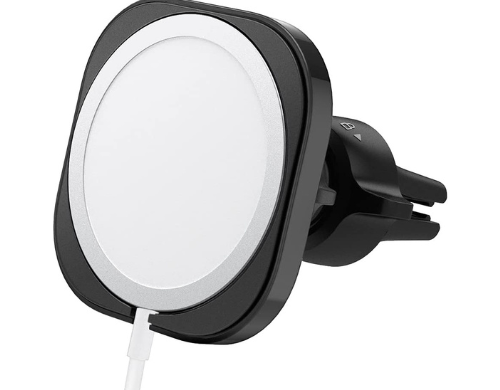 This device fits the most common car vents and is reasonably priced.
$19.99
Who This Is For
While driving, especially on the highway, it is recommended that you observe a good degree of concentration and keep both hands steady on the steering. But sometimes, some phone or video calls can not be ignored, even while driving. Also, even if you don't take calls while driving, there could still be a need for you to use Google Maps on your phone as proper directions to reach your destination. Either way, you'll need a wireless charging phone mount to keep your mobile phone in a steady position and charging while driving.
Are wireless chargers better or worse for phone battery health?
Electromagnetic induction is used to transfer electrical energy from the charger to the smartphone when charging your smartphone wirelessly. Battery health is unaffected by the type of charging you are using, so using wireless charging has no more impact than using standard wired charging. Only the frequency of charging is involved. You will see a considerable drop in the number of battery charge cycles left if you charge your phone frequently, regardless of the charging method you employ.
Wireless vs wired chargers
The development of wireless chargers has made it possible to charge your phone on the go without constantly carrying around cables. You don't have to worry about where you left your cord or charger because everything is stylish and organized. They also make it possible for you to charge a wide range of phones, even if they have various charging ports. A wireless charger can power your phone, regardless of whether it has a "Type C" or "Type B" charging connection.
Although wired chargers are more efficient and have a higher charging speed than wireless chargers, wireless chargers offer versatility in their use. Also, wireless chargers at some point may cause your phone to overheat, but wired chargers keep your phone at its normal temperature even for a very long time. However, for car wireless chargers, it is not a bad idea to get one since you will not be driving and charging the whole day. Also, note that wireless chargers are more expensive than wired chargers.
Why You Should Trust Us
Even though it's against the law to use a phone while driving, there are occasions when we need to use our phones to get directions or to handle emergencies. Keep your phones in a stable posture while driving by using models that are reliable and have superior build quality to prevent distractions. To assist us in making the best decisions, we gathered reviews from professional drivers who utilize wireless chargers, combined their joys and hardships, and analyzed them. We pay attention to them since we think they are the group of people in the best position to provide hotel reviews.
How We Picked
Sturdy and secure
For many users, the stability of the phone in the mount is crucial. In real life, it only takes a few bumps in the road to see if a handle's long, flexible arm can firmly support a heavier, plus-sized smartphone. In general, the stronger the phone mount holds the phone, the more widespread it is. The phone must be held firmly and securely in the attachment, but you must still be able to adjust the handset's position.
Adjustable – can fit different phones
It should be simple to hold your phone in a posture that allows you to see the screen without it obstructing your view of the road. Additionally, a tilt swivel should be included to allow you to position the device in either a portrait or a landscape viewing angle that is comfortable for you. This feature is especially useful for people who rely on navigation while driving. It must also support and fit any phone, even one that is in a case.
Design/style
There are numerous options for car mounts available in a wide range of sizes and designs. You will typically find that car mounts have a flexible arm and a rotational design, which is the most popular today. There are mounts for air conditioner vents as well as mounting for the dashboard or windshield. The majority of drivers normally prefer dash and windshield attachments since they are more adaptable. Check the maximum weight for magnetic mounts as well if you don't want to make use of a clamp design. So be sure to look for the design and choose the one that complements the inside of your automobile and appeals to you. A flexible automobile mount is usually advantageous because you can move it around and use it in many ways with it.
Price
A better model with more advanced features will indeed cost more. As a result, nothing is ever better just because it is cheaper. On the other hand, spending a lot of money on something that is essentially worthless is also a bad choice.
Easy to use while driving
While a phone mount helps you to access some functions on your phone by keeping it steady, it should be easy to maneuver while driving, else you may be more distracted. It should enable one-hand operation as you will need the other hand to control the steering. Models that require both hands or do not allow one-hand operation completely seem to be inconvenient and not ideal.
Charging speed
The charging speed can be crucial if you don't have a lot of extra time. You only get a quick boost of juice during a brief journey because wireless chargers sacrifice speed for convenience. The output of the power source into which the charger is plugged and the phone's internal capacity will determine the actual charging speed. We narrowed down our search to devices with "high-speed wireless charging" of 10 watts or more.
Power source
We sought chargers that include an adapter and have a common connector, such as USB-C or Micro-USB. However, it is advised to purchase a model that includes its power cord as it facilitates effective and quick charging.
Care and Maintenance
How to keep clean
Several things could make your wireless charger dirty. Specks of dust can enter your car whenever the windscreen is low and they'll come in contact with your wireless charger. However, to clean your charger, carefully disassemble the body to enable you to clean it properly. Use a brush to dust the whole body and a tin brush to dust areas that are difficult to reach. Finally, use a soft cloth dipped in water mixed with a gentle soap to wipe the whole body thoroughly.
How/where to display
Many times, wireless chargers do not function well if not properly positioned. If you are going to place it on your dashboard or windshield, make sure the surface is smooth and free from particles. Also, make sure you place it in a position where it will not cause you inconvenience as you damage it.
How/where to store when not in use
After a successful cleaning or use, we recommend you safely keep your wireless charger inside the glove box compartment of your car and lock it. This will keep it safe and away from the reach of children.