The Best Window Fans of 2023
If the air in your home is stale and stuffy, a window fan can do a remarkable job of clearing it. Here are some reliable options.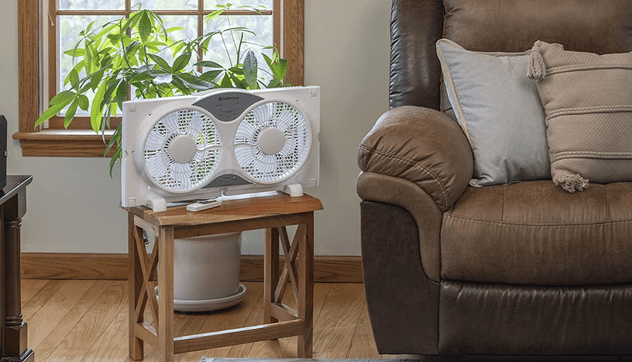 In the summer, fans are an excellent alternative to air conditioners since they are less expensive, require less energy, and are simpler to set up. A dependable window fan distributes cool air throughout your house and exhausts stale air. Window fans, in particular, are intended to be more space-efficient and cooler than tower or desk fans. They utilize outside air to cool a space more effectively than a conventional fan and sit in the window frame. However, they must be taken off when it's too chilly or rainy.
To assist you in finding the ideal window fan for your house or apartment, we discovered and analyzed the greatest items currently on the market. Our research focuses on the key characteristics and capabilities, such as their cooling capacity, adaptability, simplicity of installation, and user-friendliness.
How We Picked
Size/Weight

The window fan size should be chosen according to the window's dimensions. If the window is tiny, you should select a smaller fan; if the window is large, you must select a wider fan. Ensure no room is left between the fan's body and the window.


Effectiveness

Examine the cooling capability before purchasing a window fan. Stick with a unit that is made to fit your space for the most convenience and effectiveness. In an effort to cool the room, a window fan that doesn't have adequate power will run continually. This can drain your energy budget and put an unnecessary strain on the appliance.


Noise

A quality window fan strikes an excellent balance between strength and low noise. When working at the fastest speeds, you should expect a little bit more noise, but it shouldn't be loud enough to block out other sounds in the space. Your window fan should provide a soothing white noise at its lowest speed, which is frequently excellent for aiding sleep.

Cost-Effectiveness

Compare the different window fan models that are available based on things like features, effectiveness, user feedback, after-sales service ratings, etc. Make your ultimate choice after careful comparison, taking into account your needs and budget.
Our Top Picks
Best Pick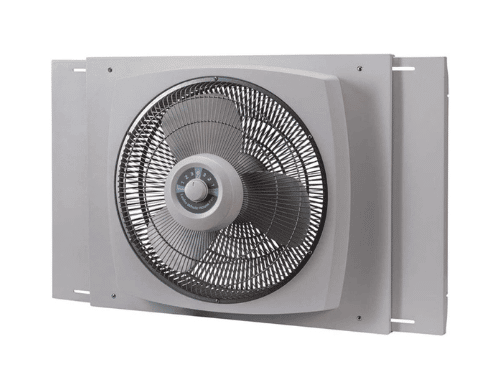 The Lasko is light and simple to install, with extensible side panels for a tailored fit.
The Lasko is a solid window fan that makes life more comfortable and easier. This window fan has outstanding power, and it is unique in so many ways. It features a three-speed setting, reversible airflow direction, a multi-function remote control, and adjustable tilt.
The Lasko 16-inch window fan helps you stay cool throughout the day and night. It delivers whole-house ventilation via an electrically reversible intake and exhaust motor. During the day, use the exhaust to produce a refreshing indoor breeze that ejects building heat. At night, use intake to draw in the chilly nighttime air.
Runner Up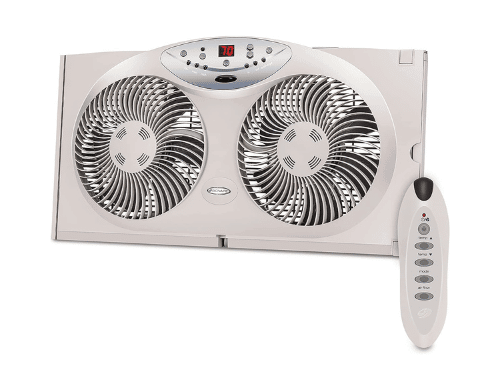 It features a programmable thermostat to regulate temperatures.
This fan is made to accommodate casement windows that are 24 to 37 inches wide, as well as double-hung and vertical slider windows.
The Bionaire Twin Reversible Airflow Window Fan with Remote Control will help you create a more comfortable environment in your home. This window fan's dual fan blades with separate settings allow it to pull in fresh air from outside, exhaust heated air from within, or do both at the same time.
Most Cost-Effective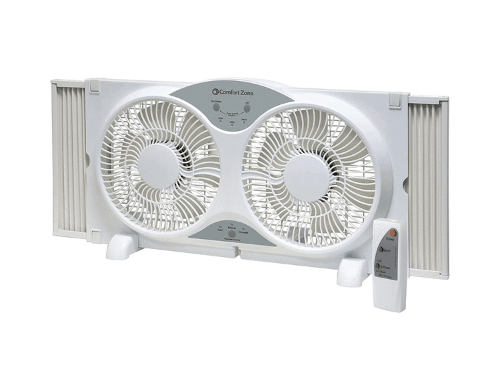 It has expandable accordions to fit most window sizes.
The Comfort Zone Reversible Twin Window Fan comes with a remote control, 9-inch turbo blades, and three-speed settings.
You may select from three different settings thanks to the 3-in-1 design of this Comfort Zone Reversible Twin Window Fan with Remote Control. Whereas its exhaust mode eliminates stale air, the cooling setting introduces fresh air. For better air dispersion around your space, use the circulation option to have the dual fans' blades spin in opposing directions.
Everything We Recommend
Best Pick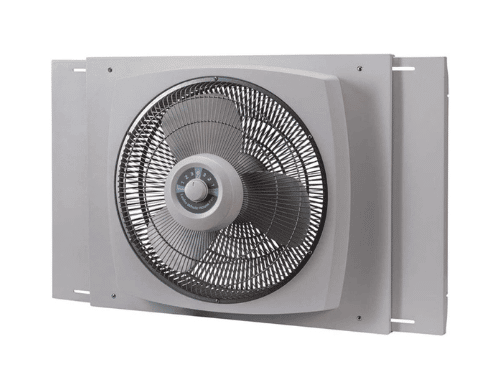 The Lasko is light and simple to install, with extensible side panels for a tailored fit.
$122.55
Runner Up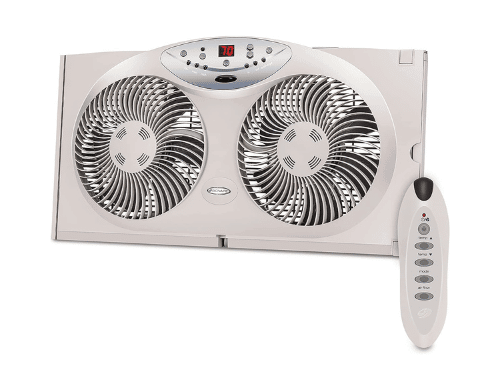 It features a programmable thermostat to regulate temperatures.
$52.69
Most Cost-Effective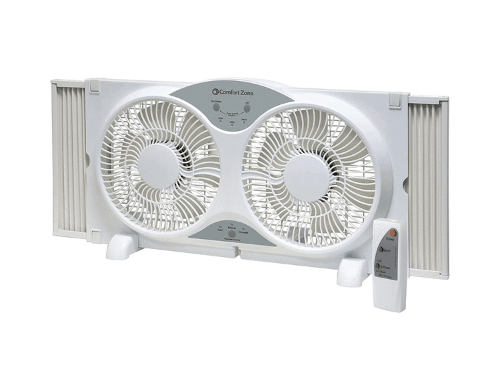 It has expandable accordions to fit most window sizes.
$45.68
Who This Is For
Suppose you reside in a temperate, low-humidity region with warm days and chilly nights. In that case, a window fan can assist you in circulating external air into your house without taking up any floor space. Window fans can enhance indoor air quality if you don't have a range hood or other means of ventilation for your house. They accomplish this by exhaling smoky, spicy, or odorous air.
What is a window fan, and are they worth it?
You might want to consider buying a window fan to keep your house cool and reduce your power costs. These useful devices circulate air more effectively than the typical tower fan or stand-up options, use less energy than air conditioners, and can chill large spaces. Most of them are also vent fans, pushing hot air from your house outside. Therefore, they are particularly useful in the kitchen, upper levels, and other hotter areas.
Benefits of a window fan
Having one, two, or more window fans in your house has several advantages. They may, first and foremost, assist in lowering energy costs by improving the effectiveness of air conditioning equipment. The best part is that most of them have been carefully constructed to suit practically any type of window and don't need any equipment to set up.
Another advantage of a window fan is that it may bring in cold, fresh air from outside or exhaust stagnant inside air. With an electrically reversible fan, you have the added benefit of one fan blade drawing in the fresh air and the other expelling away stale interior air.
Thermostats, remote controls, and temperature displays are possible extra features. These are fantastic for ensuring maximum comfort because you can adjust the settings to suit your routine and preferred room temperature.
Is it better to have a fan blowing in, out, or both?
Depending on the design of your home and the brand of window fan you choose, there are numerous ways to cool rooms down. There are three things you can do when it's cooler outside than inside: configure the fan to blow inward, set the fan to blow hot air outward, or set it to do both operations simultaneously. The same techniques can be applied when it's warmer outdoors than inside.
What is CFM, and why is it important?
Cubic Feet Per Minute (CFM) is an airflow volume measurement that is calculated based on how many cubic feet of air pass through a fixed location in one minute. Larger dwellings circulate more air since there is more room for it to move; hence they have a greater CFM.
An accurate calculation of your home's CFM is critical for selecting a window fan with the appropriate capacity for your area and demands. Too much or insufficient airflow can degrade system performance and potentially cause component failure.
Why You Should Trust Us
We have written on home improvement, interior design, and maintenance topics for several years. In order to provide you with the best possible window fans from reputable sellers, we carefully examine hundreds of window fans. Our editors meticulously choose the best deals for our buying guides using a combination of their personal experiences, in-depth research into expert evaluations, consumer reviews, and ratings, as well as rigorous in-house testing.
How We Picked
Power
The amount of power you require or desire will most likely vary based on the size and use of the space you're attempting to cool. A powerful box fan creates the most airflow but is also the noisiest. A smaller fan will not blast the skin away from your cheeks, but it will be quieter and gentler in confined areas.
Effectiveness
In general, window fans are a more cost-effective alternative to central air conditioners. They are less expensive to buy and, if properly sized, are less expensive to run in the grand scheme of things.
Cooling speed (CFM)
The number of speeds available on each fan type impacts how fast the blades can revolve and the fan's cooling power. Cooling power is determined by cubic feet per minute (CFM), the quantity of air a fan moves every 60 seconds. The CFM is determined by the fan's motor and blades (their pitch, length, and shape). The more air a fan circulates, the greater the CFM. Low CFM fans are only ideal for tiny settings.
Noise
When purchasing a window fan, consider the noise level, especially if the fan will be positioned in a bedroom, workplace, or common area. On product packaging or the web product page, noise levels in fans are specified by decibel level (dB). Fans may have decibel levels ranging from 40 to 80. A fan with a noise level of 40 decibels will generate a low whirring sound similar to that of a silent library, but a fan with a noise level of 80 dB will be just as loud as a vacuum.
Ease of use
Window fans are not difficult to use. Models with thermostats, auto shut-offs, timers, and remote controls are available. None of them will be excessively difficult, and a brief look through the owner's handbook should have you up and running. Remember that the more functionality you add, the higher the cost. And there will be a slew of other things that may go wrong with the fan.
Easy set-up
Installation should be so easy that, with a few basic skills, anyone can install the window fan themselves in an hour or so. Almost all window fans come with step-by-step instructions, so your new fan can be up and working efficiently in no time at all.
Weight
When purchasing a window fan, it is also crucial to consider the weight of the fan. This is because a lightweight fan is easier to maneuver. So, a lightweight window fan is the best alternative if you want to utilize the fan in any room in the house.
Size
Window fans should be chosen in accordance with the window size. If the window is small, go with the smaller fan; if it's large, go with the larger one. Make sure there is no gap between the window and the fan's body. If there is still a gap, make sure to fill it in to allow for the best possible ventilation.
Wiring system
Electrical wiring may be required depending on where you plan to install the fan. Some fans just need to be hooked up to the socket that is nearest to the window. Sometimes, you might have to move the fan to a different window to find a nearby outlet, depending on the layout of your house.
Energy efficiency
The majority of models have timer switches, eco settings, and sleep modes. Window fans that are "smart" can be linked to a voice assistant or smartphone app, giving the user even greater control over the room's temperature. If you worry about your monthly power bills rising, you should always think about buying energy-efficient equipment that may save you a significant amount of cash on power.
Window size and shape
Generally speaking, all fans will come with accordion-fold side panels to fit a normal window, although they are not universal. Since a window fan is designed to fit within a window, its size shouldn't exceed that of the window. Because of this, the majority of ordinary window fans can fit windows that are between 26 and 38 inches wide.
Care and Maintenance
Is your window fan beginning to deteriorate due to dirt and debris buildup? Cleaning fans regularly might help them last longer and work more efficiently.
In periods of heavy rain or bad weather, avoid using window fans. Although they may withstand mild rain, if your window fan becomes wet, let it dry fully before plugging it back in. Hold off cleaning until the blades have completely stopped moving. Lay the fan out on a tabletop or another flat surface. A fan should never be cleaned while connected to a power source or even after being unplugged. Doing so risks damaging the fan or starting an electrical fire.
Cleaning a window fan that has accumulated dirt or grease is similar to cleaning a dusty unit, with the addition of detaching one side of the grille and washing the fan blades with a solution of dish detergent and water. Before operating the fan again, be sure to clean the blades and let them thoroughly dry. Blow the blades with compressed air to remove lint and dust particles. Continue doing this until the blades appear clear through the grill holes.
To set up your window fan, make sure your window is fully open. In the case of a double-hung window, position the window fan horizontally. For a slider window, position it vertically with the left side of the fan at the bottom of the opening. Make sure the window is closed against the fan. The bottom of the window should be flush with the top of the window fan.
To fit the window fan to the window casing, pull out the extender panels on each side. The openings on either side of the fan prevent uninvited creatures from crawling through. You shouldn't set up the fan if it's broken or damaged. Also, don't set up your window fan over garbage bins or piping or anything that may pull in strong odors