The Best Window Air Conditioner Bracket for 2023
We've put together a list of the top brackets to give your window air conditioner sturdy support.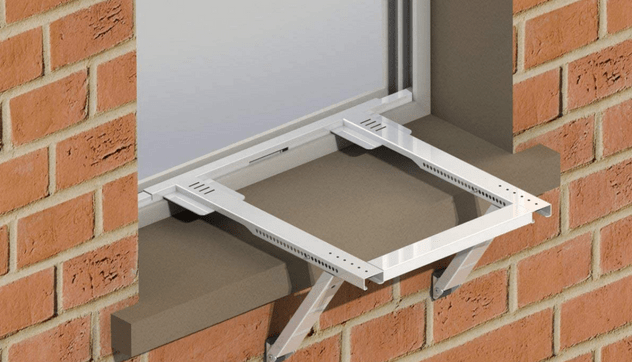 An air conditioner, often referred to as an "aircon," "AC," or "A/C," is an appliance that provides cold air inside your home. It does this by removing heat and humidity from the indoor air and returning the cooled air to the indoor space. It is a desirable component for every home but comes with a challenge while fixing it — the window sill alone cannot support the weight of a heavy AC, which is why every single elevated outdoor air conditioner out there needs an AC support bracket to support it during installation.
Ac support brackets are widely available and can be purchased both online and offline. However, with so many AC support brackets on the market, it can be difficult to choose the best, which is why we have picked out some of the tops for your consideration.
How We Picked
Size

AC support brackets come in different sizes. To ensure a proper fit, it is very important to go for an air conditioner bracket that is large enough to hold your window AC and fits your window perfectly. Among our picks, you will find air conditioner brackets that support window sizes ranging from 24 inches to 40 inches.

Strength and Material

It is important to go for an AC support bracket that is made of massive-duty and rust-proof construction materials that are strong enough to offer unparalleled support and stability for your AC. The last thing you want is to have to replace your AC support bracket in a short period of time.

Adjustability

It is really important to check if the bracket you plan to purchase is compatible with your given wall thickness or not and if your window's width falls within its allowed range. Among our picks, you will find air conditioner brackets that feature an adjustable window size to ensure proper support and are designed for thick and thin walls.

Cost-Effectiveness

It is worth paying for an air conditioner bracket that will provide years of service with great quality. You don't have to pay a lot to get one that ensures long-lasting authenticity, as we have found you durable AC brackets that are long-lasting, durable, and made with better-than-baseline materials at affordable prices.
Our Top Picks
Best Pick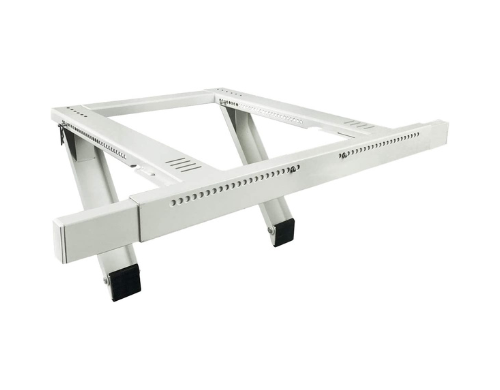 A sturdy epoxy-coated air conditioner bracket with a thick steel plate to keep rust and rot at bay.
It is super easy to assemble and install, fits perfectly into every standard aluminum window rail or any window with a solid lip internally, and is entirely adjustable for most situations.
With a matte finish to prevent the A/C from dropping out of the window, the Jeacent AC window air conditioner support bracket features a heavy-duty, high-density material. It is very easy to install and can be done without requiring any exterior work or damage to the outside wall or window sill.
Runner Up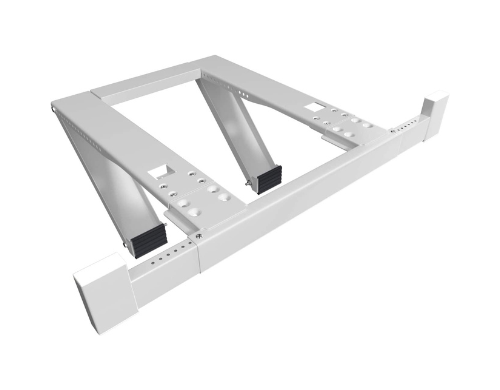 This drill-free installation support bracket eliminates the need for drilling into your window sill completely.
An adjustable window AC bracket that adapts to most window styles and will work with a wall thickness of 3 to 12 inches.
Your best bet if you're looking for an AC support bracket that is very easy to set up. This one is made with all-weather stainless steel material and can easily be set up from inside a comfortable place in your home in a couple of minutes.
Most Cost-Effective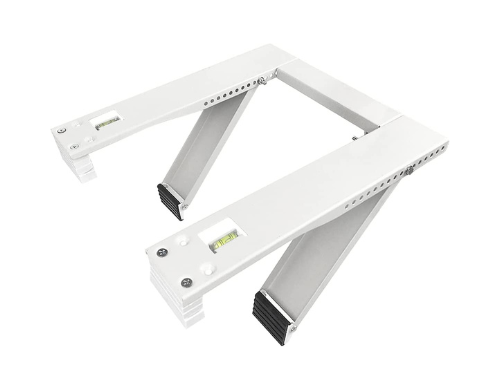 This bracket has a low-cost universal design that fits wall thicknesses ranging from 2 inches to 15.2 inches.
This heavy-duty support bracket has two arms that can support up to 180 pounds for 12000 to 24000 BTU AC units.
Qualward offers this package with a lifetime warranty of use and high-density durable materials, including heavy-gauge epoxy-coated steel, making it durable, long-lasting, and convenient to use.
Everything We Recommend
Best Pick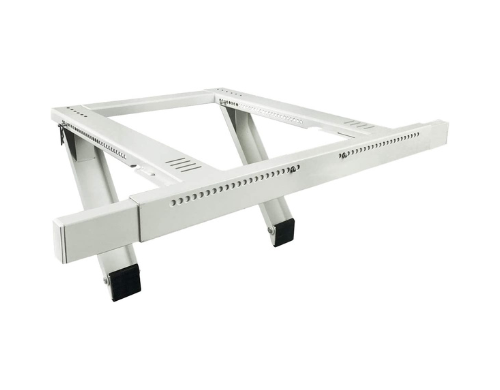 A sturdy epoxy-coated air conditioner bracket with a thick steel plate to keep rust and rot at bay.
$56.06
Runner Up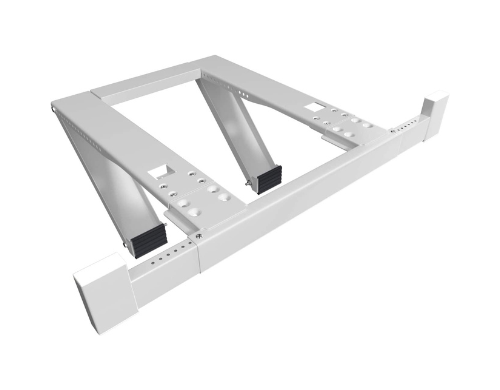 This drill-free installation support bracket eliminates the need for drilling into your window sill completely.
$70.47
Most Cost-Effective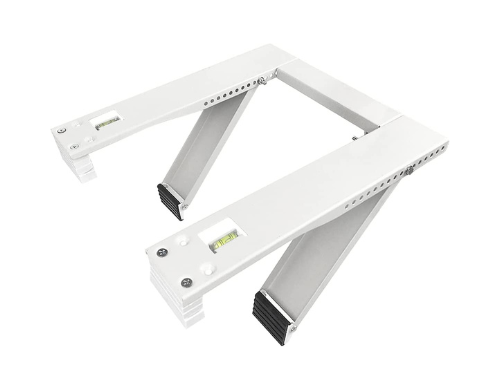 This bracket has a low-cost universal design that fits wall thicknesses ranging from 2 inches to 15.2 inches.
$42.98
Who This Is For
All the products advertised here are for those who want a solid-built window air conditioner bracket that can support window air conditioners.
Do I need a bracket for my window air conditioner?
It is wise for you to use a support bracket for your AC window units, especially if they are the old, bulky version. If you own one of the recent light window air conditioning units, you could probably do without one but we don't recommend that because, after about five years, you would most likely need to install one which is why we have taken time to single out the best support brackets out there for you
Is it worth it?
Absolutely! You need a support bracket because whenever your air conditioning unit is on, it will vibrate, and these vibrations can cause damage to your window sill. Not only do air conditioner brackets protect your house from damage over time, but they also provide extra support in case of wind or heavy rain.
What is the best way to secure a window air conditioner bracket?
Window air conditioner brackets are generally secured to the windows with screws. Others simply snap to the edge of the window sill and can be easily removed and reinstalled. As a guide, always place the bracket in the window and adjust each sill square tube until it is positioned securely inside the window frame. Be sure the support foot pads are resting on the exterior, and place the air conditioner on the bracket conveniently, adjusting the legs until the H-frame is tilted very slightly downward. Always follow the installation guide that is provided with every unit you purchase.
Do window air conditioners all come with brackets?
Depending on the manufacturer, you might get an air conditioner that comes with support brackets. The majority of air conditioners come with support brackets straight from the company, but not all do. It is wise to confirm before purchasing if the air conditioner you want is going to include brackets or not.
How to measure the right size and weight capacity for your unit
Since the ultimate goal of purchasing an air conditioner bracket is to support your window AC unit, make sure the one you plan to get is the right size and can hold the weight of your AC. In terms of weight, almost all air conditioner brackets include a weight capacity rating. To be on the safe side, we only recommend that you go with an air conditioner bracket that provides a higher weight capacity than your air conditioning unit.
For instance, if you own an air conditioner that is large and heavy, you will do well to purchase a conditioner bracket that supports up to 200 pounds. When selecting a conditioner bracket, first measure your window's width and select only one that falls within the range of your window's width. All air conditioner brackets feature an adjustable size option that typically ranges from 23 inches to 40 inches, which will allow you to seamlessly install your air conditioner bracket for your window AC.
Why You Should Trust Us
With so many window air conditioner support brackets flooding the market, it can be difficult to choose the right one. When selecting our picks, we avoided support brackets that are not appropriate for heavy window air conditioners, are made out of low-quality materials and are not easy to install. We evaluated all our top picks to make sure they were the best options currently on the market that were made out of long-lasting and strong premium materials and had a no-hassle installation that could offer a versatile option for anyone who might be on the lookout for a heavy-duty air conditioner bracket without having to spend a premium for the same.
How We Picked
To select our picks, we began by reading lots of reviews from verified buyers on Amazon, Home Depot, and Lowe's and limited our search to only models of support brackets that had gained over 90% positive reviews from their users. You will find support brackets that are wide and sturdy enough to support heavy and large air conditioners and are very easy to set up inside the comfort of your own home in a matter of minutes among all of our choices. We have included only brackets that offer enough adjustability to fit a broad range of window sizes and sill depths and are convenient with stable support legs that can provide extra support inside and outside. 
We evaluated the top models of air conditioning support brackets and selected only those that can carry up to 220 pounds of weight. They should also come with anti-slip rubbers on their bases to provide a secure fit, making them suitable for walls of various materials, and have included brackets that offer a universal fit. Inspect your AC design before buying any of our picks to see if it does not have parts that conflict with the brackets in our picks. Apart from picking air conditioner support brackets that come with all the necessary hardware for wall mounting, our picks include brackets that offer stable and firm support.
Care and Maintenance
Ensure the bracket is well secured before inserting the air conditioner. If the legs of the support bracket cannot justly face the wall during installation, unlock the foot pad of the bracket leg and turn it over, then fix it in the leg again. Do not try to force the components beyond the specified allowance. During installation, place your support brackets in an accessible location for ease of removal during cooler seasons or any other issues. Ventilation is important for your air conditioner, so if it is possible for you, locate your support brackets in a shady part of your house with less intense sunlight. Lastly, always check the weight capacity of the bracket and the weight of your air conditioner unit before purchasing and using them.