The Best Whisk for 2023
The very best whisks to help you whip up just about anything.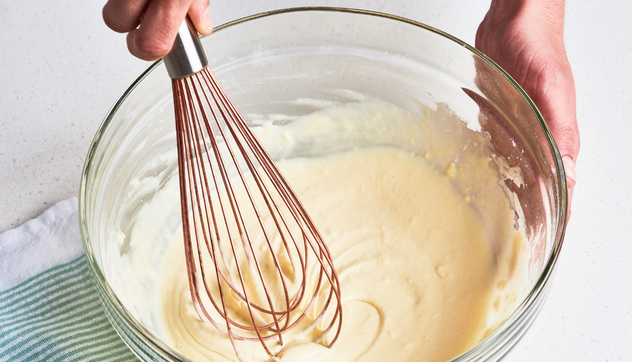 Everybody needs a whisk in their kitchen. It can be used to make anything from a simple batch of scrambled eggs to a cake. Whisks are the perfect mixing tool as they help to blend a variety of ingredients while incorporating air into the dish, making your food light and fluffy.
The type of material that a whisk is made from, the effectiveness of the shape, and how many dishes can be whipped up with a specific whisk are all things to take into consideration when looking to purchase one. With so many options on the market, this list is here to help make your choice easier as we look to find the very best products available today.
How We Picked
Efficient

A whisk should be designed to perfectly combine different foods, ensuring that cooking and baking are quick and easy. We have looked to find a variety of different whisk products that are efficient and versatile.

All-purpose

A whisk should be able to be used for a variety of different dishes. Whether you are cooking up something savory or baking a delicious cake, a good whisk should be able to get the job done.

Comfortable Grip

Having a whisk that continues to slip from your hand or makes it hard to hold can be disruptive when cooking or baking. Having a comfortable grip can make all the difference.

Cost-Effective

While you will not want to spend a ton on the perfect whisk, you need to get a product that is of the highest quality. We have looked to find the very best products for the lowest prices on our list.
Our Top Picks
Best Pick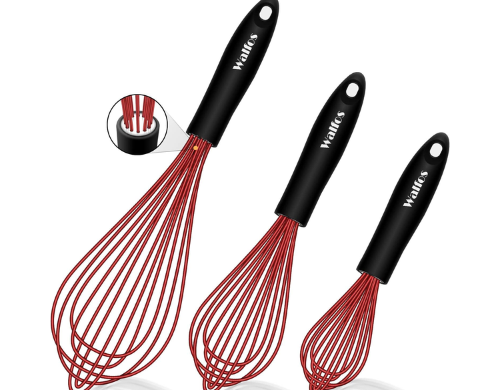 A great and effective silicone manual whisk for a good price.
The Walfos silicone whisk is a great product for those in the market for a new piece of cutlery to add to their kitchen. The whisk itself is covered in a thick layer of silicone, which is extremely beneficial as this will stop the whisk from scratching any pots or bowls that it is used within. Below the thick layer of silicone are stainless steel wires, which ensure that this product will be a long-lasting addition to your kitchen.
Walfos has added all the best features you need in a whisk to create such a versatile product.


Runner Up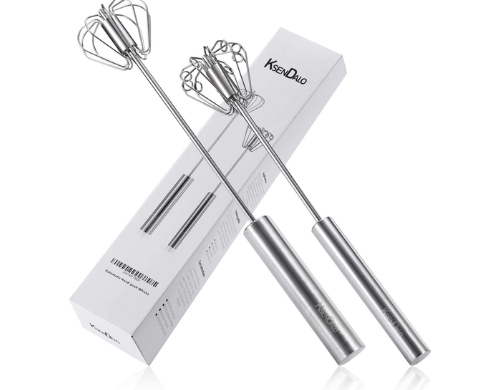 This semi-automatic whisk is suitable for a variety of ingredients.
For those hoping for a whisk that will do the job of mixing for them, this semi-automatic Ksendalo whisk is a great option. The button at the top of the device switches on the automatic feature and needs to be held down to use. For those instances where you do not need automation, you can simply use this as a normal whisk. This feature is unique and ensures that this whisk is incredibly versatile and can be used to whip up just about any kind of food.
A semi-automatic whisk that makes whisking a breeze.
Most cost-effective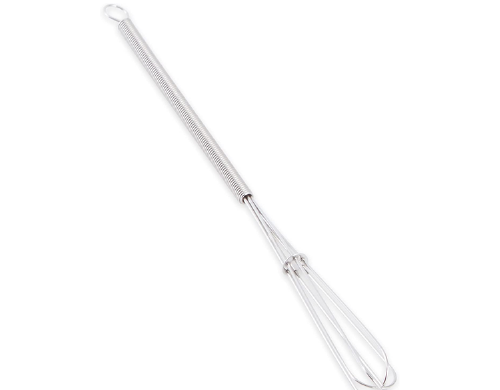 This RSVP whisk will not break the bank and works great.
This classic and timeless simple whisk is made for just about any kitchen. It is particularly great if you are looking to whip up a delicious sauce, as its unique thin design will bring a great texture to any gravy. It is also small, which makes it easy to fit into any drawer, and it is made of stainless steel, which means it will be long-lasting. Another useful feature of this product is that it can be thrown in the dishwasher, making cooking and baking even easier with less cleanup for you to deal with.
RSVP has made access to high-quality whisks at a good price possible.


Everything We Recommend
Who This Is For
You may not be a baker or even a great cook, but having a little time in the kitchen can be important. Whisks are great kitchen utensils to keep on hand and they ensure that you are prepared to whip up anything. Even scrambled eggs just taste that much better when mixed with a whip. The type of whisk you may need will probably be different from others, with some more advanced cooks and bakers opting for electrical options. If you are looking to keep your wish choice simple and cost-effective, we would recommend going for the plain old manual one (and you get a good workout included). Finding a high-quality whisk made from high-quality materials will ensure that this will be your only whisk purchase for a while, so be sure to look out for this.
Why whisks and not spoons?
Whisks are designed to infuse air into the food you are cooking or baking. Unlike spoons, they can add that extra bit of fluff and lightness to a delicious meal.
How will I know which whisk I need?
The type of whisk you purchase is dependent on what you are hoping to make with it. If you are unsure, always go for the option that is the most versatile.
Why You Should Trust Us
We have taken the time to evaluate the different options on the market today, carefully selecting which products are the best. We take into account ratings, comments, and the features included in every whisk we have looked into, devising a list of some of the very best options just for you. Buying a whisk is all about thinking of the user, which is why we took versatility into account when looking at the different options on offer. The different whisks we have come up with are made of the highest quality materials to ensure that they are long-lasting as well as effective when being used.
How We Picked
It can be a hard decision to have to choose which whisk may suit you best, which is why we carefully evaluated different options on the market today and took certain features into account. One of the most important things that we looked into was the material of the whisk itself. To effectively combine different types of foods and liquids in the kitchen, the whisk must be strong and durable. Each of the items we have selected for you on our list is made of stainless steel, ensuring that they are durable and long-lasting. The kinds of materials on the grip do range, but each one has a specific kind of coating that may be better for some people and not others. As each of the offers is stainless steel, they are heat-proof and can be used to stir even dishes that are being heated up on a stove. We also looked for durability. A whisk should also be light in weight so it is not a hassle to use it, particularly when it comes to the manual options.
The grips for the whisks we chose needed to be comfortable. The materials on each of our handles were carefully considered, with only options that ensured comfort being provided on our final list. The length of the handles differs, as different people may prefer either shorter or longer ones. Another aspect that we know is incredibly important to you is the price of the whisks on offer. While some people may want the very best and most professional items, most of us are after a good and affordable whisk that will be able to get the job done.
The versatility of a whisk is important. You certainly do not want to have to buy a different whisk for each dish you cook or bake. Finding a whisk that can help you prepare the fluffiest pancakes while also being able to help you whip up the silkiest and most delicious sauces can be a great way to ensure you only need one whisk in your kitchen.
Care and maintenance
One of the features that we paid particular attention to when deciding on the best options for our list were whether or not the product was safe for dishwashers. Being able to use your whisk and then chuck it in the dishwasher. This is very handy as whisks can often be difficult to clean properly. After using your whisk, simply run it under warm water and let the dishwasher take care of the hard work for you. All but one of our products is safe to place in the dishwasher, so be sure to look out for this feature when hunting for the very best whisk for you. 
After your whisk has been properly cleaned, you may be wondering where the best place is to store it. Some of the whisks we have on offer have holes at the bottom of the handle, which would make them perfect to hang up on a hook in your kitchen. If this is not your style, you can simply place your whisk in your cutlery drawer, so it is ready and waiting for when you need to use it.