The Best Weighted Blanket for 2023
Warm up in the most cost-effective way possible.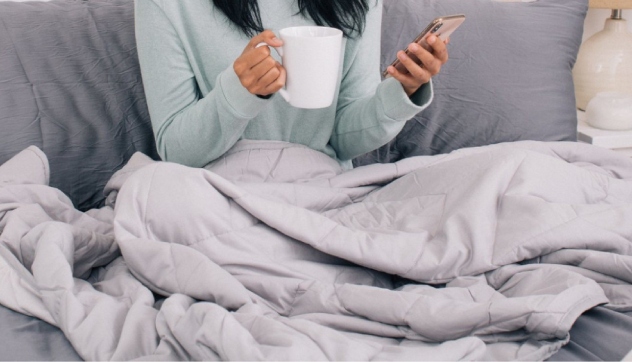 Sometimes all you want is a hug, or at the very least a large, cuddly cat to curl up in your lap. When neither is available, there is a third option: a weighted blanket, which is a thicker-than-normal throw or comforter designed to envelop the body in a calming embrace.
The most popular method for helping those who have trouble sleeping is using weighted blankets. Occupational therapists first used them to treat behavioral disorders, but they are now more widely used for relaxation by anyone. It is known as "deep-pressure therapy" by professionals.
The theory behind it is that the pressure from the blanket might stimulate serotonin, a hormone in your body that helps you feel joyful and relaxed. It isn't meant to treat any illnesses, but it has gained popularity as a method for anxiety sufferers, people who have trouble falling asleep, and people who consider themselves to be "bad sleepers" to get some rest.
The majority of weighted blankets are filled with plastic pellets, ball bearings, and other materials that give them a noticeably heavier sensation than a typical duvet or cover. Though many sleepers find open-knit designs on certain more recent weighted blankets to be more breathable. These blankets often weigh between 5 and 30 pounds. Sleepers typically find that a blanket that is about 10% of their own body weight is the most comfortable.
How We Picked
Comfort

Comfortability should be a top priority when purchasing any type of bedding material because how you lay in it and the results it produces for your body are important.


Material

You should select a weighted blanket in part based on the texture or feel you like. Some of these blankets feature smooth cotton or microfiber material covers, while others have fleece covers for a plusher and cozier feel.



Size and weight

The typical recommendation is to select a weighted blanket that is approximately 10% of your own body weight. This is not, however, a set rule. Realistically, a blanket that weighs between 5 and 12 percent of your body weight might be cozy.



Price

Generally speaking, purchasing inexpensive heavy weight blankets does not mean compromising on quality. We made an effort to strike a balance between cost and quality.


Our Top Picks
Best Pick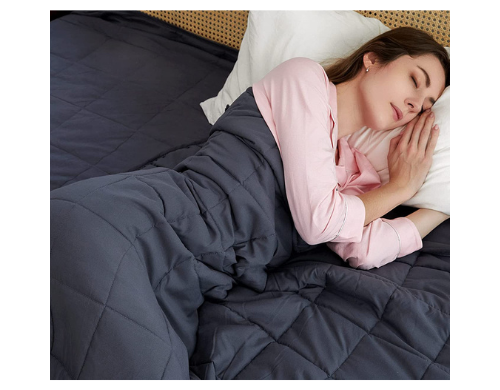 Perfect for snuggling.
This machine-washable comforter has cotton on one side and fleece on the other, allowing you to choose which material feels better against your skin.
For added comfort, the Luxury Weighted Blanket has a cover with two sides. Choose between the lovely grey ombre jersey top and the solid dark grey bamboo bottom to cuddle up in. Weighted blankets lower your heart rate by applying pressure to your body (and telling your mind to calm down)

Runner Up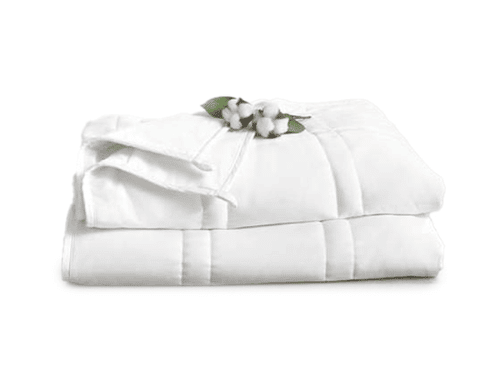 Luxury and comfort, with a highly soothing quality that promotes restful sleep
A weighted blanket with top-notch quality that facilitates warmth, easy relaxation, and rest within minutes.
The weighted blanket from Baloo conforms to your body like a gentle hug. Our blankets do not trap heat and are cool enough to be used all year in any climate. They are machine washable and dryer safe, and are sized to fit the top of a full/queen or king size bed with little or no overhang.
Luna's innovative, smart design combines 7 layers into a streamlined design that evenly distributes weight to your body. Luna is carefully constructed for breathability and temperature control, covered in an ultra soft cotton material and filled with cloud-like fabric.

Everything We Recommend
Best Pick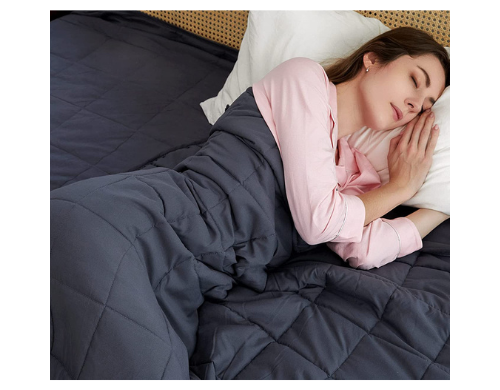 Perfect for snuggling.
Runner Up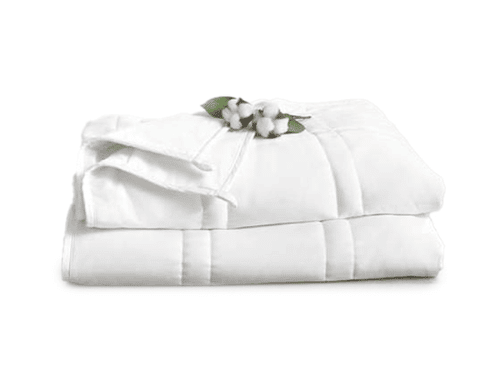 Luxury and comfort, with a highly soothing quality that promotes restful sleep
$179.10
Most Cost-Effective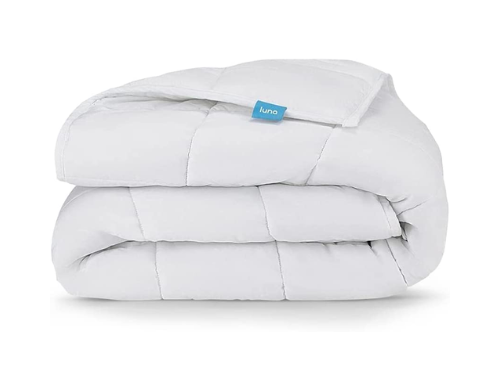 $84.99
Who This Is For
This blanket can be used by anyone, but especially by those looking for a cozy option for the bed or the couch, those who don't sleep hot, those looking for a weighted blanket with a bedroom vibe rather than a living-room vibe, and those who prefer the least amount of upkeep.
Weighted blanket vs a regular blanket
Weighted blankets have become an important part of many people's stress relief and healthy sleeping habits, and for good reason. Weighted blankets, according to research, may benefit people suffering from anxiety, autism, and insomnia, among other conditions.
Weighted blankets are similar to regular sleeping blankets, but they are much heavier. The weight is primarily derived from tiny filler material embedded in the fabric, and they are intended to provide a 'hug-like' effect when worn.
Weighted blankets are excellent tools for both comfort and sleep. They work by causing your body to release "endorphins," or feel-good hormones, as well as serotonin, which is converted to melatonin in the presence of darkness – a body chemical that aids in sleep.
In conclusion, weighted blankets appear to be far superior to normal blankets in terms of used comfort. Weighted blankets have more to offer than a normal blanket does.
Is it worth the splurge?
Weighted blankets are worth every penny because of their good and effective work. This blanket is more than just a blanket; the miracles it has performed as a result of previous buyer and community reviews make it worth every penny it costs.
Health benefits of a weighted blanket
Deep pressure stimulation relaxes the nervous system by applying pressure. It simulates the sensation of being held or hugged. This practice may help, relieve pain perception, reduce anxiety symptoms, and improve sleep quality and alleviates depression symptoms. And also:
Reduce stress and anxiety
Most people experience stress or anxiety for a variety of reasons. Weighted blankets may help alleviate these symptoms.
Improve sleep
Weighted blanket assessment results support their use in specific populations, but the evidence is less clear that using them improves the sleep of most people. This was the conclusion of a systematic review of eight studies that evaluated the evidence.
Although weighted blankets appeared to relieve anxiety in some people with specific diagnoses, there was insufficient evidence to suggest a benefit in reducing insomnia and improving sleep.
What is a weighted blanket made of? What makes it weighted/heavy?
Weighted blankets can be made from a variety of materials, including cotton, flannel, bamboo, linen, and rayon. The stuffing inside a weighted blanket can be microfiber beads, sand, steel beads, pebbles, or grains, which is the reason it's heavy.
Why You Should Trust Us
Everyone likes to shop, but it appears that buying wisely is a better strategy. We are the people to go to because we have done all of the necessary research to ensure that you get anything worth the price you pay.
How We Picked
Comfort
Comfort in beddings is key and we've picked one of the best and stress-less weighted blankets for you. This feature gives more sales to products that seem to come such.
Material
We want to be hugged, but we want it to be a warm, soft hug, don't we? Weighted blankets, fortunately, can provide these warm and fluffy embraces on demand, but choosing the right fabric to encompass the weight is critical.
It all comes down to personal preference, but let's look at some fabric options for you. And we've chosen the best weighted blankets made from the best materials, including mink, cotton, bamboo, flannel, linen, and microfiber.
Size
Size is another factor we considered when selecting these weighted blankets. We chose the best types that can cover two people and still have some left over. We chose the best that will undoubtedly serve you, especially when you want to be wrapped up and simply keep warm.
Weight
Weight is another factor we considered when selecting these weighted blankets. We chose the best types that come with the weighing weight that can get you down and definitely get you the cuddly feeling and can make you feel hugged up feeling nice.
Design
We also considered the type of design that comes with these blankets, so customers can choose from a variety of designs and choose the one they believe is best for them.
Durability
When it comes to our picks, one of our main core values that we don't take for granted is durability. We've chosen the best washable blankets and most durable blankets that won't cause you stress in a few years and will still be of high quality.
Price vs Quality
Not everyone has a large budget to splurge on weighted blankets, we've chosen the best blankets that may work well with your budget, not just inexpensive blankets, but blankets whose prices match their quality.
Easy to wash
We've made this viewpoint a key holder and ensured that these blankets are machine friendly and won't cause stress when washed.
Care and Maintenance
Is it machine washable?
Most weighted blankets are machine washable. Some blankets, however, must be washed the old-fashioned way – with your hands. Again, it's best to double-check the label. Once you have that information, your weighted blanket will be ready to use.
How to wash and dry
Use only cold or warm water in washing machines. Using hot water may cause damage to your weighted blanket.
Also, avoid using aggressive wash cycles. To avoid holes, leaks, and rips, use a delicate or light wash setting. Though most weighted blankets are machine washable, you must exercise extreme caution when washing them.
Some weighted blankets, particularly heavy ones, can cause damage to your machine due to the pressure created by the blank.
How to spot clean
Again, if you cuddle your weighted blankets all day (or night), there's a good chance that nasty stains are already etched on your beloved blanket. Stains are unavoidable, no matter how hard we try to avoid them; they're just a part of life.
To prevent stains from being imprinted in the fabric, it is best to use cold water instead of warm water.
Use a bleach-free stain remover for liquid stains such as coffee, juice, water, and even sweat. After applying the solution, use your hands or an old toothbrush to gently wipe the spot away. Before spot treating your blankets, remember to consider the fabric.
Soaps, on the other hand, are effective at removing oil-based stains like grease. Use your fingertips, an old toothbrush, or a laundry brush to gently scrub the stain away. Always take into account the type of stain found in your weighted blankets.
Some stain treatments, such as the ones mentioned above, do not work well with specific spots.
Depending on the weight and frequency of use, if you use Napper on a regular basis, you might not want it tucked away in the back of your closet. Consider using a couch or ottoman with built-in storage for easy access, such as this one from Wayfair, especially if an afternoon nap is a must for you.
An under-bed storage container could also be a good option. A soft yet structured canvas or cotton container would be ideal. Storing the blanket under the bed reduces the risk of straining muscles while retrieving it from a high shelf, especially if you own one of the heavier blankets.
Type of customer service
The customer service for these blankets is quick to respond, but you may have to wait days for your blanket to be returned to them.
Knowing what weight to get
Weights for a weighted blanket can range from 5% to 12% of their body weight, with most people preferring a weighted blanket that is 10% of their body weight. A proper blanket, regardless of its weight, should allow for comfort and movement. 25-60 lbs.