The Best Waterproof Cameras for 2023
Best Cameras for Underwater Expeditions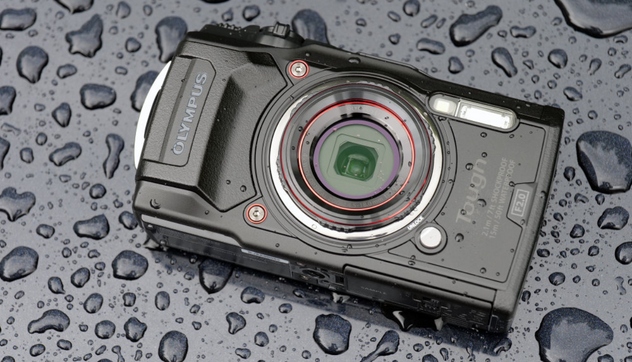 Our social feeds are constantly flooded with pictures of beautiful beaches with immaculate palm trees and crystal clear water. However, bringing your camera to the beach has its own set of dangers, since sand may get into areas you wouldn't expect it to, and as a rule, most models won't even be able to withstand being submerged in water for very long.
Perhaps you already have a camera that can withstand water. High-end smartphones like the newest iPhones and Androids can withstand brief periods of immersion in the water thanks to their IP ratings. There are fewer specialized point-and-shoot cameras on the market now than there were a few years ago, thanks in large part to the development of high-quality smartphone cameras. But even if you're just going for a brief swim and want to take a selfie, you shouldn't bring your high-priced phone in.
The solution, therefore, is to invest in a camera that can withstand water. It is something that doesn't break the bank as easily, in case anything does go wrong. Waterproof cameras often have tough construction as well, making them resistant to accidental drops.
How We Picked
Waterproof + shockproof

Knowing the maximum depth to which your camera can travel underwater without being damaged and the extent to which it can withstand impacts is important.

Type of lens

It's important to understand your photographic objectives before choosing a lens type. Whether you want wide-angle shots or tighter zoom.

Image + video quality/resolution

The resolution is a critical factor in determining the maximum size at which your photographs may be printed. Simply said, the higher the megapixel count, the greater the captured level of detail.

Price

The price plays a significant role since it determines whether or not a camera is a good camera or a decent entry-level camera. It can be the difference between a camera for beginners or professionals.
Who This Is For
If you want to take photographs while you're in the water and explore what's below it, then a waterproof camera would be ideal for you.
Waterproof camera vs a regular camera
In comparison to mirrorless cameras, the image quality of many waterproof cameras is limited due to their smaller sensor sizes. You will not receive the same dynamic range, nor will you receive the same depth of manual attention.
Waterproof cameras, on the other hand, are generally also resistant to shock, freezing, and crushing due to their robust construction.
Is it worth splurging on?
It's a good idea to invest in a waterproof camera whether you're going to be shooting on a tropical beach, doing white water rafting, or just going to a location you know will get a lot of rain. You may take it swimming and use it to take pictures and videos in the water. Because it is waterproof, nothing will be damaged if you accidentally pour anything on it.
Do you need different lenses?
Some trade-offs must be made to make a camera waterproof. The most obvious example is with the lens; some cameras have tiny sensors that don't need huge lenses, thus the zoom lens may be hidden away safely within the camera. Others opt for fixed lenses that aren't great for either wide-angle or close-up shooting.
Waterproof camera vs GoPro
GoPros offer an ultra-wide angle field of vision, are mountable, are waterproof, and are shockproof. GoPro cameras, including the HERO10 and HERO9 Black, are waterproof to a depth of 33 feet right out of the box. You'll need dive housing if you plan on diving any deeper. Action cameras from GoPro are notoriously pricey, but cheaper alternatives are available. Despite popular belief, GoPro is not the only company developing rugged, compact, waterproof cameras with the ability to capture high-quality stills and films.
Why You Should Trust Us
The term "waterproof camera" encompasses a wide range of devices, so picking the proper one requires some consideration. For instance, you'll need to decide whether you'll mostly be taking photos or videos. To simplify matters, we combed through consumer feedback on many waterproof cameras and compiled their comments on the devices' usefulness. These experiences included working with a wide variety of waterproof cameras. Here, we take a look at waterproof compact cameras, a type of self-contained camera with a fixed lens on the front. We also examine action cameras, which are far more compact than standard waterproof compacts. In addition, certain convenient disposable film cameras for use underwater are also considered. With so many people's own experiences to draw from, our methods should help you zero in on the best waterproof camera.
So, we scoured the market for the best waterproof camera that will suit your needs. When making our selections, we looked at what type of lens it uses, the resolution of the camera, the maximum depth to which they could dive underwater, if it is shockproof, and, lastly, how cost-effective they are.
How We Picked
There are a few important considerations while shopping for the ideal waterproof camera. Learn what level of waterproofing is required of a camera before you take it diving. Similarly, if your hobbies necessitate wearing gloves, you'll want a camera that's easy to use and has physical controls you can reach with your gloves on. Another factor to consider is image stabilization which may help reduce blur from camera shake; low-light capability is important if you'll be taking photos in low light, and a smart connection is essential if you want to quickly share your underwater photos online. In addition to this, we investigated the camera's maximum resolution, its ability to withstand shock, how much memory it supports, and the sort of lens that it uses. And last but not least, how cost-effective they are.
Care and maintenance
The first step in cleaning your camera is to wipe down the body. To remove fingerprints and dirt, just use a dry microfiber cloth. Lightly dampen a microfiber cleaning cloth and use it to gently wipe the screen or body down if there are any particularly stubborn stains. You may also use a blower to clear out the camera's inside and exterior of dust and dirt.
Dust and dirt may be removed from the lens using a little blower brush. Avoid blowing on the lens with your mouth. Besides the obvious danger of splattering the lens with saliva, the acids in our breath may erode the protective coating on the lens. Apply a drop or two of lens cleaning solution on a lens tissue, and then wipe the lens in a circular motion, beginning in the middle and working your way outward. Avoid getting cleaning solutions on your lens directly. If you don't have any lens tissue on hand, you may use a microfiber cloth or other soft, lint-free cloth instead.
Keep in mind that before putting away your camera, you should take out the batteries and any memory cards. There are several ways in which moisture may damage a camera or lens. The dry cabinet may be used to combat the moisture problem. Dry cabinets are specialized containers or cupboards that are constructed to prevent moisture from getting in. Another benefit of these cabinets is that they keep dirt and dust from settling on your equipment.
Equipment that isn't kept in a dry cabinet requires extra care and attention. Choose locations where the sun won't shine directly on your equipment. Choose a spot that won't be subject to severe cold, and most crucially, keep the camera away from any electronics that emit a magnetic field.