The Best Watering Can of 2023
There is no better way to keep your plants hydrated than with a watering can.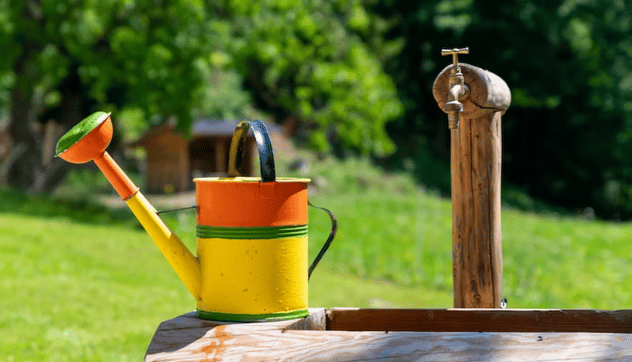 Gardening can be quite a demanding chore, especially with plants that demand a lot of attention and special care. While watering cans may serve the singular obvious function of watering plants, this gardening equipment does more than just sprinkle water. Watering cans come in different shapes and sizes with nozzle speeds and shower head attachments to meet various plant needs.
If you are a farmer, gardener, or indoor potted plant owner, you are definitely in need of a watering can. However, when it comes to specifics and the type that will serve your needs for a long time, you might be facing a dilemma. But no need to worry. We have considered your concerns and prepared our recommended list of the best watering cans to meet your various needs at an affordable budget.
How We Picked
Capacity/Size

The size and capacity of a watering can determine how much water it holds and the area it can cover. Hence, we selected our picks based on their size and capacity.

Ease Of Pour/Nozzle Type

The type of nozzle affects how well the can pours water. We considered nozzles with sprinklers and those without and selected them based on how well they suit your needs.

Cost-Effectiveness

We ensured that the watering cans we selected struck a middle ground between price and quality. We chose cans that were both cost-effective, durable, and of high quality.

Easy To Lift/Weight

We figured that you might not want to be inconvenienced by the weight of your watering can or run into problems when trying to lift it. Therefore, we selected our picks based on their handles and how heavy they are.
Our Top Picks
Best Pick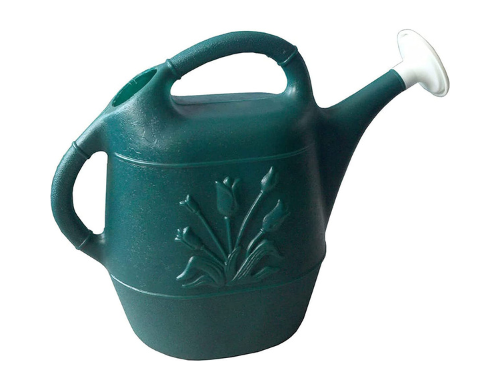 A tulip-inspired watering can with a replaceable sprinkler head.
The Cado watering can is your best bet for giving your plants a feel of spring in any season.
A high-quality plastic watering can that is simple to use, particularly in large gardens. The size of this big watering can is efficiently designed to make sure you don't go back and forth between the tap and the garden when trying to water your plants. The Cado 63065 Watering Can is made in such a way that one trip might be enough for a large garden. The design is also easy to use, with a weight that does not weigh you down.
Runner Up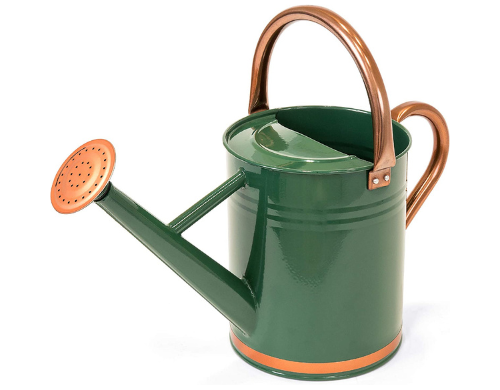 The 1-Gallon watering can is an efficient, aesthetically pleasing and pretty durable.
This can has a large watering hole on top and a detachable, extra-wide shower head attachment that can cover a large area.
This watering can is designed to provide water to small and medium-sized gardens and is also designed to work for various types of plants since the shower attachment is detachable. It can pack just a gallon of water, so it is light to use with a handle that makes it enjoyable.
Most Cost-Effective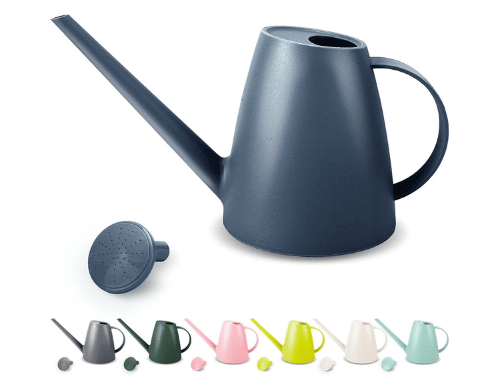 Best for all types of small gardens and plant pots.
The Qilebi watering can is great for tightly fitted plants or those that require an extra-long spout to reach under leaves.
This Qilebi Watering Can is very small and also cute. It is specifically designed for watering small plants indoors and holds half a gallon of water, which serves its exact needs. The removable head also provides extra features that serve the needs of those with plants that demand special care and attention.
Everything We Recommend
Best Pick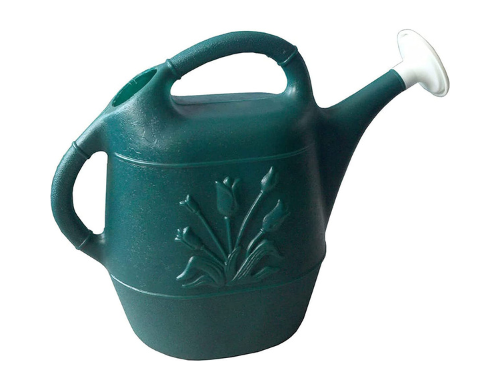 A tulip-inspired watering can with a replaceable sprinkler head.
$20.31
Runner Up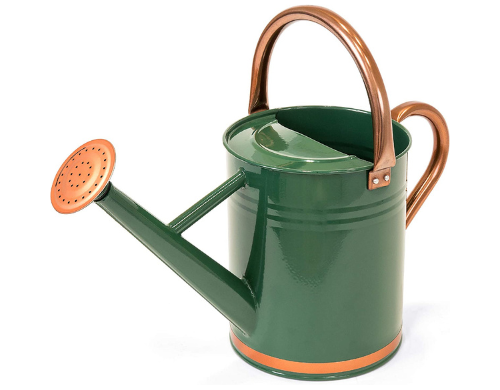 The 1-Gallon watering can is an efficient, aesthetically pleasing and pretty durable.
$34.99
Most Cost-Effective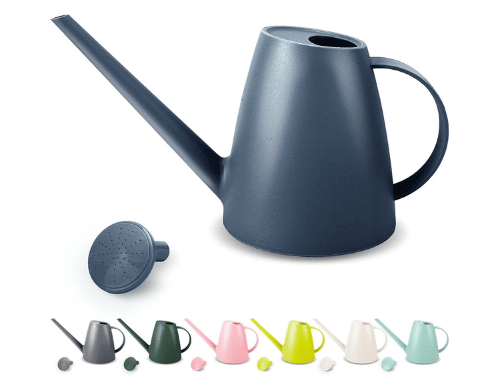 Best for all types of small gardens and plant pots.
$16.49
Who This Is For
Plants have different needs under varying conditions. There are also farmers who keep some plants out of season, which may demand special care and attention. For those, normal sprinkling might not be enough. Homeowners might also keep flowers, medicinal plants, and both small and large gardens that might need constant watering or, at other times, a specific amount of water using a specific technique. If your needs fall within and close to the range of those whose plants demand attention, then this is for you.
Watering Cans vs. Watering Hoses
Water hoses are especially good for larger gardens or farms where you have no problems making the soil soggy. However, water hoses can be a waste of time and water since you can save up to 50% more water with the use of a watering can. Also, depending on your type of plant or garden, you will not want the water to be too much, so even with a water hose, you will need a trigger for control. On the other hand, it is easier to control the watering process when using a watering can. A watering can also help you water efficiently so that you do not encourage the growth of weeds since you will be watering target areas and not adding unnecessary moisture to the ground.
Why You Should Trust Us
We discovered that there were a lot of watering cans. However, what the good ones had in common was the number of reviews they got and how many people used them, especially gardeners and those who kept small plants. After going through these reviews and customer ratings on merchant sites, we made a wide selection, after which we tested each product and eliminated those that did not meet our expectations.
How We Picked
Size
With two gallons of water, a typical outdoor watering can often have handles on the side and a top for ease of use. In addition, it comes with an adjustable shower nozzle that distributes water uniformly across the plant's surface. Indoor watering cans, on the other hand, have a maximum capacity of 1.2 gallons, making them more manageable for tiny plants. We concluded that no matter what size of a watering can you choose, it must be simple to operate. Consequently, we experimented with various watering can size in different sizes of gardens, container beds, terracotta pots, plastic seed containers, and fabric grow bags to make sure that our selected size fits all your needs.
Capacity
Using a watering can with a capacity of at least two gallons limits the number of times you have to refill it, especially if you have a large number of plants that need watering. Smaller planters or those who don't want to carry a lot of water can use a one-gallon watering can instead.
Material
Plastic and aluminum (galvanized, stainless steel, or copper) is the most commonly utilized materials for watering can construction. Metal watering cans are usually more expensive and less portable than their plastic counterparts. Metal watering cans, on the other hand, are also the best alternative for limiting the number of microplastics you use. Coated metal cans and stoneware (ceramic) were also considered as other quality alternatives.
Ease Of Pour
We also considered how easy it would be to use the selected watering can on both indoor and outdoor occasions without it splashing water around. We discovered that this depended on the watering can's nozzle, its size, and its capacity.
Nozzle Type & Mouth Size For Filling
Watering cans used outside often have shower head nozzle ends or attachments since this can reach a larger area than a single stream spout because the water can go out of more than one hole. The water from the shower attachment also comes out much more slowly than from a single stream spout. However, one spout near the root may be best for plants that don't like getting their leaves wet or for plants that are hard to reach in tight spaces. Because the water comes out so quickly from a single-stream nozzle, you'll need to be even more careful than you would be with a shower attachment. We, therefore, considered the best way to solve this was to look for watering cans that served both purposes when needed. We also considered how wide or narrow the mouth of the can was, since this would affect how fast it could be filled or sometimes even emptied to dry.
Weight & Easy To Lift
Not everyone wants to use a heavy watering can. Still, not everyone wants to go back and forth filling it up. We, therefore, had to come to a compromise on the weight of the watering can and how it affected the user. We discovered that it's crucial to have watering cans with suitable handles so that you don't strain your wrists when lifting gallons of water. Larger watering cans generally have two handles: one on the side to hold the can and one on the top to aid in the pouring of water out of the can. Often, a long handle is attached from the back to the top, allowing you to adjust the handle in various places based on what you're watering or to distribute the weight more evenly, depending on your preference.
Style/Design
Our goal was to find watering cans that were both attractive and functional. Shape, texture, and color were all things we took into account. Therefore, we sought out watering cans that could be used in a number of settings, from formal to casual.
Water Usage
We considered how the water would function when being used. Some of the ones we decided not to pick were very effective but splashed out too much water or had leaks that were almost unnoticeable. Others could not maintain water capacity past a certain level without leaking. Therefore, we eliminated these options and left only those with trustworthy water usage capacity.
Price vs. Quality
When making the pick, we made sure that each product was not overly expensive and that it delivered quality for its price so that you would get the best use of your money.
Care and Maintenance
Preventing Rust/Mold
To prevent mold or rust in your watering can always make sure to empty and dry it at the right temperature. For metal cans, you can dry them in the sun. However, plastic and indoor cans should best be washed, disinfected, and dried indoors. To prevent rust, on the other hand, for watering cans that are not made of galvanized metal, you will have to create a galvanized surface by covering your metallic container with zinc. Enamel paint can also be used to coat your watering can. The zinc or enamel paint keeps moisture and oxygen from reaching the bare iron and prevents rust.
How To Avoid Wasting Water When Watering Plants
Overwatering is a common problem in many of our lawns and gardens. Because we're exerting more effort than we need to, this is wasteful. Check the soil depth with a spade to see if it needs watering or not. If it's wet, it's okay, but if it's dry, it needs watering. Soil moisture is maintained and water shortages are avoided when the garden is watered prior to the onset of a drought. Evenings are the best time to water your plants, as they are colder and less prone to evaporation.
Another rule is to use the appropriate amount of water. Soils that are light and sandy require additional watering on a regular basis, while soils rich in clay require more water but can tolerate less frequent watering. The Royal Horticultural Society recommends giving plants up to 6.3 gallons per square meter of water every seven to ten days in order to keep them thriving.
Cleaning With Hot Water And Soap
To clean your watering cans effectively, especially those made of metal, ceramic, and copper, you will need to use hot water and soap. To clean, mix a little soap in hot water, pour the solution into the watering can, and shake it. Hot water is best used with soap for cleaning because it is more effective in cleaning out greasy and oily dirt, among all other types. When that is done, you can pour the water out through the nozzle (make sure to remove and wash the sprinkler separately). After that, you can also wash the outside of the can with the same solution before rinsing and drying.
Clearing Can Of Bugs And Garden Creatures Before Filling With Water
To get rid of bugs, other garden insects, and bacteria that might be in your watering can, especially outdoor watering cans. You should always clean your equipment with vinegar. To do that, use undiluted white vinegar to clean your watering cans and other soiled garden tools in a wide basin, tub, or bucket. The best method is to find a big basin or a tub where you can immerse the can for at least an hour in the vinegar bath. Keep the watering can in the mixture until it is clean and free of any dirt. After that, rinse and dry.