The Best Water Filter Pitcher of 2023
Ensure your water's safety with the best water filter pitchers.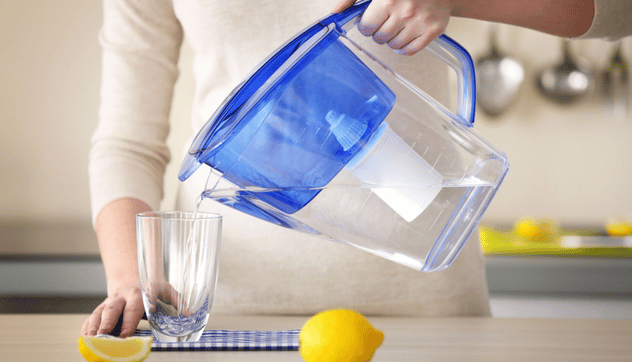 Water filter pitchers are used to make your tap water taste better and avoid any bacteria, viruses, or parasites. As such, water filter pitchers are one of the most essential things that you can have around your house, especially if you're a homeowner. This is because you never know when there's going to be water contamination in your drinking water and it's much better to be prepared.
There are many different types of water filter pitchers available on the market. We've curated a list of some dependable options that can make your life easier and safer!
How We Picked
Quality of Water After Filtration

After filtering, water should meet these three essential qualities – odorless, colorless, and without an aftertaste. We picked pitchers that deliver this type of quality.


Style/Design

Your pitcher's design determines its comfort, ease of installation, holding capacity, the space it occupies, and how easy it is to replace the filter.


Cost of Filters

Most pitchers require you to replace their filters regularly, usually every two months or after 40 gallons. So we chose pitchers with long-lasting, cost-effective filters.


Cost-Effectiveness

When compared to what they are protecting you from, water filter pitchers are typically affordable. We made sure to choose affordable pitchers that are still effective.

Who This Is For
Generally, water filter pitchers are for you if you want to ensure you're drinking clean and safe water. They usually have a low cost of purchase and maintenance, so they'll also be great for people who want an inexpensive way to filter their water. They're also for people who prefer a pitcher-type water filter to an installed one.
What is a water filter pitcher?
A water filter pitcher is a water jug built to remove impurities in water using a series of processes as they pass through it. It makes water cleaner and safer for drinking.
Although different water filter pitchers have different media types to reduce contaminants and impurities, most filters use activated carbon. Activated carbon uses adsorption (different from absorption) to attract contaminants. When contaminant molecules in the water come into contact with the activated carbon, they adhere firmly to it. Activated carbon is typically made from burnt coconut shells, which provide numerous adsorption sites. The pitchers remove metals like lead, copper, and mercury, chemicals like chlorine, and organic compounds.
Can I use it as an everyday water bottle?
Water filter pitchers are jug-like. Seeing someone use a small jug as a water bottle is not conventional, but it'll boil down to what you want. However, you can use the filters of water filter pitchers in water bottles. Many models have water bottles that their pitcher filters will fit into. You may want to consider that if you're looking for a water bottle.
Does it actually "improve" the water quality?
Yes, it does. Contaminants like lead, mercury, chlorine, and so forth are the major causes of low water quality. They add odors and tastes to drinking water, making it unpleasant to drink. However, after these contaminants adsorb to the activated carbon, you can enjoy your odorless and refreshing water.
Why You Should Trust Us
We spent hours going through third-party ( like ANSI/NSF) test data. From there, we got a list of certified water filter pitchers. We used this list to review available pitchers online and noted customers' opinions on efficacy, safety, and sustainability. We focused on essential factors such as pitcher design, the cost of the filter, water quality after filtration, and the overall cost of each water filter pitcher.
How We Picked
Nobody likes drinking water that has a bad smell, a slimy feel, or a metallic taste. Our picks by reducing chemical contaminants like chlorine, metallic pollutants like lead, and several organic molecules ensure that it's only the best-quality water you get. They are perfect for dealing with hard water, excessive chlorine in water, and unwanted tastes and odors.
We have also selected pitchers that are easy to use, clean, and install. Our picks also have a good holding capacity and short filtration times, which you'd appreciate. We chose pitchers with quickly replaceable filters that are not so costly, so you don't have to spend so much on running costs. Our selections include portable pitchers that are suitable for water bottles. We also chose pitchers that excel in both design and function, so they can represent your exquisite taste and still get the job done.
We considered pitchers that are affordable and still provide quality service. Finally, we ensured that our picks are made of durable and strong materials.
Care and Maintenance
Your water is only as clean as your water filter pitcher. Therefore, you need to adequately take care of your water pitcher to continue enjoying its benefits. Here is how to take care of your water filter pitcher:
Cleaning
You must hand-wash some filters, while there are others you can wash in a dishwasher. Check your water filter pitcher's manual to know which washing mode suits you. However, if you're hand-washing, you'll need to use a soft sponge to prevent scratching. You should use mild detergent to avoid harsh reactions. Your water filter pitcher may give your water a plastic taste or odor when it's new. You can remove this by washing the pitcher and filter with a mixture of lemon juice and water.
Filter Replacement
Different models of water filter pitchers use various filters. Therefore, their lifespan varies. However, on average, a water filter lasts two months, providing up to 40 gallons of filtered water. Hence, you must replace your filter regularly to maintain the best-quality water. Your model's manual will tell you the suitable filter change time for that model.
Storage
A water filter pitcher would remain the same for a long time without use. But you must ensure you seal it and keep it in a cool, dry place when not in use.