The Best Vlogging Camera for 2023
Anticipate the best vlogging moments with our list of top vlogging cameras for the year.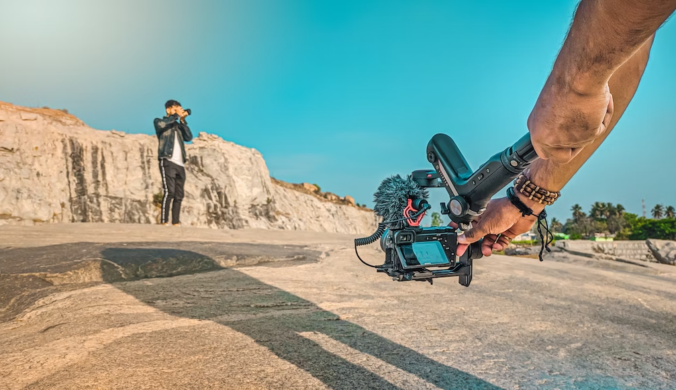 A YouTube channel, Twitch stream, or TikTok account is a must-have these days. From your living room, anyone all around the world these days can share their knowledge and skills with the world. The footage, however, must be interesting enough for the audience to want to watch it.
Identifying the purpose of your video recording is the first step. You don't need a 4K camera or a huge budget to start vlogging. Most budget-friendly vlogging cameras offer features including optical image stabilization, slow motion, autofocus, LCD touchscreens, low-light sensitivity, external mic input, and more.
Your vlogs will be greatly improved by investing in a high-quality camera. Fortunately, there is no one best camera for vlogging, just as there is no one best technique to make vlogs; whether you're using a high-end mirrorless or DSLR for stationary vlogging, an action camera to record and share your extreme sports exploits, or a compact point-and-shoot to take with you wherever you go.
It is very important to choose a camera that fits your budget, the way you shoot, and what you want to do with it. If you want your videos to really stand out, you need to invest in the right camera, which is why we've compiled this list to help with your search.
How We Picked
Resolution Quality

The resolution of your video is what defines how realistic and clear it will appear. It is the number of pixels that fit into a 16:9 display. As more pixels are used, the images in a higher-definition movie will become clearer and sharper, resulting in a better picture overall. For the highest possible quality, we made sure that our cameras could record in HD or 4K.

Built-In WiFi

The capacity of the vlogging camera to connect wirelessly was something that we put into consideration. We made sure that cameras had wi-fi capability, as this would enable you to easily upload your videos online. Some of the cameras also had YouTube features that made it easy to upload right to the user's YouTube channel.

Type of Touchscreen

Although the cameras we tested were touch-screen and had LCD screens, we also considered how the flip screen affected the vlogging process and made sure to pick screens that did not affect or interrupt other functions such as the earpiece port and others.

Price

When making our selection, we chose cameras that fell within a specific price range since that was the middle ground where quality and cost met, and going over or below would either be extravagant or would leave us with low-quality options.
Our Top Picks
Our Top Pick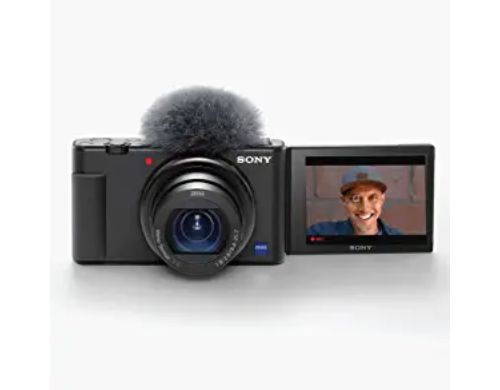 A camera created for creation
Images with superb background bokeh and crisp detail, even in low-light circumstances are provided by the big 1.0-type CMOS sensor and wide-aperture lens. As a result of AI1 technology, the autofocus will focus where you want it to, on your face and eyes, rather than straying to other areas of the frame. If you wish to switch the camera's focus to something else, you can do so by touching the screen. The Fast Hybrid AF feature on the ZV-1 allows you to swiftly and easily change the focus from a face to the backdrop, resulting in more aesthetically pleasing and enjoyable videos.
The ZV-1 is made to record stunning footage of you and your environment with minimal effort.
Our Runner-Up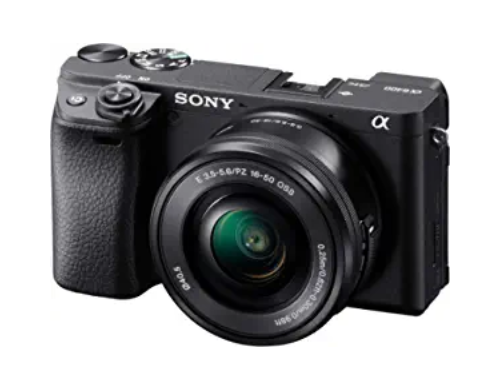 Why not grab the best of life with a camera that captures all the beautiful moments?
The camera's cutting-edge AF can rapidly and accurately locate the subject, and it can then follow the subject as it moves to maintain it in focus even as it moves. With so many points of focus spread out, nearly the entire image may be captured in sharp focus. Take up to 116 JPEG (Standard) or 46 compressed RAW images in a single burst, and do it at up to 11 frames per second (fps) with after-view and 8 fps with live-view, respectively, with low display lag. Detecting and following fast-moving subjects is now possible with the help of recently implemented AI-based topic identification technology.
The 6400 performs quickly and has many of the capabilities you'd want to find in a full-frame camera.
Most Cost-Effective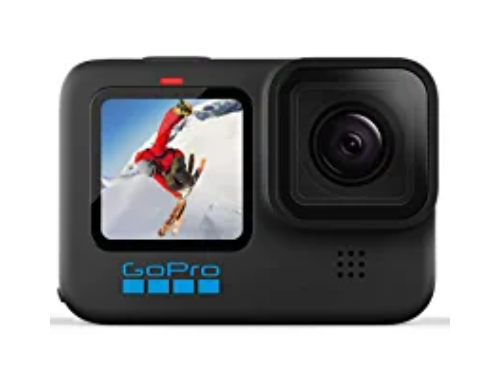 Iconic design; legendary performance.
The groundbreaking GP2 processor allows the HERO10 Black to capture 5.3K video at greater frame rates, 23MP pictures, improved low-light performance, and the industry-changing HyperSmooth 4.0 video stabilization in any shooting mode. Further, the HERO10 is cloud-connected, meaning that your recordings will be transferred to the cloud the instant you charge the camera.
The HERO10 Black is a top-tier camera that can handle a wide variety of shooting situations with lightning quickness and no stress.
Everything We Recommend
Our Top Pick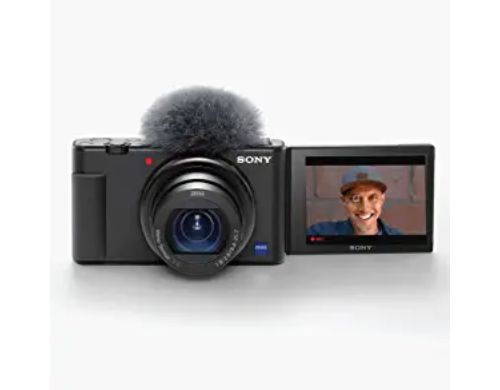 A camera created for creation
$748.00
Our Runner-Up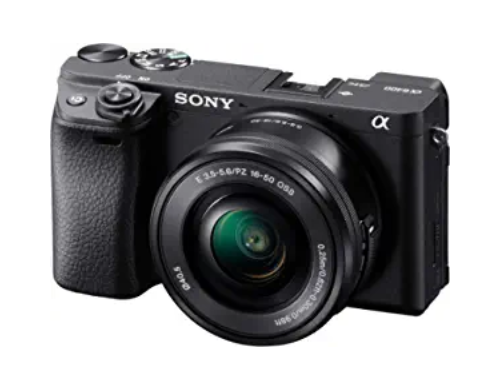 Why not grab the best of life with a camera that captures all the beautiful moments?
$998.00
Most Cost-Effective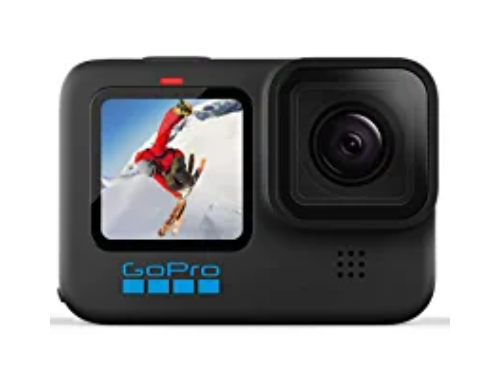 Iconic design; legendary performance.
$399.99
Who This Is For
The top vlogging cameras simplify the process of capturing high-quality video with a rock-solid frame rate. The video recording capabilities of these cameras are exactly what you need to take your vlogs to the next level, regardless of whether you are a stationary streamer or prefer to walk and talk. And if that's the case, you should check out the vlogging cameras we recommend.
Vlogging camera vs. regular camera – what's the difference?
The characteristics that make a camera suitable for vloggers are what set it apart from other cameras. Cameras designed specifically for vlogging include video modes specifically designed for that purpose. That means being able to record video in addition to taking images, and possibly even a "video" button or "video mode" with optimized settings for filming.
As an added bonus, they function well in dim conditions. In terms of software, this is anything that can optimize the video for the available light. As far as the gear is concerned, this implies an adjustable ISO and aperture that allows for as much ambient light as possible when recording. They have high definition (HD) or even 4K resolution, which is especially useful when vlogging with a focus on finer details, and a flip screen, which flips up above the camera to display a preview of the video while it is being recorded.
With the exception of the occasional voiceover, most vloggers don't want to record audio separately, which is why these cameras also provide wireless connections, image stabilization, and microphone or mic input. The majority of modern vlogging cameras also provide a mic input in addition to their built-in microphones. Microphones of higher quality and size can be plugged into the input, allowing users to pick up on subtle noises while simultaneously cutting down on ambient noise. They are also portable and offer FPS customization.
Can't I just use my phone?
Almost always, a vlogging camera will have better results in filming a video in dim conditions than a smartphone camera. This is because of the large sensor and the adaptability of DSLRs with different lenses. Another factor is the limited ISO range of smartphone cameras. Smartphone cameras have the potential to be excellent, but they are not built to meet the standards of professional photography.
Is it worth splurging on?
A better camera is the primary incentive for most people to upgrade their smartphones. Even as smartphone camera technology improves, it remains inferior to that of much older cameras. The issue is a result of the small size of the sensors used. A camera's sensor is a tiny rectangle located inside the camera that takes in light and converts it into an image.
A larger camera sensor means more data can be processed, leading to higher-quality photographs. The sensor on even the most basic vlogging camera is five times larger than that of a smartphone. In that regard, it's like having a smartphone with five times the pixel density. A camera will always produce higher-quality images than even the most advanced smartphone. Because the sensor in a real camera is so much bigger, it completely dominates any digital equivalent, making it a worthwhile investment.
Why You Should Trust Us
We test the camera's color reproduction, skin tones, detail, and rolling shutter by shooting at the maximum resolution and frame rate possible while filming a variety of handheld settings, including the trendy walk-and-talk format. To ensure that the auto-exposure and white balance are functioning properly, we also add scenes with a lot of contrast.
These checks are also a great chance to evaluate the vlogging camera's stabilization, as well as its face and eye-tracking focusing (both electronic and mechanical, if available). The built-in microphones, an often-overlooked component of the vlogging equation, are also put to the test in these instances. If the camera has a mic input, we will also test the quality of the audio using an external lav mic.
If possible, we put the camera through its paces in each of these areas to see how it stacks up against the competition, and we conclude with our thoughts on the camera's overall quality as well as on its design, video quality, audio quality, and other features.
How We Picked
Resolution
All the cameras on our recommended list are capable of recording in Full HD resolution (1,920 x 1,080), although this is true of the vast majority of modern cameras. The price of 4K cameras has dropped significantly over the past few years, allowing more filmmakers to experiment with recording at greater resolutions. Keep in mind, too, that 4K files will be much bigger than HD files, so you'll need a more capable computer to edit them.
Because most vlogs are viewed on HD devices such as smartphones, computers, and tablets, we maintain that full HD cameras are the greatest value. However, cameras with 4K recording capabilities were still considered for the sake of future-proofing.
Type of touchscreen
Possessing assurance in one's own capturing abilities is crucial to the success of vlogging. Not being able to see oneself on camera will prevent you from successfully completing this task. Your vlogging camera needs to have a flip screen. Having a touchscreen LCD that can be fully articulated gives you more options than a flip-up screen, especially if you want to attach an external microphone. It's important to have a microphone jack and a way to attach it that doesn't get in the way of the display (usually an issue with flip-up LCDs).
Built-in wifi
Even if your camera is among the most powerful on the market, it won't be of much use if you can't save all of your photos and movies. That's why we went with cameras that support WiFi and Bluetooth for easy transfer and speedy uploads.
Microphone input option
Most vlogs entail recording speech, and some vloggers record nothing but speech. The quality of the sound collected by your camera is critical, so it's important to pick one with a high-quality in-built microphone. If the sound is harsh and boxy, there's not much you can do to correct it. We selected cameras that allow for the attachment of an external microphone for the highest quality sound, since having a camera with a headphone output will give you even more control over the sound by allowing you to preview the recording with the volume turned up or down via headphones.
Facial recognition
Vloggers will benefit greatly from a camera's ability to automatically focus on a subject's face or eyes. Other useful features include touch focus/selectable focus points and tracking. Though video may be your primary concern, you shouldn't ignore the value of still image capture.
Size & weight
Portability is crucial if you want to shoot active vlogs that need you to carry your camera around. Carrying a heavy camera around can be a pain, but you can take a small one just about anywhere. These days, you can easily find high-quality pocket cameras that are ideal for vlogging on the road. This is obviously less of a concern if you plan on using a tripod or shooting in a controlled environment.
Price
While vlogging cameras might be expensive, we sorted out the most reliable options that did not entail spending too much, which is why we factored in a warranty to ensure that the cost was insured if the price was steep.
Durability
We wanted to make sure that the cameras we recommended were made of durable materials and had a great reputation for lasting a couple of years. We considered the brand and how long users rated the durability of their products before settling for any.
Warranty
From the picks we went through, we considered the availability of a warranty as an option to make one camera preferred over another. We considered how long the warranty lasted and what options it covered before making sure it was a choice worth settling for.
Care and Maintenance
Battery care
To keep your batteries longer, remove the batteries and the power source from your camera when it's not in use. Always have a backup battery, use the viewfinder sparingly, and avoid excessive zooming. As much as possible, don't use the flash, reduce the LCD's brightness, charge and discharge the batteries often, and keep the batteries in a cool, dry area when removed.
How to keep clean
When dirty, dust and lint can be removed from the camera's body with a blower, and then the body can be wiped off with a soft, dry cloth. You can remove any sand or salt from the camera with a cloth wet in clean water, and then dry it completely after use.
Note that lenses and mirrors are fragile and easily broken. So, a soft-brush blower is recommended for the removal of dust and lint from them. Aerosol cans can be used, and these should be held vertically to avoid spillage. For lighter stains, apply a tiny amount of lens cleaner to a soft cloth, then wipe the lens carefully.
How to carry around
By far the most popular method for photographers to carry their equipment is the neck strap. Typically, these straps are included in the retail package of the camera, but you can also purchase aftermarket straps with additional functionality. A camera neck strap is a practical alternative to constantly holding your camera in your hands. A camera backpack is also a recommended alternative, along with optional hard cases that give additional protection.
Where and how to store when not in use
When you're done, keep the camera in a dry, well-ventilated place to avoid the growth of mold and mildew. To prevent a fire from occurring, unplug any AC adapters that are currently in use. Remove the battery to prevent leaks and place the camera in a plastic bag with a desiccant if you won't be using the device for a while. However, a plastic bag may be too damaging for long-term storage of the camera case. Desiccant should be replenished on a regular basis because it loses its ability to absorb moisture over time.
The camera should be removed from storage at least once a month to avoid the growth of mold and mildew. Activate the camera and fire off a few test shots before putting it away. Always keep the batteries in a cool, dry area. Before storing the battery, make sure the terminal cover is back in place.