The Best Vegetable Peelers of 2023
Find your ideal vegetable peeler, one that is both effective and comfortable!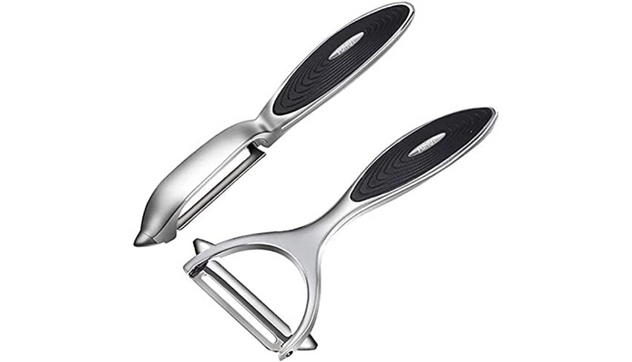 Who doesn't want to make homemade potato chips that are the same thickness as the factory ones? You don't need to be a well-trained knife master to reach that goal, as a vegetable peeler is the best option for even slices. A vegetable peeler has a lot of uses in the kitchen. Besides peeling off the skin of fruit and vegetables, it can also be used to cut fruit and vegetables into thin, even slices.
Whether you're replacing your old one or a confused first-time buyer, let us guide you through the best peelers on the market today.
Who This Is For
The products advertised here are for people who want to spend less time in food preparation by peeling vegetables and fruits much faster. You can still use a knife if you don't mind spending a lot of time in the kitchen preparing your meals. A vegetable peeler makes your kitchen life easier and saves a lot of time. Yes, it is definitely worth it to use a peeler instead of a knife. If we were to use a normal kitchen knife, our vegetables, and fruits would not be peeled evenly. The slices may be too thick, and we may accidentally cut more away, resulting in waste.
Why You Should Trust Us
Imagine this scenario: You need to peel vegetables and fruits for a party, but you only have a few people to help or even no one else. There are so many potatoes you need to peel, and you're afraid that you won't have enough time to make it. We can understand the stress of this situation, and so we have looked through all the available options. Finding the best quality vegetable peeler will save a lot of your time and energy; as such, we have made the best list for you to choose from.
How We Picked
It's not easy finding the right vegetable peeler for you, especially with such a broad and intimidating range available online. We read through many customer reviews with various types of vegetable peelers and gathered their thoughts on how they used their peelers. These are the considerations we looked at to find the perfect and best-deal vegetable peeler, just for you!
Shape – Y-shaped or straight swivel?
When we choose the best-shaped peeler, we look for the effectiveness of the blade to move faster. We've found out that Y-shaped peelers have a wide, easy-grip handle. This type is ideal for peeling or slicing long-shaped vegetables and fruits. The downside of this peeler is that it is slightly difficult to move back and forth quickly. While the straight swivel peeler has a single blade, this peeler has two, making it easier to move back and forth, and it can be used by both right and left-handed people. It feels more comfortable peeling round-shaped vegetables or fruits (e.g., apples and potatoes) using a straight swivel.
Type of blade and quality
The most commonly used are stainless steel peelers. It has the best sharpness, but it's easy to rust. If you want to avoid the risk of rust, you should choose a ceramic blade.
Handle – does it have a comfortable grip?
A peeler with a comfortable grip will help you move it more freely, so you won't get tired easily. We make sure it's slip-resistant, so you won't harm your hand by accidentally cutting it with the blade. If there's any fruit or vegetable peel that gets stuck, simply remove it from the blade.
Easy to clean
It's important to find an easy-to-clean peeler to make it easy for you to maintain. The price of a utensil can sometimes indicate its quality, but not always. Now it's time for us to reveal the very best vegetable peeler, so you won't feel betrayed by purchasing a low-quality one at such a high price. The best quality vegetable peeler will be durable. It will be easy to maintain and have high-quality materials, so it will last for many years. It sounds like a good investment, right?
How We Picked
Shape - Y-shaped or straight swivel?

Peelers can either be Y-shaped or use a straight swivel shape. Each has different pros and cons. Y-shaped handles are ideal for peeling larger vegetables but can struggle with smaller ones. Straight swivel-shaped peelers can be ideal for rounder fruits and vegetables. We considered how the different shapes impact the usability of each peeler we reviewed.


Blade quality and type

There are two types of blade materials commonly used for peelers, namely stainless steel, and ceramic. Of the two materials, stainless steel has the best sharpness. However, stainless steel is more prone to rust and becomes dull. On the other hand, you should choose a ceramic peeler if you want to avoid the risk of rust.


Handle

The peeler with an easy-grip handle will help you use it more freely. In other words, even if you have a lot of food ingredients that you need to peel, you won't get tired easily.


Price

The price sometimes tells the quality of a utensil but sometimes we can be surprised.
No one wants to pay too much for something, or too little for a bad product. Our selection offers a range of well-made peelers at good prices.

Care and maintenance
You can make an easy clean with a sponge, but avoid touching the blade with your bare hands. If any fruit or vegetable peel gets stuck, simply remove the skin from the blade; after that, you can wash and dry it before you store it.
We don't recommend putting it in the dishwasher, but if you must, you can lay it down or stand it up. When it comes out, give it a quick shake, and then you are good to go. The peeler will last longer if it is kept clean and dry after use. You have to make sure that you've cleaned and dried it thoroughly before you store it in your cabinets. Your peeler should be stored in a dry, not wet, environment to avoid rusting.
To remove rust from a potato peeler, simply take a drop of cooking oil, such as olive oil, and swipe it along the blade, making sure to cover the entire surface. This will clean off any rust spots and restore the peeler to its original condition.