The Best Vacuum Sealer for 2023
You can avoid freezer burns, prolong the freshness of your food, and keep your kitchen organised and odor free with these top vacuum sealers.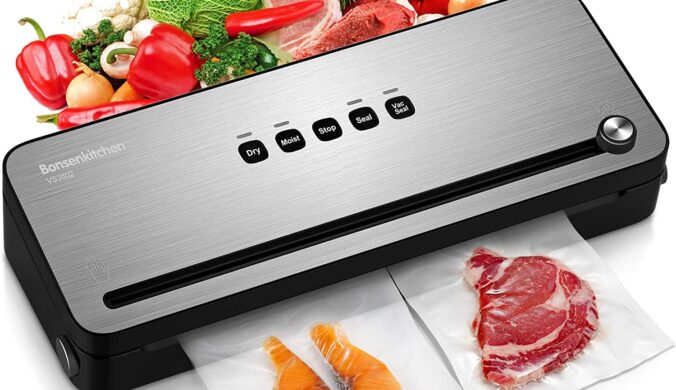 Whether you are a fan of meal prepping, batch cooking, or want to preserve your food for longer, a vacuum sealer will save you time, space, and money. Air trapped in food containers and bags can speed up food spoilage or taste degradation even when the food is refrigerated. You should vacuum seal food if you want to keep it fresh for a longer period of time — months, even. All you need to do is get a dependable vacuum sealer for proper food storage and preservation. Even better, you can vacuum-seal dry and moist foods in addition to cooked and uncooked foods. Besides, vacuum-sealed food also occupies less space on the shelf or refrigerator. This review goes into great detail to shed light on everything you need to know about purchasing and using a vacuum sealer.
How We Picked
Type of Sealer

There are two different kinds of sealers: vacuum sealers and chamber sealers. A vacuum sealer removes all of the air from a food bag or container, whereas a chamber-style sealer removes all of the air and creates an airtight seal at the bag's edge. Vacuum sealers are ideal for storing dry foods, whereas chamber-style sealers are ideal for storing moist and liquid foods.

Secure Seal

A vacuum sealer should create an airtight seal to prevent air from re-entering your food bag. A reasonably thick seal will last quite well. As a result, we only used vacuum sealers capable of creating a secure seal.

Durability

A vacuum sealer is not something you want to keep purchasing. That's why it's important to purchase a quality one that will serve you well in the long run.

Cost-Effectiveness

Everyone wants to get high-quality products at the lowest possible price. Therefore, we went with feature-rich sealers with a decent price tag.
Our Top Picks
Our Top Pick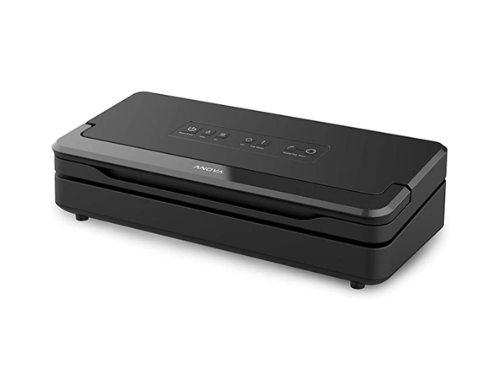 Compared to other vacuum sealers with the same features, the Anova Precision Vacuum Sealer is significantly smaller.
The Anova Precision Vacuum Sealer is very compact, even though it has a built-in bag cutter and a slot for bag storage. It has multiple controls that allow you to set how you do your sealing. You also get to choose between modes, whether it's moist or dry food. You can also choose to seal without vacuuming.

This is a well-designed and durable vacuum sealer that is definitely worth its high price.
Our Runner-Up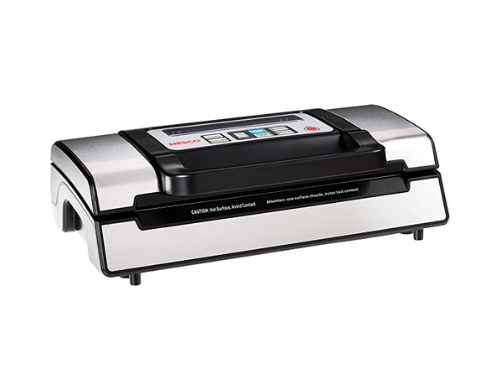 The Nesco Vacuum Sealer offers the option to double seal bags, which is ideal for a secure seal.
The Nesco Deluxe Vacuum Sealer VS-12 offers powerful suction; it can also attain a vacuum strength of 25.1 in Hg, the same vacuum strength as our top pick. It also has options to choose between moist or dry sealing; the moist mode extends the sealing time to ensure an even more secure closure, while the dry mode seals as normal.
If you seal larger food items, you will love the Nesco Deluxe vacuum sealer.
Most Cost-Effective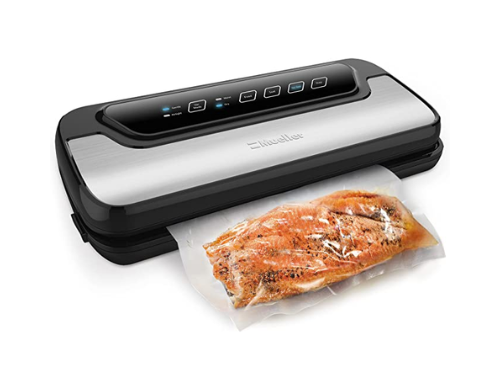 When compared to using containers or zipper bags, the Mueller Vacuum Sealers can preserve food up to five times longer.
The Mueller comes with all the major functions at a very affordable price. It is very light and not too bulky to move or store. The Mueller Vacuum Sealer is also easy to use with its dual control options for dry or moist foods. It also has a fully automatic control panel with LED lights that make operating it more beautiful and easier.
Want to save more money and get quality at the same time? This is for you.
Everything We Recommend
Our Top Pick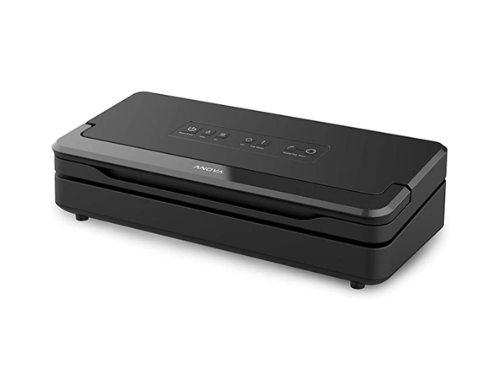 Compared to other vacuum sealers with the same features, the Anova Precision Vacuum Sealer is significantly smaller.
$139.32
Our Runner-Up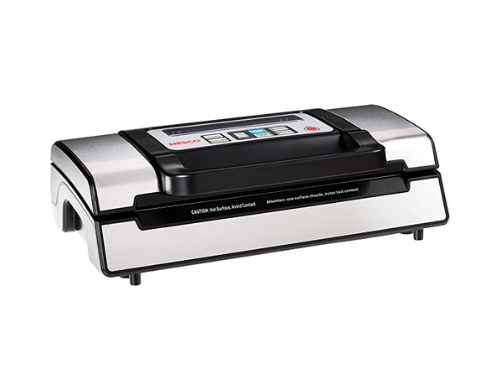 The Nesco Vacuum Sealer offers the option to double seal bags, which is ideal for a secure seal.
$88.00 ($88.00 / count)
Most Cost-Effective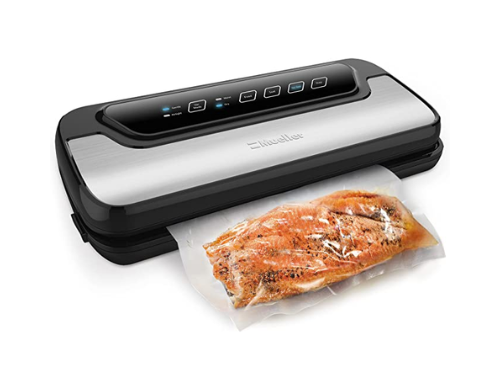 When compared to using containers or zipper bags, the Mueller Vacuum Sealers can preserve food up to five times longer.
$49.97
Who This Is For
The products advertised here are for everyone who desires to put an end to food waste and ineffective food storage in their home. Having a vacuum sealer at this time would not only be a wise investment, but it would also make life easier.
With a vacuum sealer, you can easily store and preserve your meat and cheese for an unbelievable period, no matter how bulky they might be. Also, at certain times when you use ingredients and there is still quite some amount in the pack, you can save them efficiently for later with a vacuum sealer.
Owning a vacuum sealer also offers you the privilege of re-sealing products or bagged items; you can therefore use, seal, reuse, and yet seal as many times as you want to. You can also keep wines fresh by freezing them and storing them in vacuum bags; it'll help retain their taste and keep them intact.
Amazingly, you can also preserve non-food items with a vacuum sealer. The vacuum sealer offers you several interesting options. Vacuum packing is a method that will help you plan your menu and home budget, which in turn will help you save more money.
Vacuum sealing also protects food from freezer burns and dehydration, allowing you to keep your fresh food for a longer period.
Using a vacuum sealer is one of the best ways to reduce food waste. And it even doesn't use any sort of chemical preservation. It's indeed a great choice to have a vacuum sealer.
What is a vacuum sealer?
A vacuum sealer removes the air from the space around your food and then uses a heated seal bar to fuse the sides of the bag, preventing the air from leaking back into the bag.
When food is exposed to the air, it spoils and goes stale quickly. So, a vacuum sealer seals your food in an airtight bag, allowing it to stay fresh for a long time. It also helps prevent freezer burns, which can affect the taste and texture of your food.
Vacuum sealers keep food safe by inhibiting the growth of bacteria. Vacuum sealing deprives your food of oxygen. Mold and bacteria cannot grow without oxygen. The process of vacuum sealing seals a plastic bag's contents through the vacuum. Once the food is placed in a sealable bag, the air is removed by the vacuum sealer and the item remains intact for a long time, even though when storing a juicy or a liquid food item, it must be frozen for a few hours before it is sealed for long-term storage.
Different types of vacuum sealers?
There are different types of vacuum sealers:
Chamber vacuum sealers
With the Chamber Vacuum Sealer, you put your food in a vacuum bag and then place it in a chamber in the appliance. The air in the chamber is then removed, and the air pressure, as a result, stays equal to the pressure in the pouch.
Interestingly, with a chamber vacuum, the vacuum is created without sucking, which makes you able to vacuum seal not just solid food products but also soups, juices, stocks, and some other liquids. You can also use the chamber to control the amount of vacuum created in the container.
The chamber vacuum sealer is a fantastic type of vacuum sealer, but due to their high cost, they are only suitable for commercial kitchen use and not for home use. They are also very big because they fit well for commercial food production, where large amounts of food are packed daily. Because of their large size, they can pack multiple portions of food at once.
External or suction vacuum sealers
Designed for the more modest demands of the home cook or a smaller commercial kitchen, external vacuum sealers are smaller than chamber vacuum models and generally far cheaper.
With external vacuum sealers, the vacuum bag with the food inside stays outside of the machine. You get to put the vacuum bag on and seal its neck after the air in it has been extracted.
External vacuum appliances, however, use suction to create a vacuum, and as a result, there can be problems if you want to vacuum seal liquids, as much of the liquid might get sucked out of the bag or not seal effectively because of damp edges. The perfect way to avoid this is to get your items frozen before vacuum sealing. External (suction) vacuum sealer machines are perfect for home use
Handheld vacuum sealers
The handheld vacuum sealer works similarly to the external vacuum sealer, except that it has some amazing features that make it easier to handle due to its portability. It also has bags that house your item, and the air is extracted from the bag and then hand-sealed afterward. You might need to get a bag that fits your sealer.
Handheld sealers are very convenient to use and are also rechargeable. Their size and the fact that they are rechargeable make handheld machines highly portable. Handheld devices are also very cheap compared to other types of vacuum sealers. They would make a great choice for anyone who wants to go on a trip and would like to go with a vacuum sealer.
How long does food last in an airtight bag?
Different types of food can be stored in a vacuum sealer, and how long they stay there might depend on the type of food in question. Meats, like beef, poultry, and fish, would stay intact only for a few months when stored with other preservation methods, but in an airtight bag, you can extend their shelf life to about two to three years. When you vacuum seal frozen foods, they have a very strong tendency to last for 2–3 years, which is much longer than when stored using other conventional techniques.
Why You Should Trust Us
We have carefully picked the best vacuum sealers just for you, with your best interests always at the back of our minds. We've looked out for effectiveness, adequacy, security, and cost-effectiveness in our selected products, all just for you.
How We Picked
We remain committed to giving you the best reviews when it comes to making your choices. We will typically search through various products, examining their distinct features and reasons why they may be the best fit for you. We took our time to analyze our choices based on past customers' experiences and their reviews of their use and choice of vacuum sealers.
We examined and evaluated our picks based on the following features:
Size
The size of the vacuum sealers we tested was a particular feature we looked for. We do not want bulky sealers that pose a problem with storage. As a result, we focused heavily on sizes.
Price
The cost of the sealers we tested was a major consideration in our testing and evaluation. Different products are always set at different prices, and affordability must be considered alongside our search for quality. So we checked out the costs.
Suction strength
To avoid the issue of weak suction and inadequate security of vacuum storage bags as a result of bad sealing, we took the suction strength of the sealers we tested into consideration. While some had double sealing, we checked out others that had quite a strong suction.
Ease of operation
We also noted how well the sealers worked and how easy their operation was. That was a fundamental factor we considered when making our selections. Hence, we base our selections on each product's features to ensure that we come up with the best vacuum sealers just for you and that whatever product we recommend to you will serve its desired purpose.
Care and Maintenance
What kind of food can you vacuum seal?
Any type of food can be vacuum-packed. Foods that we usually keep in the refrigerator, such as cold cuts, desserts, poultry, raw fruit and vegetables, cooked soups, cottage cheese, ready meals, and many more, can be vacuum sealed. Foods that we also freeze, such as fruits, cold cuts, meat, dumplings, frozen vegetables, fish, and many more, can also be vacuum sealed. Foods that we usually store on shelves, such as bread, cakes, pasta, rice, coffee, and many others, can also be vacuum sealed.
How much food can go in each bag?
A bag of size 8 by 10 can hold a quart of liquids or solids and still have extra space to ensure sealing. The extra room left in the bag is enough for one more pint if needed. One-half gallon is the same as two quarts
How to clean the bags after use
You can clean vacuum bags and rinse them with hot water. Reattach it once it's dry. For reusable bags, shake out the dust in a garbage bag and either rinse with hot water or throw it in your washing machine and let it air dry. It is very simple to clean vacuum bags, and no difficult cleaning is required. Just make sure that the detergent you wish to use does not contain any acids or harsh chemicals, as these could damage the material. Vacuum cleaner bags are reusable.
How to clean a vacuum sealer
Before beginning the process of cleaning, first unplug the vacuum cleaner from the electrical outlet. Clean the device with water and antibacterial soap, but proceed slowly.
Ensuring thorough cleaning by using a damp cloth or rag, a paper towel, or a sponge to wipe it down is an easy process.
Try to perform a thorough wipe on the buttons and vacuum channel to get rid of the bacteria.
After the cleaning process is somehow completed, using the damp rag or sponge, rinse the wiper and then wipe off the machine to remove all the soap from the surface.
The final stage of the cleaning process includes the surfaces of the appliances. Once that is done, you can now plug the machine back into the electric outlet, and it will be ready for use.
Things to keep in mind when cleaning
Avoid the use of harsh chemicals because they might risk the vacuum and increase the chances of the food being contaminated. Try not to submerge the sealer in water, as this might damage the inner workings of the machine.
Always unplug the unit before cleaning.
Avoid submerging in water.
Do not use abrasives to clean the unit.
Clean the outside with a very soft, damp cloth.
While cleaning the inside of the unit, remove any food substances with a tissue.
Allow it to dry completely before plugging it in and using it.
Vacuum chambers may trap liquids that were drawn from the bag; use mild dish soap and a warm, damp cloth to wipe away any left-behind liquid from the vacuum chamber and dry thoroughly.