The Best Vacuum Cleaner for 2023
Cleaning doesn't have to be a dreadful task if you get yourself a vacuum cleaner!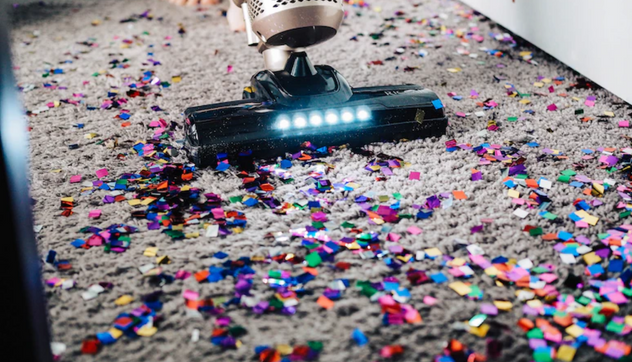 To make household cleaning a breeze, you need the best vacuum cleaner that's effective at picking up dust, grime, and dirt. There are numerous types of vacuum cleaners on the market and deciding which vacuum cleaner best suits your needs can be confusing. Do you want wired or wireless? Or maybe a 2-in-1 stand that converts into a handheld for small cleaning jobs. If you want to relax and put your feet up, let a self-draining robot vacuum do all the hard work. This article has put together a detailed selection of the best vacuum cleaners to suit every home, lifestyle, and budget.
How We Picked
Ease of Use/Weight/Size

No matter how great a vacuum cleaner might be in terms of specs, it needs to be easy to maneuver around corners and easy to carry up and down stairs. We also took into account the size of the dust bag or mug. The larger it is, the less often it needs to be changed.


Noise

Noise is also a notable consideration. Some vacuum cleaners can be so noisy that it is almost unbearable to use. Therefore, we looked at vacuums that could run at relatively low noise levels so you could easily hear the phone or doorbell.

Bagged or Bagless

We considered both bagged and bagless vacuums, as each has its own pros and cons, and each consumer out there has a unique preference.

Cost-Effectiveness

Even vacuum cleaners that fall into the same category can differ drastically in terms of cost. So we looked for the ones that were the most effective yet cost-effective.

Our Top Picks
Best Pick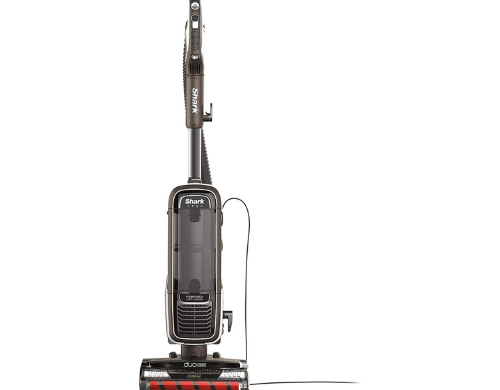 This choice may be bigger and a little bit costlier than others, but it's 100% worth it.
This vacuum delivers an incredible cleaning experience thanks to the self-cleaning dual brush roll system.
The Shark APEX vacuum has 101 inches of water buoyancy and 90 CFM of airflow, which is higher compared to some brands that are far more expensive. Put in the DuoClean head and this vacuum cleaner will work competently on a variety of surfaces, including rugs, carpets, and hard surfaces.
Runner Up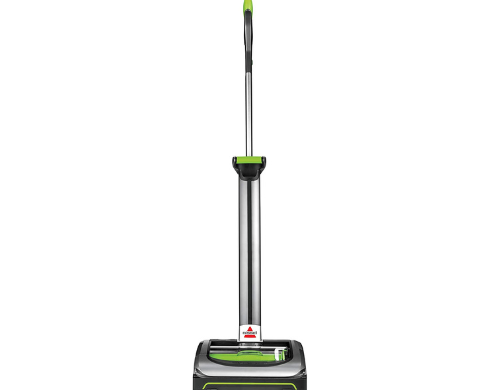 This choice is compact and effective, weighing less than 3 pounds with a collapsible handle.
This vacuum cleaner is constructed with a multi-surface brush roll and an innovative power foot design that provides high-performance cleaning on both carpets and hard floors.
The Bissell vacuum cleaner works very well on low-pile carpets, hardwood, and even bare floors. Consumers say it has powerful suction to pick up both surface and embedded dirt and dust. The low center of gravity makes it extremely light on the arm at less than a pound, so it's not tiring to move it around.
Most Cost-Effective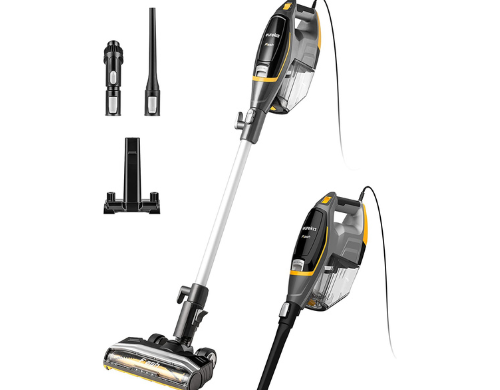 Want a quality vacuum cleaner that is worth more than the price? Well, here you have it!
This budget pick doesn't generate much noise, which is why we think it's a good choice.
This Eureka vacuum cleaner is up to the task of cleaning up all kinds of clutter in your bedroom, kitchen, bathroom, and more, and it will help you track them down with the floor headlight. For its more compact size and price, it works wonders on any type of surface.
Everything We Recommend
Best Pick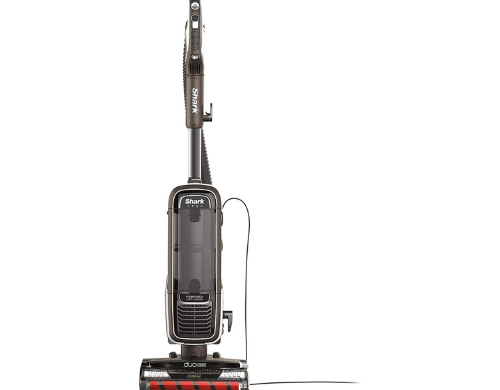 This choice may be bigger and a little bit costlier than others, but it's 100% worth it.
$358.90
Runner Up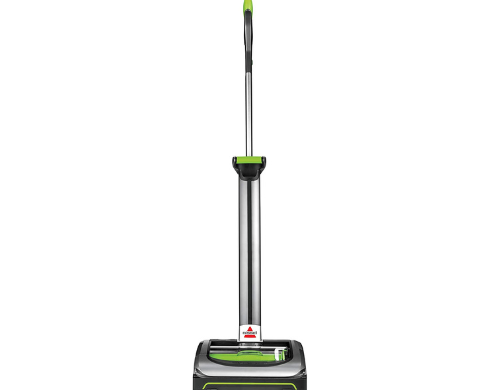 This choice is compact and effective, weighing less than 3 pounds with a collapsible handle.
$249.04
Most Cost-Effective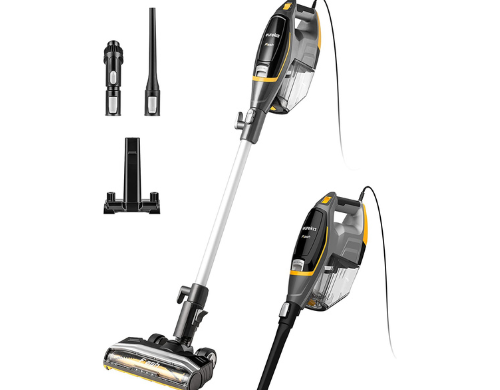 Want a quality vacuum cleaner that is worth more than the price? Well, here you have it!
$144.99
Who This Is For
The products reviewed here are for anyone looking for the best vacuum cleaners to keep their household effortlessly clean.
Different types of vacuum cleaners
Vacuum cleaners can be categorized by purpose and also by features. Based on purpose, vacuum cleaners can be categorized into;
Canister vacuum: This type works best on hard surfaces or smaller, carpeted areas like a car or stairs. They have a separate unit for the engine and are fitted with a suction hose and retractable cord for easy flexibility, versatility, and maneuverability.
Handheld vacuums: They're perfect for cleaning up after kids and pets because they're lightweight, quiet, and easy to use. They use a motorized impact brush that loosens and sucks up dirt. Features can include height adjustments for an easy transition from cleaning dense carpets to hardwood floors with the flick of a switch. Most handheld vacuums come with built-in accessories for versatile use.
Stick or sweeper: These vacuums are the middle ground between an upright and a handheld vacuum. They offer the convenience of a handheld vacuum but have the upright construction of a traditional vacuum, making them better suited for picking up spills on hardwood floors. They are most commonly used for quickly cleaning areas such as kitchen and bathroom floors.
Robot vacuum cleaners: These vacuum cleaners represent the latest in vacuum cleaning technology. Set the sensor limits, choose your settings and let your robot vacuum the floor for you. These cordless and compact vacuum cleaners clean precisely and save time. Although not as powerful or versatile as traditional vacuums, the constant cleaning action offers ease and comfort.
Deep cleaner: This type is known as a carpet shampooer or cleaner. It uses warm water to remove stains and treat carpets. These devices spray the mat with soapy water, then use vacuum technology to brush the fibers and vacuum water, dirt, and stains from the carpet. These vacuums are not designed for hardwood floors or everyday use.
Categorization based on characteristics includes;
Bagged vacuums: Bagged vacuums can often pick up more dirt before they need to be replaced. Emptying these vacuums also releases less dust into the air, and there's often an indicator light to tell you when it's time for a new bag.
Bagless vacuum cleaners: Helps to save money on replacement bags. They often have filters (like HEPA) that will eventually need to be cleaned and replaced, and emptying dirtbags can release more allergens into the air, which is safe to use.
Cordless: If you want to move freely around your home without the hassle of a cord, then a cordless vacuum is a great option. They are generally lighter than corded vacuums and are a good choice for those too weak to handle heavier vacuums. The main problem with this type of vacuum cleaner is that it runs on a battery, so you can only vacuum for a limited time.
HEPA filter: Vacuum cleaners with this feature have a unique filter system that even removes and traps bacterial particles from the floor and air of your home. Vacuum cleaners equipped with a HEPA filter are much better at removing dust and allergens from the air. By improving the air quality in your home and reducing allergens, they make it easier for your family members to breathe.
Do vacuum cleaners work on tiled floors?
Can a vacuum cleaner be used on tiles? Absolutely yes! A vacuum cleaner can be used for tiles by adjusting the cleaning options to the specific floor type. Depending on the type of floor, the vacuum cleaner will automatically change the cleaning itself.
Why You Should Trust Us
With thousands of options on the market and hundreds of brands claiming that their product is the best, it can get overwhelming when we go out looking for the best vacuum cleaner. Therefore, we have only tested previous user experiences and expert opinions to review the best vacuum cleaners on the market critically.
How We Picked
As we make our selections, we test each vacuum cleaner's ease of use. These tests include evaluating maneuverability, cordless vacuum cleaner battery life, ease of use of controls, and how easy it is to empty and clean the dust bin or change the bag. We also consider each model's weight, as a heavier and larger vacuum, cleaner is not always more powerful and undoubtedly not the most efficient. We have selected models sized to match their power and, of course, a model with suction power that fits your cleaning needs. Good quality suction ensures you don't have to vacuum the same part of the floor repeatedly before it's clean. The better the suction quality, the quicker you'll be done vacuuming. Because maneuverability can vary from one consumer to the next, we trawled through various customer reviews to rate the vacuums' maneuverability while running on bare floors and carpet, around corners, and under furniture.
We also evaluated categories like storage capacity, as some homes have much storage space, and others don't have an inch left. We also consider the noise level, as this is very important. A vacuum cleaner that is too loud not only disturbs the operator but can also disturb other people in the room or house. And we haven't yet met a pet that likes a noisy vacuum cleaner. The debate over whether to use a bagless or bagged vacuum is likely to continue for as long as vacuums exist, as each has its pros and cons, and everyone out there has their preferences, so we have opted for both bagged and bagless vacuum cleaners. We also considered cord length because the cord is a factor when it comes to a vacuum's cleaning range. And then some vacuums don't even include a line and only work on battery power, and some models have the option of using one or the other as a power source.
Even vacuum cleaners in the same category can differ drastically in terms of cost. That's why we chose vacuum cleaners that are guaranteed, cost-efficient, and carry the specs to get the job done effectively. While style/design isn't the most pressing issue, it certainly isn't something to overlook, so we selected models that you won't get tired of using or looking at with repeated use. All special features and requirements are also evaluated.
Care and Maintenance
A vacuum cleaner is a machine, and like any other piece of equipment in your household, proper maintenance is required to keep it working as efficiently as it should and give you better value for your money. Expensive vacuum cleaner repairs can be avoided with a little regular inspection and care.
Always unplug the vacuum first before beginning maintenance. It sounds obvious, but even accidentally flipping a switch can cause parts of the vacuum cleaner to start working unexpectedly, which could result in physical or electrical injury. Therefore, be careful with the vacuum cleaner cord. Avoid unplugging or using auto rewind when the cord is tangled or blocked.
Remember to keep it away from liquids to avoid getting electrocuted or even damaging the parts. If your vacuum suddenly stops working, it may mean that it has overheated. Turn it off, unplug it, and wait at least half an hour for it to cool down before using it again. This may be an indication that the vacuum needs repairing, so it may be wise to seek expert advice if the problem cannot be found. Check the vacuum cleaner bags regularly. They should not be filled to the brim before changing them, as vacuum cleaners can lose suction power if the bags are more than half full.
Always check the floor nozzle for clogs as one of the most important areas to focus on when servicing your vacuum cleaner is the flat attachment at the base of the hose that touches the floor, also known as the floor nozzle. By turning the head upside down and looking underneath, you can easily tell if it's clogged with dirt and needs cleaning. If it's clogged, open it by removing the bottom panel. It may come loose, or you may need to get a screwdriver. However, remember to make a note of any screws you remove. Carefully remove one end of the brush roll and make a note of which way it needs to be facing when replacing it. Pull out any lint, thread, or hair that may be tangled around the brush roll. You may need a small pair of scissors for any tangles.
After clearing the blockage, check that the reel is spinning properly. If not, unscrew the end caps and check the bearings inside for dirt buildup. This simple routine can save you vacuum cleaner repairs, but you'll need to replace the brush roll from time to time depending on usage.
A dirty filter means a less efficient machine, so making sure the filters on your vacuum are working properly is important for vacuum cleaner maintenance advice. Different models have different filtration systems, and while some are washable, others simply need to be replaced when used, so check your model's instructions on the vacuum cleaner parts before proceeding.
Your vacuum cleaner may also have multiple filters depending on whether it uses bags. Foam filters in the exhaust air can often be rinsed under the tap to clean them, but make sure you let them dry completely before putting them in the vacuum. Plastic filters can be easily dusted with a soft brush or cloth, preferably outside or above the bin. Also, monitor your vacuum for changes in noise and power to get an idea of ​​how often it needs attention.
However, this advice relates to general vacuum cleaner care and maintenance, so you should always consult the manufacturer's manual for specific instructions, particularly before removing any vacuum cleaner parts for cleaning.