The Best Utility Knives for 2023
With our top tips and roundup of favorites, you can find the best utility knife for your needs.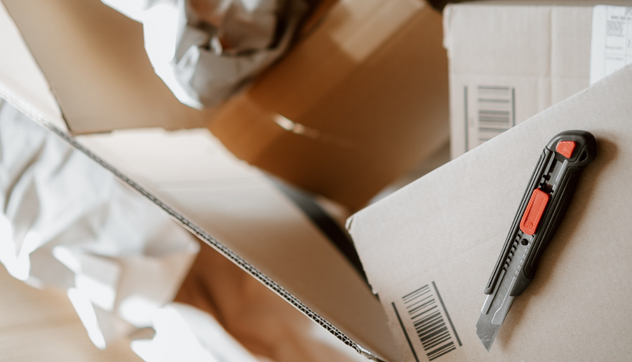 Opening a box or carton is a frustrating process, and no one can deny that removing the tape and packaging from a parcel can sometimes be difficult. We frequently end up destroying the entire package by tearing it into tiny pieces to get the product out of the box.
All of these tasks are made much easier by using a utility knife. A utility knife is a wonderful tool to keep in the junk drawer or toolbox at home. It uses a replaceable razor blade to cut, making the edge extremely sharp and disposable. We know there are thousands of utility knives available, so we conducted hours of research and tested various knives to select the best ones to meet your needs.
How We Picked
Type of Blade + Sharpness

The type of blade and the overall sharpness is the crucial factor to make a utility knife worth purchasing. Our picks will offer you a sharp blade that can cut anything with a swipe.


Foldable

A folding utility knife is to carry around. They are smaller and portable, and because the blade is completely covered when the knife is folded, they are safe to keep in your pocket.


Grip + Type of Handle

A solid and firm grip is essential to work effectively with a knife. If you use a utility knife daily, it is vital to buy a utility knife with a good grip and handle. Hand muscle fatigue can quickly set in if your utility knife grip is an uncomfortable fit for your hand or difficult to hold.


Price

Nobody wants to overspend on tools. That is why we considered price when selecting the best utility knife and found you the ones with the best quality at an affordable price.

Who This Is For
These utility knives are ideal for anyone wishing to pick up a practical yet sharp tool for everyday manual work. These knives have fixed blades with tough cutting edges that are appropriate for arduous tasks, including chopping cordage, scraping hides, butchering animals, cleaning fish scales, and shaping wood, among others.
Utility knife vs. a regular one
A utility knife is a tool with added benefits and features. The only things that can be sliced with a traditional knife are vegetables, meat, milk, and juice packs. A utility knife is an excellent instrument for cutting through a variety of materials, including cardboard, plastic, tape, and wood. Additionally, compared to a conventional knife, a utility knife can give you far more adaptability and added value.
Why You Should Trust Us
Our qualified employees are passionate about what they do and are experts in their field of writing, so they go over and beyond to provide you with the best advice to assist you with the purchasing process. You can rely on us because we are loyal to our customers and will provide you with an unbiased and entirely sincere opinion about the items that speak to you.
How We Picked
We must admit that finding these utility knives wasn't easy because there are so many of them out there. To provide you with the best list, we did extensive research and had to sift through innumerable articles. Additionally, we work to preserve the quality and characteristics of our products by keeping in mind the most crucial factors.
Type of blade
It's important to know what you'll be using the knife for. This includes what you will be cutting and how often it will be used. The blade will often be dictated by what you are cutting, as you will need to ensure that your knife is able to withstand prolonged use without becoming blunt or breaking.
Sharpness
Make sure that the utility knife blade is sharp enough. A sharp blade is always safer than a dull or deformed blade. It will also be easier to perform cutting work with a sharp blade.
Foldable
The choice of folding knives is a wise one. Whether they fold out or slide out, folding utility knives are pocket-friendly, high-quality, and useful. You can carry one without taking up too much space or adding too much weight to your everyday carry. The ergonomic design of the folding utility knife, with its central finger hole, allows you to have a firm grip and maintain control over the tool.
Weight
For activities, when ounces become pounds and pounds become a burden, you quickly start to think about each thing you carry. When hiking or backpacking, we never want to be without a reliable cutting instrument, so having the option of a utility knife that weighs less than 0.5 ounces makes it much easier to carry along.
Design/Handles
The type of handle you use is generally determined by how frequently you use the knife. If you frequently cut objects with repetitive motions, you should use a knife that was designed with ergonomics in mind to reduce your risk of suffering a strain injury. This includes the angle at which the knife should be held, the grip of the handle (particularly if gloves are worn while cutting), and any buttons if a retractable blade is being utilized. Think about the knife's ease of use or difficulty in using it, as well as how solid it feels in your hand.
Durability
Make sure to get durable utility knives because high-quality hand tools are known for being dependable. They make it safer to complete a task because they won't break down when you need them most. When used properly, they won't harm materials unnecessarily or put people in danger.
Price
Some of the most common types of these tools come in a variety of price ranges. Knife prices differ depending on the brand and model. We took care to select manufacturers who provide high quality at reasonable prices.
Care and Maintenance
How to clean
Tools get dirty — that's a given! Your utility knife will inevitably accumulate dirt, filth, soot, and possibly even oil, depending on how you use it. Regular cleaning can help keep your knife from rusting and ensure it stays in good shape. It's important not to soak your utility knife; instead, use a damp cloth and a chemical-free cleaner to clean away grease, oil, and dirt.
What can I do if there's rust
If your knife rusts, you can start the oxidized metal coating's dissolution process by soaking it in vinegar overnight. Then, clean it with water and wash it down with fine-grade steel wool and light machine oil to eliminate any remaining rust and prevent additional moisture damage.
Safety tips
Many people use utility knives to cut strapping, puncture shrinkwrap, and open packaging. But one wrong move and these retractable blades can do serious harm.
The following are safety precautions to keep in mind when using utility knives:
Wear safety glasses to protect your eyes in case a blade breaks.
Always use a sharp blade. They are safer than a dull blade.
Wear cut-resistant gloves and sleeves (at least Level 3) to protect your hands and arms.
Ensure the blades are properly positioned in the handle before use.
Keep extremities out of the cutting path.
Don't apply too much pressure on the blade.
Follow the manufacturer's instructions when changing blades.
Don't use utility knives to pry loose objects.
Keep these knives away from children
After usage, store them in a safe location.
Dull blade disposal
Utility knife blades get dull after only a few uses. You will know when the blade is gone dull as it will require more cutting force exerted. When disposing of blades, be sure to take note of the following:
Do not use a box knife with a dull blade.
Keep spare blades handy and accessible, but away from kids and pets.
Don't dispose of dull blades in trash cans.
Dispose of dull blades in a leak-proof container(Old coffee can w/ lid, plastic box with lid.)