The Best USB-C MacBook and Laptop Chargers for 2023
Power up your MacBook or laptop with the most efficient and reliable USB-C chargers.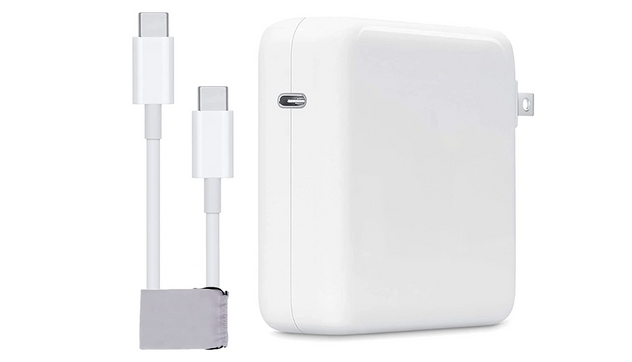 USB-C is the future of charging, it is the latest standard for connecting devices to your computer, and is quickly becoming a must-have. The USB-C is a new type of charging technology that has been making waves in the tech world. This type of charger is an evolution of the USB port, which we've been using for years now. The new USB-C charger is smaller and thinner than its predecessor, but it's also more powerful.
If you're looking for an effective way to keep your devices charged up and ready to go, look no further than our favorite USB-C chargers. Our selections are designed for both MacBooks and laptops as well as smartphones, tablets, and more.
How We Picked
Power/Charging Speed

This determines how long a single charge will take. A fast charger will charge your device more quickly, but a slow charger will take longer to complete the same task.

Size/Weight/Portability

It is a perfect idea to have a lightweight charger that you can take with you anywhere. Without forfeiting power, your charger needs to be small enough for easy portability.

Number of ports

A good USB-C Macbook and Laptop Charger will have at least one port, but ideally, you'll want two or more. This way, if you need to plug in more than one laptop or MacBook simultaneously, you can do so without having to unplug another device from your laptop or phone.

Cost-Effectiveness

The charger you choose should be as cost-effective as possible since you'll be using it every day to charge your device. We recommend choosing a USB-C Macbook or Laptop Charger that will be worth every dollar spent.
Who This Is For
These USB-C MacBook and Laptop Chargers are great for anyone who requires dependable power to charge their MacBooks or laptops. These chargers are compact and portable, so you can take them with you wherever you go. The best part is that they're compatible with all USB-C devices, so they'll work with any Mac or PC that has a USB-C port. The charger itself is small enough to fit in your pocket but large enough to charge your laptop quickly.
Can You Charge a Laptop with a USB-C Charger?
You can charge your laptop with the USB-C charger if your device supports it. You should make sure that the charger is compatible with your laptop, and also check whether it has a USB-C cable that is compatible with your device. The charging rates of USB-C chargers are very high — they can charge at up to 20V/5A (60W) or even higher. If you have an older laptop with a different type of port, it may not be able to handle this power level, so you'll want to make sure your laptop has the right adapter before charging.
Are All Devices Compatible with USB-C Chargers?
USB-C is a new standard for connecting your laptop or computer to an external charger. Many USB-C chargers are compatible with many different devices, but not all. To find out if your device will work with a USB-C charger, check its specifications and features. If it can be connected to a standard micro-USB socket, it is likely compatible with a USB-C port. If it uses a USB Type C port (sometimes referred to as "USB Type C to Micro" or "USB-C to M"), then it will probably have the same power requirements as other devices that share this port size.
Why You Should Trust Us
We know that finding the best USB-C MacBook and Laptop Chargers can be a challenge. There are so many options out there, and it can be hard to keep track of them all. We've researched for you, so you don't have to! We have evaluated dozens of USB-C MacBook and laptop chargers in the market and made sure they're all safe, reliable, and up-to-date with the latest technology, so we can tell you with confidence that these are the top picks for your next purchase.
How We Picked
We evaluated many top USB-C MacBooks and Laptop chargers to come up with the best one by considering important features such as power, quality, wattage, and weight. We looked at the reviews of other users on Amazon and a few other retail websites to see what they thought about the products. We also looked at how people used their products and how long they lasted before deciding if it was a good purchase or not. Finally, we considered how much money people spend on these items because some were more expensive than others but still worth it in our opinion. During our evaluation, these are the vital features we considered:
Number of Ports
If you need to charge multiple devices at once, a USB-C charger with many ports is advised. The number of ports on your USB-C charger matters because it determines how many devices you can connect to it at once; the more ports, the more devices that can be charged simultaneously.
Power
When looking for a charger for your laptop or MacBook, you should consider the power output of the charger. This will help you determine how fast your device can be charged when using the charger. Basically, the higher the power level, the faster your laptop will charge up.
Charging Speed
Because the charging speeds of different USB-C MacBooks and laptop chargers are not equal, it is important to choose a charger that charges your MacBook or laptop as quickly as possible. This may be crucial if you have a limited amount of time before needing to recharge your device.
Size
There are many different sizes of USB-C chargers available, so picking the best charger that fits your size preference is important. The charger's size affects how easy it will be to carry around with you. For optimum portability, you should get one that is small enough to fit in your bag or purse without taking up too much space.
Weight
The heavier the charger, the heavier it is and it can be difficult to carry with you. Although some chargers are made to be light, they are usually not as durable as those that are heavier.
Portability
If you want to be able to take your charger along with you anywhere, then this is a feature that needs to be considered. Some chargers are too large and heavy to fit into small spaces or pockets but the most preferred ones are compact enough for this task without sacrificing quality or durability.
Price vs Quality
Choosing a great USB-C charger is not just about its quality, but also how much you'll have to pay for it. You need to make sure that you're getting value for your money, so it is important to carefully inspect the features of the charger before deciding whether or not it is worth buying. However, some products offer more value than others regardless of price. For example, if you're looking for something that will last longer than others, then it may be worth spending more on a high-quality charger like our top pick.
Style/Design
The design can range from simple to sleek and chic, so you want to make sure the charger you choose matches your style.
Wattage Input and Output
This feature determines how fast a USB-C MacBook or laptop charger can charge your device. This is important because the faster a charger can charge your device, the quicker it will be able to fully charge it before needing to recharge itself again. In general, most USB-C MacBook and laptop chargers will have a Wattage Input of around 2.4A or 3.2A which is enough to quickly charge most laptops or tablets but if you want something that can charge devices quickly then you should look for one with at least 4A or 5A input. If you're looking for something with a higher output then you should consider getting one with at least 6A output so that it can charge your MacBook or laptop quickly.
Care and maintenance
The cord of the USB-C charger is an important part of your MacBook or laptop. If you don't take care of it, it will break down and become unusable. We've got some tips for maintaining the cord of your USB-C charger so that it lasts as long as possible.
To prevent damage to the port and connectors of a USB-C charger, make sure that it is placed in the correct orientation. The USB-C connector should be facing down when plugged into a computer, and the plug should be inserted with the gold contacts facing up. This will ensure that contact between the device and charger is maintained, which is important to avoid damage to your laptop or MacBook Pro.
To maintain the cord of your USB-C charger, make sure that you clean off your cord after every use. You can use a soft-bristled toothbrush to scrub away any dirt or debris that may have collected there over time. Secondly, avoid bending the cord when you're carrying your laptop around or plugging it in. This can weaken the cable and cause it to break down more quickly than normal. Thirdly, remember that if you leave your charger plugged in overnight, or unplugged for too long at a time, there is a chance that it will stop working properly. To avoid this happening, unplugging your charger when not in use is a good idea!
The best way to store USB-C chargers and wires is in a plastic storage case. This keeps dust and moisture away from the chargers and wires, so they are ready for use whenever you need them. It is important to keep your cables organized and protected so they don't get tangled up or damaged.
The charger for your MacBook and laptop should be fully charged before use. The best way to do this is by plugging the charger into a wall outlet, and ensuring that the green light on the side of the charger starts blinking. If there are no lights on the charger, then it likely needs to be plugged in again. Once the green light is flashing, it is ready for use.
Before you can use your new USB-C MacBook or laptop charger, it is important to make sure that it is compatible with your device. This means that you need to know whether or not your device will charge using this charger. The easiest way to check whether or not your device will work with your USB-C charger is by checking if your device has a USB-C port. Some devices have one or more USB-C ports; others have a lightning connector instead. If your device doesn't have a USB-C port, then a USB-C charger will not work with it. You can also check if your device has an adapter. Some devices come with adapters that can be used to connect them to a computer or other power source; others don't come with adapters and must be connected using one of their own built-in ports (like mini-USB). Another method is checking out documentation from the manufacturer of your device or online resources like the device's official website.