The Best USB Audio Interface for 2023
A USB audio interface enables you to record studio-grade audio from just about anywhere.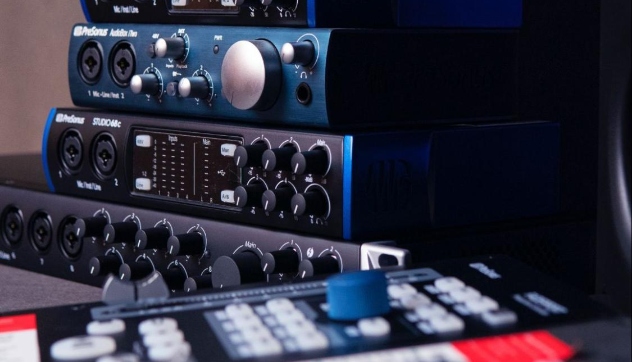 An audio interface is a necessary component of every recording studio, whether big or small. USB audio interfaces are among the most prevalent types of audio interfaces used today, even though a fantastic variety of options are available that use a range of protocols.
During recording sessions, having one of the best USB audio interfaces will allow you to get high-quality audio into and out of your computer and connect other necessary studio gear and instruments. They are often small and easy to carry, and they can function on the power provided by a USB port rather than a wall power outlet.
How We Picked
Number of Ports

It is important to have multiple ports on the audio interface. This allows you to connect several devices to the interface simultaneously.



Size/Portability

A portable audio interface may be taken to other locations for recording, so it must be manageable.



Features Available

To a greater extent, your needs will be met by a USB audio interface that offers more features. Features like monitor controls, low latency mixing, and digital audio workstations (DAWs) are essential.



Cost-Effectiveness

You'll want the highest quality for a reasonable price to ensure that your entire signal chain is as high as possible, including a high-quality USB audio interface.


Our Top Picks
Best Pick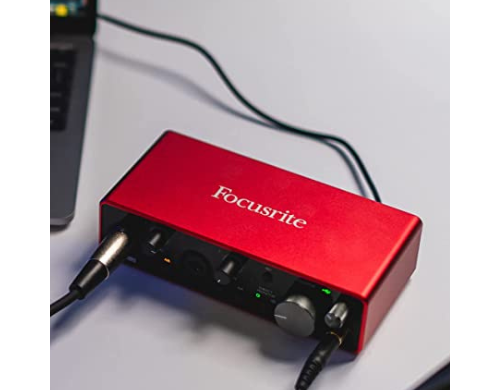 The best USB audio interface with two channels.
The Focusrite Scarlett 2i2 third generation is a low-cost, user-friendly recording and mixing tool.


The Focusrite 2i2 is a lightweight, portable audio interface that plugs into any computer or iPad. Its well-organized inputs and knobs and its clip lights make it simple to set up and use with any digital audio workstation, whether you're recording voices, acoustic instruments, or electric instruments.

Runner Up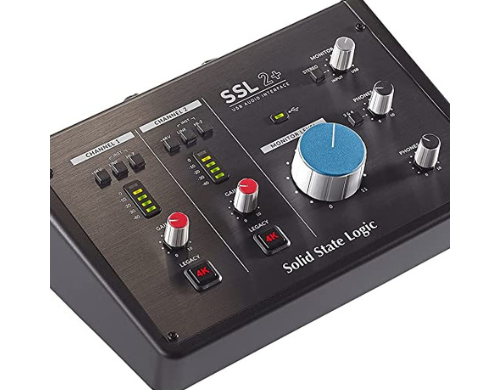 This pick strikes a balance between price and performance.
The SSL2+, a portable interface with professional functionality and connections, offers a low-cost way to obtain "the SSL sound."


The SSL 2/2+ has great performance and sound quality due to its high-end components. It's an entry into the competitive market for affordable studio equipment, incorporating 40 years' worth of technological advancement into a device that delivers superior results, although more costly than its competitors.

Most Cost-Effective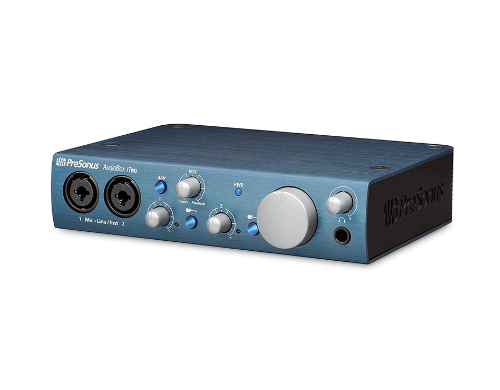 Simple and convenient mobile recording.
The PreSonus AudioBox iTwo is an iOS/Mac-PC interface with two channels that offers excellent value for the money.
The metal casing of the PreSonus AudioBox iTwo protects the device's longevity and makes it ideal for transport. The iTwo receives its power from the computer's USB port using the included USB cable and the same USB power adapter used by Apple's iOS devices. In terms of sound quality, it's excellent, and the pricing is reasonable.

Everything We Recommend
Best Pick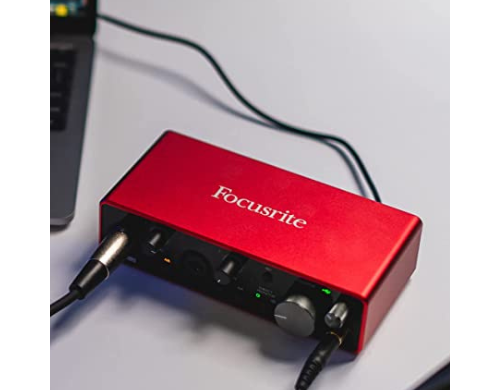 The best USB audio interface with two channels.
$159.99
Runner Up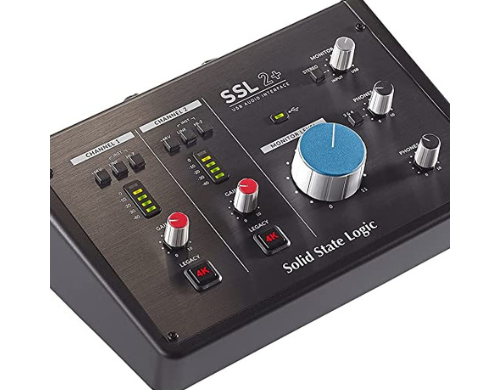 This pick strikes a balance between price and performance.
$229.99
Most Cost-Effective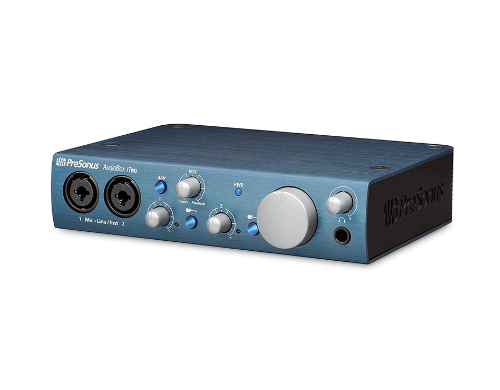 Simple and convenient mobile recording.
Who This Is For
If you wish to record instruments using a microphone or a line-in, an audio interface will come in handy. Audio interfaces are not only helpful in getting digital audio out of a computer and into speakers or mixers and lower audio latency on a computer, which is particularly useful for producers working on Windows machines.
So, if you're getting started in music production and want to maximize your recording's potential, an audio interface is what you need.
What is a USB Audio Interface?
When connected to a computer, a USB audio interface digitizes analog audio signals (such as your voice) for use on the device. They may differ in many ways, including quality, features, inputs, and outputs.
With features like an inbuilt microphone and instrument preamps, a separate speaker (studio monitor), and headphone outputs, these products are tailor-made for professional audio applications and provide exceptional sound quality.
What can you do with an audio interface?
Audio interfaces enable you to plug audio sources like microphones and guitar wires into a computer and record using a digital audio interface. It also offers outputs that let you listen to the recorded or live incoming audio via the computer's speakers, headphones, or studio monitors.
Why You Should Trust Us
If you plan on spending significant time creating music on a PC or Mac, an audio interface is a must-have item for your home recording setup. We've researched and selected the top USB audio interface for recording electric and acoustic guitars, mics, synthesizers, and any other musical instrument with an output into your preferred digital audio workstation.
How We Picked
USB audio interfaces that come in many different shapes and sizes, and some can record 16 or more inputs at the same time. We looked at what other customers said and found that most would want a USB interface with at least two XLR inputs that work with microphones and line/instrument sources.
We looked at many USB audio interfaces that come in different sizes. The audio interface should have sufficient ports and features to meet the requirements of the majority of its users, regardless of the size of the audio interface.
We prioritized portableness and the ability to run from the USB port on your computer to choose the best audio interfaces. We also looked at how simple it was to use, so you should spend less time reading the handbook to connect the interface to your computer.
You will discover that the audio quality and features are significant factors in our review process across the board for all of your available options. But they should also be durable with a good build quality to justify the price vs. quality.
Care and Maintenance
Obviously, you'll need to connect your interface's included power cable or adapter to an electrical outlet or power bank for it to function. There will also be a USB cable included, which must be connected to your computer for the interface to function.
The purpose of your interface is to record sound waves produced by your microphone or other instruments.
Be sure your computer is compatible with your audio interface before proceeding. Check the audio device's product page for the minimum and recommended system requirements and compare them to your computer's capabilities.
If your interface isn't supported, you may have to update your operating system or switch to one that is. To get the most out of your audio interface, it's important to use the company's most up-to-date driver software.
If your computer is not recognizing your audio interface, try connecting it to a different port on your computer with a different cable.
After you see your device in Device Manager, double-check that it shows up in Sound Settings. If not, you must install the most recent driver.
When your computer does recognize your audio interface, the next thing to do is to adjust your system-wide audio settings.
Having established that your computer can communicate with your interface, you must next configure your digital audio workstation (DAW) to make use of it.
Now that your DAW can talk to the interface, you only have one more thing to do. First, you have to find and choose the right input; next, you only have to turn on the track's recording feature.
Remember that the audio interface should be left on during sessions but switched off when not in use. When using an interface and a preamp, the interface should be the first item turned on and the last thing turned off in the setup to prevent spikes from propagating through the remainder of the system when components are switched on.
In addition, using USB extension cords is not advised. Longer USB cables, for example, might impede sound transmission, so you should avoid using them.
If your audio interface does not function properly despite testing its controls, inputs, outputs, gain controls, volume knobs, switches, power adapter, USB connections, and routing through your DAW on your PC or laptop, it is likely that some component or materials making up the audio interface are broken.