The Best Upright Vacuum of 2023
Keep your home spic and span with one of the best vacuums - ranging from upright to canister styles - available on the market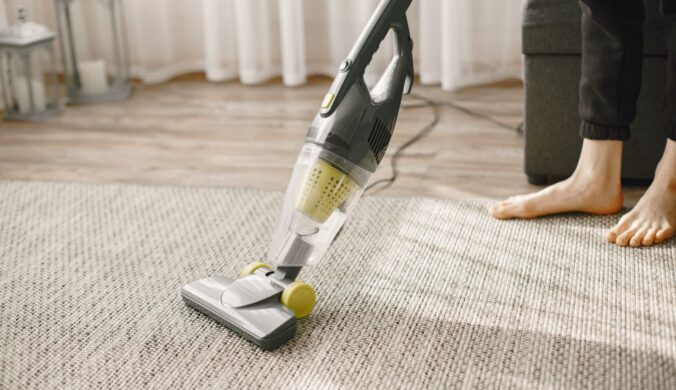 Cleaning the house might not be the most fun chore, but it needs to be done. While dusting and mopping gets the job done, it isn't always enough. This is where vacuum cleaners come in, and we have come up with a great guide for this practical and convenient appliance.
Vacuum cleaners are handy appliances to clean most nooks and crannies of your home, clearing out the invisible dust and dirt from almost all kinds of floors. And if you have pets, they are quite handy in removing the pet hair from the rugs, carpets, sofas, and floors too. While they are available in stick, robotic, upright, and canister versions, we have found the latter two to be more efficient for overall cleaning.
There are different models of upright and canister vacuums available to choose from, and our list will help you pick the right one for your lifestyle.
How We Picked
Suction Power

The suction power of the vacuum cleaner determines how well it can remove dirt and dust from surfaces, which is why this was one of the main criteria for choosing the best upright and canister vacuums.

Attachments

Separate attachments for different corners of the house are a practical feature for any vacuum cleaner. We looked at various models to select vacuums that come with the right attachments for a thorough cleaning.

Size, Capacity, and Weight

Having to lug around a heavy and bulky vacuum is only going to create inconvenience while cleaning, so we evaluated vacuum cleaners for size, weight, and capacity to find the best ones.

Cost-Effectiveness

Since a vacuum is an essential household appliance, there should be no compromise on the functionality for the price. Hence, we have looked at standard and budget buys to select the right upright and canister vacuum cleaners.
Our Top Picks
Our Top Pick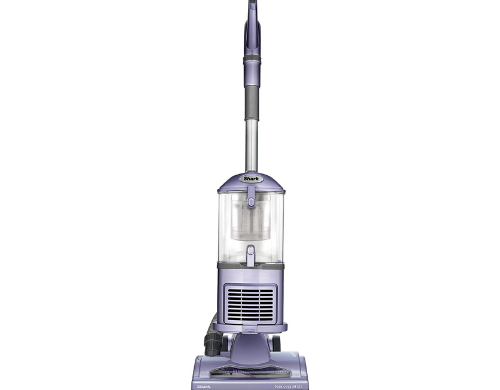 The Shark Navigator Lift-Away N352 brings portability to remove dust and dirt easily.
The Shark Navigator Lift-Away NV352 upright vacuum is a great buy for cleaning your home. Lightweight and powerful, it comes with swivel steering which makes it easy to maneuver. It has excellent reviews for ease of cleaning. It also has good suction power, which allows for more efficiency.
This bagless upright vacuum is ideal for most spaces for a thorough cleaning.
Our Runner-Up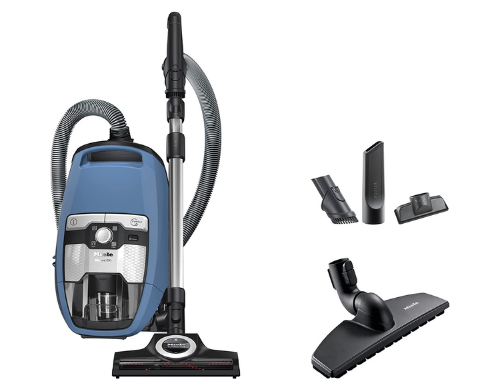 The Miele Blizzard CX1 Turbo Team is an efficient bagless canister vacuum for deep cleaning.
The Miele Blizzard CX1 Turbo Team bagless canister vacuum offers higher cleaning capacity with its vortex technology. This mid-range vacuum is great for cleaning up dust and dirt from hard floors as well as pile rugs. It also brings the added benefit of an automatic cleaning system for cleaning the filter without being surrounded by dust.
This bagless canister vacuum with a maintenance-free HEPA filter is ideal for different surfaces.
Most Cost-Effective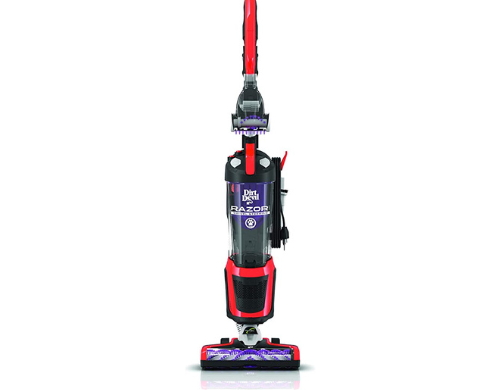 The Dirt Devil Razor Pet Bagless Multi Floor Upright Vacuum Cleaner is an affordable vacuum.
If you are looking for a cost-effective upright or canister vacuum cleaner, then the Dirt Devil Razor Pet Bagless Multi Floor Upright Vacuum Cleaner is for you. It is lightweight and easy to maneuver and gets rid of pet hair too. It might not have the advanced features of a high-end vacuum but it certainly gets the job done for basic cleaning.
This budget buy makes short work of pet hair and dirt.
Everything We Recommend
Our Top Pick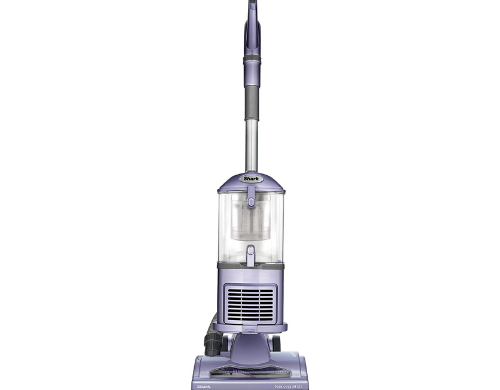 The Shark Navigator Lift-Away N352 brings portability to remove dust and dirt easily.
$179.49
Our Runner-Up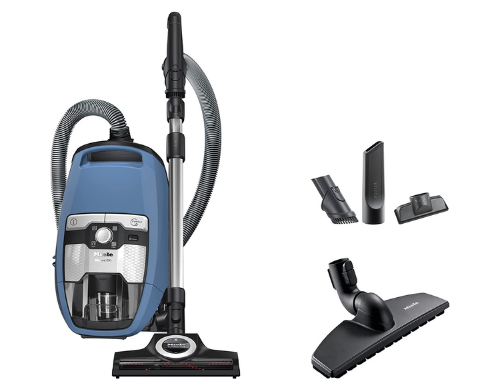 The Miele Blizzard CX1 Turbo Team is an efficient bagless canister vacuum for deep cleaning.
$635.55
Most Cost-Effective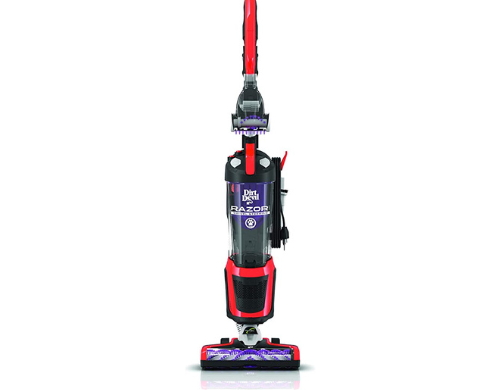 The Dirt Devil Razor Pet Bagless Multi Floor Upright Vacuum Cleaner is an affordable vacuum.
$129.99
Who This Is For
This guide is meant for those who are planning to buy their very first vacuum cleaner or looking to upgrade their existing machine and want something conventional and reliable.
Differences in an Upright and Canister Vacuum in Comparison to Regular Vacuums
Upright and canister vacuums have higher suction power and while their cords might appear to be a drawback in a comparison with the stick and robotic vacuum cleaners, they more than make up for this with their powerful performance. Additionally, upright and canister vacuums can be used for as long as the cleaning process takes as there is no risk of the battery running out.
How Many Amps Should a Good Vacuum Have?
A higher amp value does not necessarily mean a good vacuum. Ideally, any good vacuum for household use should have between seven to 12 amps as most sockets in residences only allow for a maximum of 12 amps to be plugged into the power outlet.
Why You Should Trust Us
Indeed, there are several options when it comes to choosing an upright and canister vacuum cleaner, which can make the selection quite complicated. We have looked through various brands and models to evaluate their features, specifications, and performance to find the ones that bring the best solution for cleaning your home with maximum efficiency.
How We Picked
With the wide range of upright and canister vacuum cleaners available online, it was a daunting task to find the right ones for you. As such, we undertook a thorough review of all types of vacuums, poring over product features, unique specifications, as well as customer reviews to determine the ones which provide the most powerful cleaning efficiency. From durability to suction power, cord length, number of attachments, size, and more, we checked them all.
While making our final selections, we made sure to look for vacuums that would be easy to maneuver and use on different types of floors. We also compared the various offerings for prices to find the best deals and the most cost-effective vacuum for your use.
Suction Power
For better cleaning efficiency, suction power is a major criterion, which is why in our evaluation, we compared this feature for different vacuums. Multiple suction modes were also an additional factor, allowing for ease of switching between hard floors and rugs.
Brushes
While selecting the best canister and upright vacuums, we also considered the type of brush in the vacuum. A good brush can be effective in removing debris from rugs and pile carpets, which is why we considered vacuum brushes made for cleaning different types of fibers.
Attachments
Types
A good vacuum cleaner must have different attachments for cleaning different areas of the house. Some of the standard attachments in vacuums we came across were crevice attachments, upholstery attachments, comb brushes, and dusting brushes.
Number of Attachments
A good vacuum cleaner doesn't necessarily need too many attachments. However, we did look for basics such as the crevice and the upholstery attachment to clean the hard-to-reach spaces and furniture respectively.
Size
In selecting our top picks, we also took into account the size of the vacuum. There are medium and large vacuums with varying capacities and nose sizes, which affects the ability of the vacuum to clean narrow spaces.
Capacity
Another factor we considered in the selection of upright and canister vacuums was the capacity of the dust cup. In general, canister and upright vacuums have higher capacity and we sorted through different models for adequately-sized vacuums.
Weight
Since no one wants to be dragging a heavy vacuum cleaner around the house, we picked out models which are of moderate weight and can be easily maneuvered around without causing strain.
Portability
Along with the weight of the vacuum cleaner, we also considered portability as a factor. We looked through scores of design options which ranged from lift-away to handheld variants to select the best ones for you.
Easy to Push/Move/Use
We also considered the ease of maneuverability as a major criterion in our selection of the best upright and canister vacuums. We looked for vacuums that could be easily used to clean different surfaces, stairs, rugs, and even clean under furniture. Ergonomic designs which would allow for ease of holding and cleaning reach of the vacuum were also considered. Another criterion was the ease of cleaning the dust cup, with our top picks allowing for emptying the cup without enveloping the user in a cloud of dust.
Price vs Quality
While comparing upright and canister vacuum cleaners, we attempted to balance quality with price. This is why our picks include mid-range vacuums and budget-friendly ones.
Care and Maintenance
Routine maintenance and care of your upright and canister vacuums are essential to keep them functioning more efficiently for longer.
Maintaining electronic safety
When you want to clean the vacuum, make sure it is fully switched off and the cord is unplugged before you insert your fingers in it. Keep the appliance away from water or liquids. Do not plug the vacuum into a plug point that shows signs of damage.
Dealing with blockages
The floor head of your upright or canister vacuum must be checked for blockages. After regular cleaning, the floor head can be clogged due to debris or even hair and we recommend that you remove them before further use.
Preventing damage to the vacuum hose/nozzle
The central hose and nozzle of the vacuum are important parts of the appliance and it is important to maintain them properly. When attaching or removing the hose/nozzle, do not apply undue force as it can damage the parts. We also recommend that you check the nozzle and hose for any debris accumulated during the cleaning process and remove them before using the appliance.
How to clean your vacuum
When they remove the dirt and debris from your homes, the vacuums collect these on their surfaces. For better cleaning performance, we recommend that you clean all individual and detachable parts after use. Remove any hair or fibers which may have accumulated on the brushes and attachments. Also clean the body of the vacuum with a clean, dry cloth.
Emptying your vacuum
The dust cup in your bagless upright and canister vacuum must be cleaned after each use for optimal efficiency. After emptying the canister or cup, we recommend cleaning it with a dry cloth to remove any vestiges of dust or dirt.
Using vacuum bags
While we have picked bagless vacuums on our list, if you happen to find yourself with a vacuum that has a bag, we recommend you clean it regularly. Full bags can affect the suction power of the vacuum and if your bag is half-full, we suggest that you remove the debris before using the vacuum again.