The Best Universal Remote Control for 2023
Take control of all your entertainment devices with a single remote!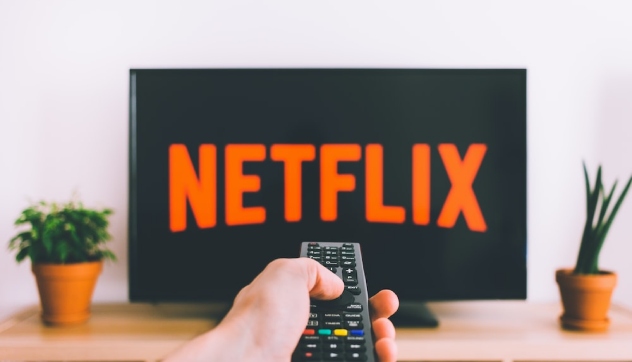 With more appliances and entertainment devices in your living room or space, you get more remotes since each of these devices comes with its own controller. At the end of the day, it becomes a tough mission trying to reach for the right remote on the table. What's even worse is that they probably start piling up around your space and you can't reach for the right remote when you want to. If this sounds like you, then you definitely need to consider getting a universal remote to help you sort out this mess.
A universal remote basically gives you control over all your appliances from a single controller. Universal remotes work well with a wide range of home appliances meaning you can purchase one with full confidence that it will be compatible with your desired devices. If you would like a more specific universal remote, it is also understandable especially if all your devices are from a single brand meaning you can buy that brand's universal remote.
Take a look at some of our top picks in the current market and save your time and have less of a hassle trying to find the best choice for you.
How We Picked
Number of devices it can control

Different universal remotes have a different number of devices that can be connected at once. We picked options that offer you the freedom to have control over a wider variety of devices simultaneously without having to disconnect some.



Intuitive layout

There is nothing more annoying than struggling to find a button that is awkwardly placed on your remote layout design. The options we have considered here are of intuitive design meaning you can find the right buttons at the right places so less of a struggle.



Easy to use and program

An overly complicated universal remote might give you a headache trying to figure out what is the right way to program and use it. The major goal here is convenience and ease of use when you purchase your universal remote, so why not consider an option that is easy to program and use?



Price

We explored the market with different budgets in mind. We made considerations of different price ranges to ensure we have something for everyone. Therefore, no matter what your budget is, go ahead and take a look at this list, you will find what suits your budget best.

Our Top Picks
Best Pick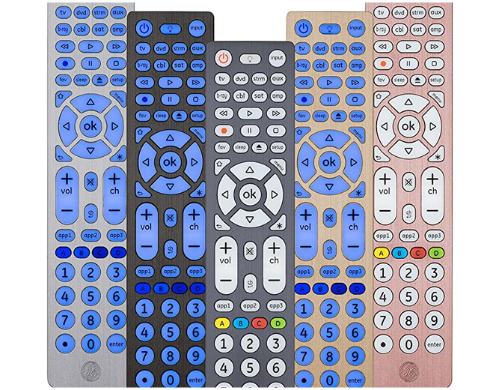 An intuitive design that allows you to have full control of over eight electronic devices with ease.
Our top pick is perfectly suited for your home if you are looking for a universal remote that works with most brands.
This backlit universal remote control is best suited for Samsung, Vizio, LG, Sony, Sharp, Roku, Apple TV, RCA, Panasonic, Smart TV, Streaming Players, Blu-Ray, and DVDs. It gives you control over eight devices simultaneously and can perfectly operate in the dark for those long nights you stream your favorite shows. Setting up this remote is very easy as long as you follow the simple step manual. This remote also has a sleek design that is small and compact for easy handling.
Runner Up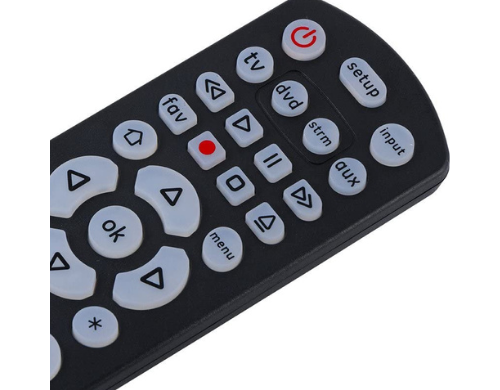 Connect up to four separate devices simultaneously.
This remote lets you gain control over multiple brands of electronics.


The remote controls up to four components such as Streaming Media Players, Cable, DVD/Blu-Ray Players, Sound Bars, Satellite Receivers, TVs, and more! You can get access to four different devices simultaneously. You can also pick the color you desire since they offer a variety of shades that are all backlit. It is such a pocket-friendly option for you if you are looking to connect a smaller number of devices.

Most Cost-Effective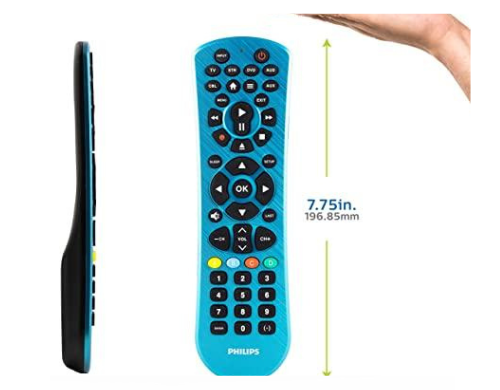 This remote is very cost friendly and has an intuitive design.
Lets you connect up to six devices simultaneously.
The Philips universal remote can connect up to six devices simultaneously and comes primarily set up for connection with most Samsung appliances. This doesn't mean that you cannot connect with any other brand, in fact, you can connect with common brands. You also get master volume control over all your devices meaning you access your needs faster. You have a wide range of colors to choose from so you can match your style as seen fit.

Everything We Recommend
Best Pick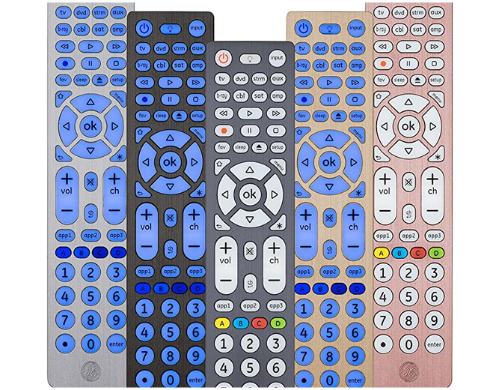 An intuitive design that allows you to have full control of over eight electronic devices with ease.
$9.24
Runner Up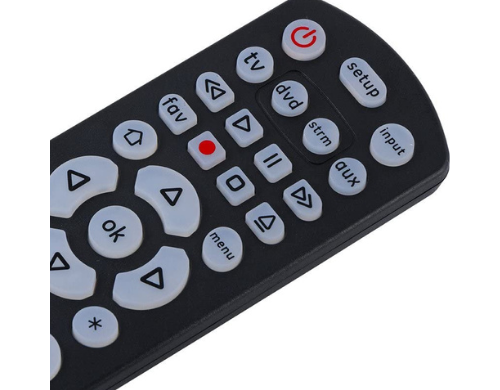 Connect up to four separate devices simultaneously.
$10.47
Most Cost-Effective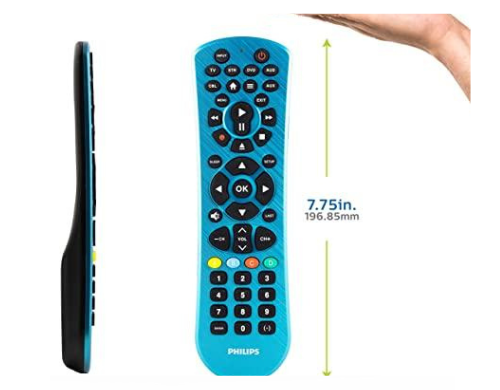 This remote is very cost friendly and has an intuitive design.
$9.77
Who This Is For
This list is meant for anyone looking to purchase a universal remote; be it you are looking for a new one to replace the old one or buying it for the first time, the options on this list suit a wide range of scenarios and will surely offer you exquisite options.
Can I turn an existing remote control into a universal one?
A short answer to this question is no. This is because different manufacturers have different ways of making things. They simply use different frequencies and signals to communicate between a remote and the TV which is unique across different brands. Universal remotes on the other hand are meant for this purpose. They won't be able to do everything a TV remote could do but they will get the basics done for most of them. They can do this because they are programmed to mimic the factory remotes and that is different between models.
Is it worth splurging on?
It is definitely worth splurging on a product that offers you such unmatched convenience. Instead of struggling to find the right remote among a pile of them, why not 'combine' them into one?
Do people still use universal remote controls?
With the changing times where people can easily integrate or download a universal remote app on their phone, the decline of these gadgets has been felt. Major companies that were previously mass producers in this field have even closed shop. Nonetheless, it is not stupid to cater to your convenience. We all have different needs that should be solved individually.
Why You Should Trust Us
We took the time to analyze countless answers and customer feedback to understand and have an in-depth view of what these products are about. We considered the ease of setup, price, warranty, quality of product, and delivery of work to come up with this list of universal remotes that are affordable and worth your money.
How We Picked
Here are several factors we took into consideration while coming up with this list.
The number of devices it can control
The more devices you have, the wider the range of your remote you will need. Your remote should be able to connect to more devices simultaneously depending on your needs.
Intuitive button layout
It is better to have an intuitive button layout that lets you access your controls as you are used to. Instead of having oddly placed button controls on your remote, take time to look at its layout before purchase so that you are not disappointed.
Easy to program and use
Universal remotes require programming before they can be put into use. You should consider the ease of setting up your devices on the remote before you can use them. Nobody likes a headache trying to set up a remote to put it to use.
Price
It is important to consider your budget as you search for the perfect option for you. Each product has a different price depending on its specifications and the quality you are being offered. Take your time to find what offers you the most value against its price.
Design/style
The design and style of the remote play a huge part in defining the intuitive placement of buttons. Some designs also come with an LCD screen for easier programming and use.
Size
The size of the remote is not as important as its functionality or capabilities. However, at the end of the day, you cannot have a bulky remote that will give you a hard time operating.
Durability
A remote that will serve you for a long time is just as important as how well it can serve you. Warranty is a guarantee of quality and durability so we often recommend that you purchase quality products.
Warranty
As we have stated above, a warranty assures you of the quality and durability of the product you purchase and puts your mind at ease. If the remote you buy comes with a warranty, ensure you read the terms and conditions of the document to make sure you are in the know.
Care and Maintenance
How to keep clean
Keeping your remote clean is just as important as keeping your house clean. Avoid placing it on dirty tables and surfaces which will result in having a dirty remote. Spilling drinks and food all over the remote will also mess it up. Wipe your hands before you touch the remote especially if you were eating using your bare hands.
Constantly take a look at your remote to avoid the buildup of dirt and dust on it which might make the stains more persistent. Dirt and debris will also damage your remote keys making them wear out faster.
When to change batteries
If your remote is not rechargeable, then you will need to change batteries as time demands. You can tell that it is time to change the batteries when the signal is weak compared to how it was before. This manifests in ways such as having to press the remote plenty of times while pointing at an electronic in order for the command to be executed.
Be keen so that you can tell when you need to change your batteries.
How and where to store when not in use
When your remote is not in use, you should store it in a safe place away from table edges or areas where it can easily fall and get damaged. Such a storage place should also be free of dirt or water in order to prevent any spillage that will damage the electronics.
Leaving your remote on the couch simply because it is where you mostly use it can be quite a risky step. Someone or even you might unknowingly sit on the remote and hence leave it damaged.