The Best Uninterruptible Power Supply for 2023
Add one of the best uninterruptible power supplies to your setup and safeguard your devices in case of a power outage.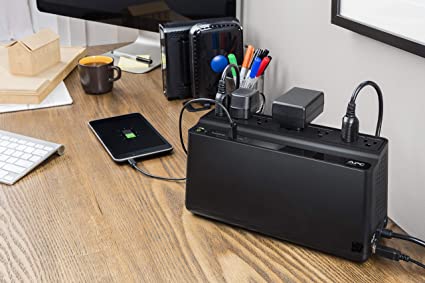 The uninterruptible power supply has undergone tremendous improvements since it was created in 1934 to meet evolving needs. The current model can power numerous devices simultaneously, allowing you to carry on efficiently even during power interruptions.
A UPS gives you more time to work on your computer, enough time to save important files, and a chance to shut down your computer. Even better, you can connect a UPS to your refrigerator if you tend to have loads of perishable food items. Don't fret if you feel overwhelmed with the multiple choices of UPSs on the market. We've lined up all the information you need and a few great picks.
How We Picked
Power Output

The power output of a UPS must be taken into consideration because it affects the amount of power supply you receive. This will help you prevent overloading your UPS.

Replaceable Batteries

It is also essential to choose a model with replaceable batteries in case they stop working. However, during the replacement of the battery, you should ensure that you purchase those that are compatible with the unit.

Battery Life

Most UPS batteries will last about 3 to 5 years, depending on usage. Even though the batteries are replaceable, it is never a bad idea to choose a long-lasting model and avoid frequent replacements.

Cost-Effectiveness

Aside from the fact that they use a lot of power, UPSs are typically expensive. But to save money, you must purchase a high-quality and durable model.
Our Top Picks
Our Top Pick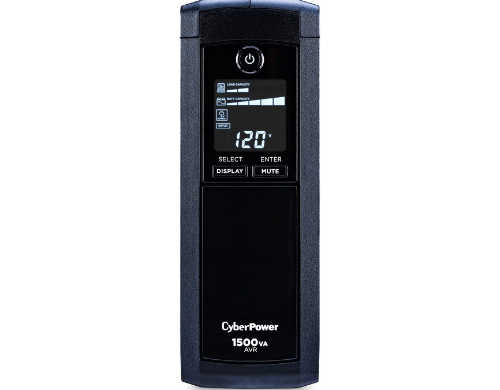 It includes AVR technology, which can correct minor fluctuations in power.
This UPS can protect all your sensitive equipment from power surges. It can also prevent you from losing data and allow all your favorite devices to shut down appropriately. This enables you to resume your normal day-to-day activities even during power interruptions. Moreover, you receive a 3-year warranty, which allows you to replace the UPS in case of any problems.
With 12 outlets, you get to power numerous devices at once within a few seconds.
Our Runner-Up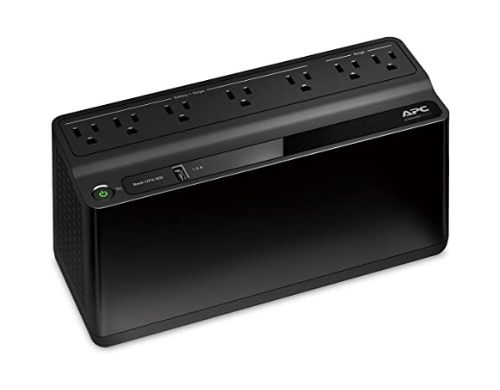 This UPS can provide you with enough time to save your data during power interruptions.
The APC UPS includes enough battery power to power your PC, TV, or a complete game console. It also comes at a fair price, which fits most budgets. Moreover, the beeping alert sound can sometimes be annoying, especially while watching movies, gaming, or working. For this reason, this UPS allows you to turn off the alarm whenever you desire, so you can enjoy a noise-free environment.
With this pick, you get to protect your sensitive devices against surges and give them time to shut down safely.
Most Cost-Effective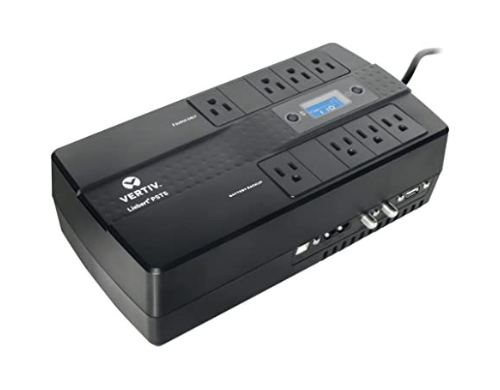 The surge power outlets protect your devices in case of impromptu blackouts.
The Liebert UPS is designed to protect your devices from impromptu power failures. As a result, you can acquire an affordable but high-quality power backup whenever the main power stops working. Moreover, the battery will run for about 5 minutes, which is long enough to allow you to complete your work. Moreover, this provides you with an opportunity to save your essential data.
Do you want a cost-effective UPS that offers maximum protection? Then this is the best choice.
Everything We Recommend
Our Top Pick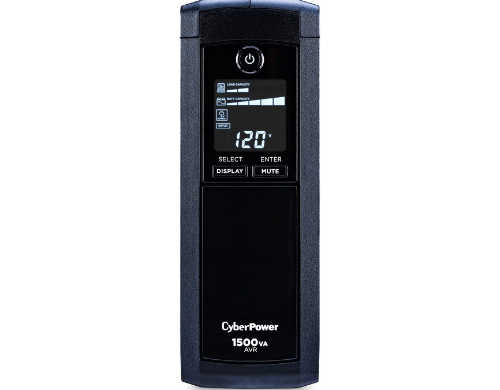 It includes AVR technology, which can correct minor fluctuations in power.
$184.95
Our Runner-Up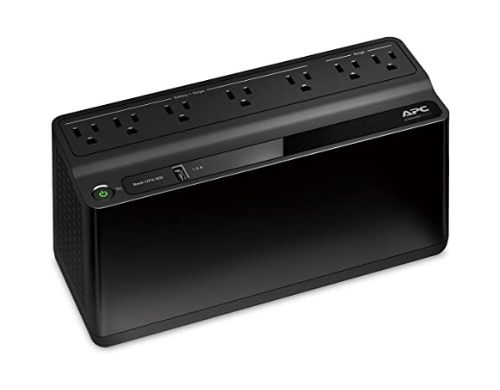 This UPS can provide you with enough time to save your data during power interruptions.
$79.99
Most Cost-Effective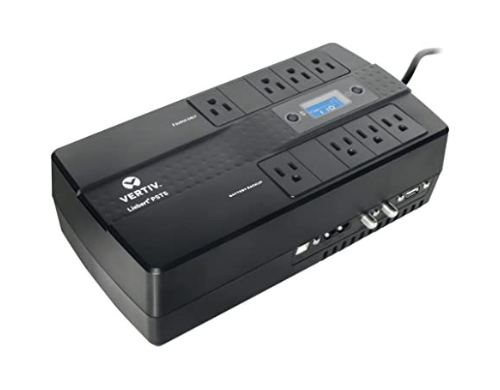 The surge power outlets protect your devices in case of impromptu blackouts.
$109.00
Who This Is For
A UPS can be used in both residential and commercial buildings. It is, therefore, an ideal power backup that protects your equipment and provides clean power whenever power disruptions occur. Moreover, it ensures that your favorite devices shut down appropriately to prevent the loss of essential data.
What is an Uninterruptible Power Supply?
An uninterruptible power supply is a type of electrical device that acts as an emergency source of power whenever the main power fails. Some people may confuse a UPS with an auxiliary or a generator. However, they all differ based on how they provide power to your favorite gadgets. Unlike other power supply sources, used during power outages, a UPS works by providing energy usually found in batteries, flywheels, or supercapacitors
In most cases, an uninterruptible power supply can protect the hardware in electrical gadgets. This means that whenever power outages occur, you are protected from injuries, loss of data, fatalities, or impediments to vital businesses. Depending on the task at hand, UPS can either contain a small volt-ampere rating, which helps power a single piece of electrical equipment like a computer, or large units to power an entire building.
Is it worth getting one?
Compared to standby generators or an auxiliary, a UPS has the potential to protect your devices from damage caused by power fluctuations. Apart from this, you can also back up important data before allowing your device to shut down safely. So, in short, a UPS is a better investment to use whenever power failures occur, especially in workspaces that use multiple electronic gadgets at once.
Ideal wattage or power output for an Uninterruptible Power Supply
For a UPS to work, the wattage level needs to be 20-25% more than the electronic equipment that needs to be powered. Moreover, you need to consider the number of gadgets that need to be powered. For this reason, you should add the total electrical load generated by the desired equipment.
How long does an uninterruptible power supply power a device?
The battery run time of a UPS can fall under full load or half load. For a normal UPS, the battery can run for around 5-10 minutes while on full load. On the other hand, when the battery is under half load, it may run for twice the minutes that it takes when it is at full load.
However, this time can differ depending on the device being powered. For instance, if you are powering small devices like a TV or computer alone, then the run time of the battery will remain the same. But when it comes to a large current load, the battery will have a short run time. The good news is that you can maximize the run time by sizing your needs with the power output of the UPS.
Why You Should Trust Us
Our reviews do not consist of any fake, superficial, or undetailed features, which may cause a loss of money. Instead, we have surfed through the web to ensure you only get concrete and reliable information to help simplify your choices.
How We Picked
We have analyzed some of the best UPSs on the market by digging up different voltage powers that can suit you and your needs. We then compared them with the guidance of different features, including size, durability, care, type of finish, and more. First, our focus began on the power output of UPS. This is because every UPS has a respective loading capacity that it can withstand depending on the rated output power. For this reason, we ensured that our picks could hold multiple devices simultaneously to prevent disconnections or loss of essential data.
In addition, the wattage level of our UPS may differ depending on the current load. This means that a large current load may require more battery wattage to cater to all the required devices. Moreover, a UPS that includes replaceable batteries is very essential since it will allow you to replace them whenever they stop working. In this case, we ensured that all our picks contained readily available and replaceable batteries. However, including replaceable batteries will not be more effective if their lifespan is short. So, all of our products include long-lasting batteries, with a maximum lifespan of more than 5 years.
Conclusively, the size of the UPS matters since it can help determine if it is portable or allows simple storage. Due to this, we chose different sizes found in the current market to ensure you receive a size that suits your needs. Apart from size, we also ensure that your investment is always protected since our products also focus on quality. High-quality products can provide service for longer periods, and our picks can do so.
Care and Maintenance
Since a UPS deals with electricity, you must understand how to use and care for it. To set up the device, you first need to find a power source and plug in the UPS. After that, plug in the USB to install software to help configure the UPS. This will allow you to record every step as well as send alerts. Once your UPS is fully charged, it is ready for use every time power interruptions occur. However, it is recommended that you allow the battery to charge for around 8 hours before use since energy may have been lost during storage.
Moreover, it is perceived that half of any UPS problems are a result of poor maintenance of the batteries. Choosing the right UPS is also very vital since it can power your devices for around 5-10 minutes, depending on the current load. However, always ensure that your investment is worth it since UPSs are costly products, mainly due to the battery used as well as the high power being consumed. Moreover, a large number of connections in corporate buildings can lead to fatal accidents or damage to property. For this reason, it is important to hire a qualified electrician who can safely handle wiring systems.