The Best Ukulele for Beginners for 2023
Our top picks for beginner ukuleles to get you strumming like a pro.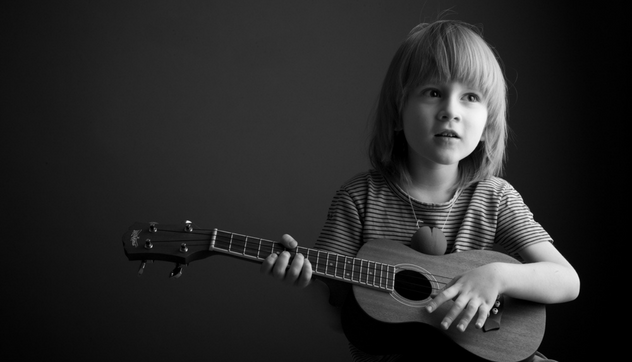 Whether it was Train's ukulele-based hit "Hey, Soul Sister," or an image of Warren Buffet playing the ukulele in one of many public events that struck a chord with you — we're glad to see you joining the ukulele craze.
The world of ukuleles is a vast and varied one, with diverse choices, styles, and tones for learners young and old. If you don't know where to start, pick a beginner ukulele, also called a "soprano" or "concert-sized ukulele," as your first instrument. These are smaller than other ukuleles, have only four strings, and are more budget-friendly for those just starting out in the world of ukuleles.
To make your decision easier, we researched the best beginner ukuleles to find our top pick.
How We Picked
Size

Ukuleles come in sizes from small to big — soprano, concert, tenor, and baritone — and your hand sizes need to factor into your decision to buy this instrument.


Good sound

Imagine strumming your ukulele peacefully when suddenly, the notes sound flat. Strings, intonation, and the ability to stay in tune are crucial when choosing your ukulele.


Build quality

A stronger build is required for better sound, which is why most players prefer wood or wood-based ukuleles. Solid wood or laminated models usually last longer and play better than their plastic counterparts.


Price

Ukes that don't break the bank are great for beginners, and luckily for us, there are plenty of great options — with good build, sound quality, and size — out there for the newly musically inclined.

Who This Is For
If you've dismissed the ukulele because you thought it was a kid's instrument, think again. Every ukulele we've reviewed in this article fits the versatile bill perfectly; anyone can easily play these, from the very young to the very old, and from the non-musical to the musically trained.
Ukulele vs. guitars
That's the specialty of the ukulele; they only have four strings, so it is very much like learning the guitar, only way easier. Ukes look like the guitar's younger cousin and are somewhat similar to the small classical guitar. Guitars have fewer notes and a much wider sonic range, and, of course, have two more strings than the ukulele. The strings themselves are a major point of difference, as ukuleles have softer nylon strings, which users report as being easier to play with than the harder steel or nylon strings on a guitar.
Is learning to play the ukulele easier than other instruments?
The general consensus is a resounding 'yes,' as most experts recommend the ukulele for its soft strings, which are usually gentler on the fingers. The smaller size of the ukulele is also better for the back and wrists, and lugging around and playing a larger instrument like a guitar or a violin might strain someone unused to their size.
Why You Should Trust Us
It's easy to get lost among the chatter of a thousand ukulele brands and their versatile instruments, but we managed to whittle down the list to the top few picks we think offer good sound, comfortable playability, and are economical too, just like a beginner ukulele should be.
How We Picked
Size
While debating our options, we made sure to include choices that offer ukuleles in a range of sizes, from concert to tenor, to suit every hand size.
Material
We focused our research on tonewood ukuleles for their superior sound quality and suggested instruments made by companies that focused primarily on ukuleles to get the best build quality possible.
Good sound
All the ukuleles on this list scored highly in sound — our biggest consideration — and are generally rated as highly durable for their price. They all boast decent intonation and mostly stay in tune for three to four weeks on average.
Ease of use
In the world of ukuleles, too, there are plenty of sizes to choose from. The easiest playability comes from ukuleles with straight necks, smaller sizes, and no sharp frets, so that is what we based our review criteria on.
Build quality
There's a reason our list features some of the top ukulele brands in the world — they offer the best quality ukes made of durable, high-end materials like wood or strong laminates. All the ukuleles mentioned in this article are reputed to be of the highest quality in their price range, and you can't ask for any better than a ukulele under $100 that lasts for more than a few years, can you?
Price
Cost-effectiveness was also a major factor in our review, as many players reported wanting to graduate to a stronger ukulele once they mastered the beginner instrument. In this case, we stuck to ukuleles that wouldn't put an undue strain on the wallet and yet had great playability.
Packaging
Since we know you'd like to look good too, our picks are also pretty awesome-looking, as far as beginner ukuleles go. Plus, there's a bonus! Most of these ukulele brands also come in combo deals that offer various accessories like strings, tuners, and yes, a ukulele case too.
Care and Maintenance
Ukuleles might be hardy, but they need cleaning just like every other instrument. Using the case will prevent dust buildup and keep your uke safe when not in use, and a microfiber cloth will remove anything that manages to settle on the surface. Remember not to be too harsh with your pick, or avoid one entirely, and restring your ukulele regularly for better sound quality.