The Best Turkey Fryer for 2023
Enjoy a delicious fried turkey this Thanksgiving with any of these amazing turkey fryers.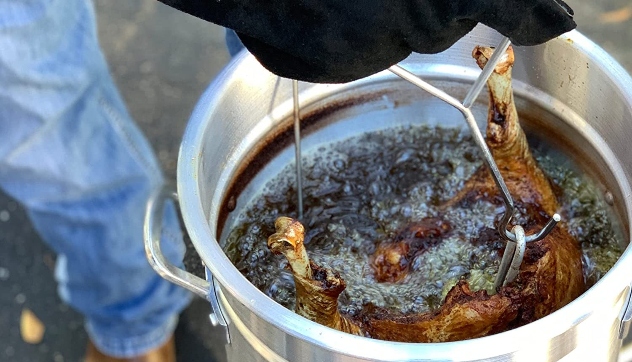 Frying turkeys has become increasingly popular. It is a fast way to get delicious, moist turkey on Thanksgiving. However, too many people try to fry their turkeys in dangerous ways. You don't have to resort to a dunk and run this year. We took it upon ourselves to find the best turkey fryers available.
We reviewed over twenty turkey fryers to find the best ones to enjoy a delicious fried turkey this season.
How We Picked
Size + Shape

The size and shape of the fryer impact how much turkey you can fry in one go. The shape and size of the turkey fryer you choose determine how heavy a bird you usually fry.



Type of Material

Different materials conduct heat differently. Also, different materials have different durability and longevity. The best turkey fryers should be constructed of sturdy material that can withstand intense heat, thorough cleaning, and heavy objects.


Powerful Heat

The power of the heat in the turkey fryer impacts how long the turkey takes to cook. It also determines how big the bird you are frying can be.



Price

With all other considerations in mind, the turkey fryer should have a matching price. High-quality features can cost more, but more is needed to break the bank. Cheaper components should equal an affordable fryer.

Our Top Picks
Best Pick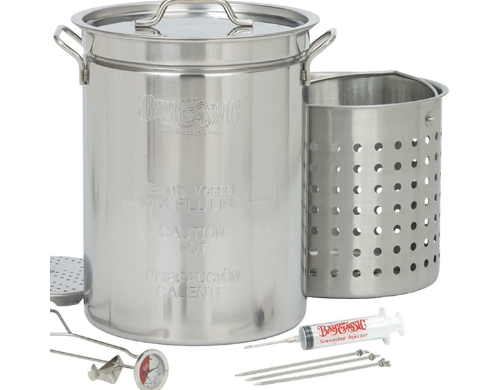 With powerful heating.
A versatile, stainless-steel outdoor turkey fryer
The Bayou Classic 1118 32-qt Turkey Fryer is a sturdy, well-built outdoor turkey fryer. Although it does not come with a burner, it comes with every other tool you need to fry a turkey. The pot and all the other tools are made of high-quality stainless steel, making them durable. It holds and distributes heat well, providing robust and consistent heating the entire time you fry your turkey.

Runner Up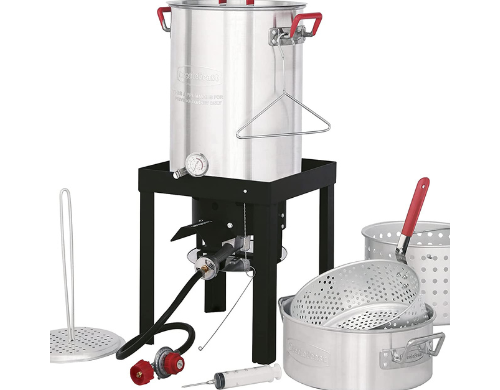 Affordable and efficient.
A well-equipped propane deep fryer that can handle medium-sized birds.


This is an affordable propane turkey fryer. It can easily handle small and mid-sized turkeys and comes with various tools, including a perforated steamer basket, a temperature thermometer, a marinade injector, and a burner stand. It is ideal for outdoor parties, although it is hard to clean indoors.

Most Cost-Effective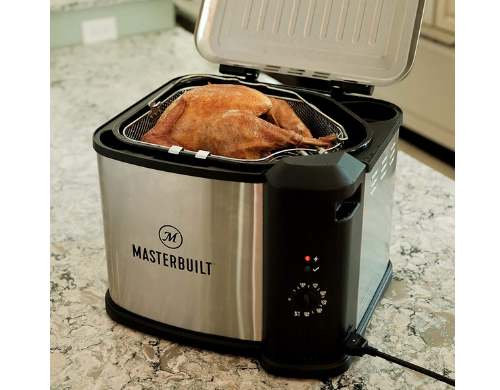 So easy to use.
A heavy-duty but affordable aluminum electric fryer.
The perfect indoor turkey fryer, the Masterbuilt MB20012420 Electric Fryer, is made of aluminum and can fry up to a 20-pound turkey. It is easy to use and boasts a draining valve and a detachable lid. It is pretty big and takes up a significant amount of counter space, but it is well worth it at a price.

Everything We Recommend
Best Pick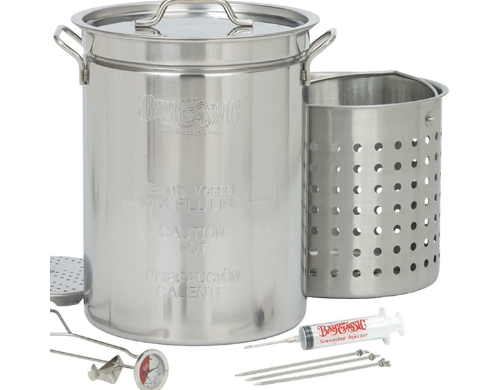 With powerful heating.
Runner Up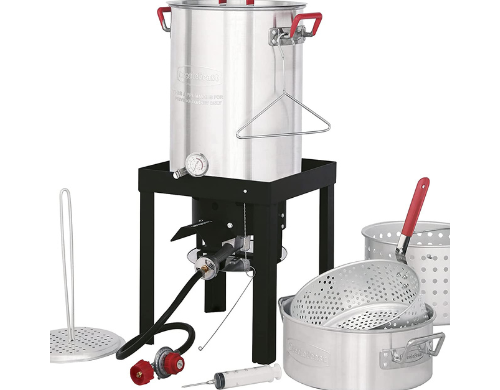 Affordable and efficient.
$129.99
Most Cost-Effective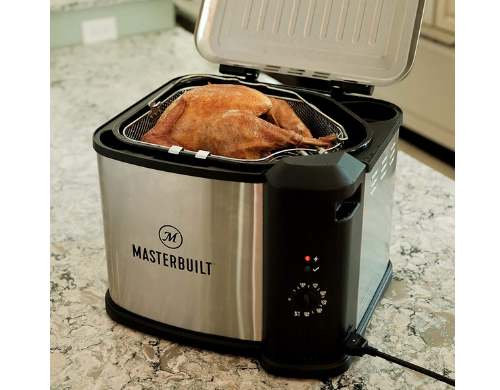 So easy to use.
$129.99
Who This Is For
If you have ever tried to fry a turkey on a cooking pot or metal bucket in your backyard, this list is for you. People who have wanted to serve fried turkey for holidays will also love this list. We compiled a list of the best turkey fryers to ensure you have a perfectly fried turkey without a trip to the hospital.
Propane Burner vs Electric
Propane turkey fryers are cheaper to run and have higher degrees of temperature control. They are also dependable as they work during power outages and storms. However, propane does not produce as much heat. This means that the heating power of propane turkey fryers is lower than that of electric ones.
Additionally, propane can be quite dangerous in the house, especially with young children and pets.
Electric turkey fryers are safer to use as they have a more controlled power source. They have higher heating powers and can heat faster than propane fryers. The biggest disadvantage of an electric turkey fryer is that you can't use it during a power outage.
Are Turkey Fryers Safe To Use?
Turley fryers are very safe to use if you carefully follow the usage instructions. This is one of those kitchen appliances you cannot afford to misuse. You must read the instructions for every turkey fryer you buy. After reading and re-reading them, ensure you follow the instructions to the letter. This will help guarantee your safety.
It is important to note that there is a heightened risk associated with frying turkeys as opposed to baking or grilling them. While turkey fryers can eliminate most risks, they are not 100% safe. Usually, unless used haphazardly, turkey fryers remain safe until they get too old.
But the risks associated with hot oil, gas, and electrical gadgets also apply to turkey fryers.
Why You Should Trust Us
We have all struggled to fry a turkey on one Thanksgiving or another. And because we know the hustle of frying a turkey without a turkey fryer, we took it upon ourselves to find some good ones. There is no need to spend money on a turkey fryer if it dies after a few uses. Our team was committed to reviewing almost thirty turkey fryers until we found some worth the money. 
How We Picked
Here is how we reviewed all our turkey fryer options to find the best four:
Shape
Shape influences not only aesthetics but also how the turkey fits into the fryer. We were not hell-bent on one shape, but we did try to find turkey fryers with varying shapes.
Size
Size isn't everything, but it does matter. We were looking for turkey fryers of various sizes because we understand not everyone is frying a large bird. Bigger fryers often mean you can fry both big and small turkeys. However, they are usually more expensive.
We wanted to also recommend smaller fryers that fit smaller homes.
Powerful heat
No one wants to stand and watch a turkey fryer for hours on end. A turkey fryer with powerful heat will allow you to fry even big turkeys faster. Also, it is less likely to overheat if you don't have to run it for hours on end.
Overall sturdy build
Turkeys are quite heavy. Having a sturdy turkey fryer ensures it doesn't topple over when the bird is placed inside. The sturdier the build, the heavier the turkey, and the longer it could comfortably be fried without keeling over. The heavier the turkey, the higher it was on our list.
Type of material
Durable and hot-oil-friendly materials topped our list. No one wants to spend money on a turkey fryer for it to be useless in five years. We were looking for turkey fryers made of durable and long-lasting material that could withstand several hundred deep frying sessions.
Easy to assemble
Having a turkey fryer with too many working parts can be disheartening. However, some quality turkey fryers do require a few steps to assemble. We were looking for turkey fryers that were easy to assemble, either due to fewer assembly parts or easy-to-follow directions.
Easy to use and clean
We looked for fryers that were easy to clean and use and lacked complex instructions. We know that a complex turkey fryer will sit at the back of your kitchen drawers for years. We wanted to recommend fryers that encouraged their use and didn't make cleaning a headache.
Price
While the best things usually cost a lot of money. We did not want you to break the bank to afford a turkey fryer. We wanted turkey fryers that fit various budgets and were worth the purchase. Our focus was on how each fryer met our previous evaluation criteria and whether or not it was worth the price.
Care and Maintenance
Risk associated with using a turkey fryer
Turkeys are large birds, and frying them whole comes with risk. The hot oil can boil over and cause a fire or burn you.
The fryer can also tip over if it is not placed correctly and cause severe burns.
Eye injuries from hot oil splashing are also a risk associated with using a turkey fryer. You can scald yourself on the hot surface of the turkey fryer and breathe in fumes from cleaning chemicals when you fry.
Proper instructions on how to use it safely
To use a turkey fryer properly, follow these instructions:
Thoroughly clean your turkey fryer to get off grease and oils
Rinse any dishwashing soap and cleaning liquids you use thoroughly to avoid inhaling fumes
Completely dry the turkey fryer before using it
If using a propane fryer, remove it from the house, away from walls and alcoves
Both propane and electric turkey fryers should be placed on a sturdy, level surface; ensure it is away from curious hands and cannot tip over or be caught on moving parts like clothes.
Refrain from filling your turkey fryer. Follow the instructions to the letter
Ensure your turkey is fully defrosted and thoroughly pat it dry
Please wait for the ideal temperature and do not place the turkey when it is too hot
Gently lower the turkey into the fryer. Please do not drop it or toss it into the hot oil.
Watch the turkey and keep track of the timer. Immediately remove it once it is done cooking
Turn off the fryer or the flame and let the oil cool down.
Where and how to store it when not used:
A turkey fryer can stay in any cool, dark, and dry place. Find a drawer or cabinet with space, ideally in your kitchen or garage, and store it there. Make sure it is clean and dry before storing it.
You can wrap it in bubble wrap before placing it in a box if you keep it away for more than a few months. Otherwise, you can put it in a cool, dry corner. Ensure it stays away from heat and moisture.
How to clean
Ensure your turkey fryer is off and the oil has cooled down.
Remove the fryer pot, drain out all the oil, and wipe down the inside with a paper towel to remove excess oil
Drizzle some dish soap into the pot and add hot water. Allow the pot to soak for about an hour
In the meantime, get a kitchen cloth, warm water, and dish soap. Put enough dish soap in the warm water bowl and lather
Use the kitchen cloth to wipe down the rest of the turkey fryer. You can use a degreaser if allowed by the manufacturer
Pour out the water once it gets dirty and gets new water. Repeat until the entire fryer is free of oil and greasy residue.
Once clean, dip another cloth into warm water and wipe down the fryer to remove soap residue
Pour out the soaking water from the fryer pot and use a scouring pad, dish soap, and warm water to scrub it thoroughly.
Rinse and check for oil residue. Repeat if necessary.
Once the pot is clean and grease-free, pat dries every component with a clean, dry towel.
Store it safely.