The Best Tricycle for 2023
Build your child's sense of balance as well as their motor skills.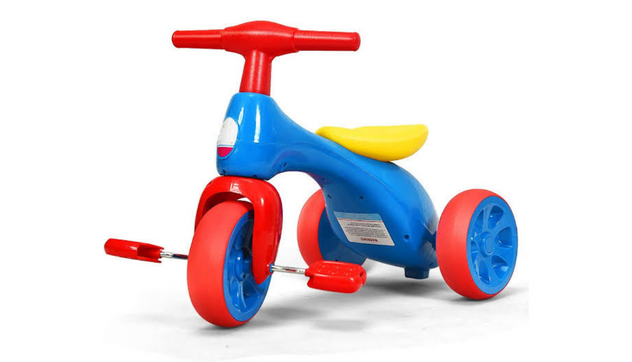 Getting to nurture a child is one of life's best gifts. One of our roles as nurturers is to expose the child to different activities that will aid in their holistic growth and development. These activities need to start as early as possible and because they may not understand your words, using visual and practical methods like toys is an excellent idea. One of the most important toys you can get for a child is a tricycle.
A tricycle is a perfect toy that your child can use to have lovely adventures, explore their nearest surroundings, and get some exercise. Riding a tricycle also helps your kids to build their confidence and it gives them a sense of independence. It's the appropriate training for young children to master balancing. It is fun and this skill will come in handy once they are old enough to ride a bicycle.
Who This Is For
The amazing tricycles on this list are for awesome kids. Every parent owes their kids one or two toys to make them feel good and energetic. These tricycles are safe and easy to use by kids ranging from 10 months to five years old. If you want to enjoy an interesting time with your kid, get any of these tricycles and enjoy the moments.
Are tricycles only for children?
The answer is no. There are tricycles for adults too. They are known as adult trikes, adaptive tricycles, and three-wheeled bikes. Adult tricycles are great for adults who can still pedal and brake perfectly but have balance or coordination issues. It is also good for exercising.
Getting the right size tricycle
This is an important factor that must be considered. Tricycles come in different sizes and shapes. Then, how do you know the right tricycle size for your kid? It is simple. You can know the right tricycle for your kids via two methods: height and inseam.
Let's look at the height method. Let your child put on his or her shoes for cycling. Let the kid stand straight up with his back against a wall with his feet shoulder wide apart. Place the spine of a book on his head and make sure the spine makes contact with the wall. Measure the distance between the floor and the bottom of the book with a measuring tape. The distance between these two levels is the height of your kid. This will facilitate picking the right choice.
The inseam measurement is quite the same as that of the height measurement. After making your kid stand against a wall, place a book as high as possible between your kid's legs. Make sure the spine of the book touches the wall. Don't let go of the book and let your kid step away. Then measure the distance between the ground and the top of the book with a measuring tape. Remember, we are measuring inseam, not height. The distance between these two levels is the inseam measurement of your kid. The inseam measurement determines how tall a tricycle should be for your kid to place his or her feet on the ground while sitting on the tricycle's seat.
There is another common and inaccurate method — age. Most times, age works but there have been cases of anomalies. Bike sizes by age use the average height of children in that particular age range. So if your kid is taller or shorter than the average height, then you are causing trouble for your kid.
Some convenience stores do request a kid's height or even measure them to give him/her the perfect tricycle. Some even possess a bike sizes chart where you can relate your kid's age or inseam measurement or height to their respective bike size.
Why You Should Trust Us
Kids are tender being that needs lots of care because they don't know what is happening around them. That's why as an adult, you need to guide them and make sure they are brewing with good energy. Tricycles are good tools to boost the morale of a kid. To avoid picking the wrong tricycle for your kid, we did an in-depth analysis of various tricycles. We checked with online stores, convenience stores, and other recommended personnel before picking up these tricycles. In the next section, you will know about the criteria we used.
How We Picked
It's not easy to hand-pick the perfect tricycles for your kids. There are tons of kid tricycles available online and in convenience stores. To give you and your kid a cost-effective and safe tricycle, we reviewed professional opinions and previous user experiences with kid parents. Firsthand opinions from professionals who deal with kids' tricycles such as nannies, parents, store owners, pediatricians, and marketers set us on the right path to gathering these listed options. User experiences and reviews were about convenience, ease of usage, style, the material used, and effectiveness.
We also inputted some criteria to further scrutinize these bicycles. We considered the size because inappropriate tricycles do cause stress for kids. The seats of these picked tricycles are comfy and durable. Some have seat belts for the protection of your kid. We evaluated the size and the tires of these tricycles and made sure that they are perfect for indoor and outdoor activities. The tires won't dent your lawn or carpet or tiles. Some of these bicycles have foldable designs which mean you can fold them and store them. Others that made our list that isn't foldable are light and easy to store.
Some kids' tricycles are usually assembled from the factory while some do contain parts and manuals that will guide you to put them together smoothly. Some manufacturers designed their tricycles to appeal to kids with aesthetic themes and structures. For example, the Fisher-Price Tough Trike that made this list is available in various themes that appeal to boys and girls. Talking about the structure, the handle position of tricycles matters. You don't want a tricycle that your kid will leap to ride.
All the tricycles that made this list are wallet-friendly and worthy of their prices. These tricycles are made with high-quality and safe materials. They are durable and easy to clean. Some tricycles on our list have safety features that will protect your kids from accidents. Kids' tricycles can be operated manually or by electricity. All the tricycles on this list are operated manually via pedaling.
How We Picked
Size in comparison to rider

The last thing any parent wants is to get a product that can harm kids. We ensured that the tricycles that we picked for you are appropriate for kids within the range of nine months to five years. We did this so that your kids could enjoy more balance and safety.

Comfort - Seat and Handle position

Kids are tender beings that must be treated with utmost care. The seat of a good tricycle should be comfy, spacious, and gentle for the body. The overlay material should be gentle on their skin. The handle should be at an appropriate angle so as not to strain the hand muscles.

Style/Design

Kids like and relate excellently to beautiful and colorful stuff. That's why manufacturers don't miss out on this point and always produce beautiful and sleek tricycles. Some even produce tricycles with superhero and cartoon themes. They put in some amazing features such as a sun canopy.

Cost-Effectiveness

When a kid rides a tricycle, he or she catches fun, builds confidence, and masters stability or balance. More goodies come with this activity and believe us, tricycles are affordable and durable. We picked tricycles that are made with high-quality materials that don't get spoilt easily.
Care and maintenance
Checking Safety Features
Before your kids ride their tricycles, you must check their tricycles. Check if their trike is in good shape. If they have safety features, check if they are in good form. Try and ring the bells and see if it's working and if it's easy to ring. Check if the lights are functioning excellently. The seat belts should be checked if they are still in place. Occasionally, you should examine the reflectors and make sure they still do their job perfectly. Finally, the pedal support should be checked before and after every ride.
How to clean
You need water, detergent preferably dishwashing fluid or specialized tricycle cleaner, a bucket or a hose, and a sponge or a brush. For detachable tricycles, you can detach them carefully and wash them in a sink, rinse them thoroughly, and dry them. For tricycles that you can't take apart, you just have to wash them like you are washing a cutting board. After washing, rinse thoroughly and gently. Clean the wheels and make sure you do it gently. If the seat is made with fabrics, use a brush to wash it — do it gently.
Fixing popped chains
If your kid's tricycle is making a loud noise whenever your child is riding, you may need to reduce the tension on the chain. If the chain usually falls off, you can fix it by putting chain lube in drops on every link.
Dealing with burst tires
The best way to deal with burst tires is to get another tire. If the puncture isn't big, you can remove the tire and fix it. Then, put the tire back and inflate.
Preventing rusting joints
It is good to lubricate joints regularly for smooth riding and the prevention of rust. Do not put your kid's tricycle in the rain or places where water usually flows.
Ensuring balance
Make sure the tires are in an excellent state because if they aren't in good condition, this can cause a fatal accident. Ensure the chains are in good condition and well-lubricated. Ensure there is no dangerous obstacle on their path. Lastly, as a parent, guide your kid to excellent riding.