The Best Trekking Pole of 2023
Traverse the toughest terrains and stand your ground with these best trekking poles.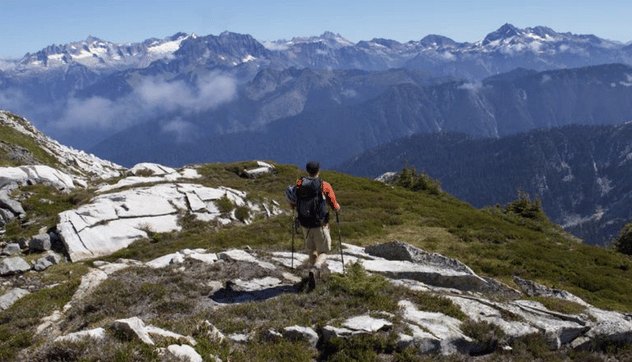 If you want to successfully hike or climb a mountain, you must be well prepared. Bring only the necessary items and tools for survival; carrying too many or too few items will make things more difficult later on. A trekking pole is one item that you should not forget to bring when going on a hike.
A trekking pole is used to assist you by giving you extra stability, balance, and more energy when you are hiking. By doing that, you can reduce your joint workload and prevent body soreness. You can also use the pole to probe the trail ahead of you for rocks, roots, and other obstacles. While trekking Poles come in many different designs, the basics of their design haven't changed much. We have taken a look at some of the top trekking poles on the market today and have compiled this list for you.
How We Picked
Sturdy

A good trekking pole should be able to support your body weight. Also, given that terrains are full of various destructive obstacles, a good pole should undoubtedly be strong.

Adjustable

A telescoping trekking pole gives you room to freely adjust the length depending on the task at hand or the terrain. As such, it's important to consider how smooth and to what extent the pole adjusts.

Portable

Trekking is already a hard activity and it's only fair that we look at lighter yet robust trekking poles. A portable pole should also fold nicely so you can put it away whenever it's not in use.

Price

We chose reasonably priced trekking poles that are of high quality. You don't want a pole that will fail in the middle of nowhere.


Our Top Picks
Best Pick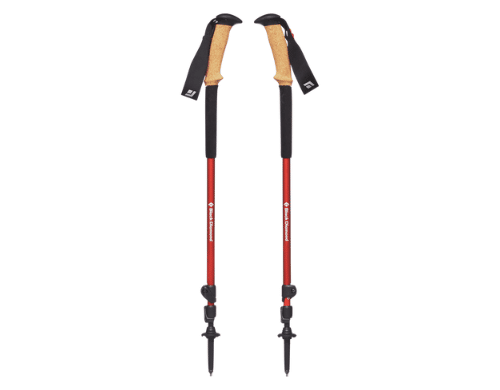 A sturdy trekking pole that's suitable for trekking in all four seasons.
The Trail Ergo Cork trekking poles are designed with a full-length EVA foam grip and anti-shock system for comfort and strength. They come with pull-up rubber grips for better traction when climbing or descending steep inclines.
A Strong and durable trekking pole for outdoor activities. The Black Diamond Trail Ergo Cork is not an ordinary trekking pole, this trekking pole offers you great versatility and ease of use. It's also a portable and adjustable model. Very suitable for any hiking or outdoor activities across all four seasons.
Runner Up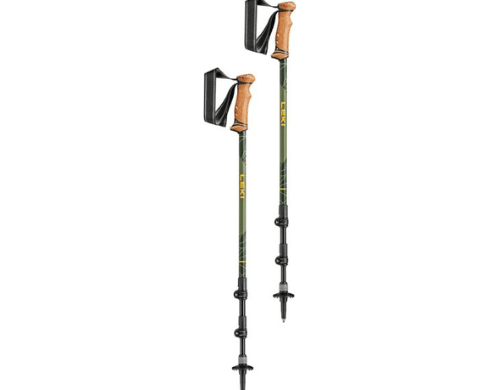 This pole is particularly great for descents thanks to the angled grips.
The Leki Legacy features offset threads that make it easy to change and secure seasonal baskets. And, it's a very comfortable trekking pole equipped with shock-absorbing technology.
Leki Legacy Lite AS is made from strong materials and ergonomic handles that provide maximum comfort with extra stability when using it. This trekking pole is also capable of absorbing shock and thus reduces fatigue when you are hiking on an uneven surface.
Most Cost-Effective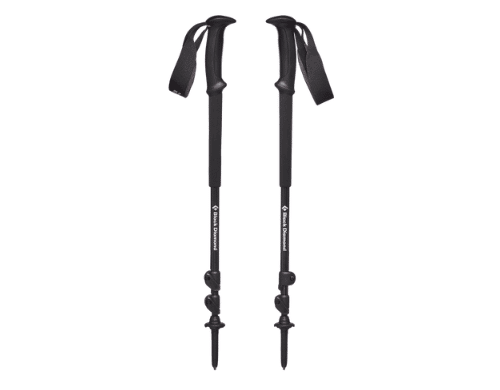 Features a rubber grip handle with ribs for the best possible ergonomics.
Built with three-part aluminum shafts, the Black Diamond Trail Back easily adjust to the trail while offering exceptional stability.
A quickly adjustable trekking pole. Also coming from the Black Diamond brand, this trekking pole offers you steadiness and comfort in its aluminum shaft materials that are ready to face tough terrains out there. It's strong, comfortable for use, and inexpensive, definitely worth the money.
Everything We Recommend
Best Pick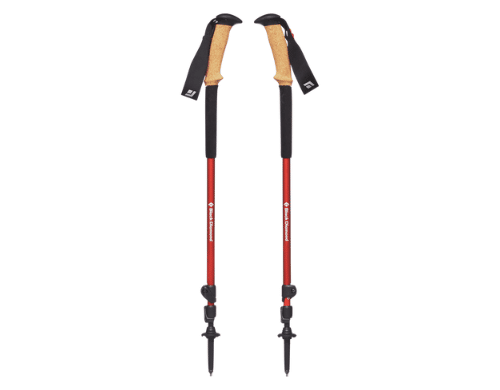 A sturdy trekking pole that's suitable for trekking in all four seasons.
Runner Up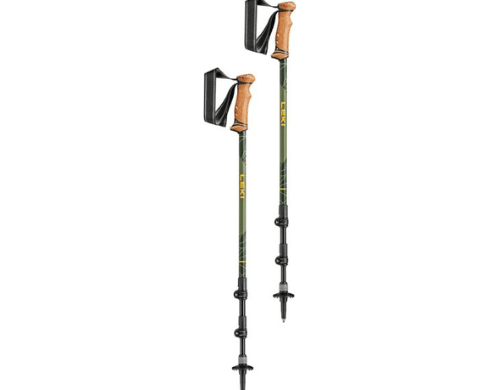 This pole is particularly great for descents thanks to the angled grips.
Most Cost-Effective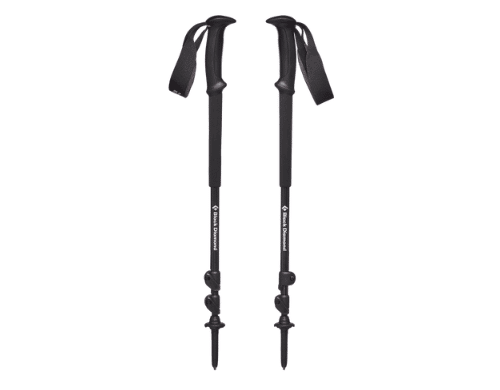 Features a rubber grip handle with ribs for the best possible ergonomics.
Who This Is For
These poles are for those who are looking for a strong and durable trekking pole for outdoor activities like climbing a mountain, hill trekking, or other outdoor activities that are surrounded by uneasy terrains.
Aluminum vs Carbon Fiber – What's Better?
Two common materials are usually used as a base material in a trekking pole: aluminum and carbon fiber, which one is better?
Generally, they both are solid materials that you can depend on with their benefits. Aluminum-based trekking poles usually were more durable than carbon fiber ones, whilst carbon fiber-based trekking poles are a lighter material than aluminum ones. If you like a durable trekking pole, aluminum-based is your choice, if you want a less heavy trekking pole, carbon fiber-based trekking poles are for you.
Do I really Need A Pole – Is It Worth Splurging On?
If you want to go for a long adventure in the mountains with uneven and hard terrains, getting yourself a trekking pole could help you as it provides the support that will make your journey easier and most importantly safer.
Why You Should Trust Us
As we all know, there are a lot of trekking poles available for purchase in the marketplace. Here we only aim to give you the best recommendation for those trekking poles. We have gathered information from multiple sources to finally give you our picks for these items that possess great quality with a considerable budget.
How We Picked
To finally deliver the recommendation of the trekking poles, we evaluated some factors before making our picks for you. Here is how we select those items.
First and foremost, we picked the trekking pole with strong base materials that will give you the support you need out there. The main material that we are highlighting here is an aluminum base material as it was more durable with an exception of one item made from carbon fiber. The trekking poles here are strong and sturdy, tough enough to deliver a firm footing in the wild.
Another thing that we paid attention to is the grip. To accommodate comfort while giving you a stable footing, we selected the trekking poles with safe and secure grips as meaning to ensure comfort and safety when the trekking poles were used.
Ease of usage is our next criterion, the trekking pole that we have picked is a portable trekking pole that can be folded or stored like a telescope. It saves you the space and hassle to utilize them. These trekking poles are also adjustable, allowing you to adjust the length of the poles as you please. The selected trekking poles also have a compact size, not too big or too small and it's not too heavy or too light either.
Those are how we picked the trekking poles that we are going to recommend to you. Now, let's get to know the details about these items. Here we go!
Care and Maintenance
As an item that was used to tackle uneven surfaces and tough terrains, the trekking poles also need equally good care and maintenance. Taking care of your equipment prevents deterioration and damage by 'wear and tear factors. We are going to share some tips to clean, care, and maintain the trekking poles.
Cleaning your trekking pole is the first step that we can recommend to you. Cleaning your trekking pole prevents dust from sticking in the trekking poles. And also your trekking pole will look clean and neat whenever you want to use it.
When not in use, store your trekking pole in a way that does not weigh it down so that it does not damage the structure.
And lastly please read the user guide or instruction manual provided by the manufacturer of your trekking poles as your guide to take care of the trekking poles, there might be specific instructions written there for a certain part of the item.
Sources and Research