The Best Treadmill for 2023
These treadmills will help you reach your peak fitness whether you choose to jog or walk.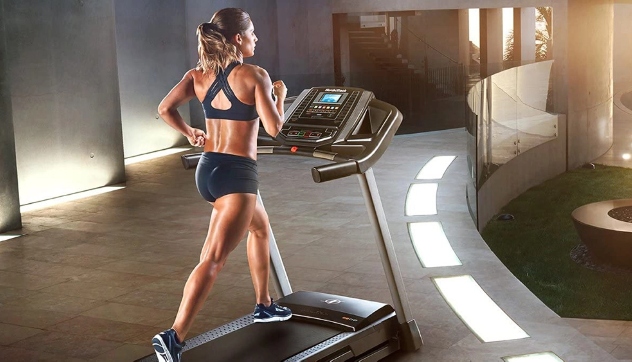 Whether you're a serious runner or just getting back into shape, there is a treadmill for you. Even though they don't give the same sensation as running on pavement or a trail, treadmills are an excellent training tool. They are especially useful when it's inclement outside or you want to exercise in privacy at home. With so many machines at our disposal, you can easily get overwhelmed.
Thankfully, we've compiled a list of the best treadmills currently on the market based on their quality, design, durability, and app integration.
How We Picked
Size (Belt Size and Machine Size)

The majority of the treadmills we evaluated have a weight capacity of at least 300 to 325 pounds (the standard for entry-level commercial models). Additionally, we wanted treadmills with belt lengths of at least 55 inches, which is the standard minimum recommended for runners who are under 6 feet tall.



Stability

It's a prevalent belief that a softer surface for jogging or walking helps reduce injuries. The springiness of treadmill decks varies, so we focused on both the average sensation and extremes, such as if a deck seemed too hard.



Adjustability (Incline, Speed Range…etc)

The standard unit of measurement for treadmill motors is continuous horsepower. The faster a motor is at changing speeds and inclinations, the more horsepower it has. The treadmills we most recently tested had motors that produced 2.25 to 3.75 continuous horsepower.



Cost-Effectiveness

Without spending tens of thousands of dollars on a treadmill, you can access some of the bells and whistles of the more expensive choices on this list while getting a quality workout.


Our Top Picks
Best Pick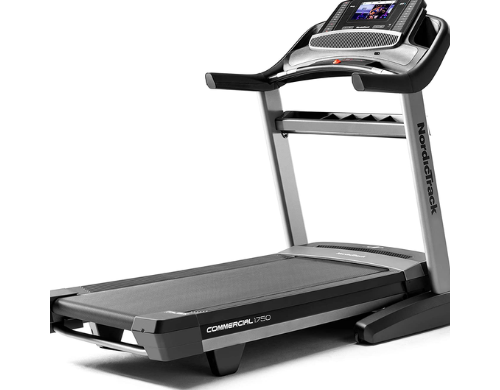 This is definitely going to be a rewarding use of your money!
With its sturdy construction, smooth ride, and straightforward controls, this won our approval.

The NordicTrack Commercial 1750 treadmill is a reliable machine with a comfortable ride, a strong frame, and a ton of features. It has a top speed of 12 mph, a 15% incline, and a -3% decline (the only one of our picks to offer a downhill).

Even at the highest inclination and speed, the treadmill feels significantly solid underfoot. It comes with a 10-inch color touchscreen, Bluetooth connectivity, and an extra-cost iFit subscription.

Runner Up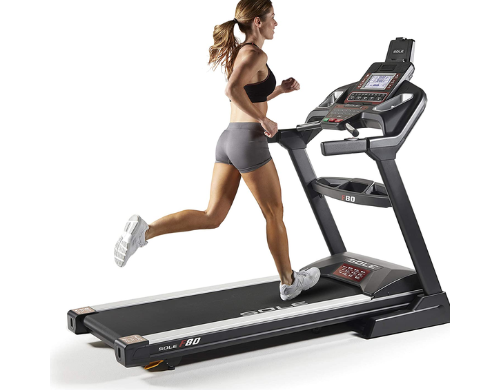 Want an alternative to our top pick? Look no further!
This reliable treadmill comes with a modest feature set, a strong frame, and an excellent warranty.


The Sole F80 is a well-made treadmill with a durable frame, but it lacks some of the enhanced features of our other top picks. It delivers the same top speed of 12 mph and maximum inclination of 15% as our top pick thanks to a 3.5 continuous horsepower motor.

It also boasts easy adjustment buttons on the handrails, in addition to on-console controls for speed and slope. One of the best warranties we've ever seen covers the labor for two years and the frame, motor, and deck for a lifetime. The electronics and parts are covered for five years.
Runner Up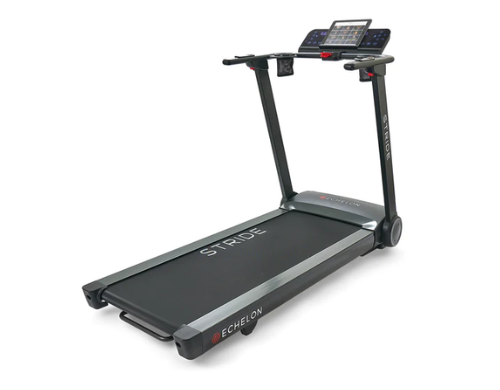 This is a more affordable, high-grade treadmill.
This stride is a hybrid of an inexpensive treadmill and a Peloton dupe.


The Echelon Stride falls somewhere in the middle of the treadmill price and quality spectrum. It performs admirably in terms of build, power, and features in the majority of areas. It can be connected to a tablet running the Echelon app, which costs money a month but gives access to live and on-demand studio courses.

The Stride plus Echelon Fit app fulfills your need for a less expensive Peloton substitute.

Everything We Recommend
Best Pick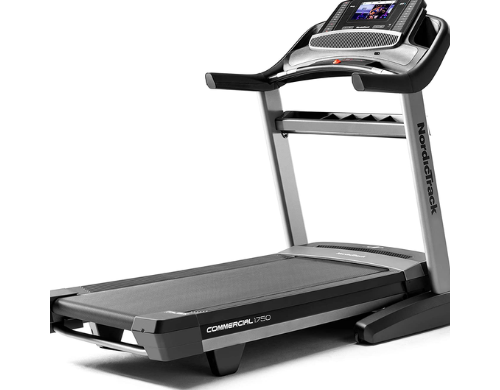 This is definitely going to be a rewarding use of your money!
Runner Up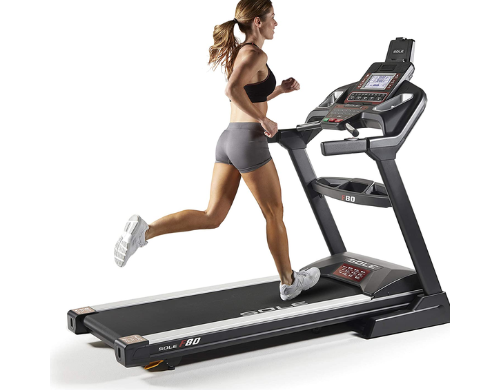 Want an alternative to our top pick? Look no further!
Most Cost-Effective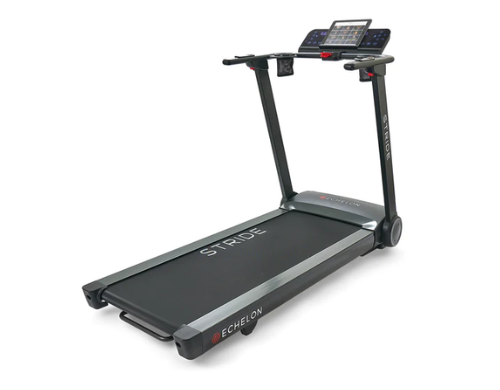 This is a more affordable, high-grade treadmill.
Who This Is For
The treadmill is a good choice to start a new exercise regimen regardless of fitness level and for the majority of back issues if you're seeking home exercise equipment that offers a simple, effective aerobic workout.
The Different Types of Treadmills
Manual
On a manual treadmill, the user must use force to move the belt and rollers. You will have to select your own pace because the belt doesn't move on its own, which is bad if you lack motivation. Due to their inferior construction and lower price point, they are not likely to last.
Electronic/motorized
With a motorized treadmill, you may control the speed at which you exercise. Numerous motorized treadmills also offer a feature that allows you to alter the inclination at which you'd like to run.
The best aspect of their design is that, because the running belt doesn't start until you start walking or jogging on it, you have fewer chances of getting injured.
Hybrid
A treadmill can be a hybrid along with an elliptical, stair climber, stationary cycle, and even a treadmill that can assist you in lifting weights.
When you exercise frequently, it's easy to get bored, but when you know you can occasionally alter things up and try a new technique, your workouts start to get a bit more interesting.
Medical
Medical treadmills are typically larger than standard treadmills and are typically digitally controlled. The majority of them are also made to function with specific pieces of medical gear that generate the measurements that doctors need from their patients.
They usually have an AC-driven system that produces the most accurate speeds, regardless of the patient's weight, as well as a regulated soft start for patient comfort and accommodation, silent operation to prevent disturbing the nearby exam rooms and offices, and quiet operation.
Is getting a treadmill worth it?
Running or walking on a treadmill is a great kind of exercise that is easier on the body than running or walking on a flat outdoor surface. For people with those conditions, treadmills also provide the possibility for meticulous blood pressure and heart rate monitoring.
With this knowledge, patients can make decisions about how much exercise they can handle and when to quit. Some of the important health benefits of exercising on the treadmill include weight loss, muscle growth, endurance levels, speed levels, body posture, improved blood flow, and depression alleviation.
Most importantly, using a treadmill will improve your overall cardiovascular health by reducing your blood pressure.
Does using a treadmill help you lose weight?
Treadmills might be the best equipment to use if getting in shape and/or losing weight are your top priorities. Users who believed they had exercised equally vigorously on bikes and treadmills in a recent study comparing activities burned 25% more calories on the treadmill.
Researchers at the Mayo Clinic in Rochester's Department of Internal Medicine challenged 20 physicians to increase their activity levels while working at treadmill desks to reduce their body fat in a study that was published in the journal Work in 2014.
According to the study reported in that journal article, those who sit for an hour burn between 60 and 80 calories. They will burn an additional 125 calories each hour if they walk 12 steps at just 1 MPH while working.
Although running can help you lose weight, there are many other ways to make the most of your treadmill for fitness and weight loss. According to Healthline, an incline boosts your heart rate, targets the posterior chain muscles such as your hamstrings and glutes, and increases the number of calories you burn.
But before you climb that incline, it's crucial to think about the drawbacks that walking on an incline can have, such as increased lower back pain, particularly in people who already have back problems, according to Healthline.
The secret is to go slowly. And before adjusting your incline, speak with your doctor if you have lower limb pain or other health issues.
Treadmill vs. a bike (machine)
Treadmills and exercise bikes differ from one another even though they both belong to the cardio equipment category.
We compare the workout difficulty or intensity, the versatility of the exercise machines, the muscles worked on a stationary bike vs. a treadmill, the calories burned and potential for fat loss, the injury risk, the enjoyment factor, and the practicality of purchasing to determine which is a better piece of exercise equipment.
Exercises on the treadmill have the potential to be more difficult than those done on an exercise bike. In terms of the range and diversity of workouts you can do, treadmills outperform exercise bikes when comparing the two types of machines.
You can perform a greater variety of exercises and regimens on a treadmill because you may run or walk on it and even use an incline. This might keep you from becoming bored and give you the chance to work different muscles for higher fitness gains.
The amount of calories you burn depends on your weight, workout intensity, and length, regardless of the type of activity you do. Running on a treadmill burns more calories per minute than riding an exercise bike and vice versa for walking on a treadmill and riding an exercise bike.
Treadmill vs. cross trainer elliptical
Your physical well-being and fitness objectives will determine whether you should use a treadmill or an elliptical machine. Both machines have the potential to be equally helpful for calorie burning and a quality cardiovascular workout.
For some people, the elliptical offers perks that the treadmill cannot. The elliptical, for instance, might be a better option if you're prone to injuries or have a musculoskeletal issue because it lets you get a strong cardiovascular workout without placing as much stress on your bones and joints and may lower your risk for damage when you exercise.
You can work out both your upper and lower bodies on the elliptical in a shorter amount of time (if the elliptical machine has arm handles). On the other hand, if you don't frequently get hurt or have joint issues, the treadmill may be a better option for you.
The treadmill is unquestionably a superior choice if you're trying to achieve a specific objective, such as preparing for a 5K or 10K race or strengthening your glutes and leg muscles.
Why You Should Trust Us
National Today takes great satisfaction in working with reliable independent writers that have years of experience writing about lifestyle issues and product reviews. Each of our testers has a different background in fitness and has used and tested treadmills before.
Tests are performed on every treadmill to evaluate its quality, usability, design, interface, and app integration. We come together as a team to share notes and create our best list after each reviewer has finished testing every treadmill.
We talked to running instructors, sports experts, and business insiders to better understand how treadmills can (and can't) aid with exercise and training.
How We Picked
Size/Weight
Typically, residential treadmills are around seven feet long and three feet wide. This size might be an issue for some people, so we considered folding models since they are a perfect substitute.
However, a treadmill's ability to be folded does not automatically imply that it is portable. Despite having wheels, the devices are nonetheless very heavy and challenging to maneuver.
Stability
We took into account the stability to support larger people since it is also a sign of the treadmill's durability. When you run or walk on the treadmill, the frame shouldn't sway, and the treadmill shouldn't vibrate.
Additional features
Subscription-based training courses are currently one of the biggest trends in home fitness equipment, and these treadmills provide this option as well.
Some models have large LCD or HD displays that clearly and separately display important statistics like incline, speed, distance, calories burned, and heart rate (if using a heart-rate monitor).
You can also immerse yourself in online coaching sessions and workouts, but beware: that requires a regular monthly financial commitment. We also took into account other unique qualities.
In any case, some classes only offer pre-recorded sessions, while others only offer live instruction. The instructor can also control the most realistic treadmills remotely and in real-time. Otherwise, you'll have to manually modify your pace and incline throughout the session as per the instructor.
Warranty/price
The treadmill you purchase ought to come with a guarantee to back it up, just like everything else with this kind of price tag should (consider kitchen appliances, your car, or your computer.)
You should be getting three to seven years of coverage on parts and at least one year of labor (so, should you need it, you won't have to pay for someone to fix your treadmill under a year after bringing it home).
This is in line with all of our recommendations as well as warranty standards from other manufacturers. For the duration of the machine, the frame and the motor should be covered. Also note that to accommodate your budget, we tried to include treadmills at different pricing points.
Ease of set-up
Fortunately, several manufacturers offer setup services with the purchase of their devices for simple setup, but occasionally at an additional fee. We also noted how easy each machine was to operate after being set up.
Incline/speed
The treadmill's capacity for incline was another consideration. This function gives you an additional component to include in your exercise program and guarantees that you are always completely challenged.
Exercise's negative effects on your joints are lessened by the tilt that comes with inclination.
You'll gain additional advantages from employing an appropriate incline, such as increased caloric expenditure and muscle growth. We also included treadmills that go up to 10 mph or higher.
Shock absorption
Along with the actual running specifications, we considered factors such as cushioning, capability, and shock absorption. Our top picks contain shock-absorbing cushioning systems beneath the belt and the deck, the area of the treadmill that the belt slides over.
Safety features
Although a treadmill's main purpose is to help you work up a sweat, its numerous moving parts might be dangerous if you operate it improperly or make a mistake.
Our top selections offer side handrails to ensure stability during a strenuous workout.
Additionally, they have an emergency clip that, in the event of a fall, cuts the belt.
Care and Maintenance
Cleaning the deck
After each use, wipe your device. This step is especially crucial if you constantly sweat. Moisture that accumulates inside the machine and on its surface can encourage bacterial and fungal growth, as well as the rusting of metal parts.
While a damp cloth will usually do the trick, you might also want to invest in a home treadmill cleaning kit.
Cleaning the belt
You should always use a gentle towel to clean the treadmill after each use. Keep an eye out for collected sweat and debris on the running belt and dashboard.
For weekly cleaning, you should wipe the treadmill once a week with a basin of water and a moist cloth. Additionally, you should sweep up any dust and particles that have accumulated throughout the week.
Make sure to vacuum underneath the treadmill as well.
For monthly cleaning, you should remove the motor cover once a month and wipe the motor down with a soft, dry cloth.
Additionally, you should lubricate the treadmill's belt once a month. In line with the owner's manual, remove the motor hood. Follow the directions in the user manual provided by the manufacturer while doing this.
Lubricating the treadmill
Your treadmill may require more frequent lubrication depending on how frequently, how much, and what kind of lubricant is utilized. Some professionals advise doing it every three months.
A silicone- or paraffin-based lubricant is typically applied to the treadmill belt's underside, paying particular attention to the region where your feet make the most contact. Do not put it on the belt's walking surface.
Aligning the belt/maintaining belt tension
You might need to loosen the belt before using the lubricant and then retighten it once you're done to retain the belt tension. Avoid lubricating your treadmill with WD-40 since it will quickly deteriorate the belt.
Additionally, a misaligned or crooked belt is probably to blame if you find your treadmill slowing down without changing the speed or if you experience slipping.
About once a month, make sure the frame's nuts and bolts are tightened and the uprights anchoring the console to the frame are sturdy.
Electronic Safety
Keep an eye out for any electrical problems. When using your treadmill, stop using it right away and unplug it from the wall before looking into what's producing the burning scent (dust under the motor, an object lodged under the belt, etc.).
A burning scent should never be disregarded since it could rapidly turn into a fire threat. To keep your treadmill safe during power surges and outages, you can also protect its electronic components by hooking it to a surge protector.
Regularly inspect the machine's power cords as well, looking for any damage or indications that they require replacement.