The Best Toolbox for 2023
Keep all your tools organized and within reach with one of these handy toolboxes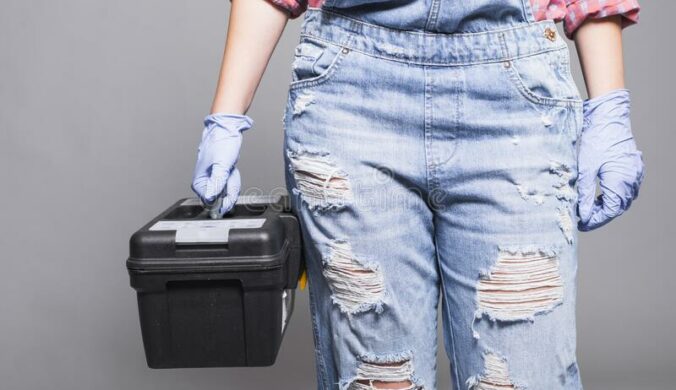 If you're searching for a portable and user-friendly way to store your tools, we recommend purchasing a toolbox. Toolboxes are a great choice for those looking to organize their lives and are perhaps tired of the endless search for that one particular tool. Owning a toolbox will simplify your life because it keeps your expensive tools free of dust and rust and gathers all of your supplies in one location for quick access.
There are several toolboxes available on the internet, and we know that shopping for a product like this can become quite vexing. That's why we've done the research for you and found the most rigorous and sturdy toolboxes for our final product review selection. We have evaluated each toolbox and made sure to bring you only the highest quality products, complete with ways to care for your toolbox and tools.
How We Picked
Size and Capacity

The size of your toolbox is a very important consideration since this will determine whether your tools fit in the box or not. It's always good to choose a toolbox that's more spacious so you can stack and store your tools with ease.

Durability and Material

Toolboxes are usually made of aluminum, steel, stainless steel, or plastic. While steel boxes are durable, they can be a little heavy. Aluminum and plastic are relatively lighter and non-corrosive.

Weight Capacity

The amount of weight a toolbox can hold determines how many tools it can hold. The handle must have a comfortable grip and a strong design so the toolbox can be carried around with ease.

Cost-Effectiveness

It was difficult to find a budget-friendly toolbox that met all of our needs, but we did it! We have outlined only the most cost-effective toolboxes on the market.
Our Top Picks
Our Top Pick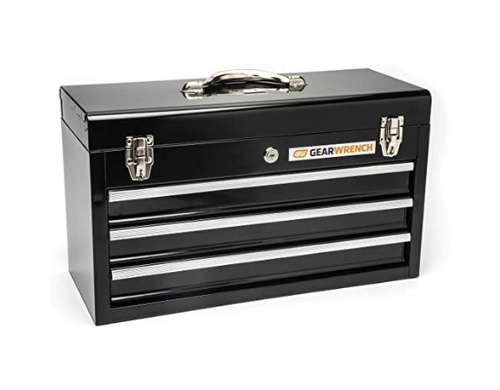 This product is hardy, durable, hardcore, and meant for serious toolbox enthusiasts out there.
This product certainly comes up first on our list, and for several reasons. Not only is the GearWrench Steel Tool Box made of quality steel, but it also comes in a striking black and silver design with three drawers. It has a lock for extra security and is protected by a special rust-resistant coat. This product will definitely not disappoint, it's even been rated one of Amazon's top choices.
This is the ultimate toolbox for storing any type of tool, gadget, or DIY craft supplies!
Our Runner-Up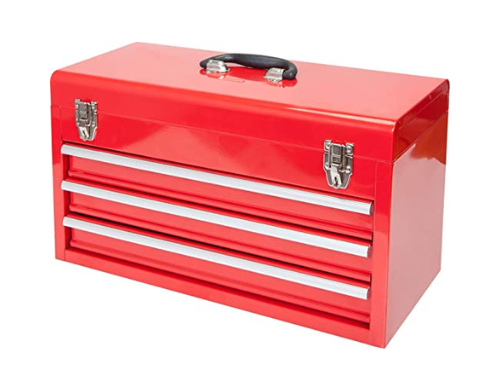 This toolbox is a great and eye-catching addition to any room, whether you're sewing, crafting, painting, or building.
The Big Red Steel Toolbox is made from strong and durable steel and comes in a variety of striking colors. It measures 8.5 inches wide and is equipped with three drawers and a top box. This toolbox is covered with a powder-coated red paint finish for easy cleaning. This product is also portable, comfortable, and a great storage piece for any home. This product has been awarded Amazon's choice, and we can see why!
This toolbox is for those who are looking for a heavy-duty and durable product that they can rely on.
Most Cost-Effective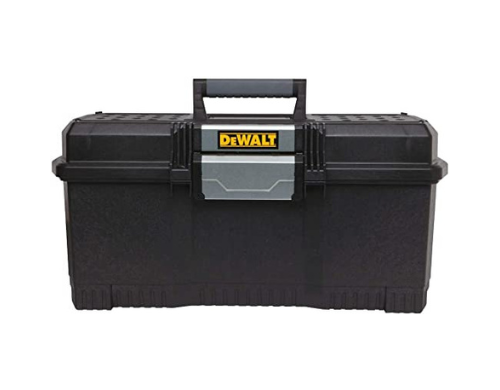 This toolbox may be a bit smaller than our other picks, but it still packs a punch!
The Dewalt Tool Box comes with a one-handed latch operation for easy accessibility. This product is made out of plastic, but that certainly doesn't make it any less durable. This product also features an integrated water seal for extra protection from water and dust.
This toolbox may not be the fanciest product on our list, but we can guarantee it will get the job done.
Everything We Recommend
Our Top Pick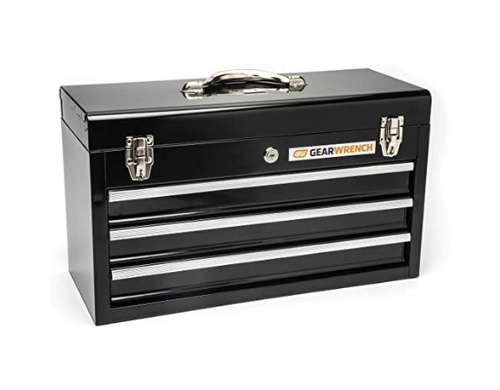 This product is hardy, durable, hardcore, and meant for serious toolbox enthusiasts out there.
$62.65
Our Runner-Up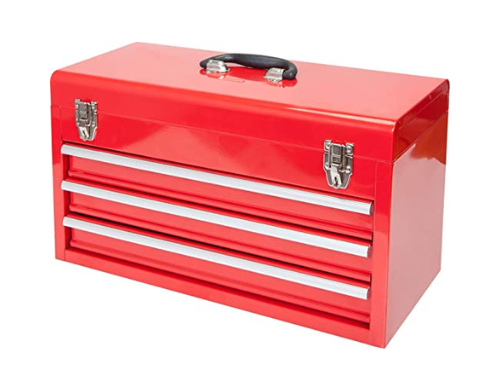 This toolbox is a great and eye-catching addition to any room, whether you're sewing, crafting, painting, or building.
$60.17
Most Cost-Effective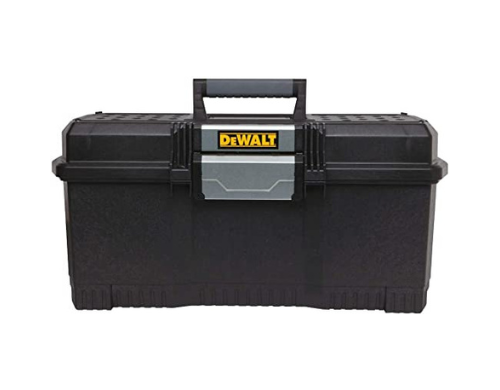 This toolbox may be a bit smaller than our other picks, but it still packs a punch!
$26.97
Who This Is For
A toolbox is more than just a place to store your tools; it's a crucial kit that any home or workplace needs, no matter your level of expertise and professionalism. Whether it's general contracting, mechanics, sewing, painting, or simply DIY, owning a reliable and functional toolbox is an absolute must.
Is getting a proper toolbox worth it?
Rather than just using an old wooden box to store your tools and supplies, try using a strong and long-lasting toolbox made for your particular needs. There are hundreds of different toolboxes to choose from that will assist you in preventing damage to your tools and help organize your life. Storing your supplies and tools appropriately in the correct toolbox will affect their longevity in the long run, and we highly recommend it.
Are there different types of toolboxes?
Whatever type of work you're doing, we can guarantee that there's a special toolbox out there for that exact purpose. We have outlined a variety of different toolboxes to suit your particular needs depending on your craft. Whether you're dabbling in resin art, doing general contracting, building, sewing, or general handyman work, there's a toolbox for it. There are various types of toolboxes, but most come with the same design. It's possible to purchase any kind of toolbox for any craft, as long as it has enough space inside for what you're looking to store in it.
Why You Should Trust Us
We have spent time evaluating and researching different toolboxes on Amazon to make your shopping experience as easy as ever. We have taken several considerations into account when making our final selection, so we can assure you that it is the best toolbox for your specific purpose. We have taken cost-effectiveness into account, and while some of the toolboxes outlined are on the pricey side, we've made an extra effort to find you the most budget-friendly and durable toolboxes that we can assure you will last you 10+ years or longer.
How We Picked
We have taken several factors into account when choosing our final toolbox selection. Firstly, size and storage capacity are crucial aspects that we didn't overlook and made sure to outline the most storage-friendly toolboxes we could find. Secondly, we have made sure that all the toolboxes outlined are made from durable, sturdy materials for a scratch and rust-free design. We also know that portability and comfort are important, and we've chosen only the most portable products made with handles that have a comfortable grip. It's also important to choose a toolbox with a strong weight capacity, enough drawers for storage, and built-in locks for privacy. Depending on your craft, you may be using your toolbox to store a variety of different things. We've considered and outlined a wide variety of toolboxes based on your particular needs.
Care and Maintenance
We have outlined a number of tips for organizing and maintaining your toolbox, so you'll never have to scratch around for that pesky tool ever again! Firstly, we suggest cleaning the inside of your toolbox with a cloth soaked in some paint thinners and paying special attention to cleaning your screwdrivers and wrenches as well when doing this. Make sure to never overflow your box, as this may cause the handle to be overworked and possibly break. Be mindful and careful when carrying or transporting your toolbox to avoid injury.
We also recommend not carrying your toolbox if you notice the handle or latch is faulty in any way. Another tip we can give you is to place a piece of cardboard at the base of the box to soak up excess oil and protect your tools. Make sure to throw away any rusted screws, bent nails, or any other junk that may have accumulated in the toolbox, and give it a general wipe-down every other week.