The Best Toiletry Bag of 2023
Make your summer comfortable and easy with our picks!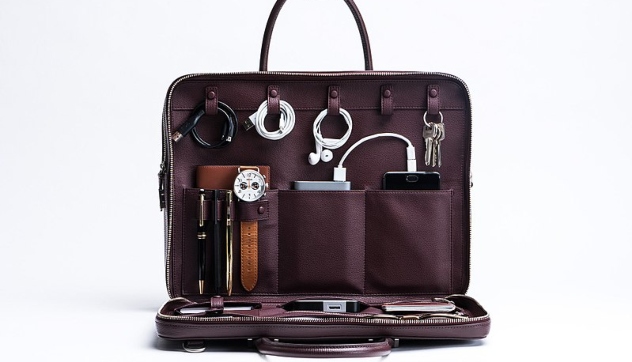 With summer finally here, and you want to go out on a short vacation before school or work starts, packing becomes confusing as you need to manage your items wisely to save some space. You would want to bring the appropriate toiletries to make your vacation more comfortable. It's important to know where you're going to put your essential items like lotions or soap, even on a short trip. Otherwise, it's enough to ruin your day. Putting them in your luggage without special care will ruin the essential items.
That is why we looked for the best toiletries to make your holiday as comfortable as possible, making it simple to take your essential hygiene materials, especially for women, who need more attention. These toiletries will keep your items in their place, not easily misplaced. So use these toiletry bags for your convenience and make your journey simpler.
How We Picked
Waterproof/Resistant

Since most of your items are going to be your hygiene materials, we try to find toiletries that are water-proof or at least water resistant as you are most likely going to put the bag in the bathroom. Thus, these bags must be water-resistant and durable enough.


Easy to Wash

Nobody wants to spend too much time cleaning their bags, no matter how clean one can be. We want our purchasers to be able to save time to do other activities and have time to clean their toiletries with ease. That way, you can get more time to travel!



Size/Capacity

We do not want the toiletry bags to be too big or too small for customers. They would want the right size to bring their items along, and easy to bring around for their short trip, but still able to hold on to their personal belongings.



Cost-Effectiveness

Toiletries are items that most of us won't think too much about buying as it is usually the least of our worries and we do not want to buy the most expensive as well. We've considered costs to make the experience better!


Our Top Picks
Best Pick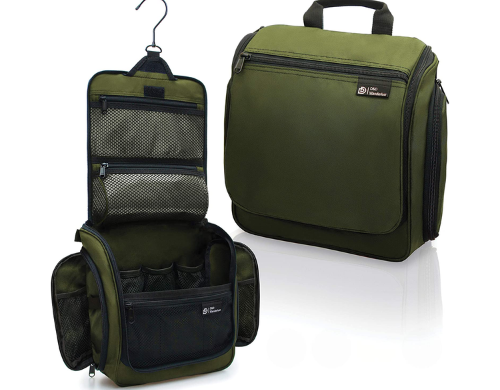 Mobile and minimal
Perfect for the adventurous soul.
Feeling a little adventurous? The D&D Wanderlust can be your best companion and can be used for both men and women. It's still an awesome toiletry bag, especially for those who need a feel of adventure. This waterproof bag gives you easy access to your items and contains seven zippered pockets, giving you enough space and easy mobility for you. It also contains a hook for you to hang this bag! How simple can it get for your adventure?
Runner Up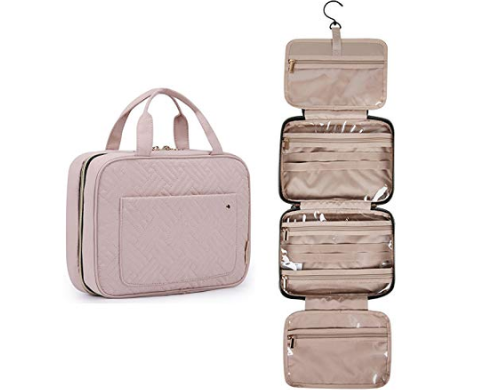 It's got that chic aesthetic
Soft and with plenty of room.
The BAGSMART Toiletry Bag, as the name speaks for itself, is a very convenient bag containing four separate compartments to bring enough toiletries for you. It won't easily lose its shape as it is well-padded, having inner pockets and elastic straps. It is also water-resistant and has minimal space claims. You will find it very simple to bring around and pack.
Most Cost-Effective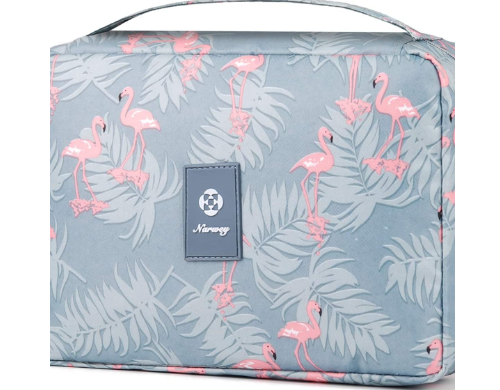 It's waterproof!
Efficient AND fashionable.
The adorable Narwey Hanging Travel Toiletry Bag is a great companion for your vacation! It is high quality, consisting of three compartments for you to fill up your hygiene materials so that you can bring enough items with you. They are tight enough to keep the items in place and encourage you to neatly place them, making them more accessible and tidy for your travels. Plus, your travels will be easier and more convenient!
Everything We Recommend
Best Pick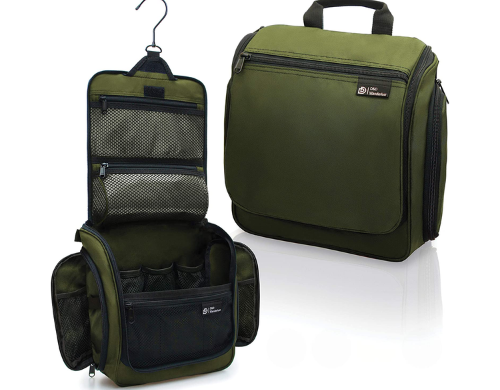 Mobile and minimal
$26.99
Runner Up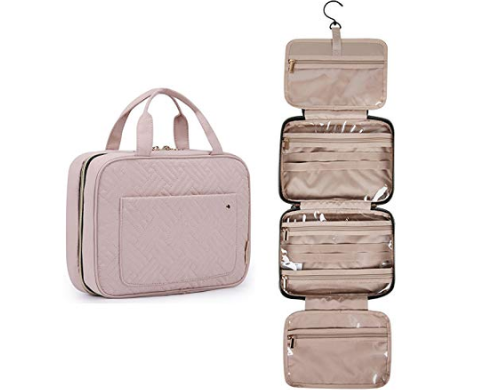 It's got that chic aesthetic
Most Cost-Effective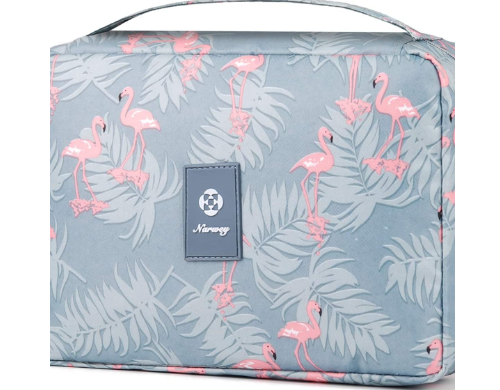 It's waterproof!
$12.99
Who This Is For
The products listed here are for anyone, mostly women, who require the best management for their toiletries, particularly the ones who might need to bring more.
What Is A Toiletry Bag?
A toiletry bag, as the name speaks for itself, is a bag that is used specifically to carry your toiletries. You may find yourself placing the bag in bathrooms during your travels as you will need your hygiene materials there.
Can I Bring Toiletry Bags Through Airport Customs?
It is recommended that you place your toiletry bags in your luggage so that your travel hand-carries or pull will be easier. And if you have liquid in the bag, most airp
Why You Should Trust Us
Toiletry items may be something that we don't pay attention to that much, but they are very essential, particularly for women. Our hygiene is very important, that is why we need toiletry bags to accompany us when we travel so that they can carry our essential items for the journey. We did our best to find the best toiletry bags to be your companion.
Because there are so many toiletry bags out there, we did thorough research on the bags and saw what the customers had to say about the products they purchased.
How We Picked
With a lot of brands producing their own toiletry bags, buying one becomes a lot harder with a lot of choices available online. So we tried to narrow down the best match that fit our criteria. After researching several bags, we found common designs and concepts that we believe will be great for the customers' travels. The criteria we made consist of Size, capacity, closure systems (Including poppers, zips, and velcro), ease to wash, and waterproofing. We also have its fashion/material, and durability in our additional marks to see how well they can fit to be a long-term travel partner.
Once we find the bags that match the criteria, we also check the customer reviews to see what they have to say about them. We evaluate what they love about the bags, and most that you will find are written in our criteria already. You will also find that most of the bags have a score of 4.5 out of five stars, proving to be a great fit for you.
From all the bags we viewed, we mostly prioritize capacity/size and water resistance to be the best grade in the choices. Most women carry a lot more hygiene materials than men, and they need a bigger but minimalistic bag to bring the necessary items. And since they will mostly be using the items in the bathroom, they must be waterproof or at least water-resistant. That way, it would be more convenient to clean the bag without damaging it as well. We aimed to ensure that the bag is convenient to use for travel, being a simple and water-proof toiletry bag.
Care and Maintenance
Since toiletry bags are meant to carry your hygiene products, it is required that the toiletry bags be clean as well. Just like a normal bag, you can clean it with a damp washcloth once you apply a drop of soap to the stain. Then, you gently rub it in a circular motion as you wipe off the stain. Keep it away from laundry detergent or it will ruin the material of the bag. After that, dry it off under the sun, and zip it open so that the inside can air-dry. 
Clean the toiletry bag at least once a month or after one of your travels. 
If you find the zippers have broken, your nearest retail service will help you fix it right back up.