The Best Toilet Paper for 2023
Buy the best toilet paper brands for comfortable and effective toilet care.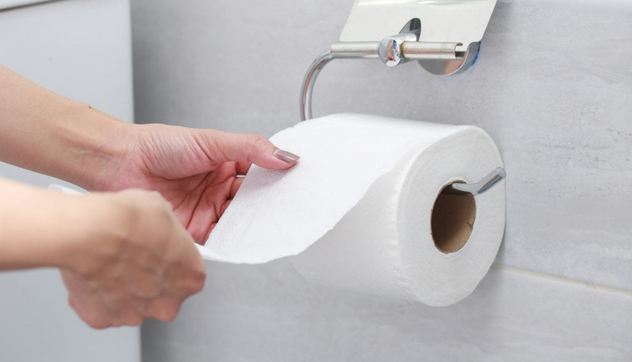 Toilet paper is considered essential and can be found in almost every home, workplace, restaurant, and other establishments. Everyone, regardless of gender or age, uses toilet paper. Sometimes, however, it becomes time for an upgrade.
If you're looking for a new brand of toilet paper, it's possible that you're dissatisfied with the one you're currently using. There are several things to look out for when choosing a new brand, so if you don't pick carefully, you may end up with a brand that's even less satisfactory than the one you're currently using.
This is why we've created this guide: to teach you the best criteria to consider when selecting a toilet paper brand. We've also gone further in this guide to suggest our top picks that will satisfy most of the necessary criteria for a good toilet paper brand.
How We Picked
Size/Number of Sheets

The size and number of sheets of toilet paper brands matter when choosing because you want to ensure you're getting enough for your household while also getting good value for your money. This is why we suggested reasonably sized options that will suffice for your entire household and offer good value.

Comfort/Paper Quality

The best kinds of toilet paper have sturdy qualities without causing discomfort to users. This is an important criterion we prioritized to ensure that waste disposal is effective with the toilet paper brands we suggested, while also being comfortable during use.

Eco-Friendly Design

It's also a good idea to ensure that the brand of toilet paper you choose is biodegradable and recyclable, thus causing no harm to the environment. We made sure to prioritize this criterion when suggesting our top picks.

Cost-Effectiveness

With toilet paper, you need to be able to get the most value for your money. Since toilet paper is a product that will always be needed in the home, it must remain affordable, so we made sure to factor this into consideration when suggesting our top picks.
Our Top Picks
Best Pick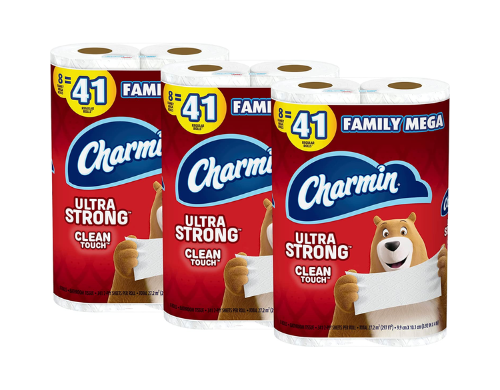 Get the best of comfort and strength with this brand and stock up for long-lasting use.
Without sacrificing softness, the Charmin Ultra Strong toilet paper offers outstanding cleaning. It cleans just as well as other top brands with its weave design that resembles a washcloth. This brand allows you to use 4X fewer sheets than other brands. Also, because one Charmin Family Mega Roll equals 5+ Regular Rolls, when you purchase Charmin Ultra Strong Family Mega Roll toilet paper, you get a large, long-lasting roll.
Charmin Ultra Strong toilet paper ensures comfort during use as well as quality strength for effective cleaning and waste disposal.
Runner Up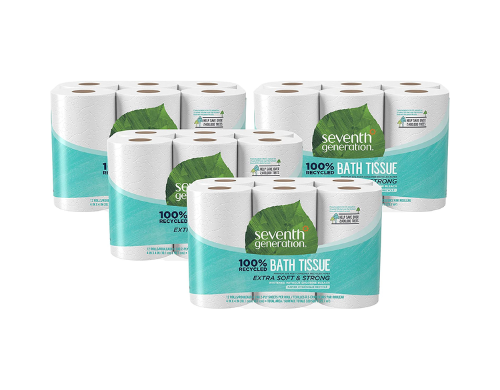 Choose this environment-friendly toilet paper brand that also offers safe, comfortable, and effective use.
Seventh Generation 100% Recycled Paper Bath Tissue is a 2-ply toilet paper that is particularly thick and soft. It has no chlorine bleach content, making it safe for use. It is also safe for septic systems, RV-friendly, and environmentally beneficial. Additionally, this toilet paper is secure for septic systems and low-flush toilets.
The Seventh Generation toilet paper is excellent for its environmentally friendly design, and its thick and soft nature ensures comfortable and effective use.
Most cost-effective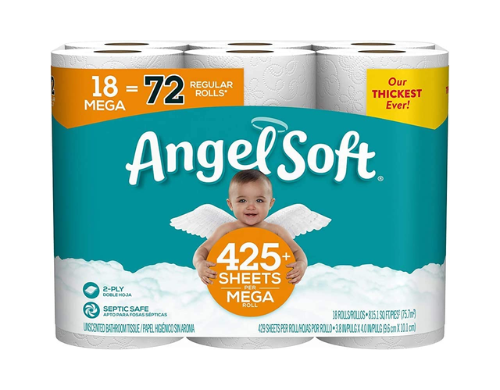 The most cost-effective, hassle-free brand that offers comfort, quality, and safe use at affordable prices.
Angel Soft Toilet Paper is also made of soft, strong materials at an affordable price. This means that it will provide you with the quality you want at a price you'll love, roll for roll. Additionally, it is secure for common septic systems because it will easily decompose after being flushed for hassle-free use. This makes it suitable for use in conventional sewer and septic systems.
Angel Soft toilet paper is made from high-quality, low-cost materials, ensuring effective and comfortable use at a low cost.


Everything We Recommend
Best Pick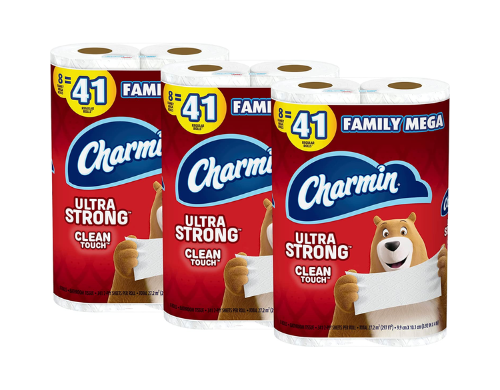 Get the best of comfort and strength with this brand and stock up for long-lasting use.
$59.95 ($0.73 / 100 Sheets)
Runner Up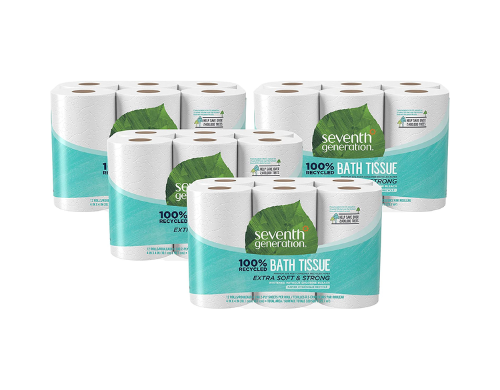 Choose this environment-friendly toilet paper brand that also offers safe, comfortable, and effective use.
$47.96 ($0.42 / 100 Sheets)
Most cost-effective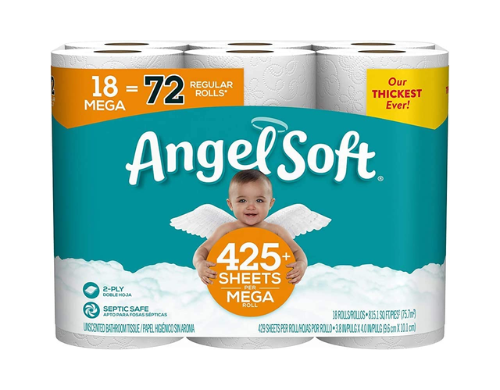 The most cost-effective, hassle-free brand that offers comfort, quality, and safe use at affordable prices.
$39.99 ($0.52 / 100 Sheets)
Who This Is For
If you've been looking for the best brands of toilet paper on the market, this guide is for you. We've included all the important details to look out for so that you can get the best options for comfort, convenience, and value.
What are "plies" and why are they important when buying toilet paper?
Toilet paper has many different characteristics, like the kind of pulp used in production, color, scent, etc. However, two-ply and three-ply toilet paper are the only features that differentiate them.
Three-ply toilet paper is softer and stronger than two-ply options, allowing you to use fewer sheets overall. Consumers normally select the three-ply choice when presented with these two options. Three-ply toilet paper sales are not always driven by technical merits. Sometimes, customers will simply convince themselves that this option is better than others.
Three-ply toilet paper is superior but more expensive and more suitable for use in high-end executive offices, eateries, and other settings where you want to enhance the restroom experience for customers.
Why You Should Trust Us
While creating this guide, we researched the best toilet paper brands on the market through different means. We compiled and compared reports from expert toilet paper makers and testers, and we also combed through online reviews from consumers worldwide.
We also took recommendations from industry experts into consideration, to ensure that we were using the right set of criteria to select the best toilet paper options for you.
How We Picked
After all the comprehensive research that went into compiling this guide, we were able to identify the most important criteria that determine the quality of toilet paper brands. The following criteria are the most relevant:
Size/Number of Sheets
Toilet paper rolls typically come in different sizes and numbers of sheets, touted by their manufacturers as "mega," "jumbo," and other similar terms. When it comes to size, though, it mostly depends on your personal preferences. Larger rolls of toilet paper are generally better for saving money because you get more for less money than if you buy in smaller quantities. Larger-sized rolls with more sheets would also be a smarter choice in households with many people, or more children and older people.
Number of Rolls
It's crucial to pick a brand that offers you the best value if you anticipate using a lot of toilet paper in a short period. This entails selecting a bundle that includes more rolls in each case. We kept this in mind when recommending options for you to choose from, so you get more bang for your buck.
Comfort
Defining comfort is relative when it comes to determining which toilet paper brands are most comfortable. Some consumers prefer slightly rougher-textured toilet paper to softer ones, and vice versa. In this guide, we made sure to include various brands of toilet paper that offer great comfort levels for users.
Paper Quality
You should purchase a brand that offers adequate quality in terms of absorbency and strength, especially if you have young children or elderly family members who are prone to accidents. The manufacturers of the toilet paper brands we've suggested in this guide have a solid reputation in terms of toilet paper quality. Leaks and large amounts of waste can be contained by these toilet paper brands.
Eco-friendly design
Biodegradable toilet paper is environmentally friendly and completely safe for the environment and the health of your skin. Toilet paper made of biodegradable materials can simply be thrown away because it doesn't harm the environment even after being discarded.
Customers who care about the environment will typically be looking to select eco-friendly toilet paper manufactured from trees that are harvested ethically and with renewable energy and recyclable packaging. We also considered this factor when we selected and reviewed our top picks in this purchasing guide.
Price vs Quality
Regular toilet paper is available from manufacturers in a wide variety. This can make selecting toilet paper feel like a mathematical problem, but it doesn't have to be that difficult. Look for high-quality construction when selecting toilet paper to get the best value.
You will have to use more of the cheap, thin toilet paper, which means it won't last as long or be as comfortable to use. On the other hand, when making this extremely personal decision, it's also important to avoid paying for extras that you don't need or want.
We kept all of these in mind when we suggested our top picks in this review so that our readers could get the best toilet paper quality at the most decent prices.
Free of added chemicals
To soothe sensitive skin, many firms sell toilet paper with a variety of extras, such as perfumes or additions like aloe vera and vitamin E. If you have a sensitivity to synthetic fragrances, it's important to pay attention to the ingredients listed on scented toilet paper.
It has also been demonstrated that brands of tissues or toilet paper that have undergone chlorine bleaching or processing release chlorine into the water supply. Therefore, using such toilet paper brands is not a good habit for people to get into. Additionally, toilet paper may contain dioxins, which are dangerous to people.
It is thus advisable to use options that are free of added chemicals to ensure better safety for you and your family. This is why we made sure to recommend options that are as free of added chemicals as possible.
The number of layers (plies)
From one-ply to four plies, you can find toilet paper available in different thicknesses. Toilet paper becomes more resilient and long-lasting as the number of plies rises. A thicker sheet of tissue paper can be produced from just one single ply, though. The term "1-ply" indicates that the product is made of single-layer toilet paper; "2-ply" toilet papers have two layers; "3-ply" denotes three layers of toilet paper, and "4" denotes that the product is made of four layers of toilet paper.
The ply and the paper's capacity to dissolve are two important factors to take into account when purchasing toilet paper. You can use fewer squares of thicker toilet paper, such as 2- or 3-ply, but if you're a little more cost-conscious, 1-ply toilet paper rolls are typically less expensive per sheet.
Keep in mind that the more layers there are between each sheet, the longer it will take to disintegrate; this is especially important if your plumbing or septic tank is sensitive.
Easy to perforate
Ease of perforation is an important consideration because it can mean the difference between whether or not your toilet paper will be easier to use. If a brand is not perforated properly, cutting it up for use is messier and not as easy as well-perforated brands.
Care and maintenance
Be mindful of how much toilet paper you use in one sitting
It's a good idea to be aware of how much toilet paper you're using, whether you're aiming to generate less waste or you have a strict toilet paper budget.
According to estimates, the average person uses about seven wipes per occasion—6.4 sheets for women's toileting and eight sheets for men's. Now, this will mostly depend on the quality of toilet paper you're using, but it helps to watch how much you use per wipe. Apart from preventing excess waste in the environment, using less toilet paper helps prevent toilet overflows.
A clog in the toilet bowl is the main reason why toilets overflow. One of the main causes, in addition to flushing wipes, diapers, or sanitary products down the toilet, is using excessive toilet paper.
Recycling toilet paper rolls
Rolls of toilet paper can usually be recycled. Toilet paper rolls can also be composted if you have a compost bin in the bathroom, which we advise because it allows you to compost tissues and cotton swabs with paper sticks. Keep in mind that toilet paper cannot be recycled, so only empty rolls should be combined with cardboard for recycling.
Due to their frequent mixing with trash, empty toilet paper rolls frequently never make it into the recycling bin. You should therefore place a small recycling bin in each of your bathrooms to make it simpler to recycle these tubes.
One good way to reuse toilet paper rolls is to use them to store electrical cords. Simply roll the cord up, insert it into the tube, and store it. If you typically maintain a lot of cords, you may easily identify them by labeling each tube.
Ensuring you're getting your money's worth
Price comparisons for toilet paper can be difficult because no two rolls or packages are the same. There are many different roll sizes available, but there are also other things to take into account, such as square footage, layers (ply), softness, thickness, and more.
How can you determine the best offers while avoiding complete scams? We advise you to compare prices by looking at the square footage per package, as the number of sheets per roll of toilet paper might vary greatly between brands. Additionally, keep in mind that multi-ply rolls are likely to require fewer sheets than single-ply ones.
You might be accustomed to figuring out the cost of toilet paper per roll to see if it's a good deal, but sadly, that approach is no longer very cost-effective. The vocabulary each manufacturer uses to describe the sizes of their rolls varies widely, so a brand's typical roll (for instance) might not compare to a regular roll for another brand.
The best approach to determining the cost of toilet paper is per square foot because the cost per roll differs significantly between brands. To achieve this, multiply the toilet paper's cost by the amount of square footage, which is typically printed right on the box.
However, some manufacturers on the internet don't always specify square footage in their listings. If so, figuring out the unit cost by sheets per roll is the next-best option. Although it won't be as precise, this will give you a general idea.