The Best Toaster for 2023
If you like your bread crispy, a toaster is a must-have.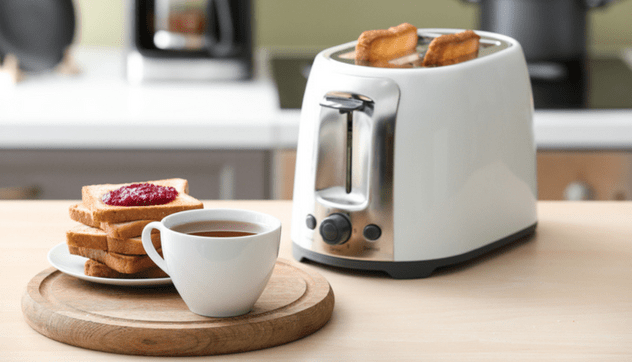 Bread tastes good, but toasting it improves its taste and appearance. For you to have your bread toasted to your desired taste, there's a need for you to make use of the best toaster that will serve you better.
Toasters are made to toast bread or bagels, grill, brown bread, or muffins. They are also used to defrost foods. The toaster is an important kitchen appliance as it helps to keep bread hot and tasty before consumption. Read our review to have the best experience with your toaster and equally tasty toast.
How We Picked
Capacity/Width of Slots

Bread comes in different sizes, which means different-sized slices. The width of the slots and the capacity of the toaster should also differ. Therefore, it is crucial to buy a toaster that is compatible with the size of the bread slice you prefer.


Shade Settings/Control

Kitchen appliances like toasters are fun to use when their controls are easy to operate. It is also very important to consider the range of the shade. You may like brownish bread toast, while a member of your family may love it dark.


High Lift - to check to brown

Lifting your toast high out of the toaster is very important, so as not to hurt your fingers on the hot surface of the toaster. It is also considered acceptable to lift your toast to see how it is browning without stopping the toasting.

Standard Settings

The settings for the regulation of how the bread is being toasted should be standardized and easy to use, such as; preheat and defrost.
Our Top Picks
Best Pick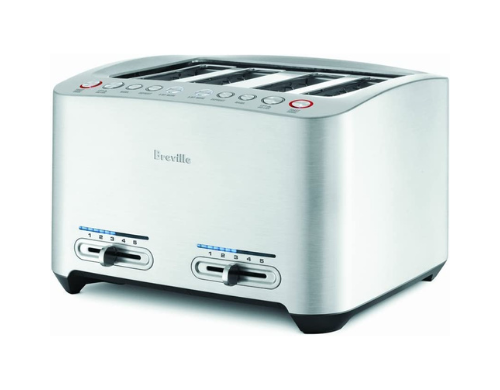 This toaster may appear to be overpriced in comparison to other toasters, but it is well worth the money.
The Breville Die-Cast is simple to use and has a smart auto lift and countdown indicator.
This brand with 4-slice slots is so great because it accommodates most bread sizes and has advanced toasting technology. The bread can be automatically inserted into the toaster, lifted during the toasting cycle to check on progress, and lifted at the end to provide toasting perfection using the touch button on this particular toaster.
Runner Up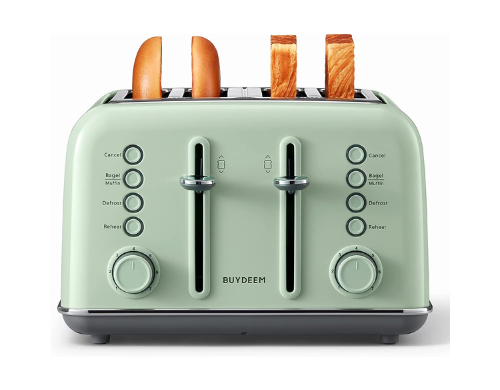 With extra-wide 1.4-inch slots and seven toast shade settings, it's ideal for a variety of slice sizes.
If the warm greenish and mellow yellow finishes are a little too much for you, this toaster is also available in a stainless finish.
The BUYDEEM DT640 is designed with style to help manage space on your countertop neatly. This toaster has four independent control panels with four separate slots for making different toasts at the same time. It also has a bagel feature that initially heats the bagel on both sides before toasting only the side closest to the blade.
Most Cost-Effective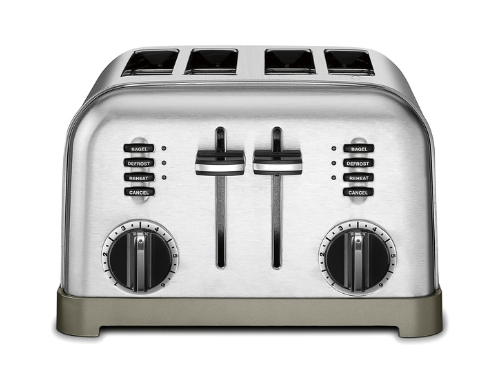 This toaster has six browning settings and comes in a range of colors.
This Cuisinart toaster is perfect for anyone who is concerned with kitchen aesthetics because of its polished chrome housing and black accents.
Two different sets of toast can be simultaneously toasted thanks to this brand's twin independent toasting controls. In addition to toast, it contains a range of other toasting features, like bagel buttons with LED indicators, dual reheat, and browning knobs, all of which make toasting quick and simple.

Everything We Recommend
Best Pick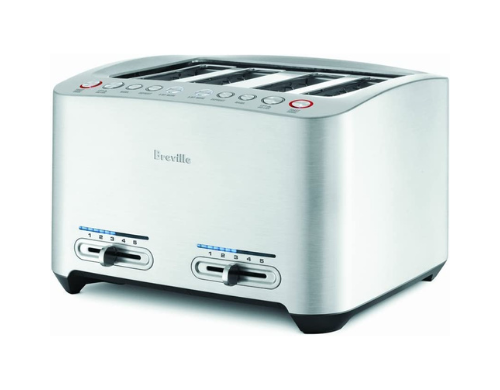 This toaster may appear to be overpriced in comparison to other toasters, but it is well worth the money.
Runner Up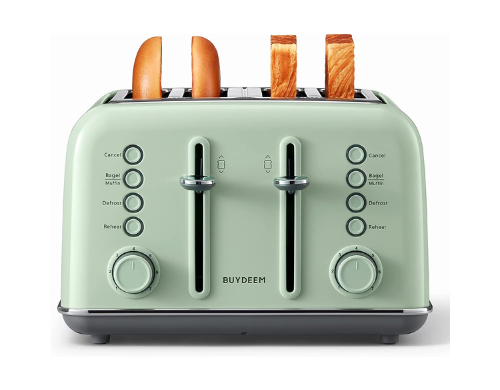 With extra-wide 1.4-inch slots and seven toast shade settings, it's ideal for a variety of slice sizes.
$78.99
Most Cost-Effective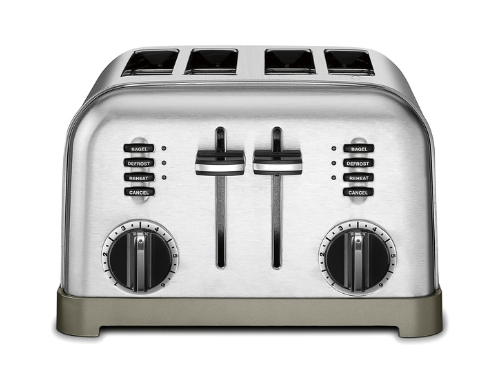 This toaster has six browning settings and comes in a range of colors.
$69.95
Who This Is For
This article is for individuals or families who take their breakfast seriously and also helps them choose the best toaster.
Energy Efficiency of toasters and why it's important
It is wise to consider the energy efficiency of a toaster before buying, because of power consumption in the home. To manage energy efficiently, you have to make use of the number of slots needed. This sorely depends on the number of people to serve.
Why You Should Trust Us
Many people acquire toasters indiscriminately/ignorantly, hence the regrets. Toasters are supposed to be easy-to-use kitchen appliances, so we have carefully selected the best brands for you.
How We Picked
Capacity (2 or 4 slots)
We are concerned about the capacity of toasters as they have a huge impact when they are put to use. If you want to serve your family (at least 4 people) breakfast and don't want to keep anyone waiting, we have selected brands with 4-slice slots for you to choose from. But, if you intend to serve yourself breakfast only or a maximum of 4 persons, then we recommend you go to brands with 2-slice slots.
Width of slots
It is important to also consider the size of the slots because every slice differs in size. You may be a fan of large or small-sized slices. To that effect, you'll need a toaster compatible with your preferred choice of slice size.
Shade/Browning setting and control
We also paid attention to the type of material from which the slots are made, which is also a determinant of browning. Everyone has a preferred taste, especially when it comes to food. Toasts shouldn't be exempted. We sort for toasters with at least four shade or browning settings because of the variation in individual tastes for food (in this case, toast).
High lift
It would be a very awful situation for you to hurt your fingers while trying to take out your toast. For this reason, we conducted extensive research on the best and most appropriate level at which a toast should be lifted to avoid your fingers being burned by the hot surface of the toaster.
Crumb tray
The crumb tray is also something we couldn't neglect while making our selections. It helps to catch the excess crumbs that fall off your bread when it's toasted. Therefore, your crumb tray should be stable and provide enough space to harbor the crumbs.
Material
We also paid attention to the materials used in the construction of toasters. Toasters emit a lot of heat while in use. So, a toaster made of good heat-withstanding material is preferable.
Style/Design
Aesthetics are also an important feature of a machine, not just a toaster. To match the modern kitchen styles, we looked for toasters with modern designs. Also, colors that will fit with other kitchen utensils, such as; frying pans, spoons, etc.
Standard settings
Preheat
The preheat option is necessary if you do not want to spend any longer time waiting for your bread to toast. This is accomplished by turning on your toaster and then inserting your slices after a few minutes. Your toasts seem to get ready quickly because the slots have been preheated.
Defrost
There is every reason for your toaster to have a defrost option. Sometimes, you preserve your slices in the refrigerator and may want to toast them without waiting any longer for them to defrost normally.
Care and Maintenance
Always switch off the toaster when not in use, as it may heat unnecessarily and result in damage or consume energy. Do not allow liquids near the surface of the toaster or the slots, as it may result in rust or electrical shocks. The cord and wire should not be twisted or wet, whether in use or not. They should also be unplugged when not in use.
The crumb tray should be removed at least once a week and brushed clean of dirt and excess crumbs. When crumbs are not removed from the crumb tray, a fire can start if the toaster encounters electrical issues while toasting and doesn't turn off.
However, always clean the crumbs regularly and keep a fire extinguisher on standby for your safety.
To clean your toaster, you have to unplug your toaster from the switch. Next, you remove the crumb tray, sweep it off, and clean the burnt crumbs on it. You may also have to turn the toaster upside down to shake off some crumbs that may have been stuck in there or use a brush to clean the inner part of the toaster (around the slots). Use a damp cloth to clean the body of the toaster with some mild soap. Afterward, reinsert the crumb tray.
However, we recommend you clean your toaster once a week, as you use it every day, to keep it in good working condition and ensure its durability.