The Best Thunderbolt Dock for 2023
Cater for all your connection needs with a single purchase!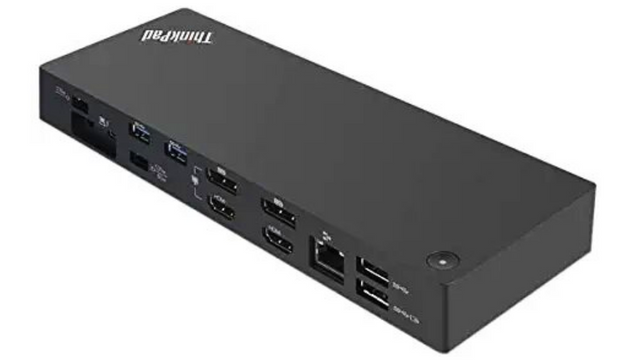 Ever been in a situation where you needed to connect your laptop to multiple devices? Well, the Thunderbolt Dock is specifically designed to suit your connection needs as it comes with multiple USB, HDMI, Ethernet, and additional connectivity options to improve connectivity and usage. Thunderbolt docks provide an allowance for the use of a single cable connected to its port that provides a wide range of port types to your desktop or laptop.
Our review includes a selection of Thunderbolt Docks that have been tested to ensure that they are worthy of being spent on while guaranteeing the quality you deserve at an affordable price. Moreover, our selection only includes the latest models in the market to help you thrive in this ever-changing world when it comes to technology.
How We Picked
Number of ports + their performance

An ideal thunderbolt maximizes your efficiency by providing a high data transfer rate of up to a total bandwidth of 40 Gbps as compared to other less effective docks in the market. Having more ports gives you more connecting options simultaneously. How nice is that!

Size

The size of your thunderbolt is important especially if you are mindful about your working space on the desk. A bulky thunderbolt dock might leave you with few options on where to place it considering it is a delicate device. It will also affect the stability when you have plenty of cables connected.

Power output

A thunderbolt Dock connected to a laptop or a desktop configuration can power peripheral devices connected to it without the need for a separate power cable. It gives an allowance to even charge your laptop by connecting it to the charging port on the Thunderbolt dock.

Price

We have something for everyone on our list to make sure you don't spend way more than you intended to; we have a list of cost-effective Thunderbolt docks that will be gentle on your pocket while delivering the quality and effectiveness promised by the product.
Who This Is For
The products reviewed in this article are meant for anyone in need of a thunderbolt dock, to supplement their existing ports on their PC as it comes with an array of ports that may include Ethernet port, an HDMI port, varying USB types, and maybe a 3.5mm audio jack. Does your PC have insufficient ports? Do you need to set up more displays without losing the quality of your media? Now is the time to upgrade!
Thunderbolt dock vs USB-C dock – what is better?
When choosing between the two it all depends on your user requirements. The USB-C cables connected to the dock can transfer data at speeds of 10 to 20 Gbps depending on the USB technology and charge devices with a power of up to 100W enabled by the Power Delivery Protocol; charging laptops as well as modern smartphones. The thunderbolt dock can transfer data at double the rate of USB; using a thunderbolt cable. It has the same charging capabilities when it comes to smartphones and laptops as the USB-C but is relatively more expensive.
Dock vs hubs – what's the difference?
Hubs provide an additional number of ports to your device to either connect or charge. Hubs expand the number of ports on your device. Whether it's USB-A or USB-C, these hubs work as splitters to let you plug more devices into a given port.
A dock is a device that is plugged into the power supply to widen the functionality of your portable device like a laptop. A dock is like adding a second engine to your computer!
Why You Should Trust Us
We took the time to analyze countless reviews and customer feedback to understand and have an in-depth view of what these products are about. We considered the ease of setup, price, warranty, quality of product, and delivery of work to come up with this list of thunderbolt docks that are affordable and worth your money. Take a look at how we evaluated.
How We Picked
Thunderbolt docks come with unique specifications such as their power output, the number of ports, port performance, size and weight, price, design, video/audio input and output, and Ethernet capabilities. These specifications determine how effective and efficient your dock carries out its tasks and functionalities. A dock station with a 100W power port can charge other devices such as laptops and smartphones safely and with ease. Although most docks aren't heavy and can be moved with ease, some tend to be bulky considering the space you have on your desk. The design takes care of this issue since a dock may be bulky but designed in a manner that occupies the least space on your desk, making it easier to set up and use. The chassis also has an elegant design that allows for easy cleaning and adds a refined touch to your workstation.
As for video input and output, these docks offer versatile 4K displays. With such an excellent output quality of media, you can be sure that the audio output is also the best you can get. These docks offer you plenty of ports depending on what you need; we tend to think that the more the merrier, you can never not need more ports.
The basic power port, Ethernet, HDMI, and display ports are all available for each device but the warranty length varies depending on the model and build for each device. In conclusion, we are intent on making sure the price of these docks are within budget while offering value for your money.
Care and maintenance
How to clean
Power down your thunderbolt dock before attempting to clean it. Consecutively inspect your ports to spot any debris or blockage that may be visible. The buildup of debris may cause intermittent functionality since the cables don't make proper contact with the inside pins. Spray the ports with quick spurts of air or free loose particles holding on to the pins. You could also use a toothpick to manually physically remove the foreign particles. Finally use a cotton swab soaked in alcohol to do a gentle sweep inside the ports, especially around the corners. 
Where and how to display
Mostly a thunderbolt is connected to your PC through the USB-C cable that links the dock with your device so it can power up any other connected peripheral. The port is usually found on either side of your device and it should be easy to locate. When it comes to displaying, insert the HDMI cable of your PC into the connector of the thunderbolt dock and you are ready to go. You can then add other peripherals.
Where and how not to display when not in use
When not in use, we advise that you store your dock in a clean and dry place away from water and dust. Ensure that you use a power surge to protect your dock from an energy spike that could potentially fry your capacitors. Lastly, cover your dock with a dust cover for better protection from dust and debris
Cord Care
When it comes to cord care, fasten cables to walls using coaxial cable staples while guiding them along delicate areas with command strips. Fasten bundles of cables with zip ties and wraps and label them accordingly to avoid confusion. As for unused cables, store them away safely in a clean dry place free from dust or any liquids.
In case of a spill or another sort of damage
First unplug the dock from the power outlet. Wait at least 15 seconds before plugging the modem back into the power outlet, first wait 1-2 minutes after which it's time to power up. Wait for all panel lights on your dock then check for possible damage.