The Best Thermometers for 2023
Take a look and find the best thermometer for you and your family!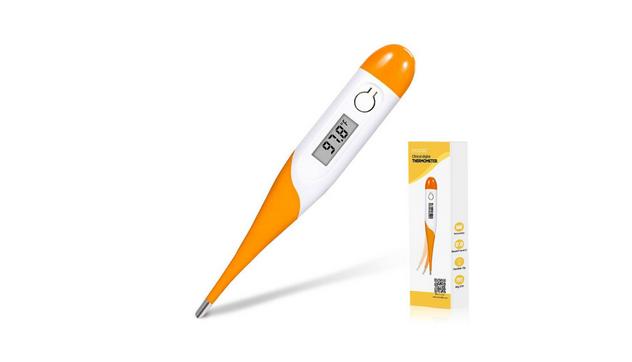 Whether you are checking the temperature of your infant, older kids, or even yourself, it is vital that you have the right tool for the right job. It is most likely that you have a different thermometer for infants and a different one for older family members and with good reason.
We took our time to search for the top-rated thermometers out there in the current market that will suit you and your kids in times of dire need to give you accurate results and information.
So fear not for we have compiled a list for you with a wide variety of choices for you to choose from; whether you intend to use it on an infant, kids, or adults, we have you covered with something for every situation.
How We Picked
Accuracy

It is important to purchase a thermometer that is highly accurate in order to make correct decisions and pre-diagnosis if need be. This will make sure you do not panic over a reading that is not accurate or overlook a temperature level that demands medical attention.

Durability

Clearly, a thermometer is not an instrument that is put into use on a daily basis, unless you run a hospital in the house. It is used when the time comes or when the need arises. Therefore, it is vital that your thermometer will still be functional at the time of need.

Consistency

The consistency of your thermometer is an important attribute to consider. It means that it will give you reliable results each and every time you use it. A consistent thermometer will detect even the slightest changes in the temperature of the sick person giving you an idea of the situation at hand.

Price

At the end of the day, you will want to spend within your limits to find a product that will serve you best. The list we have put together gives you options within different price ranges so you get to pick what works best for you and is gentle on your pocket.
Who This Is For
This review is intended for anyone and everyone looking for a suitable thermometer to use in a household setting for their family and infants. The thermometers reviewed here have a wide range of features that suit any situation you have in mind.
Oral vs axillary vs rectal vs forehead vs ear thermometers
There are various places where a thermometer can be used to take a reading hence the different names of the thermometers themselves. Always remember that the best thermometer is the one that you can put to use comfortably and correctly.
As the name suggests, oral thermometers are meant for oral use which involves placing the bulb or sensitive part of the thermometer under the patient's tongue after which you read the temperature.
Rectal thermometers are a type of thermometer inserted in the rectum to check the body's internal temperature. It has a similar bulb-like shape to an oral thermometer, the only difference is that the former has a shorter and stubbier tip for easier insertion into the rectum. These thermometers are considered by many medical professionals to be the best for babies and children under the age of two years.
Axillary thermometers are used to take an axillary temperature (one that is lower than one taken in your mouth, rectum, or in your ear) such as the temperature in your armpit. This is because this temperature is usually lower than the other places mentioned above.
Forehead thermometers provide a quick and contactless way to evaluate the body temperature of individuals. It is most suited for places with heavy human traffic to minimize contact. These have been much more used during the covid-19 era as you will recall. They are mostly infrared thermometers.
Ear thermometers also called tympanic thermometers, use an infrared ray to measure the temperature inside the ear canal of a patient. They work excellently both for adults and kids.
Always keep in mind that temperature readings vary, based on the type of thermometer used so keep this in mind when putting them into use.
Are contactless thermometers better?
Any thermometer best serves you when used in the proper manner for specific situations. Different scenarios demand different types of thermometers. Therefore, contactless thermometers are best suited for times when contact needs to be avoided which we doubt will happen at home. They are better suited for areas such as entrances to institutions or isolation wards where monitoring temperature has to be done with minimal interference and contact with the person.
Digital vs mercury vs infrared thermometer
Digital thermometers work by using heat sensors that detect and read body temperature and then display the readings on the screen. These can be used to take temperature readings in the mouth, rectum, or armpit.
Mercury thermometers have bulbs filled with mercury, a very heat-sensitive element, which expands upon exposure to heat. The expansion rate is a constant change that can be measured by translating to temperature input i.e. the host temperature.
Infrared thermometers use a lens to focus the infrared light (radiation) emitted from a person's body onto a detector known as a thermopile where it gets absorbed and converted into a corresponding heat reading.
Difference between adult and kid thermometers
There is not much of a difference between adult and kid thermometers in terms of functionality. The difference comes in when you consider the structure, features, and range. Kid thermometers are more flexible and smaller in size for obvious reasons. It is also a fact that children have a slightly higher temperature compared to adults hence some are standardized to fit specific age groups.
Why You Should Trust Us
We understand how tiring it can be to scroll through endless pages to find a thermometer to use in your household especially if you have infants too. We took the time to find the best options in the market for you considering plenty of factors that we have listed below.
How We Picked
As you purchase your thermometer, here are some of the important product features to keep in mind to ensure your needs are catered for.
Accuracy- To make sure you have the correct reading, a thermometer's accuracy is of absolute importance. You need accurate results to ensure you do not overlook or overreact to results that are inaccurate. Temperature readings are a sensitive topic because a difference of 0.5 degrees can be the line between a life-threatening condition and a mild fever.
Consistent reading- This is especially important when monitoring temperature changes and fluctuations over a period of time. It will give you an idea of the condition at hand; whether it is getting better or worse.
Style/design- Thermometers for kids and adults have different designs, especially in size. The design should give you an easier time as you use it, especially when it comes to kids with whom you cannot directly communicate and instruct.
Durability- Since you will not use the thermometer on a daily basis, ensure that you purchase a durable thermometer that will be functional when needed.
Price- A pocket-friendly option for you is what you will be looking for. Depending on the quality or type of thermometer you desire, we have the option to suit your needs all while making sure you don't spend more than is necessary.
Fahrenheit or Celsius- Depending on the units you are most comfortable with, either is perfectly fine to use since you can easily convert. However, this is of minimal concern because most modern thermometers can display readings in either.
Size – is it portable enough? If you are buying this for use on your infant, then you will need to find a small-sized thermometer that you can easily fit in your bag for use whenever in need. Infrared thermometers are generally bigger in size and will not serve you well in such a case.
Care and maintenance
How to sanitize
It is important that you sanitize your thermometer on a regular basis especially before and after use. This will prevent the spread of germs and any other infectious diseases. All thermometers should have handles and tips sanitized appropriately. It is recommended that you use an alcohol sanitizer to wipe off the handles and also the insertable tips in the case of oral, rectal, and ear thermometers. In the case of oral thermometers, you can then wipe off the tip using hot water to rinse off the foul taste of the alcohol sanitizer.
How to keep clean
If your thermometer has a replaceable cap or tip, this is probably the first step toward keeping it clean. The cap prevents unnecessary contamination to it and from it. Only use your thermometer on clean surfaces if contact is needed and immediately clean it after use to maintain its proper state.
Where and how to store when not in use
It is advisable that you store the thermometer in a cool dry place and away from the reach of children. If your thermometer is not waterproof then you should be very cautious to prevent any water from dripping on it as it might result in damage or malfunctioning. Finally, ensure that you store it in an area free of dust to avoid contact with it.
When to replace
The best time to replace your thermometer is when you start getting inaccurate results after probing in comparison with a calibrated thermometer. This basically shows or tells you that your thermometer is faulty and will serve you no purpose since it cannot give accurate results.