The Best Tape Measure for 2023
Get precise measurements for all of your personal and professional projects with one of the best tape measures on the market!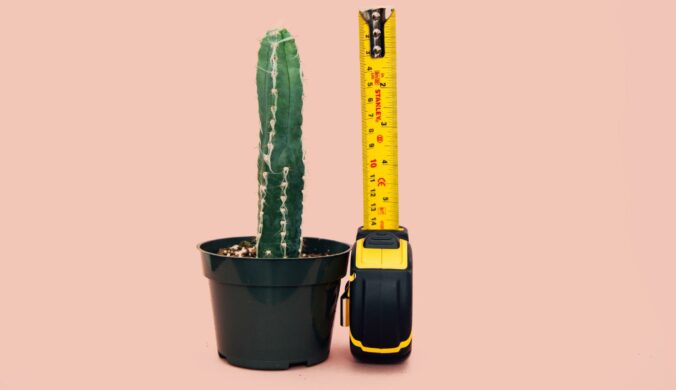 Measuring tapes are useful for everything from simple handcrafted projects to complex home remodeling. A good measuring tape is a useful tool for getting accurate measurements of just about anything.
However, knowing which one to buy can be pretty stressful. That is because tape measures are calibrated differently and span a lot of professions. You don't want to see an engineer marking your basement with a tailor's measuring tape.
To make the buying decision easier for you, we've gone the whole nine yards and found a few accurate and functional tape measures.
How We Picked
Length

On average, tape measures range from 15 to 50 feet in length. To ensure that you do not run out of inches, we picked measuring tapes that were long enough.

Accuracy

How a tape measure is calibrated has a direct effect on accuracy. Inaccurate measurements can often be detrimental, especially for projects that require precision. Therefore, we considered the units of measurement and other features that might affect precision while making our selection.

Material

Tape measures are made with steel, fiberglass, or flexible vinyl depending on the intended use. The tape's durability relies on the material it's made of, both that of the blade and the tape's case. We considered the material type to make sure that your pick lasts you a long time.


Cost-Effectiveness

Tape measures don't cost much, but that doesn't mean you want to keep buying or replacing them. Getting a tape at a great cost and of excellent quality was one of our most important selection criteria.
Our Top Picks
Our Top Pick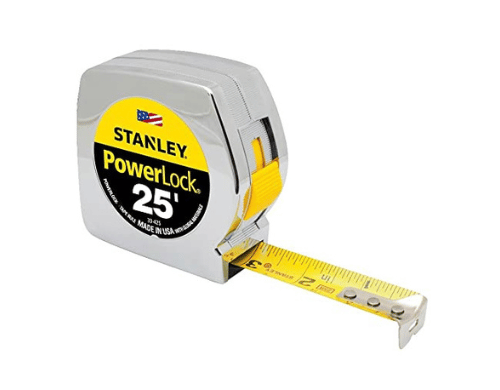 This tape measure provides unparalleled flexibility and convenience in any circumstance.
The Stanley 25 ft. Powerlock comes with a locked blade, belt hook, 1-inch-wide blade, and 16- and 19.2-inch stud center markings, which are all standard features that ensure accurate measures and prevent the tool from slipping while in use. In addition, Stanley has also included a heat-treated spring to further extend the tape's useful life.
This high-quality tape measure is ideal for both professionals and the occasional do-it-yourself enthusiast.
Our Runner-Up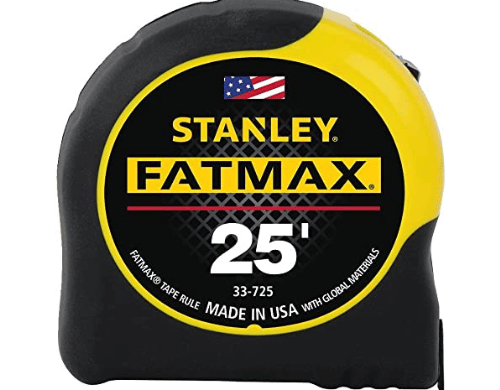 The Stanley Fatmax tape is the ideal size for your toolbox, your palm, and your work.
With a protective coating throughout the entire blade and an extra layer of BladeArmor at the hook, this tape can withstand more wear and tear before showing signs of wear. Because of its conventional stud marks and large, easy-to-read numbers, the 25 ft. durable Fatmax Classic Tape Measure is for use in any setting.
This reliable tape is 14 feet in length and comes in a rugged, high-impact casing.
Most Cost-Effective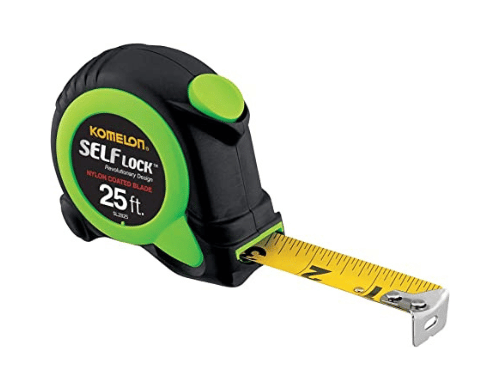 No longer will there be a need to fumble around with locks.
The Self Lock Series is an exceptional series of measuring tapes. Blades in this series have an innovative self-locking mechanism that allows for smooth extension, and a push-button release ensures full control when retracting the blade. In addition to its impact-resistant rubberized casing, the series' blade is coated in nylon for even more durability.
After pulling out the blade, it will automatically lock into position, and you will just need to push a button to retract it.
Everything We Recommend
Our Top Pick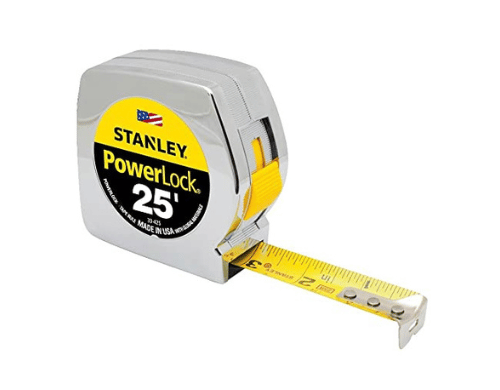 This tape measure provides unparalleled flexibility and convenience in any circumstance.
$13.95
Our Runner-Up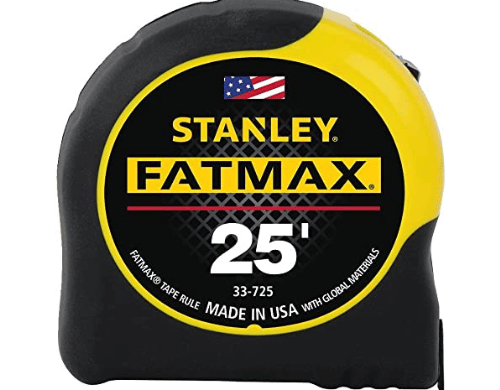 The Stanley Fatmax tape is the ideal size for your toolbox, your palm, and your work.
$21.99
Cost-Effective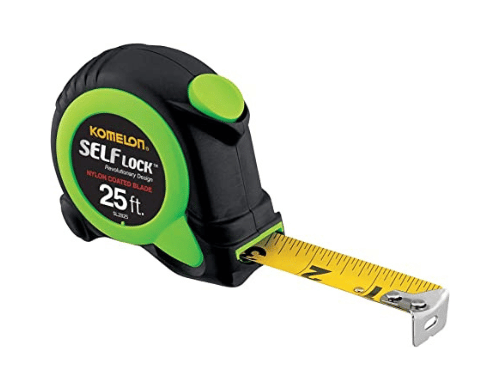 No longer will there be a need to fumble around with locks.
$9.99
Who This Is For
Tape measures are for various types of people and their uses span several professions, from DIY home activities to real estate and engineering. As such, several types of tape measures exist. However, they can be categorized into four major groups.
Encased measures: The most common kinds of tape measures are those that come in a protective case. There is a retractable blade inside a plastic or metal housing that displays either imperial or metric measurements. With so many potential uses, a tape measure of this type is an indispensable addition to any homeowner's toolset.
Reel measures: Surveyors and other professionals who often measure expansive areas frequently utilize reel tape measures. The blade on these instruments can be several hundred feet in length, but instead of being stored in a case, it is retracted onto a reel with the use of a hand crank. It's not the kind of tool most do-it-yourselfers would use, but it comes in handy when you need to measure a lengthy fence or deck.
Flexible measuring tapes: These tapes are flexible and come without a carrying case, such as the sewing tapes used for measuring fabric. The versatility of these instruments makes them useful not only for sewing and related undertakings but also for measuring the human body, measuring objects with curved surfaces, and doing other household measurement activities. A standard sewing tape measure is 5 feet long, but you can find ones that go as long as 12 feet.
Laser tape measures: These are a convenient substitute for traditional tape measures when determining the dimensions of a room's width, length, or height. The user projects a laser onto the surface to be measured (e.g., a wall, ceiling, or board) and presses the measurement button. Distances within a range of 0.1 inches to 0.5 inches can be determined using the laser measure. Although these tape measures are commonly used by real estate agents, appraisers, and adjusters, their lack of accuracy makes them less than ideal for projects like carpentry.
Why You Should Trust Us
We used a few criteria to determine which tape measures made the cut, such as resilience, ease of use, and additional functionality. Because tape measures see heavy use on construction sites, we prioritized products that stood the test of time and had protective surfaces. Most models feature a thick layer of rubber to cushion the item in the event of a fall.
We then looked into practical details, including the blade's length, the presence of a lock mechanism, and the sort of belt clip included. Many became quite floppy after a certain point of extension. Therefore, we prioritized alternatives that prevented this. We also picked out belt clips that can be attached to a wall, as well as being sturdy enough to be worn on a wide belt or slipped into a pocket. Finally, we took into account extra features like integrated measurement systems and secure locking mechanisms.
How We Picked
Length
It's not always the case that the longer tape measure is superior. Cased tape measures often come in lengths of 25 feet because this is sufficient for measuring the length of most rooms' walls and floors without being too cumbersome to carry about. However, shorter tape measures are available for people who just need one for occasional use.
Accuracy
Depending on the precision of your measuring device, the most precise length estimation you can achieve is an approximation. In circumstances where extreme precision is necessary, it is possible to evaluate your tape measure's accuracy with a tape measure calibration device. Accuracy on a tape depends on the tang. Unlikely as it may seem, the tang should not be riveted closely to the blade. Instead, the tang must have a smooth back-and-forth motion to ensure that the tape is accurate for both pull and push measurements. To achieve precision for all forms of measuring, the amount of movement should equal the tang's thickness.
Easy to read
Markings on the side of every tape measure show the various predetermined lengths. Most commercially available tape measures we tested only came in imperial units (inches and feet). However, some also provide metric measurements, so if that's a priority for you, make sure to double-check before making a purchase. On a standard tape measure, you'll find both inches and feet marked off, along with tiny lines to denote decimal places. While some fraction representations use lines, others use numbers, making them more readable.
Material
The blade of a cased tape measure is typically composed of steel or fiberglass and is coated with nylon or a comparable substance for durability and water resistance. Metal or plastic could be used for the case. If made of plastic, the item must be resilient enough to resist repeated use and the occasional drop. Metal housings add extra weight but are far more durable. Both materials benefit from having at least some of their surface wrapped in rubber, which serves to improve grip and protect the tool from cracking if it is dropped.
Snap-back
For your convenience, the blade of most cased tape measures can be locked in its extended position with a simple push of your thumb. There are, however, models that have a built-in blade lock that keeps the blade securely extended until the user actively retracts it. Because both choices are equally viable, we didn't prioritize this feature as much as others, like length and accuracy.
Price vs. quality
Finding a high-quality tape measure that doesn't break your bank is not impossible since most can be found for a few dollars. However, for convenience's sake, make sure the tape you buy has all the characteristics you need, such as a rubber coating, a nylon blade, and a lock lever.
Style/design
The measuring tapes we tested had great features, but the design was another thing that we considered when making our pick. The class and color, combined with their features, provided the feeling that came with using a tape measure for a type of work.
Hook type
The metal point at the end of a cased tape measure is known as the hook or tang. The tape measure may be held in position while being extended thanks to the hook that allows you to grab the end of the instrument. A good hook is sturdy enough to stay put when necessary without being so big that it snags unintentionally. In addition, hooks that have pointed prongs are more likely to snag things besides the object you are trying to measure. While the magnetic hook on some tape measures is convenient for measuring steel and other magnetic metals, it can be annoying if the magnet ends up sticking to something other than the object you intend to measure.
Unit/s of measurements
When shopping for a tape measure, determine whether you'll need standard or metric measurements. Check to see if the item you're interested in has one of these features before you buy it. There's no point in having to keep track of different measurement scales or perform extra calculations to switch between imperial and metric units of measurement.
Easy to use
Our picks are ergonomically designed for simple, one-handed operation. We considered that if the housing is small enough, it can be held in one hand, and the blade may be set and retracted with that hand, freeing up the other. We also considered the lock mechanism and clip, which will make it easy to use and hold without being inconvenient.
Care and Maintenance
Use measuring tapes with caution
To avoid injury, you should familiarize yourself with the many components of the tape measure and learn how to properly use it. When you're done measuring, push the button to retract the tape; just don't press too hard and send the tape flying back, since the mechanism that regulates the blade's return may be damaged by this rapid motion.
Aside from that, if the tape has a metal blade that is not coated, it might snap back and cause an injury, since the blade can swing back and strike you or someone else in the face if you lose control. Objects in its path can also be smacked, knocked over, or broken. To retract the tape without losing control, press the button slowly while guiding it back.
How to accurately use a tape measure
To use a tape measure accurately, grab one side of what you're measuring with the hooked end. Take note that the zero mark on a retractable tape measure is typically indicated by a small metal notch towards the end of the tape. To keep the tape in the right spot while you measure, it can be helpful to catch it on the edge of the thing you're gauging. On the other hand, this metal slot can be pressed into one side of an object to measure its dimensions if it cannot be hooked onto it.
Next, use the tape to cover the surface of your object. As soon as the zero mark is in position, you can pull back on the body to release additional tape. As you wind back the tape, you can use one hand (or a helping hand) to hold the end in place. Extend the tape measure so that it covers the entire area you wish to measure. If you let the tape sag, the measurements will be off. After that, use the tape as it is to get a reading.
Holding the tape straight and reading the measurements
If you're using a retractable measuring tape, be sure you've activated the lock function. To measure from the inside of a case, you need to extend the tape to the point where the case's side meets the end, then lock the tape, and read the number from the top of the case.
Next, locate the endpoint on the tape and write down the corresponding value. Many measurements will show more than one unit of measurement; be sure to double-check which one you're using (inches, centimeters, and millimeters, for example). It's always a good idea to check the line on the tape before writing it down to make sure you have it right.