The Best Tablet for Kids for 2023
Keep the kids engaged and the stress away with the best kid-friendly tablets on the market!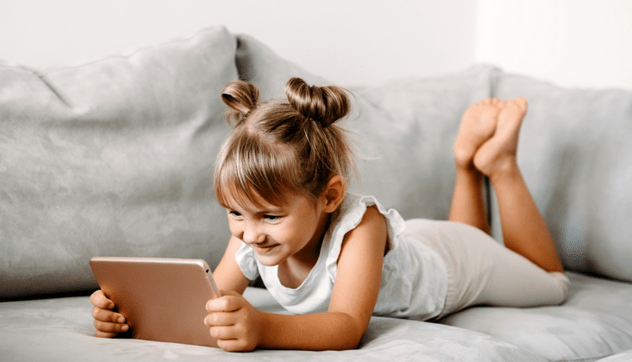 As a parent, one of the hardest things to figure out is a way to keep your kids engaged at least 80% of the time. Children are usually naturally active. They are always looking for a new form of adventure, and if they aren't properly occupied, that wanderlust may lead to a wealth of noise, trouble, and all-around chaos.
One of the top benefits of being a twenty-first-century modern parent is that there are now numerous ways you can keep your kids entertained and learning in a fun, creative, yet safe way. We are also in a generation where a lot of information is available at the press of a few buttons. How do we filter the kind of information our kids consume without stopping the fun?
This is where kid-friendly tablets come in! These devices give us an easy, age-appropriate way to educate and entertain our kids so that, as parents, we can have more free time and fewer worries.
How We Picked
Size + weight

The goal of this read is to help you find the perfect, age-appropriate tablet for your kids. You want a device that is lightweight and portable enough so that you and your children have no stress carrying it to wherever the next adventure awaits


Durability

Almost anything placed in the hands of a child is prone to be unintentionally manhandled or possibly damaged. That is why we have found the most durable devices on the market to ensure they stay engaging for years to come


Parental controls

As a parent, you should be able to control the kinds of information your children have access to as much as possible. With the secure parental control options on our selected devices, you get to filter, pick, and choose the content your kids engage with.


Price

We have enough bills on our shoulders as parents, and our future kids' tablets should be one less thing to worry about. The selected tablets are affordable and packed with the most features within their price ranges

Who This Is For
These products are for parents looking for a creative, fun, entertaining, and age-appropriate way to keep their kids engaged and learning at almost all times. Kids' tablets provide a variety of educational content in the form of books, games, videos, apps, and more. They are easy to use, understand, and operate, making them perfect devices for kids of almost any age.
Tablets vs. laptops vs. phones
In this day and age, this is one of the top debates parents in the twenty-first century have as their children grow up. They wonder which of the three aforementioned devices will be a better fit for their kid or kids, and if you're a parent reading this, we are sure you are thinking the same thing. Deciding what device will be best for a smartphone, laptop, or tablet generally depends on your child's age and educational needs. We would least of all recommend smartphones in this case, as they have smaller screen sizes, limited processing power, and limited functionality for a growing child's needs.
The major debate lies between laptops and tablets. Both devices share similar features — video calls for lessons, access to learning apps and online search information, portability, and long battery lives — and with modern tablets being able to connect to external keyboards, the crossing line gets even thinner. Both tablets and laptops have varying price ranges, depending on your choice and budget. Tablets are great for children of all age groups, younger or older, and are even better for the former as they serve as great entertainment and engaging devices that can be easily handled. On the other hand, if you have a much older child looking to learn advanced topics like coding or design, a laptop may be a better long-term investment than a tablet.
At what age should kids start using tablets?
One of the greatest fears you can have as a parent is unintentionally exposing your child to inappropriate content or at least giving them access to such content. The easiest way this can happen is through mobile devices, laptops, tablets, or anything that can connect to the internet. It is important to know the right age to give your kids access to such information and their first dose of screen time.
We would recommend three years as a sweet spot for this. At these younger ages, children can quickly learn and grasp things through visual and audio content. The ages of three to ten years are great points for children to assimilate knowledge easily through the supervised use of tablets. At about 11 years, you can start slowly taking off the training wheels as they transition into their teens.
Kid tablet vs. normal tablet
The difference between a kid's tablet and a regular tablet can easily get blurry as we get into the details. There isn't much of a difference between the two devices in terms of architecture and design. While some tablets are crafted solely for kids and only have content and features tailored to the educational and entertainment needs of children, others are basically "regular tablets" with kid-friendly features and apps, as well as parental control measures to restrict certain uses. Therefore, the major differentiator between both kinds of tablets lies in the apps, features, and parental control measures on the device.
Why You Should Trust Us
We understand how impactful the foundational years of a child's life can be on their learning and growth processes. We also value your concern, as parents, to promote age-appropriate products that aren't just good for "right now," but accommodate the needs of your growing child, giving you incredible returns on your investment long-term.
How We Picked
As with any child-focused product, we had to be very intentional with our selections. We made sure to find devices that will promote your kids' educational needs as well as serve as an informative stream of entertainment. Here are the important things we considered to this effect:
Size + weight
Because these devices are recommended for your children, they will have the responsibility of handling them more than half the time, especially if they're older. This entails carrying them and moving them from one location to another. For you and your little ones to be able to easily do that, we have chosen devices that are portable, lightweight, and compact.
Parental control options
We are all familiar with the term "parental control," more so if you're a parent. These are security measures programmed into devices and products to restrict children's use of or access to certain features. Content consumed by kids should be age-appropriate at all times, and our suggested device ensures this by including various parental control measures to limit screen times and restrict access to certain sites, app downloads, or purchases through the use of passwords and codes that are generated by their supervising parents.
Wide selection of apps
The entire point of getting our children tablets is to provide them with a fun and creative way to stay engaged, entertained, and learning. This is all made possible by a variety of applications that are either in-built into the tablet or can be downloaded or purchased from app stores. In any case, a kid's tablet should have a wide selection of apps to choose from and access. This way, its users don't get bored in time, stay mentally occupied, and always have something new to look forward to.
Display + screen
What kid doesn't like bright and vibrant images? Children have very limited attention spans, which is why shows like Baby Shark and Paw Patrol easily grab their attention because of the vivid, colorful imagery associated with them. Moreover, children of all ages should be able to see whatever content they are engaging with on their screens. This is what makes the screen display such an important feature. From HD to 4K resolutions, tablets come in different quality and brightness levels, and we have selected the best of the best to make your kids the happiest users.
Design/style
It's a gut-wrenching feeling handing over anything that isn't a toy, much less, an electronic device, to a child. It's no secret that as parents, we're wary of leaving our children with valuables. However, when it comes to the best tablets for kids, they are constructed with bump-proof, durable materials and casings that are also nice to look at and flaunt around. There's no use buying a product you can't use long-term, and with our selections, you are guaranteed efficiency for years to come.
Memory
Believe it or not, kids consume, create, and share a lot of data and information. Their apps and games alone can take up a ridiculous amount of storage space on any device. That is why the memory of a kid's tablet is so important. It determines how much information can be stored on the device overall. A decent kid's tablet should have at least 64 GB of storage space, and some go as high as 256 GB. Some devices also allow the use of external memory systems like SD cards to store even more information.
Type of camera
Initially, you might not consider this a very important feature for a child to have on their tablet. However, the presence of a camera, particularly one of high quality, is critical for this device. If your kids ever need to take online lessons, a great front camera can make learning all the more enjoyable. Apart from that, the occasional video check-in whenever a parent is away is made possible by good camera systems, and if you have a future photographer on your hands, a decent back camera makes for a great skill — but depending on the manufacturer, a tablet's camera resolution can range from 2 MP to 16 MP.
Price
We're suckers for products that offer great value. A kids' tablet may not be the cheapest purchase you will ever make, but it can be one of the best investments you can ever have. Our selected picks are guaranteed to give you excellent value within their price ranges and are worth every penny of their initial costs.
Care and Maintenance
The three major components to care for on your newly purchased tablet are the screen, battery, and power cord. Here's how you can clean and maintain your tablet's body and screen:
Make sure you get a cover case and a screen protector for your device. These useful tools do not, in any way, hinder the performance of a tablet, instead, they help protect it from future possible damage.
Keep your tablet away from harmful elements — too much heat or too much cold — as well as places that easily expose it to dust, water, or sand.
Never place objects, especially food items, on your tablet, and try to face it screen-down as much as possible when not in use.
Over time, connection ports and vents may get piled up with dust. Use a handheld vacuum on low power to get rid of such pile-ups and prevent possible damage.
To clean your display screen, use a cotton cloth slightly dampened with a recommended screen cleaner or denatured alcohol with no abrasives to wipe down your screen. Do not pour any liquids directly on the display.
A tablet's battery is its power and life source. Therefore, it is very important we do all we can to ensure our batteries stay functional for as long as possible. Here are some tips:
Charge your battery fully before use, and try as much as possible not to operate whilst you charge. It is advised to run your battery till it's empty and then subsequently fully charge it to keep it in fit condition.
Use your tablet on hard surfaces and avoid operating these devices on cushioned areas as they produce excessive heat which is damaging to most tablet batteries that are often made of lithium-ion.
Do not use your device at full brightness level, dim it down till it's comfortable enough for the kids.
Disable the WiFi and shut down extra applications when not in use.
Unplug your power cord and roll it up when not in use to reduce your footprint, and wipe it down with a slightly damp cloth when it gets a bit dusty.