The Best Sunrise Alarm Clock of 2023
Ease into your morning routine by waking to the soft glow of the sky with these gorgeous and soothing sunrise alarm clocks!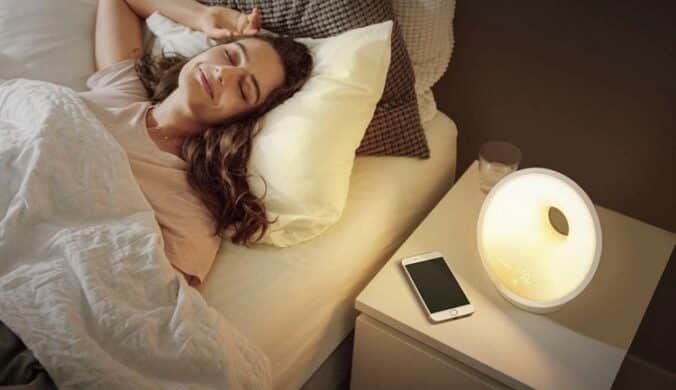 Waking up from a dreamy sleep can easily be one of the hardest tasks of the day, especially when it doesn't happen in the most relaxing way. From the loud alarm clock to the burst of sunlight through your windows, waking up the wrong way can really put a damper on your day, and trust us, we've all been there.
This doesn't always have to be the case, however. With sunrise alarm clocks, you get relaxing ease into your morning and day as a whole. These cool, intuitive devices uniquely elevate the waking up process in a way that regular alarm clocks simply cannot manage.
Through their adjustable soft lighting, a wide range of LED colors, and savvy tech features, these products not only upgrade your morning routine but also quickly and calmly lull you to sleep at night.
How We Picked
Light Color

What makes these products such a standout purchase is their unique sunrise lighting and color adjustability. This quality alone is what takes you from grumpy to happy in those early hours of the morning.

Alarm Sounds and Radio

We have all, at some point, experienced the loud, annoying sounds from regular alarm clocks that anxiously jolt you awake in the morning. With these devices, those irritable sounds are replaced with personalized chimes that soothe you into your day.

Easy to Use and Customizable

There's no point in buying a product that requires an additional masterclass on how to use it. Our selected sunrise alarm clocks are easy to use and can also be customized to suit your preferences.

Cost-Effectiveness

An upgrade doesn't necessarily always have to be out of pocket. Elevate your basic morning routine with quality sunrise alarm clocks at budget-friendly prices.
Our Top Picks
Our Top Pick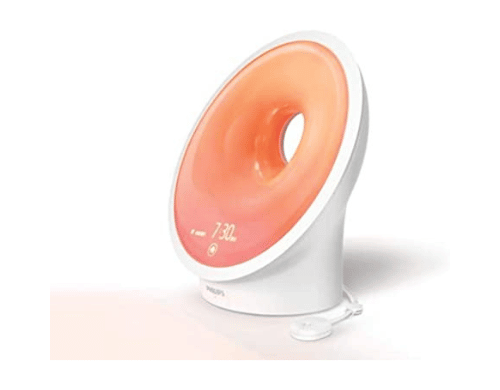 Start your day right with the most calming sunrise simulation and rock yourself to sleep with relaxing sounds.
The Philips SmartSleep, hands-down makes a chart-topping entry on our list of best sunrise alarm clocks. From its gorgeously realistic sunrise and sunset simulations to its guided meditations and relaxing sounds, what's not to love about this bad boy? This device packs so many worthwhile features lacking in its counterparts, such as an intuitive app, Bluetooth connectivity, temperature and humidity sensors, and a USB port for extra connectivity. The magic never ends with this one, and the programmable features are truly the gifts that keep on giving.
The most beautiful sunset and sunrise simulations are backed by the most relaxing sounds.
Our Runner-Up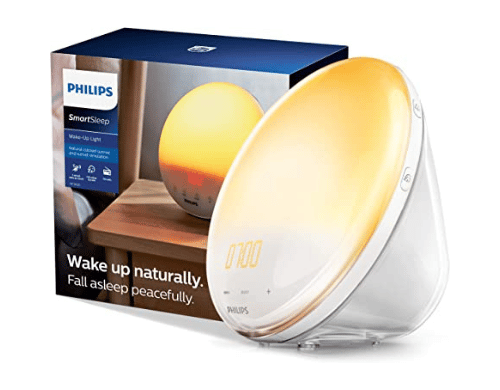 Another solid option from Philips provides calm sunrise simulations and a wide range of natural wake-up sounds.
The Philips SmartSleep Wake-Up Light offers almost as many premium features as its winning sibling. Although it may lack its own app, Bluetooth connectivity, and lulling sounds, this device casts a beautiful gradual sunrise simulation through its headlight-shaped lens and gives a wide range of natural wake-up sounds as well as a decent radio. For our hard-to-wake users, this product also features backup alarms as well as an audible alarm and a backup power source.
Built with quality and efficiency in mind, this pick gives a soft start to your day.
Most Cost-Effective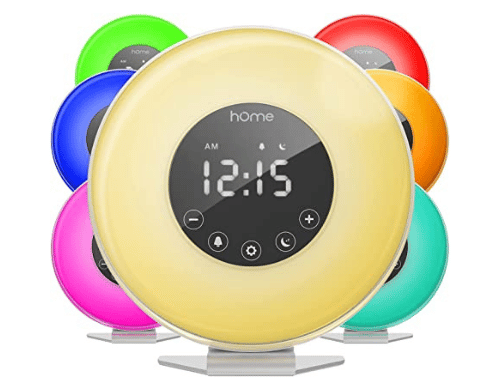 Bringing you color for every mood and a natural sound for every wake-up call.
Imagine getting all the right features of a sunrise alarm clock without spending much. We know it seems almost impossible, but thanks to this budget-friendly option by Homelabs, this purchase is right at your fingertips. This device offers all the good stuff; multicolor options, an adjustable LED display, soothing nature sounds, a radio, sunrise simulation, and a backup battery! Although you trade in advanced tech features and more realistic sunrise simulations, you get a quality product that gets the job done and gives you multiple personalized options at a very low cost.
Set the mood and wake up right with this ridiculously affordable pick.
Everything We Recommend
Our Top Pick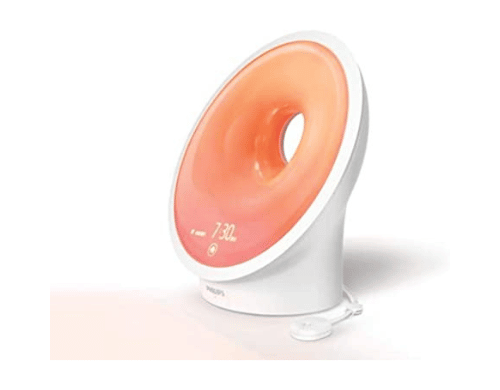 Start your day right with the most calming sunrise simulation and rock yourself to sleep with relaxing sounds.
$164.57 ($3.07 / Ounce)
Our Runner-Up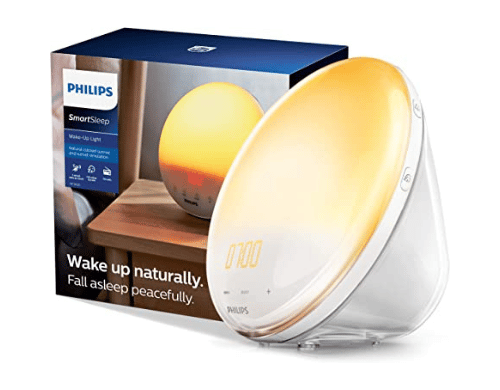 Another solid option from Philips provides calm sunrise simulations and a wide range of natural wake-up sounds.
$148.95
Most Cost-Effective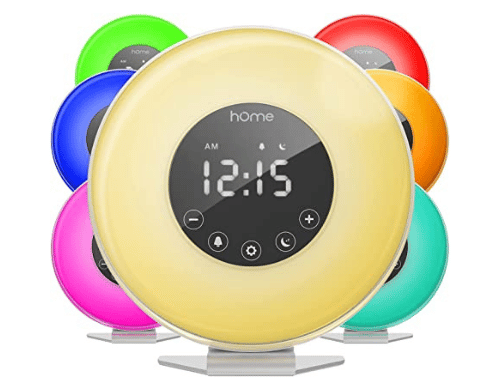 Bringing you color for every mood and a natural sound for every wake-up call.
Who This Is For
These products are for individuals that find it hard to sleep and have an even harder time getting up in the morning. Sunrise alarm clocks ease your day from the start with gentle wake calls and sunrise hues, and at night, these devices have a special way of calmly and quickly putting you to bed. They change morning and night routines for the better through pre-programmed lighting, sound, and alarm systems.
What is a sunrise alarm clock?
Just as the name implies, sunrise alarm clocks combine the two most popular means of waking up — sunrises and alarms. These devices are a beautiful blend of digital alarm clocks and natural sunrise and sunset simulations. Their top objectives are to make our wind-down and wake-up processes gentler and easier through advanced programming and features, while also doubling as creative bedside lamps. Research shows that sunsets and natural sounds can improve a user's sleep patterns by up to 50%, and these clocks give us an attainable way to experience that right from our bedrooms.
Health and sleep benefits of a sunrise-stimulated wake-up call
There are many ways sunrise simulation can enhance and benefit your overall health. The gradual process of sunrise stimulation helps you wake up naturally and leaves you feeling well-rested and ready for the day ahead. Seeing this kind of light in the morning resets your cardiac rhythm and improves heart function, thereby reducing the risk of heart attacks. They also provide a boost in brain activity and enhance performance after you wake up.
Why You Should Trust Us
We understand the value of a good night's rest not only to our health but to our performance levels for the day ahead. We also know how magnificent it feels to wake up to a concept as beautiful as the sunrise with natural sounds playing in the background, and any opportunity to experience that every day is one we would grasp with open arms. That is why we have made it our responsibility to provide you with that option at the tip of your fingers.
How We Picked
As with any product, there are certain things to look out for when setting out to purchase a new sunrise alarm clock. These devices combine several features to make them as resourceful as they are, and we have put together a list of essential qualities your next sunrise alarm clock cannot do without.
Light color and brightness
The whole point of owning a sunrise alarm clock is to add a more natural effect to your wake-up call. Not only is it quite irritable to wake up to a burst of light — natural or artificial — it can also really mess with our cognitive senses and have us feeling tired and grumpier than expected. These devices are uniquely built to gradually rouse us from sleep or put us to bed with their sunrise and sunset simulations. The colors of the clock go a long way in determining how natural the simulations are and how beneficial they are to our sleep habits. Most sunrise alarm clocks feature a plain white light, while others have a warm yellow light and possibly even begin with orange and red hues that add to the natural effect and provide a sense of calm. A sunrise alarm clock should have brightness levels ranging from 100 to 400 lux and also have allowances to help you adjust said levels. You want its light to be bright enough to see in any condition but not too bright that it becomes uncomfortable, so the sweet spot for it should be between 300 and 350 lux.
Adjustability
Clocks are usually one of the easiest devices to set up, and the more complex this process becomes, the less wanted the product is. With that being said, even though sunrise alarm clocks offer more advanced features than regular clock systems, they should still be easy to use, adjust, and set up. Things like alarm scheduling, sounds, and times should be easily adjusted without any hassles. The right product provides a direct means to do this — whether manually or via an app — without adding any stress to its user.
Alarm sound
Another great thing about these devices is that they take away the noisiness that comes with regular alarm sounds and replaces it with calm, natural sounds. These sounds can range from bird chirps to even trees rustling in the wind. Sunrise alarm clocks provide a variety of natural sounds for a calmer wake-up call, as well as common loud alarm sounds for users that have a harder time getting up.
Alarm radio
One of the nicest things about owning an alarm system is that it comes with the additional benefit of an FM radio. Don't worry because you will not need to sacrifice that option with our top picks. You should be able to go about your routines while listening to your favorite radio shows on the go, and thanks to these clocks, you always have an FM radio on standby.
Volume Control
As with anything that produces sound, you should be able to adjust its volume with ease according to your taste. These devices give you the option of personalizing your listening experience through straightforward volume control systems.
Customizable
Thanks to a wide variety of functionalities, you are also able to customize your sunrise alarm clocks to suit your personality and preferences. Some of these devices are fully manual with limited functionality, while others even allow control through software and mobile apps.
Price vs. quality
Of course, we don't want you to spend a ridiculous amount on an alarm clock, and even though sunrise alarm clocks are a pricier option in general, we have selected devices that are built with durable and stylish materials at decent price ranges. The aesthetic construction of these products effortlessly fits into any room and produces beautiful simulations that immediately teleport you to a more relaxed state. They are designed with ease, portability, functionality, and durability in mind and will stay at your bedside for years to come.
Size
The last thing we want is to suggest a product that takes up all the space on your bedside table. Just like a nightlight and an alarm clock, a sunrise alarm clock should be portable enough to be easily carried around and should fit on your table while still leaving room for other necessary belongings.
Duration time
This quality refers to how long your sunrise or sunset duration lasts. Typically, this is decided and set by the user through adjustable timer controls, but each device has a maximum cap on how long its sunrise duration time is before the alarm or sounds go off. Sunrise simulations often last for 30 to 90 minutes, depending on the manufacturer. Some devices also allow you to set the duration time in between each light increment, which can be five, ten, fifteen, or even twenty minutes depending on the total simulation time. On the other hand, wind-down sunsets are entirely user-defined depending on how long you'd require a dim-down before you're put to bed.
Snooze options
We have all been there. That moment when you thought you'd be ready to get up but still need an extra five or thirty minutes to feel your most awake self. This undeniable part of being human is what snooze buttons were made for, and just like your regular alarm systems, sunrise alarm clocks also give you a variety of snooze options to have you feeling well rested and alert to begin your day.
Additional features
Who doesn't love having a little something extra? Extra, nice-to-have features are like the cherries on top of every purchased product, and for these devices, their additional features are worth the hype. Sunrise alarm clocks can also double as night lights or reading lights with the right kind of features, and each of our chosen products is suitable for both. Anti-blue light is also a nice feature for a device like this to have because it means they cut out blue light rays that can harm our eyes using a warm yellow tint. This is also another additional feature that all the devices below have.
Care and Maintenance
Setting up a sunrise alarm clock is a pretty straightforward process, just as you would set up any other alarm system. Although each manufacturer has its own unique way of how this is done, whether through manual controls or an app, there are a few major things to do to fully set up your device.
Power up your device. Some sunrise alarm clocks are USB rechargeable, while others come with backup batteries. Depending on your device, power it on as required.
Set the time and date on your alarm clock. This is done either through buttons, as you would on a regular alarm clock, or through a mobile app. There are usually manufacturers' instructions on how you can achieve this.
Set your alarm/alarms. After setting your date and times, go ahead and program those necessary alarms and solidify your routines. Just as with the first point, there are usually detailed instructions on how you can go about this.
Decide brightness and volume levels. Now, this is the fun part, picking your brightness and noise levels and generally customizing your personal user experience.
Do I need to clean my alarm clock?
There is hardly ever any deep cleaning that needs to be done with sunrise alarm clocks. However, a good lint-free dust every now and then will help sustain their lifeline. This avoids vents and other openings from getting clogged up by dust, which can wreak havoc on the inside of your device.
What to do if my alarm clock doesn't go off or doesn't turn off
If your alarm clock doesn't go off, it's possible that it either wasn't set up properly or there's an underlying problem like a glitch in the system. Not to worry, it's nothing that a little research and customer support won't fix. A rule of thumb for going about this is checking your settings, and if all is good on that end, repowering/resetting your device. If the issue persists, rely on support from other users through online question forums or contact the manufacturer's support directly for more detailed help.