The Best Sun Hat for Hikers for 2023
Are you getting ready to hit the trails? Bring a sun hat to shield yourself from the sun's harmful rays.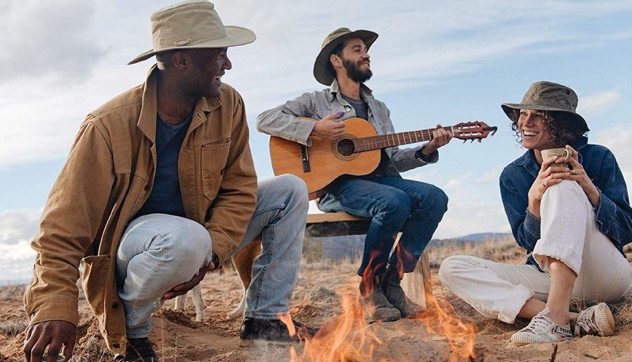 In addition to sunscreen, most dermatologists recommend wearing sun hats and sun-protective clothing. You should always use a sun hat on your skin, including the skin on your head and neck, whenever you engage in outdoor recreation, whether it be on a path, in a canoe, or even simply in your garden. Well, not all brands can assure you of the highest level of protection you need.
However, after reading this guide, you'll be aware of the requirements for selecting a sun hat and should be able to do so successfully.
How We Picked
Sun Protection

Protecting your face and neck is paramount. Therefore, a sun hat that doesn't guarantee you maximum sun protection is not worth splurging on.



Lightweight and breathable

While your sun hat should shield you from harmful rays, it should also be breathable for better aeration and lightness, allowing you to wear it for extended periods.



Comfortable

Having your sun hat positioned and sitting well on your head will help reduce stress while hiking as it provides convenience.



Price

Depending on how often you want to use a sun hat, the amount of money you want to invest in it should be considered.

Our Top Picks
Best Pick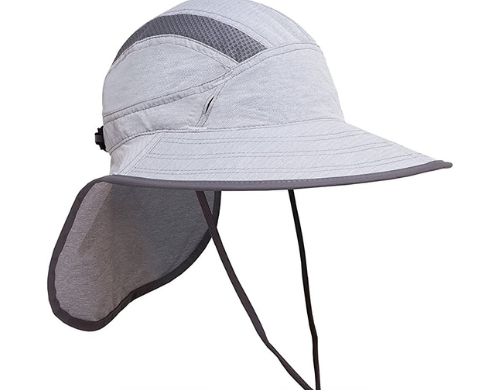 This product gives room for adjustment to fit a variety of head sizes.
The integrated sleeves on the Sunday Afternoon hat are cleverly designed to keep your sunglasses in place.


The comfort of this unisex hat is appreciated because you can wear it all day long, especially with adjustable tightness. It has a handy sunglasses holder. Additionally, it has a solid brim at the front to block sun rays while preserving complete peripheral vision, and the neck guard keeps you cooler.

Runner Up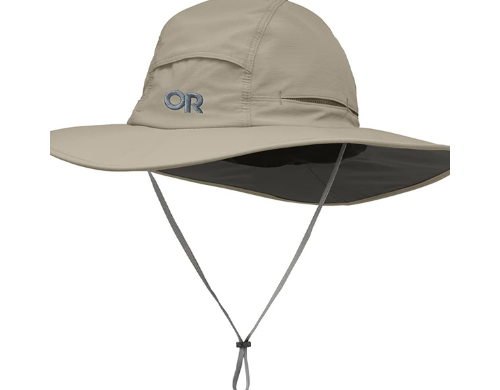 This sun hat is wearable in the heat of the summer, but a bit pricey.
The Sunbriolet incorporates flexible and circumferential piping along the brim edge to provide wind resistance.


The Outdoor Research Sombriolet comes in three sizes: medium fits skulls with a circumference of 22.5 inches, large fits heads with a 23-inch circumference, and XL fits heads with a circumference of 24 inches.

Most Cost-Effective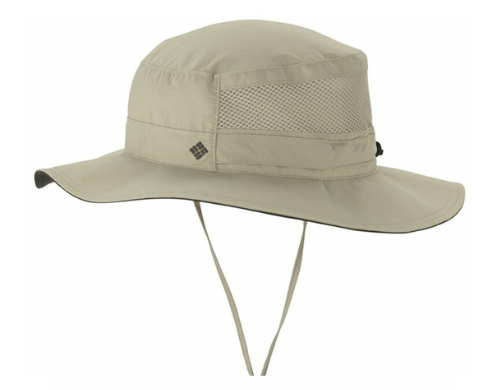 This model is capable of shrinking and expanding to fit any head size.
The Columbia Booney hat has an elastic band on the inside that allows you to adjust the size as needed.


The quick-drying UPF 50 nylon fabric of the Columbia Bora Bora Booney Hat incorporates mesh panels and an Omni-Wick sweatband to keep your head cool while providing sun protection. While this hat's base contains an adjustable rope, allowing it to suit any adult head, there is only one size available, even though it comes in numerous colors.

Everything We Recommend
Best Pick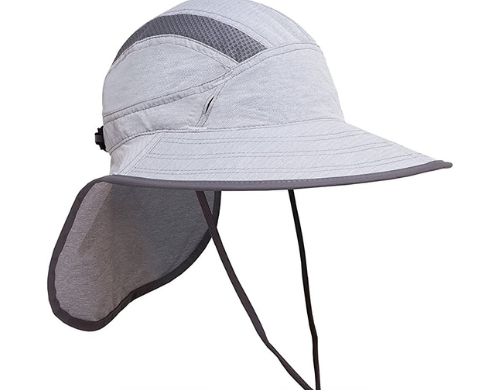 This product gives room for adjustment to fit a variety of head sizes.
Runner Up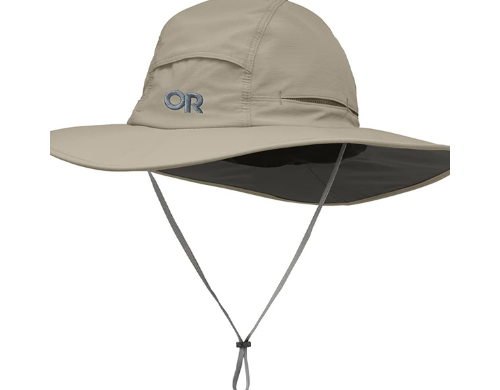 This sun hat is wearable in the heat of the summer, but a bit pricey.
Most Cost-Effective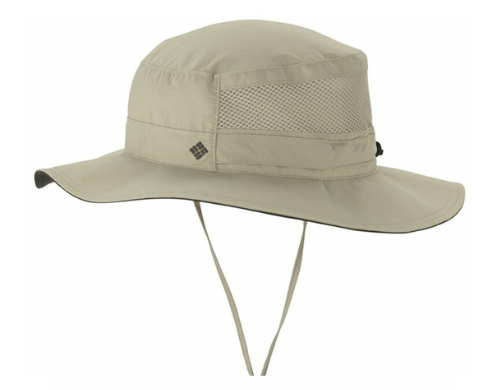 This model is capable of shrinking and expanding to fit any head size.
Who This Is For
We figured you would be interested in a sun protection hat that floats and prevents you from being burned on a day on the water since so many of these hats are made for those who like kayaking, fishing, and other water sports. Therefore, you should generally consider this guide necessary if you've ever considered going hiking.
Sun hat vs. bucket hat
Generally speaking, bucket hats are better suited for fashion or sports. They can be constructed from a variety of materials, including leather, canvas, and even warm fleeces and furs. The brim of a bucket hat is often smaller and serves more as a direct barrier between the sun and the wearer's face and neck.
On the other hand, for greater covering and protection, sun hats frequently have larger brims. In the past, wicker or another natural fiber was used to make traditional sun hats. Sun hats are frequently spotted on the beach or in the garden and are more often used for leisure and sun protection than for fashion or sport. They are available in a range of colors and sizes as well.
Is it worth splurging on?
While hiking, it's crucial to shield your face from the sun's rays because they might cause minor burns. Consequently, wearing a sunhat is necessary. Your face, head, and neck will be shielded from the sun's harmful rays by a suitable hiking hat. Especially if you're trekking in a hot region, this is crucial. Additionally, a hat with ear flaps is an excellent choice if you're trekking in a cold climate. It's worth plugging in since it will keep your head and ears warm without making you feel too hot.
Is it multipurpose?
In addition to shielding your face from the sun and keeping your head warm in cold weather, a decent hiking hat can also help keep the rain off your head. It could take some getting used to if you're not used to wearing a hat. You will, however, wonder how you ever hiked without one once you begin wearing one.
Why You Should Trust Us
We spoke with numerous board-certified dermatologists to gather their advice on sun exposure, what makes an excellent sun hat, and design elements that set one hat apart from another to compile this guide. Additionally, we questioned outdoor sportsmen, including ultramarathon runners, about the distinction between a hat that looks good in the store and one that truly performs in the field. They often use sun hats, and they all have favorite brands, which makes these methods for our research so crucial. We also bought and wore sun hats on hikes.
We also examined feedback from many customers on four review websites. To assist you in locating the ideal sun hat for you, we've chosen the best four hats.
How We Picked
Sun protection – without compromising on visibility
The most crucial aspect to consider when selecting a sun hat is keeping your face and neck covered when hiking in direct sunlight. This is so that you can stay cooler and avoid sunburn by keeping your head in the shade. Dehydration and heatstroke can be avoided as a result of this. If you take off and then put back on your hat while standing in direct sunshine, you'll probably notice a difference in the warmth of your head.
You should take your field of vision into account while attempting to shield your face from the sun. To protect yourself from the sun, it's best to wear a wide-brimmed hat made of tightly woven, opaque materials. Four-inch wide brims are commonly used to provide sun protection.
Additionally, it is advisable to check that the brim is not too wide or floppy to obstruct your field of vision whenever you are trekking.
Comfort – type of fabric, adjustability, fit, etc
While hiking, having your sun hat in the right place and comfortably sitting on your head will help you feel less stressed because it is convenient. For instance, if you're going to run, you'll need a hat that fits well, is lightweight, and won't fly off in the wind.
In addition to providing effective sun protection, a sun hat for hiking should be composed of a material that is soft to the touch, moisture-wicking, quick-drying, and abrasion-resistant. The materials used to make the best sun protection hats prevent both UVA and UVB radiation from the sun.
A sweatband that is cozy and adjustable should be included on your sun hat. If you want to be able to customize the fit of the hat to your head, especially if you plan to hike for an extended amount of time, an adjustable hiking hat is an excellent option.
Also, find a model with a white or light-colored top that will reflect heat from the sun and has a darker tint underneath to absorb UV rays that bounce back toward your eyes and face for the best sun protection.
Style/design
It's acceptable to be concerned with your fashion preferences, but be sure they don't get in the way of the key components of a good sun hat. For the sake of an acceptable design, several models have sacrificed comfort and sun protection.
Lightweight and breathable
You'll be able to wear your hat for longer if it is more breathable and allows some of the heat to escape. A hiking hat should be constructed of breathable material and have significant air vents on both sides. These will enable fresh air to circulate within while allowing heated air and sweat to escape, reducing overheating. It's vital to remember that the requirement for a sun hat may not always outweigh the expense, depending on the situation.
Durability
If you invest in a high-quality sun hat, it should last you for a very long time and has accompanied you on many travels in the past. This occasionally depends on the design and material employed. Utilizing a durable fabric guarantees that it is long-lasting and offers excellent sun protection.
Size
Make sure the hat is neither too loose so that it falls off nor too tight so that it causes you to feel uncomfortable throughout the day. In windy situations, a proper fit is essential to guarantee that the hat stays put and doesn't blow off. Knowing your head's circumference will help you choose the correct hat size.
Care and Maintenance
How to wash and dry — is it machine washable?
Before you wash your sun hat, check to see if it is machine washable (not all models are). On the other hand, you can wash your sun hat by hand using cool water, a soft brush, like a toothbrush, and gentle dish soap to get into any particularly tough spots.
Never use bleaches or fabric softeners, because they may cause some solutions in your main hat to degrade. Reshape the hat while it's still damp after washing it, being careful to minimize creases.
How often to clean
Cleaning your hat regularly is a good idea because it will help avoid the buildup of salt from perspiration, which can damage the fabric and cause the hat to become completely discolored.
Where and how to store when not in use
You can store your hats in several places, but make sure they are fully dry and well-positioned. However, your hats can be stored in storage organizers, wall hooks, or hat boxes.
What to do in case of stains or odor
Use more detergent diluted in water to spot-clean the extra-duty areas, and scrape the area with a toothbrush or other small brush. The hat should then be soaked for a few hours, with periodic inspections to determine which areas require additional care. The hat should then be rinsed in warm or cool water and dried with a towel.