The Best Stroller for 2023
With the help of these hand-picked, and extremely sturdy strollers, carrying a baby around won't ever be challenging.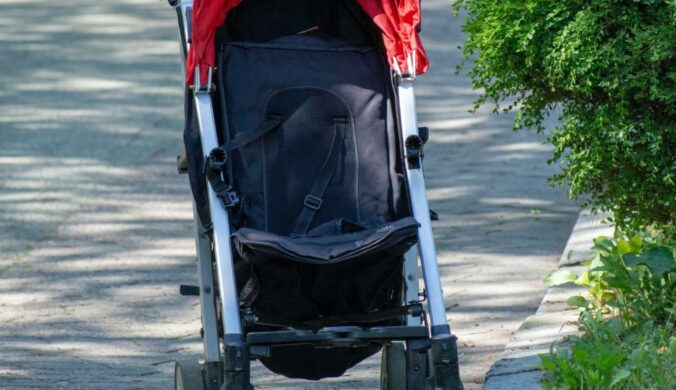 Moving around with a young child can be tricky. While infants can be carried for long distances, toddlers are generally fussier and heavier, making movement difficult. This is why strollers were invented. They provide you with easy movement to and from your house, on the streets, and in various stroller-friendly places. We took it upon ourselves to find the best strollers available on the market.
How We Picked
Adjustability of Straps

Being able to adjust the straps of your stroller is vital for your child's safety so we wanted to only review strollers with adjustable straps

Comfort and Security

The comfort of your child in a stroller is paramount. It is important that they are secure in their stroller for your peace of mind.

Ease of Use

Some strollers are notoriously hard to work with. It was important to find and review strollers that were more user-friendly.

Cost-Effectiveness

While a good stroller is a worthwhile investment, it doesn't have to break your bank account. Offering options for various budgets ensure that you find a safe stroller that meets your needs.
Our Top Picks
Our Top Pick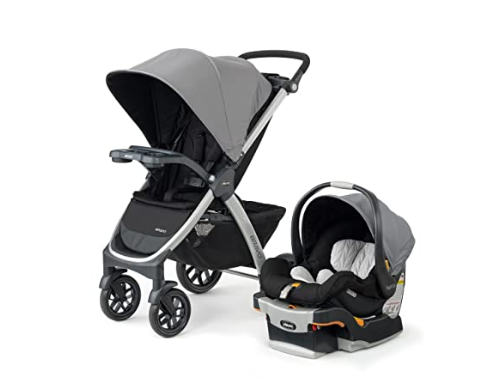 A versatile, multi-functional stroller with impeccable safety ratings.
This compact, one-hand fold stroller is a great investment for anyone with a newborn. It converts to a car seat and is very easy to install. It has a high safety rating and multiple storage options, making it great for traveling around with the baby. Its versatility and comfort make it the perfect stroller.
This is a three-in-one stroller combo. It features a stroller, a car seat, and a base, all made with Chicco KeyFit technology.
Our Runner-Up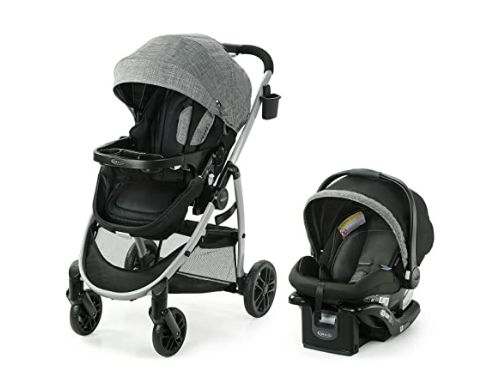 An adjustable, full-size stroller for babies and toddlers.
A 3-in-1 stroller set that is perfect for everyday movement and travel. It has a reversible stroller seat and a one-hand fold for easy and safe movement. The toddler seat converts to an infant pramette so that the baby can use it. The infant car seat reclines for maximum comfort and has a 35-pound weight limit.
This system offers three strollers in one: an infant car seat carrier, an infant pramette, and a toddler stroller.
Most Cost-Effective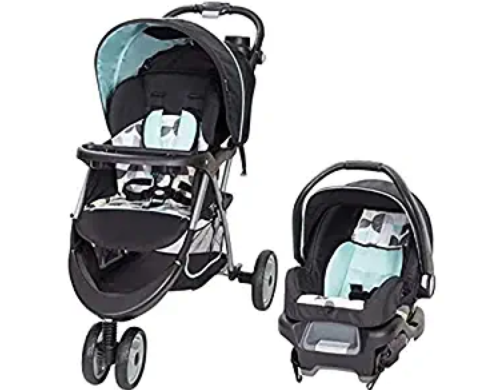 An affordable and easily manoeuvrable stroller with a child's tray and cup holders.
This affordable full-size stroller comes with a car seat. It is made of breathable material and has a weight limit of 50 pounds, making it perfect for toddlers as well. It has a large storage basket and a canopy for sun and rain protection. The EZ ride has a height-adjustable handle for optimum comfort when using it and a covered parent tray.
The dual front wheels make this great for hikers and runners.
Everything We Recommend
Our Top Pick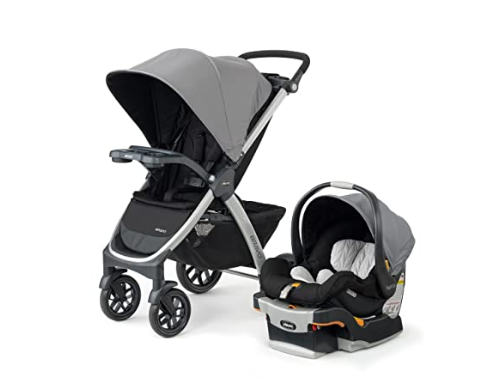 A versatile, multi-functional stroller with impeccable safety ratings.
$449.99
Our Runner-Up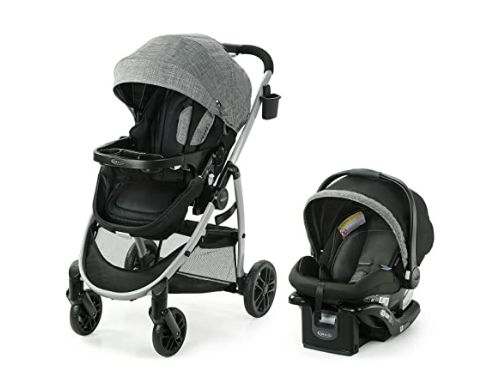 An adjustable, full-size stroller for babies and toddlers.
$329.99
Most Cost-Effective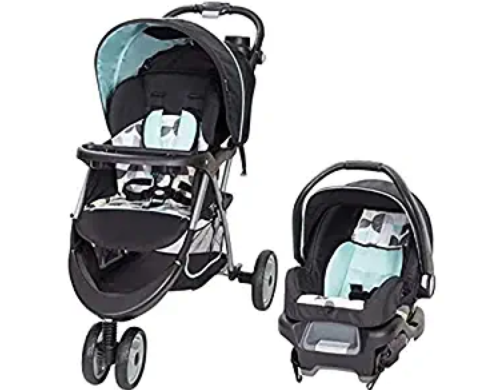 An affordable and easily manoeuvrable stroller with a child's tray and cup holders.
$169.99
Who This Is For
Who this is for
If you are a parent or a childcare provider, then you will greatly benefit from this list. Strollers make it possible to live your life even if you have a young child with you. You can go for a run, have brunch, or go shopping without having to carry a child on your hip.
Different types of strollers and their benefits
There are generally six kinds of strollers you can choose from; full-sized, lightweight, jogging, double or triple, car seat carrier, and a travel system.
The travel system is great for younger babies, unlike most strollers, which are typically safe for children older than 6 months. It is a combination of an infant car seat and a stroller. The infant car seat is compatible with the stroller and snaps easily into the frame, so you can take your newborn with you.
The lightweight stroller is the go-to stroller for busy families. It folds down really small, is lightweight, and is thus very portable. It's great for car travel, airports, malls, etc. It also fits quite well in a travel bag, so you can keep it protected when traveling.
The compact stroller and the full-size stroller are similar. The only key difference is that the compact is smaller and narrower, making it more compact. Otherwise, they both feature a reclining seat, footrests, extra storage, etc. These are great for going to events like brunch or church because you can carry everything you need for your child in the stroller. The full-size stroller can sometimes expand to a double or triple stroller, which is great for carrying multiple children.
The jogging stroller is for exploring the outdoors. It has three air-filled wheels to aid in suspension and maneuverability. It's perfect for parents who like to hike, run, and do many things outdoors. It can off-road like nobody's business and is great for all the runners out there who want something to keep up with them.
Why You Should Trust Us
We know what it's like to juggle a baby, a bag, a grocery list, and a phone call from the office. Our main concern was finding an easy and safe way to be mobile with a child for any parents or childcare workers out there. We carefully evaluated more than 20 strollers to find the best four on the market currently.
How We Picked
We used various criteria to find the best strollers on the market.
Adjustability of straps/ease of lifting and folding
Adjustable straps certainly make for an easier stroller setup and help secure your child better. Ease of folding and lifting means that the stroller can be carried around and set up by one person. Strollers with both of these qualities are some of the best on the market.
Easy to clean
Children are not known for their cleanliness. This, coupled with the fact that strollers usually go to many places, means that they usually need a lot of cleaning. An easy-to-clean stroller is safe for both children and parents, making it a great investment.
Portable
Of course, strollers are portable because you have to push them around. But some strollers are harder to put together and store in smaller spaces, like small trunks. We ranked the strollers we tested based on how easy they were to transport when folded and how easy they were to push.
Durability
Strollers are not cheap, which means you should ideally buy one and use it for many years. The materials used and the construction of the stroller should ensure that it can be used repeatedly over the course of several years. We wanted to recommend strollers that can withstand daily use for many years to ensure that you get the most bang for your buck.
Capacity/size
Strollers come in various sizes and capacities, with some having a higher capacity range. Those that can safely carry children of various sizes and/or ages are a better investment as they can be used for longer. However, smaller strollers can be more portable and easier to handle
Comfort/security
Comfort and security are vital aspects of strollers. We did not want to recommend any strollers that could be dangerous for children. Discomfort, especially for children who cannot yet adequately communicate their pain, is a serious security risk. Finding comfortable and secure strollers was our top priority.
Price vs. quality
The price of a stroller should directly correlate with the quality of the stroller. The features and usability of the stroller should make you feel like you are making an investment, not throwing money down the drain. We wanted to recommend a variety of high-quality strollers in a variety of price ranges to help you find the best stroller for your money.
Extra pockets/storage/safety car seat included
Extra perks are not necessary for a good, functional stroller. However, they do make the stroller more valuable and remove the need for multiple purchases. This is why any strollers with additional storage or that came with a car seat immediately got a higher rating from us.
Rain and sun-cover
Strollers that make it more comfortable and safer for your child in different weather and terrain are a big plus. This is because they can be used more often and thus give you more value for your money. A rain and sun cover makes it possible for your child to experience comfort come rain or shine,
Reclining chair
Most children fall asleep at odd times, even if a sleep schedule is in place. Also, errands run late, and motion can lull many human beings to sleep. This is why a reclining chair is so important. This feature increased the value of any stroller we tested.
Ease of use
The running joke that strollers are overly complex continues to rule the parenting world. This is why we took it upon ourselves to find easy-to-use strollers. We wanted strollers that can be set up and used even if your hands are busy with the baby or other valuables.
Weight maximum/weight capacity
A bigger weight capacity means that the maximum weight allowed on the stroller is higher than average. This means that you can use the stroller with bigger children or for longer with your smaller child.
Care and Maintenance
Folding and unfolding a stroller
Be sure to carefully follow the instructions in the user manual of the stroller you purchase. Different strollers have different mechanisms for folding and unfolding. Generally, for older models, you need to set the brakes, lock the front wheels, collapse the canopy, collapse the seat backward, and look for the low handle to fold the stroller together.
For newer models, there is usually a one-hand fold button for faster folding and unfolding. However, consult your user manual before you try folding or unfolding your stroller.
How to clean and how often
Ideally, strollers should be dusted and the handles and basket wiped down after every use. Tires and other parts can be cleaned two to three times a week, depending on how often you use your stroller.
To clean your stroller, first, check your user manual or the manufacturer's website for any model-specific care instructions. Some strollers have multiple parts that need to be dismantled and cleaned.
Once you've confirmed cleaning instructions, get rid of loose dirt. You can use a vacuum or a dusting brush for this.
Afterward, use a soft fabric cloth dipped in water with dish soap to clean the basket, handle, and any other parts.
If there is removable fabric, remove it and wash as per user manual instructions.
You can wipe down the parts with disinfectant, including the wheels
Let your stroller air dry to refresh and store it well.
Where to store
Strollers should be stored in a cool, dry place away from open flames and moisture. This is to prevent a fire and the collection of mold and mildew. Fold your stroller as much as it can be folded and store it in a dust-proof bag or airtight container to avoid dust and mites from settling.
Ensuring your child is comfortable and secure
Before you place your child in the stroller, ensure the seat is secure. Follow the user manual's instructions for unfolding and setup up the letter. When using a car seat, ensure the seat fits securely into your vehicle. Secure your child in the seat or stroller using the straps and belt before embarking on your journey. Again, it is paramount to follow the user manual instructions for your specific stroller for the optimum safety and comfort of your child.