The Best Steam Mop for 2023
Use one of these best steam mops to keep your floors spotless.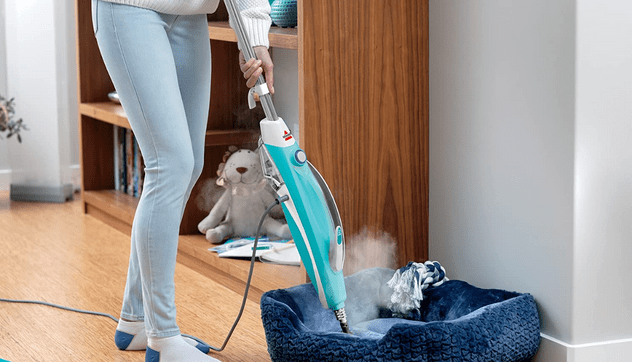 Cleaning your floors can be a daunting job, especially in the summer. With more guests, more sticky liquids like sweet, iced tea and cocktails, and more activity in the house, the floors get dirtier faster. This is why a steam mop is a perfect purchase to think about. Steam mops make mopping an easier and faster task and only use water. They help keep your floors clean and sanitary and are relatively easy to maintain. If you are looking for a way to speed up your home cleaning, check out these steam mops we picked out.
How We Picked
Size + weight

When using a steam mop, you don't want to have to lug around a heavy piece of equipment. Ideally, steam mops should be easy to carry around the house.

Heat-up time

No one wants to spend hours mopping. This is why the heat-up time is so important. The faster it is, the faster you can get your work done.

Length of power cord

Power cords should be long enough to ensure you don't need to continuously look for a closer outlet as you mop your floors.

Price

Steam mops are lifesavers and help keep the house sanitary and clean. However, there is no need to break the bank to afford one.
Our Top Picks
Best Pick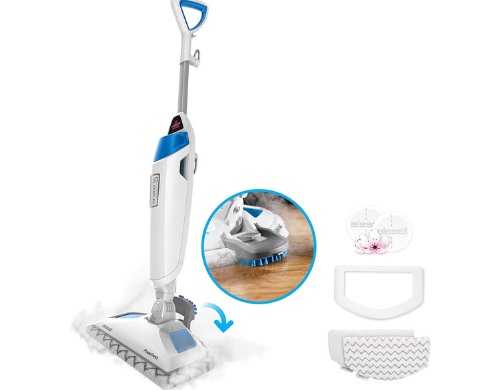 If you want a high-quality and easy-to-use steam mop, the Bissell one is perfect.
An easy-to-use steam mop made by a trusted and reputable brand that cleans thoroughly.
Bissell is a highly reputable brand with some of the best home appliances. Their steam mop is no exception and offers thorough cleaning. It can clean every floor type, including sealed hardwood floors. The scrubber attachment ensures you get every single piece of dirt and debris off, even tough stains.
Runner Up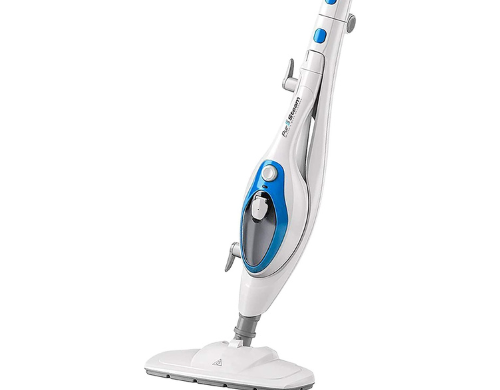 This is a multi-purpose mop and can be used on just about any surfaces.
Anyone with pets will appreciate the PurSteam Steam Mop, as it's made of pet-friendly materials and easily cleans up messes.
The PurSteam is not just a steam mop; it's a steam cleaner. It comes with numerous attachments you can use to clean a variety of surfaces, including windows. It also has three mop attachments, allowing you to clean your entire house even if one becomes soiled. This steam cleaner heats up fast and is easily maneuverable, even in tight spaces.
Most Cost-Effective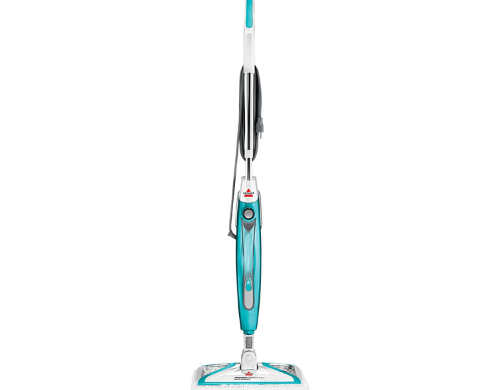 This is the perfect mop for those who enjoy a bargain or are purchasing their first steam mop.
An affordable, two-in-one steam mop that has a removable handle to make it easier to store.
The PowerFresh Steam Mop is very affordable and does everything a steam mop should. While it has no fancy attachments, it does have two major functions. You can use this as a steam mop or a handheld steamer. It's efficient and has a removable handle. The mop heads are made of machine-washable microfiber cloth, making them easy to clean.
Everything We Recommend
Best Pick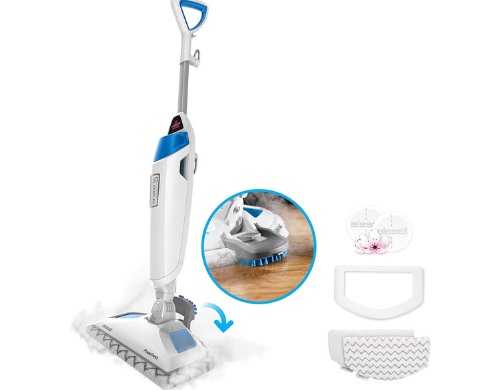 If you want a high-quality and easy-to-use steam mop, the Bissell one is perfect.
$92.69
Runner Up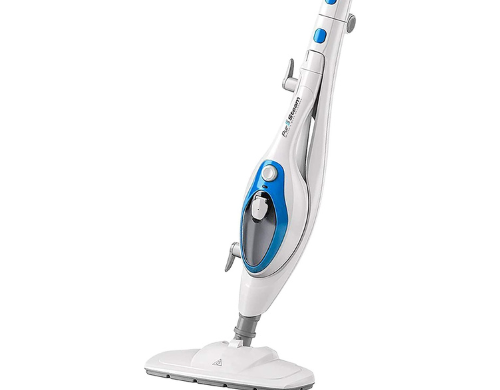 This is a multi-purpose mop and can be used on just about any surfaces.
$79.97
Most Cost-Effective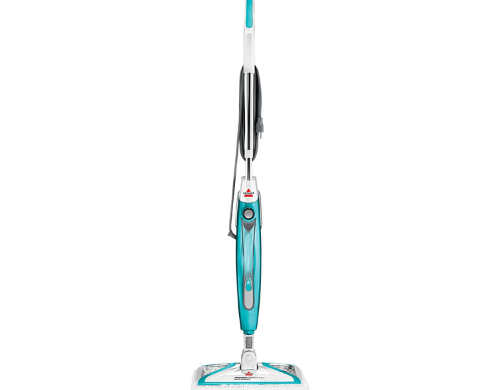 This is the perfect mop for those who enjoy a bargain or are purchasing their first steam mop.
$64.99
Who This Is For
If you're looking for an easier mopping experience and cleaner floors, you should definitely consider a steam mop. They are a swift and easy way to clean your floors and walls. Steam mops also ensure all the dirt gets lifted off, leaving your floors clean and sparkling.
Do I really need a steam mop?
Steam mops are for everyone who has ever thought, "My floors could be cleaner." If you have young children, pets, frequent guests, or walk with shoes indoors, then a steam mop is a great investment. Hot water is a great disinfectant, and the electric head makes cleaning so much faster and more efficient. Most steam mops have a swivel head, so you'll be able to properly clean corners without getting on your hands and knees. Also, with a steam mop, you do not need to use detergent. This is great for all crunchy parents, sustainability lovers, and those with allergies and sensitive skin.
Steam mop vs regular mop vs spin mop
Steam mops use steam to clean floors and tapestries. They do not require soap or disinfectants and use steam alone. The mop pad is usually made of microfiber. Steam mops do not leave behind any kind of scent, as they use only water. They are ideal for those with allergies or sensitivities, as they use no harsh chemicals. Because of the steam, floors and tapestries dry a lot faster. Though advantageous, they are quite expensive to buy and maintain. Steam mops are also heavier than regular or spin mops. Another key disadvantage is that steam mops cannot be used on any unsealed floor or flooring adhesive.
Regular, old-fashioned mops are still a trusted way to clean floors and walls. They are usually used with a mop bucket but can also be squeezed dry by hand. They require little maintenance other than being kept clean and allowed to somewhat dry between uses. These mops are very cheap and reliable, but the mop sticks and buckets can break easily depending on what material they're made of.
Spin mops have circular microfiber mop heads. They come with a mop bucket with a built-in spinning basket, which is used to spin the water out of the mop head. Spin mops are cheap and easy to use, and they require only water and a detergent to clean floors. With the spinning mop bucket basket, you can control how wet your mop head is. This makes spin mops more efficient than regular mops. Spin mops can malfunction as the basket can refuse to spin due to debris or wear and tear. This means they are not highly durable. It is also difficult to apply any added pressure when cleaning, as the pieces of the spin mop may separate.
Why You Should Trust Us
We understand how difficult it is to clean floors. We also know how hard it is to find products you can trust. That is why we are committed to reviewing the best steam mops we can find on the market. We have combed the internet for the best-reviewed steam mops and ensured they meet our criteria for the perfect steam mops. We only recommend the ones that truly outshine the rest.
How We Picked
Size and weight
Ideally, you should be able to move and use your steam mop without help, provided you are in good health. We wanted to review steam mops that could be carried around by the average adult and would not break your back.
Heat-up time
If you have to spend minutes waiting for your mop to heat up like you would a kettle, then it would be better to just boil water in a kettle and use a spin mop instead. We wanted to recommend mops with less than a minute of heat-up time to ensure that they were truly efficient and more sensible to use than regularly heating up water.
Cord length
A short cord only doubles your mopping work and time. You'll have to continuously move back to unplug and replug your steam mop. Our goal was to find steam mops with mid to long cable lengths so that you could mop larger areas at a time without having to find a new outlet.
Price/Additional Features
In times like these, price matters more than ever. We wanted to recommend steam mops that are worth the money. Their additional features like cleaning pads added tools, and sanitizing abilities had to be worth the amount. Additionally, the warranty should be at least a year.
Care and Maintenance
How to clean – tank, cleaning pads, nozzle, etc, which cleaning materials to use and avoid
To clean your steam mop, you should:
Wipe your steam cleaner before and after each use with a damp cloth. You can dampen the cloth with a multi-surface cleaner and use that to wipe down the steam mop
Unplug your steam mop immediately after you are done to avoid tagging on the cord and damaging it when moving around in haste.
Drain the tank after every use and air dry it. This will prevent mold and bacteria from building up.
Wash the mop pads in hot water without fabric softener. Air dry them for the best results.
Reseal the plug and store the mop.
Desale your machine often using the limescale remover that comes with your steam mop. Fill the machine with the solution, let it heat up, and keep it warm for one to two hours. Afterward, use the steam cleaner for around a minute, unplug the machine and let it cool for three hours before emptying the descaling solution. Rinse with water, dry, and store.
To efficiently use your steam mop, follow these general tips:
Do not add any soaps or chemicals to your steam cleaner. Only the descaling solution is allowed. If you need soap or disinfectant, use a different bucket as a first wipe and your steam cleaner second or vice versa.
Do not use treated water in the steam mop. Water softeners work by replacing calcium and magnesium with sodium. This added softener can make your steam mop less efficient and cause it to break down faster.
Ensure your steam mop is fully cooled down before you carry out any maintenance or cleaning on it.
How and where to store it when not in use
Store your steam mop in a cool, dry place. Ensure it is away from heavy objects or pieces not fixed to the wall. This will ensure that nothing falls on the mop and breaks it.