The Best Standing Desk of 2023
Take the first step to revamp your lifestyle and productivity with minimum effort with these standing desks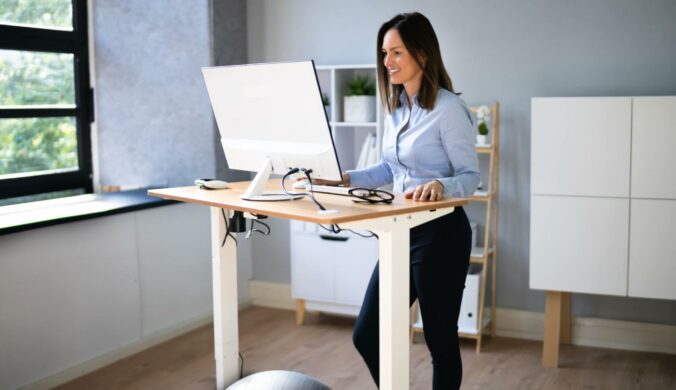 Sitting doesn't kill us. However, sitting for extended periods (a given at work places) with poor postures and few movements for walking or simply standing definitely impacts an individual's health as well as reduces productivity. The solution to this is standing desks.
Studies conducted over the years have shown that workers actively using standing workstations have increased productivity by 46% as compared to those using traditional desks. Double the productivity at more or less the same effort? Worth it!
The build and construction of a standing desk/workstation vary according to the requirements of the user. Fortunately, we have a fantastic range of standing desks for you!
How We Picked
Height and Adjustability

It is critical that the computer monitor is at the user's eye level while standing, and that the desktop with the mouse and keyboard be at or slightly below elbow height, with your arm forming a 90-degree angle. Furthermore, a desk with a rounded front will relieve pressure on your wrists.

Adjustability and Weight

Aligned with the adjustability and weight, the weight that the standing desk can hold while maintaining its balance is an important factor to consider.


Arm Supports

Arm support is made up of soft padding and it is attached to your desk. Its design aims to reduce discomfort in arm joints and minimize pressure on the wrist. Finger cramps and arm flexibility is also maintained.

Cost-Effectiveness

The durability and quality of a standing desk will be reflected in its price. A standing desk is one of those items for which you get what you pay. It is a one-time investment that is worth it.
Our Top Picks
Our Top Pick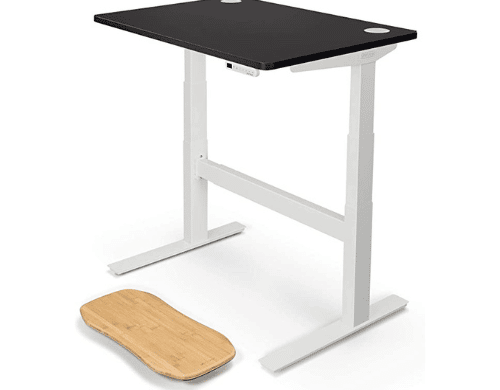 A modern standing desk that offers endless customization and add-ons.
Adapting to the needs of the user, the Uplift V2 Standing Desk is the most customizable standing desk you can get.
The best all-rounder standing desk
Our Runner-Up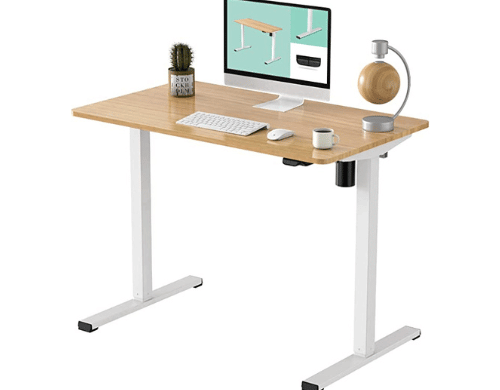 This Flexispot desk is easy to assemble and operate.
Easy to assemble and operate, the Flexispot EC1 will keep you active and productive throughout the day.
The simple and sleek design of this standing desk will help you achieve the ideal sit/stand balance effortlessly.
Most Cost-Effective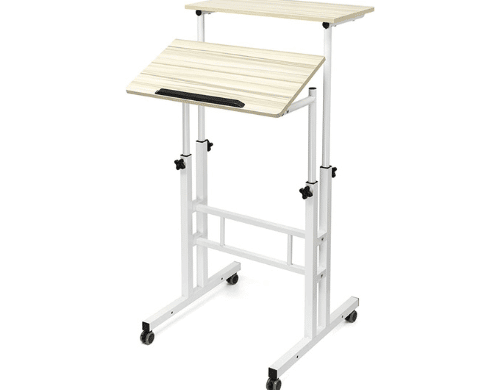 A strong yet budget-friendly option.
Don't care much about customization and add-ons? The SIDUCAL Mobile Stand-Up Desk is an elevated workstation that is durable and can be moved around easily too!
A basic yet sturdy design that will get the job done and take care of your health and well-being.
Everything We Recommend
Our Top Pick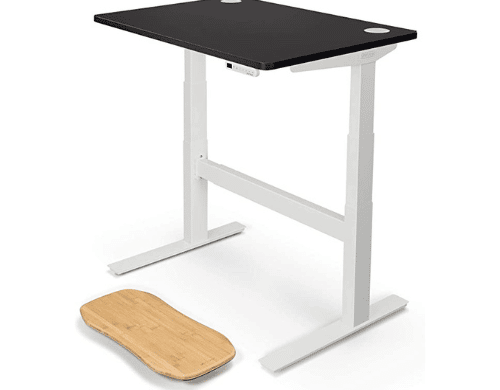 A modern standing desk that offers endless customization and add-ons.
Our Runner-Up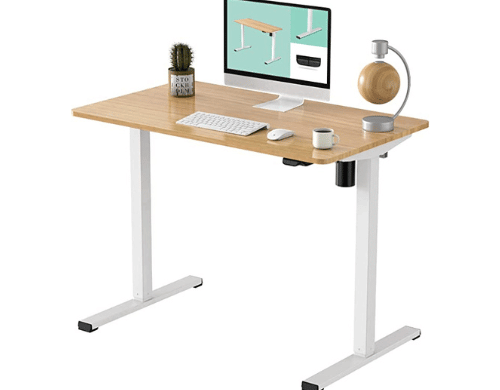 This Flexispot desk is easy to assemble and operate.
$249.99
Most Cost-Effective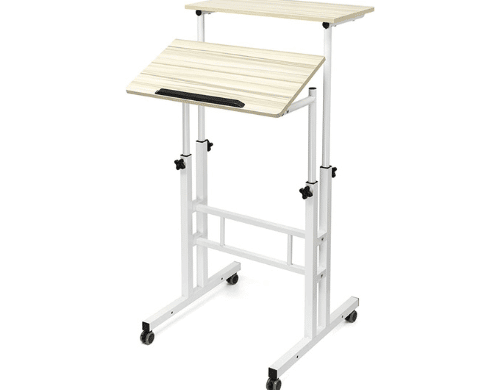 A strong yet budget-friendly option.
$79.99
Who This Is For
Anyone who uses a desk to get their work done can benefit from having a standing desk. Sitting for long hours at a desk without movement contributes to back pain, which can become chronic over time. Not standing or stretching during work hours leads to compression of the intervertebral discs in our spines, draining the water out of them. This also puts pressure on the spinal nerve. Investing in a standing desk reduces back pain, improves circulation, and corrects posture.
Those working at home can benefit from a standing desk too. Also, the standing desks we have selected operate quietly, so go ahead and set one up at the office for yourself too.
How Do Standing Desks Work?
Standing desks are like regular desks except that they can be elevated so users can work comfortably while standing. The idea of standing while working isn't as unusual as it sounds. Sitting for extended periods over a long time can cause great damage to our health and well-being. Being able to adjust your workstation to a greater height allows you to work without bending down, straining your neck, and squinting at screens from an elevated level.
Having a standing desk/workstation is not enough. You must know how to make the construction adapt to the requirement of the user, in order for this setup to be used successively long term.
Are Standing Desks Worth It?
The right standing desk is definitely worth the investment. As work and tasks become more and more digital, many of us are leading sedentary lifestyles, confined to our desks for hours at a time. When there is a deadline to meet, it is not always convenient to get away from our desks to stretch and take a break. With a standing desk, you can make the necessary adjustments to your workstation and continue working.
Of course, the stability and longevity of a standing desk determine its worth. No one wants a flimsy setup that may collapse under the weight of several items, or if the table top is leaned on. Fortunately, our list has standing desk recommendations that keep this in mind.
How Long Should You Stand at a standing desk?
Ergonomic experts recommend standing between five to 15 minutes every hour when using a standing desk. However, you can opt to stand for much longer. The key is to strike a balance between sitting and standing.
Health Benefits of Standing Desk
Physical relief from sitting too much is the number one health benefit of a standing desk. Stiff joints and shoulders, back pain, and ailments such as carpal tunnel syndrome have become far too common. Other physical benefits of standing desks include reduced risk of weight gain and obesity, decreased blood sugar levels, decreased risk of heart disease, and less neck stiffness and back pain.
Improved productivity levels have also resulted from the use of standing desks. Standing keeps us more alert and by continuously moving our arms and legs, it is easier to shake off the lethargy and be focused.
How Standing Desks Revolutionized Work Spaces
Gone are the days of being confined to a chair for nine-hour long office shifts, studying sessions, and other tabletop tasks. With technology changing, online meetings, and work from home becoming the norm, it is natural for the office workstation to get revamped too. 
Here's the thing, the human body is not designed for a sedentary lifestyle. The circulation of blood to our vital organs and energy levels are dependent on active movement. Sitting on a desk for extended hours, especially in the office, leads to fatigue, muscle soreness, and joint stiffness, which is often attributed to sitting. 
Standing desks have helped individuals move more, reduced health ailments such as pain in the muscles, and increased levels of energy. 
Why You Should Trust Us
The specifications and dimensions of standing desks can be confusing. Keeping the requirements of most users in mind, the products we have selected give a comprehensive look at the best standing desks available in the market and are guaranteed to revolutionize your workstation and work lifestyle.
How We Picked
Ideally, you should invest in a standing desk that is stable, durable, easy to adjust, and can handle ample weight, allowing you to work with ease. Descriptions and dimensions of standing desks available online are technical and overwhelming. So we have summarized the pros and cons of standing desks that were purchased by real customers and backed by their testimonials. This way, we were able to determine whether or not these products lived up to their specifications, so we guarantee that you'll discover a standing desk that will fulfill your needs.
When selecting standing desks, you must not use boards or books to elevate your desk, it should be just right, to begin with. The monitor itself should be placed right in front of you, and should not need the tilting of the neck, drooping of shoulders, or bending of knees in order to be viewed comfortably. The top of the screen should be slightly below eye level. You'll notice that all the designs we have selected aim to reduce discomfort in arm joints and minimize pressure on the wrist. The use of arm support has been thoroughly researched and backed by numerous studies stating that using arm supports can dramatically reduce the chances of developing shoulder and neck problems. Finger cramps and arm flexibility is also maintained.
Care and Maintenance
The components of a standing desk are different from regular desks. The motor, electric parts, and tilting mechanisms of the desk need gentle adjustment and handling. The first thing to remember when cleaning your standing desk is the material of the desk and its surface. Use cleaning products accordingly for wood, metal, or even hard plastic parts. Be careful not to get any liquid inside the electric components of the desk.
When it comes to scratches, use a light hand. Small scratches can be gently buffed to smoothen the surface. A wood filler or scratch cover may be needed for deeper scratches.
It is also recommended to not tamper with the motor or the electric adjustments while they're in motion. This can seriously damage the standing desk! Follow these instructions, and your standing desk will last long and give you a comfortable working experience.