The Best Stand Mixer of 2023
From whipping cream to baking cakes, this selection of stand mixers can stylishly and practically transform your kitchen.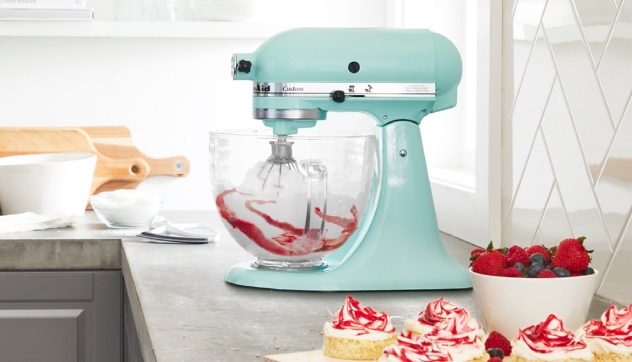 Beyond simply stirring cookie dough, stand mixers can be used for a wide range of baking and cooking applications. Every kitchen needs a stand mixer because it makes it easy for adventurous cooks and bakers, whether you are a beginner or a seasoned chef, to recreate traditional meals or try something new.
A stand mixer is a kitchen essential for a reason. It helps you to make anything from pastries to breads to cakes without having to exert as much effort, and don't forget about the accessories, which open up a whole new world of cooking possibilities. Read on to find out which stand mixers are best for any type of baking or cooking job.
How We Picked
Power/range

For a positive experience with the stand mixer. The greater the power, the higher the wattage specified for the motor. So we look for the best so that looser goods, such as cake batter, can turn out well even with a lesser watt.



Size

Because a stand mixer isn't the lightest kitchen device, we keep weight into account when selecting one. Size, like power, is also important. It comes in a variety of sizes and may accommodate a wide range of ingredients. We select the ideal one for you if you have sufficient storage.



User-friendly controls

Some models include everything you want straight out of the box, while others necessitate attachments that must be purchased separately. We took a detailed look into what each brand can achieve right away without any additional purchases.



Price

Due to being a popular multipurpose product, stand mixers of this quality come at a price. We consider how frequently you'll use it and for what purpose to find you the perfect unit without breaking the bank.


Our Top Picks
Best Pick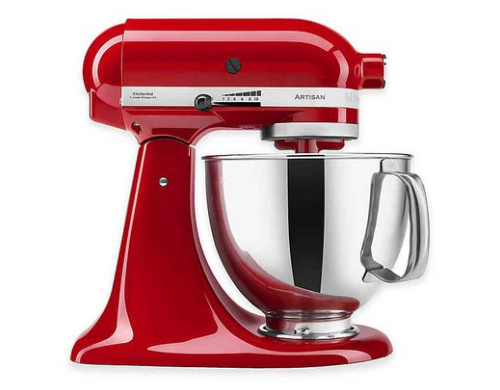 It is truly versatile in the kitchen and well worth the cost.
The KitchenAid Artisan 5-quart stand mixer is eye-catching on your counter and does a swell job of living up to the hype.


The KitchenAid Artisan Series 5-Quart Tilt-Head Stand Mixer meets all expectations. This mixer is indeed a real powerhouse, capable of handling everything thrown at it. It comes with a stainless steel bowl, but you can add extras to personalize your mixer. This vintage stand mixer is not only a showpiece in any kitchen, but it's also a great workhorse. There are six different speed levels, and the tilt-head makes it simple to add ingredients and swap out attachments.

Runner Up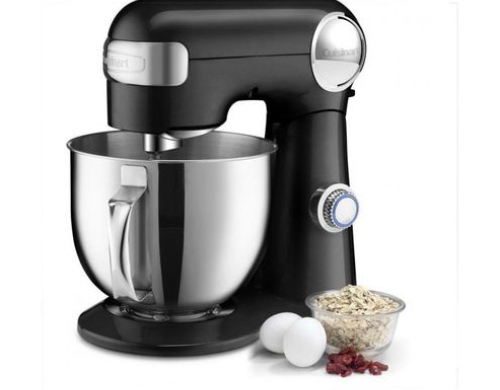 A powerful ally to have in your kitchen
The Cuisinart Precision Master Stand Mixer is well-made and is not unduly bulky. It truly embodies precision and performance


This stand mixer delivers precision and power for your cooking and baking needs with its 500-watt motor. It is constructed with die-cast metal and boasts 12 speeds that support a wide range of applications. It comes equipped with a mixing paddle, a dough hook, and a chef's whisk. The accessories, including the mixing bowl, are all dishwasher-safe. You have the option of purchasing several attachments, such as a pasta extruder, a spiralizer, a meat grinder, and a frozen dessert maker.

Most Cost-Effective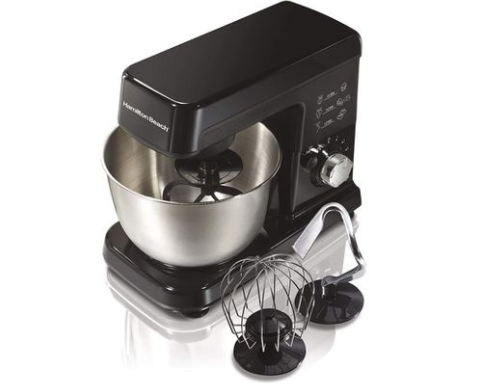 The performance expert that doesn't break the bank
This stand mixer will not just adorn your counter, it won't cost you much either. And you won't be sacrificing anything in terms of results.


If you don't want to spend much money, this Hamilton Beach model has commendable performance and comes with a considerably lower price tag. It performs admirably for whisking cream and egg whites in addition to making pastry. However, it could struggle with heavier mixtures at higher speeds. Overall, this equipment would be adequate for everyday baking needs.

Everything We Recommend
Best Pick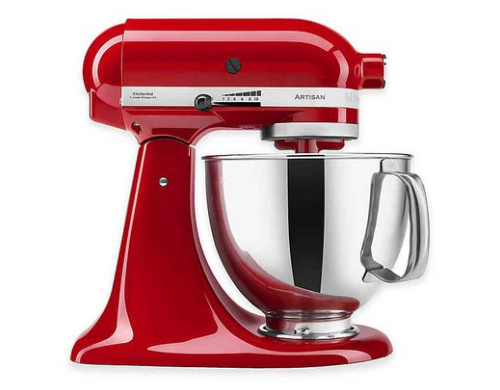 It is truly versatile in the kitchen and well worth the cost.
Runner Up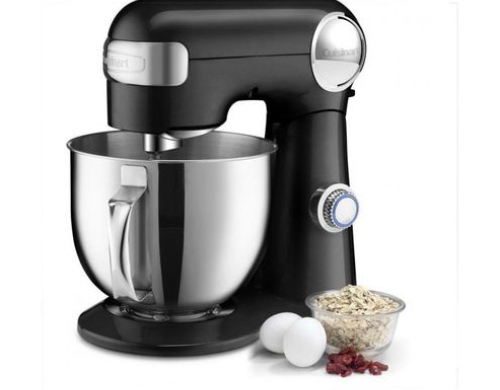 A powerful ally to have in your kitchen
Most Cost-Effective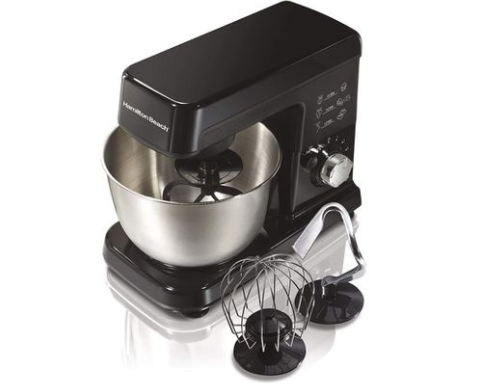 The performance expert that doesn't break the bank
$104.99
Who This Is For
These stand mixers are made for anyone who enjoys cooking and baking. Each one is like an extra set of large, strong arms for those tedious mixing tasks.
Stand mixer vs hand mixer
Hand mixers and stand mixers perform a number of the same functions, but they differ significantly. Understanding which mixer is optimal for each task allows usage and cleaning up to be much easier.
A hand mixer is an electric mixer that you carry in your hand and use to mix ingredients in a bowl. They're wonderful for minor chores, but if you need to mix for a long period or have a bigger or stiffer batch of dough, your hand/arm will get fatigued.
A stand mixer is a larger electric mixer attached to a countertop stand. Stand mixers can also come with a variety of accessories that allow them to handle everything from mixing and chopping noodles to twisting vegetables and grinding meat. With these mixers, you don't need to hold the mixer while it works. It also allows you to blend and puree ingredients while hand mixers tend to work best for whisking and combining them.
Tilt head vs bowl lift designs – what's better?
The fundamental distinction between tilt-head and bowl-lift mixers is how the bowl is accessed. To add ingredients, tilt-head mixers contain a switch that enables you to tilt the mixer's head back. The head of a bowl-lift mixer is motionless, but a handle lets you move the bowls up and down.
Planetary vs stationary mixers
Planetary mixers are great for blending cookie ingredients and kneading heavy dough, they also can be used to slice vegetables (with the addition of an appropriate attachment), chop meat, grate cheese, make batter, and whip light meringues, offering bakers more options. Stationary mixers, on the other hand, are used to mix concrete.
Is it worth splurging on?
Stand mixers are pricey, but there are several reasons why this domestic workhorse is worth it for making all kinds of cooking tasks easier. Essentially, the stand mixer may serve as an extra set of hands in your kitchen, prepared to knead food and ingredients for just as long as you require. It not only spares your hands from long kneading sessions but also saves time. The hooks are far more productive than you will ever be and there is no mess to deal with afterward (no more flour-covered countertops).
Why You Should Trust Us
We feel that the only way we can genuinely advise you of which machine is the finest is by considering these mixers' features and capabilities. We have used our detailed scoring grid to evaluate market provisions for stand mixers to select the best picks for you to consider when making a purchase.
How We Picked
We examined a wide range of food mixers, from low-cost solutions to high-end investment models, and to make the research process easier, we combed through our previous customers' reviews of various stand mixers. We also dug deep into these products and their effectiveness before compiling this list
We also did some research on the various stand mixer models and accessories. Most stand mixers come with a paddle attachment, a whisk attachment, and a dough hook. We looked for stand mixers with the best performance as well as those that are affordable. 
Care and Maintenance
When purchasing, it is important to keep in mind where you will keep or store your mixer. If it will be up on a worktop, you may prefer to choose a design that matches your kitchen and fits in any wall unit. If you expect to store your mixer in a cabinet, you'll be wise to choose a machine that's easy to lift in and out without becoming a pain over time.
Although most mixers are dishwasher safe, handwashing your mixer will help guard your unit against little marks, and rust, while also preserving the non-stick finish.
When storing the attachments, it's recommended to do so by wrapping them in a towel to prevent damage.