The Best Sous Vide Gear for 2023
With the best sous vide machines, you can eliminate the guesswork from slow, healthy cooking.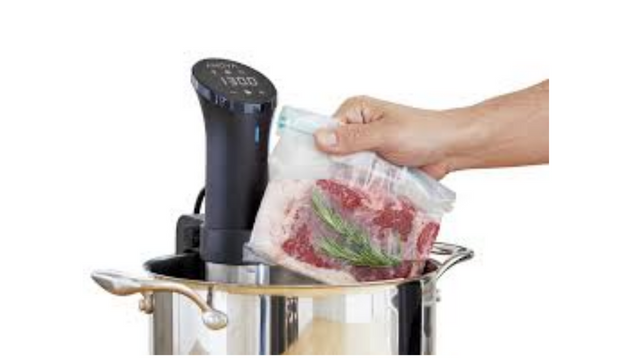 A sous vide machine or gear, which enables you to cook food slowly and precisely to the ideal temperature, may be fun if you enjoy cooking experiments. This method of cooking requires food to be sealed in plastic bags or glass containers and submerged in a water bath that has been heated to a low temperature.
Sous vide cooking, when done correctly, can be simple, safe, and a great way to create some of the most delicious dishes you've ever tasted. Determining the best gear for you, however, might be intimidating with the options available. You can read all about our tests of various sous vide devices here. We put each one through a variety of time, temperature, and cooking tests.
How We Picked
Heating Power

In terms of heating efficiency, the top gears in the group outperformed the opposition, reaching the desired temperatures in less time than 35 minutes.

Types of Gear Included

A variety of sous vide machines are available with different configurations to meet the needs of different users. For instance, immersion circulators use heat and a water pump to keep the water at a consistent temperature. There are also sous vide water baths and sous vide temperature controllers.

Safety and Reliability

Although the majority of sous vide machines deliver temperatures that are fairly reliable and consistent, they frequently have both low- and high-water warnings to prevent harming the heating element and impeller.

Cost-Effectiveness

The cost of the device is essential to most people, even though it has no relevance to the cooking itself. If a $250 machine will perform the work just as well as a $1,000 machine, why would you invest the extra money?
Who This Is For
The products being promoted here should be taken into consideration by anyone looking to have an enjoyable cooking experience.
Equipment needed to cook sous vide
A sous vide cooker or immersion circulator is the most essential instrument for even the most basic sous vide experience. Then, to seal your food in the bags, you'll need a vacuum sealer. Cooking below the temperatures that may cause Ziploc bags (an alternative to a vacuum cleaner) to weaken or burst is also safe to do if you don't have a vacuum sealer. To prevent the food from floating to the top, you'll also need to get your hands on a pot or container big enough to hold the water and some weights (or a rack).
What does Sous Vide mean?
Sous Vide (French for "under vacuum") is a cooking technique that uses precise temperature control to produce consistent, restaurant-quality results. Sous vide cooking has been used in high-end restaurants to consistently cook food to the exact level of doneness desired. It requires a process of vacuum-sealing food in a bag, then cooking it to a very precise temperature in a water bath. This technique offers results that are impossible to achieve through any other cooking method.
Sous vide vs. immersion circulation
You must purchase one of two essential pieces of equipment, a Sous Vide or an Immersion Circulation, to begin cooking sous vide at home. The one that is best for you will depend on a variety of factors, but fortunately, sous vide technology has become much more accessible in recent years, giving chefs much more flexibility when deciding whether to use a water bath or circulator. We'll examine each in more detail to help you decide which one is right for you.
Capacity
You must first determine how much room you will need for your sous vide cooking. Sous vide machines will typically be sufficient for a typical home, as it is unlikely that they will be cooking for a large group of people at once. However, if you do need greater capacity, an immersion circulator might be the best option.
Temperature stability
The first benefit of sous vide is that it has a lid, which prevents water from evaporating and offers superior insulation to an immersion circulator. The negative of sous vide is that it might cause hot and cold areas in the water, which results in inconsistent cooking temperatures. A circulator, on the other hand, will continuously pump warm water throughout the container.
Price
If affordability is a major consideration in your selection, immersion circulators are undoubtedly a more alluring option for home cooks. However, depending on your needs and whether you're a professional chef or have a commercial kitchen, the additional expense of sous vide may be justified.
Space
Even the smallest sous vides are hefty products, which is one of their main drawbacks. Even when they aren't in use, they still take up a lot of counter space. In contrast, an immersion circulator is much smaller and can be put away when not in use. Another significant benefit is that your circulator can be attached to a standard cooking pot, so they definitely make more sense in a home kitchen where you don't have as much room, but there's no doubt that they are more practical in commercial kitchens.
Why You Should Trust Us
National Today takes great delight in working with reliable independent contractors that have years of experience writing on lifestyle subjects and product reviews. We have published dozens of buying guides in many industries and are knowledgeable about the factors that customers and chefs should take into account before selecting a new purchase for their culinary endeavors. To write this piece, we reviewed a ton of customer reviews and did a ton of research on the top sous vide solutions that are accessible both offline and online.
How We Picked
Heating power
Some devices were unable to achieve and maintain the desired temperature. Others provided erroneous readings, claiming that the water baths were at the required temperature when, in fact, they were a few degrees below or above it. The temperature variance claimed by each of the circulators we tested was less than 1°F (0.55°C).
Speed of heat-up
Look for a machine with a motor that has at least 1,000 watts of power if you want it to heat the water quickly. However, keep in mind that a machine with a stronger motor will normally cost more. If cost is your primary concern, a device with less power should be adequate.
Max. temperature
A greater range of periods and temperatures are available when cooking sous vide, but it also depends on the meal you're planning to prepare. A lower time and temperature range won't matter if you're cooking steaks and chops in your cooker. A larger range is preferable if you wish to experiment.
Durability
The majority of the gear we've evaluated has a one-year warranty. However, sous vide machines should last much longer if properly maintained. They are, after all, very straightforward machines made of durable materials.
Safety
Sous-vide cooking is quite secure when done correctly. Heating to a high temperature is not always necessary for pasteurization. Instead, food can be pasteurized by cooking it for a longer time at a lower temperature. While spending a longer time at a lower temperature is safe, there comes a time when it becomes unsafe. It is deemed hazardous to cook beef at temperatures below 130 degrees for longer than two hours.
Reliability
You can slowl cook food to an exact, consistent temperature using a sous vide machine. This eliminates a lot of the guesswork involved in making the ideal medium-rare steak, juicy chicken breast, or ideally runny edamame. You can experiment and try new things in the kitchen with more freedom when you have that level of control.
Price vs. quality
The frequency of use should be taken into account when purchasing any kitchen gadget. For instance, it can be worthwhile to spend more money on a sous vide machine with a larger engine and more functions if you intend to use it frequently. If you're just getting started with sous vide cooking or don't need a device with Bluetooth or Wi-Fi connectivity, a less expensive circulator can be just right.
Care and maintenance
Use heat-protective gloves when handling hot plates
Heat-resistant gloves (made of leather or Nomex) should be provided and kept close by when handling hot things. Never pick up a hot object while wearing rubber or plastic gloves.
Wash your hands thoroughly before handling food
When making meals for yourself or loved ones, washing your hands is one of the most crucial things you can do to avoid food illness. While you're cooking, washing your hands thoroughly and frequently can help avoid cross-contamination.
How to clean cookware
Use a clean, absorbent towel to gently clean the machine (including the head, stainless steel skirt, etc.). If the towel isn't already damp, dampen it before using the sous vide. If the sous vide coils are accessible in your model, you can clean them with a toothbrush and some warm, soapy water. Take care not to harm the immersion circulator heating coil or any other internal parts while doing this.
How often to clean cookware
Your sous vide gear needs cleaning and descaling when there is too much filth or when it has been a while since you did more than just wipe down the appliance. Additionally, if your tap water is hard, follow these instructions more frequently than you normally would to descale the circulator. Follow the instructions below to keep your machine operating well if you notice any signs of mineral buildup or excessive dirt.
Preventing stains or odors on cookware
We advise boiling a solution of three parts water and one part vinegar in your pan on medium heat for 5 to 10 minutes to get rid of odors and stains from your cookware. After letting it sit until it has cooled, wash it in warm, soapy water with a soft nylon brush. Rinse and dry.